Aruba vs. Nassau (Bahamas)
Aruba and Nassau, two captivating Caribbean destinations, each offer their own unique charm and allure.
The main difference between Aruba and Nassau (Bahamas) lies in their geographic location and overall ambiance. Aruba, situated in the southern Caribbean, offers arid landscapes, constant trade winds, and a desert-like climate. Nassau, located in the Bahamas, provides a lush tropical setting with warm waters and abundant marine life.
Travelers seeking a vibrant desert paradise may prefer Aruba, while those looking for a lush island escape may find Nassau more appealing.
| Aspect | Aruba | Nassau (Bahamas) |
| --- | --- | --- |
| Cost Range for 1 Week | $2,274 – $4,782 (source) | $569 – $2,786 (source) |
| Location | Southern Caribbean | Northern Caribbean |
| Geography | Flat and arid | Low-lying and lush |
| Language | Dutch, Papiamento, English | English |
| Government | Parliamentary democracy | Constitutional monarchy |
| Currency | Aruban florin (AWG) | Bahamian dollar (BSD) |
| Tourism | Popular tourist destination with beautiful beaches and water activities | Popular cruise ship port and tourist hub with historic sites |
| Economy | Strong tourism industry, oil refining, and offshore banking | Tourism, financial services, and offshore banking |
So, let's embark on a journey to explore the geography, culture, cuisine, natural wonders, and exciting outdoor activities that await in Aruba and Nassau, and discover which paradise resonates with your heart.
History and Geography Comparison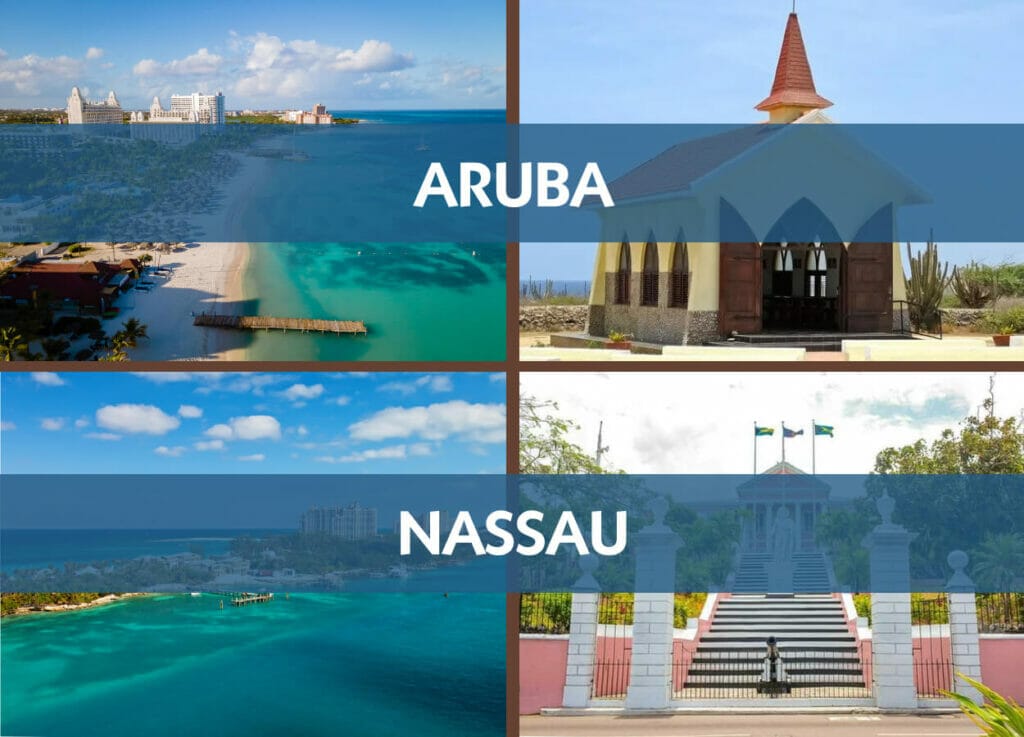 Dreaming of soaking up the sun in a tropical paradise? Let's chat about two of the Caribbean's star destinations: Aruba and Nassau in the Bahamas. Each holds its own unique charm, and I'm here to help you find your dream destination.
Meet Aruba: this breezy beauty sits near Venezuela and is a tapestry of desert scenes and turquoise tides. If your family loves a good blend of chill beach time and water adventures, Aruba's pristine sands and tranquil waters are a snorkeler's delight. For those lovebird couples out there, imagine walking along the beach, hand in hand, while the sun sets, painting the world gold.
And hey, adrenaline junkies! Aruba's wild landscapes beckon you for off-roading and windsurfing. Whether you're on a tight budget or looking to splurge, this island has a cozy spot for everyone.
Now, let's talk about Nassau, the Bahamas' historical heartthrob. This place is dripping with stories from its colonial past and pirate tales. Families can take a trip back in time visiting ancient forts, while couples can meander through bustling markets, absorbing the rich Bahamian culture.
If you're an adventurer, the Blue Lagoon Island and its playful dolphins are calling. And for those who fancy a touch of opulence, Nassau's luxe resorts offer grandeur with breathtaking oceanic backdrops.
So, which will it be? Aruba's vibrant and rugged appeal or Nassau's history-rich, luxurious allure? Whether you end up toasting to the sunset at Eagle Beach or soaking in the history of Nassau's streets, one thing's for sure: your Caribbean dream is waiting to unfold into a treasure trove of memories.
Aruba vs Nassau: The Ultimate Beach Showdown
If you're on the hunt for a sun-soaked paradise that's perfect for families, couples, adventure seekers, and travelers of all kinds, then let's dive into the crystal-clear waters of the Caribbean and explore the beachy wonders of Aruba and Nassau in the Bahamas.
Aruba, often referred to as "One Happy Island," lives up to its name with its stunning beaches that cater to every type of traveler. Families can bask in the shallow, calm waters of Eagle Beach, building sandcastles and enjoying the gentle waves. Couples seeking a romantic escape will fall in love with the secluded and picturesque Palm Beach, where you can relish in long walks along the shoreline as the sun paints the sky in shades of pink and orange.
Adventure seekers, fear not – the wind and waves at Arashi Beach are perfect for windsurfing and kiteboarding. And no worries about your wallet – Aruba offers a range of options, from budget-friendly hotels to luxurious resorts that pamper you like royalty.
Now, let's hop over to the enchanting Nassau in the Bahamas, where beaches seem to have sprung straight from a postcard. Cable Beach is a dream come true for families, with its soft sands and gentle waters making it a playground for both kids and grown-ups. Looking for a romantic spot? Love Beach will sweep you off your feet with its intimate atmosphere, ideal for couples looking to share a quiet moment.
If you're an adventure enthusiast, Cabbage Beach offers thrilling water sports, from jet skiing to snorkeling alongside colorful marine life. Nassau caters to every budget, offering cozy guesthouses for those watching their wallets and extravagant beachfront resorts for travelers seeking a lavish escape.
So whether you're chasing the horizon with your family, sharing a sunset with your partner, riding the waves, or simply indulging in the sun, Aruba and Nassau have beaches that were practically made to order for you.
Aruba vs Nassau: Top accommodation
Hey there, fellow travelers! Planning a getaway and can't decide between the gorgeous Caribbean gems of Aruba and Nassau in the Bahamas? Well, let's talk accommodations and help you figure out the perfect spot for your vacation vibes, whether you're a family, couple, adventure seeker, budget-conscious traveler, or someone who loves a touch of luxury.
Aruba, oh Aruba! If you're a family looking for a cozy and intimate place, the Boardwalk Boutique Hotel is like a snug embrace. With its charming cottages and lush gardens, it's the perfect hideaway. Couples, on the other hand, might find their haven at Amsterdam Manor Beach Resort. The idyllic beachfront setting and the Dutch-Caribbean architecture scream romance.
For all you adventure enthusiasts, Ocean Z Boutique Hotel offers a mix of thrill and relaxation. From water sports to laid-back beach lounging, it's an adventurer's paradise. And guess what? Budget and luxury travelers are both in for a treat, with accommodations that range from wallet-friendly to high-end indulgence.
Now, let's skip over to Nassau in the Bahamas. Families, if you're looking for a place that's not just a hotel but a whole experience, The Island House should be on your radar. With its family-friendly amenities and chic style, it's a home away from home. Couples seeking a touch of elegance fused with energy should look no further than SLS Baha Mar.
This luxury resort is not just accommodation; it's a journey into opulence. And don't fret, adventure seekers, the Ocean West Boutique Hotel has got your back. Its proximity to exciting water activities and local hotspots is simply unbeatable. Plus, for both budget-conscious and luxury travelers, Nassau's offerings are a spectrum of choice, from relaxed affordability to lavish pampering.
So, whether you find yourself in Aruba or Nassau, rest assured, there's an accommodation tailored just for you. Each spot offers its own unique charm, catering to families wanting bonding time, couples in search of romance, adventure seekers ready for thrills, and budget or luxury travelers looking for their own slice of paradise.
Aruba Vs Nassau: Unmissable Attractions and Activities
Imagine yourself in Aruba, where the beaches beckon with their pristine allure. Picture your family building sandcastles at Eagle Beach or spotting colorful fish while snorkeling at Baby Beach. For the lovebirds among you, nothing beats a heartwarming sunset cruise.
And for the fearless at heart? Get ready to feel the rush of windsurfing or to tread the intriguing paths of the Arikok National Park. Whether you're watching pennies or keen on indulging, you'll find everything from quaint beach huts to lavish resorts waiting to welcome you.
On the other hand, Nassau is its own slice of paradise. Picture this: your family marveling at the wonders of Atlantis Paradise Island, with kids splashing about in the Aquaventure water park and everyone getting a chance to meet the dolphins at Dolphin Cay. Fancy a romantic walk? Nassau's historic downtown, with its vibrant colonial charm, is just the place.
And for the bold and brave? Dive deep into the mesmerizing Blue Lagoon Island or, if you dare, swim with the sharks at Stuart Cove's Dive Bahamas. Whether you're on a shoestring budget or in the mood to splurge, Nassau has the perfect spot for you – from snug guesthouses to grand beach resorts that treat you no less than royalty.
exploring by Car: Aruba vs Nassau
If you're dreaming of an island getaway with your loved ones, a solo adventure, or maybe a spontaneous trip with your buddies, you've probably come across the charming options of Aruba and Nassau in the Bahamas. These tropical paradises offer more than just sun-soaked beaches; they promise unforgettable experiences. But how do you navigate these islands? Let's dive into the world of transportation!
Aruba is a breeze to explore, catering to families, couples, and even the most adventurous souls. Renting a car from Aruba Car Rental – Top Drive, Jay's Car Rental, or Amigo Car Rental gives you the freedom to uncover hidden gems at your own pace. Zip around the island with your crew, from the rugged Arikok National Park to the pristine Baby Beach. For budget-conscious travelers, worry not – there are options for every wallet size.
For eco-conscious travelers, Drive Green Car Rentals offers an array of fuel-efficient options to cruise along the picturesque streets. Meanwhile, Out West Car Rental – Nassau Bahamas, and Standard Auto Bahamas Ltd provide choices ranging from compact cars to spacious SUVs, ensuring that families and groups can venture around comfortably.
Whether you're taking a leisurely drive with your loved one to the vibrant Straw Market or embarking on a family expedition to the intriguing Pirates of Nassau Museum, getting around Nassau is a delight. For those seeking a touch of luxury, some rental companies even offer premium vehicles that let you soak up the island vibes in style.
Aruba vs nassau: A Gastronomic Journey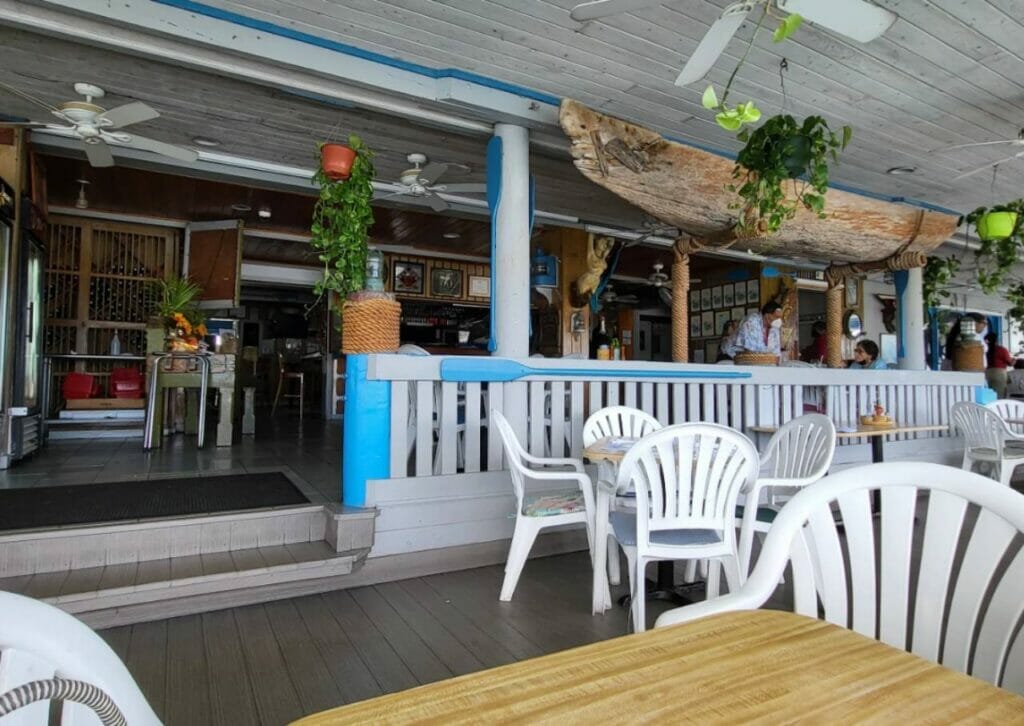 Picture this: Aruba, with its dreamy white sands and energetic rhythm, offering you a plate filled with culture. For families aiming to create foodie memories, pop over to Carte Blanche Restaurant. There, you'll watch your menu come to life right before your eyes, a treat for all ages!
Couples, if you're on the hunt for that romantic nook, The Kitchen Table awaits with its blend of warm candlelight and tantalizing dishes. And for those with an adventurous palate, 2 Fools And A Bull delivers dinner with a side of drama and excitement.
Switching scenes to Nassau, Bahamas, where dining takes on an elegant twist. If you have a penchant for luxury, the historic Sapodilla Estate is your culinary castle. Indulge in a grand ambiance while savoring dishes that celebrate the essence of the Bahamas and beyond.
Graycliff Restaurant, a shining star in Nassau's gourmet galaxy, promises couples a romantic evening filled with fine wines and innovative dishes that pay homage to tradition. But if you're chasing genuine local flavors without the hefty price tag, head straight to Poop Deck. Overlooking the water, it's the perfect spot to dive into seafood so fresh, you'd swear the ocean just whispered its secrets to you.
So, whether you're a family making memories, lovebirds seeking that special meal, thrill-seekers after unique tastes, or simply looking for budget-friendly or luxury options, Aruba and Nassau promise a dining scene that's sure to tantalize.
Aruba vs. Nassau (Bahamas) FAQ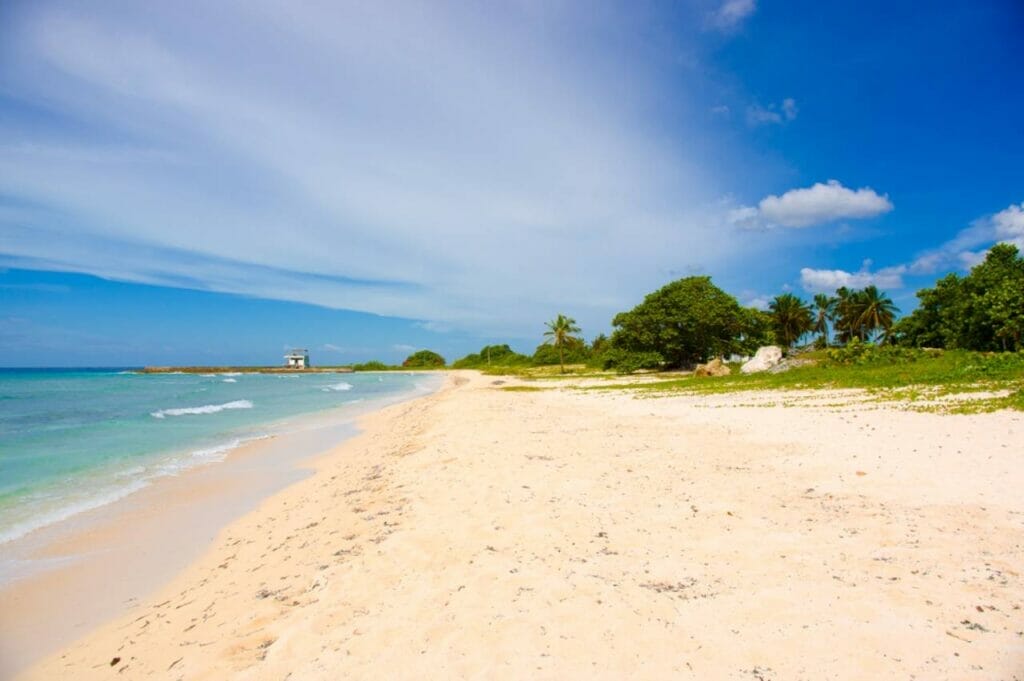 What's the distinction between Aruba and the Bahamas?
Aruba is a distinct island off the coast of Venezuela in the southern Caribbean Sea. It is a self-governing constituent country of the Kingdom of the Netherlands. The Bahamas, on the other hand, is an archipelago of over 700 islands and cays in the Atlantic Ocean northeast of Cuba. The Bahamas is a sovereign country that belongs to the Commonwealth of Nations.While both destinations offer beautiful beaches and tropical climates, Aruba has a more arid landscape with cacti, while the Bahamas features lush tropical scenery and a larger landmass.
Where is Aruba and the Bahamas?
Aruba is located in the southern Caribbean Sea, about 15 miles from Venezuela's coast. It is part of the Lesser Antilles and is located outside of the hurricane belt.In contrast, the Bahamas are located in the Atlantic Ocean, east of Florida and north of Cuba. It stretches across the Lucayan Archipelago, covering a large area of the Caribbean Sea.
Is Nassau a part of the Bahamas?
Yes, Nassau is the Bahamas' capital city, and it is located on the island of New Providence. It It is the country's economic, cultural, and political center. Nassau is known for its vibrant colonial architecture, bustling markets, and stunning beaches. Nassau, the main city in the Bahamas, is a popular tourist destination for those looking for a mix of history, culture, and natural beauty.