Discover the hidden gems of the Caribbean as we compare Aruba and Montserrat, two captivating island destinations that offer contrasting experiences for every type of traveler.
Aruba and Montserrat differ significantly in terms of geographical location and overall experiences. Aruba, situated in the southern Caribbean, is known for its arid climate, vibrant nightlife, and diverse beaches with crystal-clear waters. On the other hand, Montserrat, located in the eastern Caribbean, offers a lush volcanic landscape, secluded beaches, and a tranquil atmosphere.
Travelers seeking a lively, sun-soaked destination with various entertainment options may prefer Aruba, while those in search of a more serene, nature-centric escape might opt for Montserrat.
| Aspect | Aruba | Montserrat |
| --- | --- | --- |
| Cost Range for 1 Week | $2,274 – $4,782 (source) | $902 – $2,081 (source) |
| Location | Caribbean | Caribbean |
| Geography | Flat, desert-like | Mountainous, volcanic |
| Language | Dutch, Papiamento, English | English |
| Government | Parliamentary democracy | British Overseas Territory |
| Currency | Aruban florin (AWG) | Eastern Caribbean dollar (XCD) |
| Tourism | Major tourist destination with beaches, resorts, and casinos | Developing tourism industry, known for hiking, birdwatching, and volcanic remnants |
| Economy | Tourism, oil refining, offshore finance | Tourism, agriculture |
No matter what kind of island paradise you prefer—the exuberant energy of Aruba or the quiet serenity of Montserrat—you will undoubtedly leave these places with priceless memories.
Tracing Tales: Aruba and Montserrat's Rich Past and Stunning Landscapes
Feeling a bit stuck deciding between the sun-kissed allure of Aruba and Montserrat's mysterious charm? Let me guide you through the magic of both destinations, so you can make a heart-centered choice for your next adventure.
Whether you're a family ready for some quality time, lovebirds searching for that romantic spark, thrill-seekers, or any traveler watching their wallet, both these places have their special vibes just waiting for you.
Aruba? Think picture-perfect white beaches meeting azure waters, an invitation to families and lovey-dovey pairs. The landscape here is a pure spectacle – from the wild, wave-lashed northern coast that hums nature's songs to the calm southern sands, perfect for those chill-out moments.
Plus, there's a lovely Dutch twist in the air, from bright buildings to toe-tapping festivals. Crave a splash of adrenaline? There's a world of water sports for you. And for a brush with luxury? Let the chic coastal resorts sweep you off your feet.
Now, Montserrat is like that surprise chapter in a travel diary. Dubbed the "Emerald Isle of the Caribbean," its velvet green vistas and dreamy beaches are a call to those who love their spots cozy and intimate. The stories here whisper of volcanoes – of cities frozen in time under ash.
Venturing to Plymouth is like wandering through a real-life film scene. And for those with a wild heart, the trails here weave through untouched splendors, showcasing the spirit of a people rising from nature's trials.
On the budget side? No worries! Aruba's lively local markets are a treat – both for the soul and the pocket. Over in Montserrat, the intimate tourism vibe ensures you get genuine Caribbean feels without the price tag pinch.
And for those luxury moments? Aruba's plush resorts are ready to roll out the red carpet. Montserrat's boutique stays, on the other hand, are a class apart, blending intimacy with indulgence.
So, where does your heart lean? Aruba, with its vibrant shores and cultural beats? Or Montserrat, with its peaceful corners and tales of resilience? Either way, the memories will be golden.
Sun, Sand, Serenity: Aruba vs. Montserrat's Beachfront Paradises
Think of Aruba as that vibrant friend who always brings life to the party. Its beaches, draped in fine sand and kissed by azure waters, seem straight out of a daydream. Families can enjoy wholesome fun at Palm Beach or Eagle Beach, where the little ones can let loose and become sand architects.
Lovebirds, you're in for romantic sunset saunters and intimate moments at Baby Beach. For the adrenaline junkies, Hadicurari Beach's winds and waves await you for some windsurfing and kiteboarding action. And rest assured, whether you're pinching pennies or splurging, Aruba's got a cozy corner or opulent oasis just for you.
Montserrat, on the other hand, is that serene, poetic soul you turn to for calm and inspiration. It's the place to be if you want a deeper connection with nature and a break from the usual hustle. Picture this: an undisturbed day at Rendezvous Beach with your special someone.
Or an adventurous trek to the mysterious Black Sand Beach, nature's artwork from a volcanic eruption. Dive into the underwater wonder at Little Bay or set off on a family hike to discover hidden gems of the island. Here, you can indulge without splurging, or opt for a luxurious hideaway that merges with Montserrat's pristine beauty.
So, whether you're vibing with Aruba's lively charm or Montserrat's tranquil allure, both guarantee sunlit smiles, the music of gentle waves, and memories that'll have you reminiscing long after you've dusted off the sand.
Retreats Redefined: Unveiling Aruba and Montserrat's Lodging Gems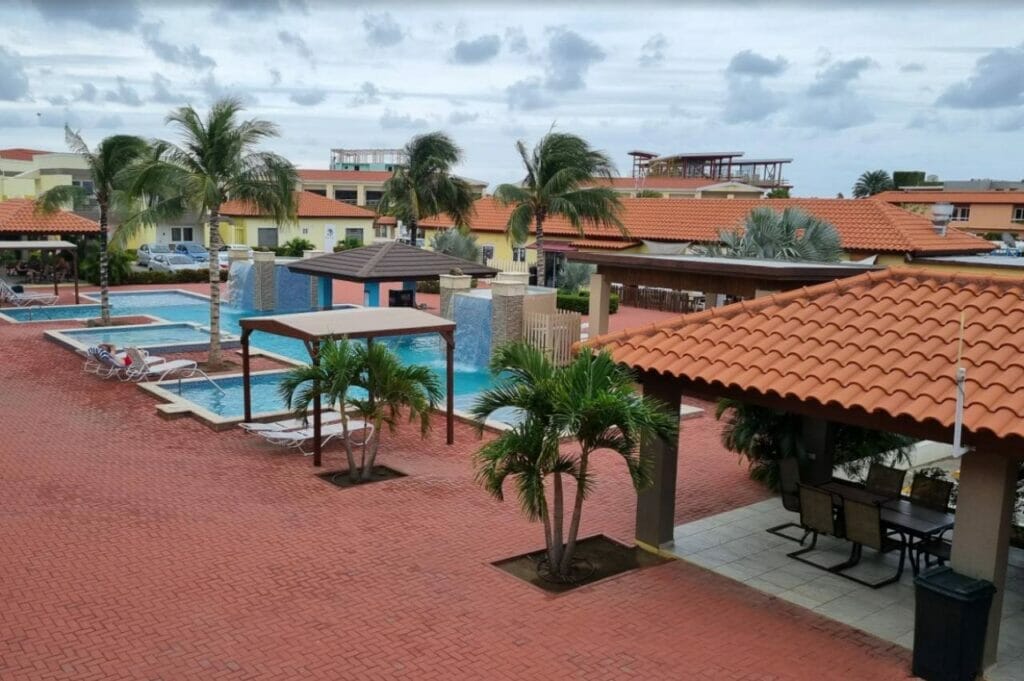 First stop: Aruba! Think sandy shores and a pulsing cultural heartbeat. Looking for a place to huddle with the crew? Karibu Aruba is where you'd feel right at home. These expansive villas have everything – from kitchens where you can cook up a storm to lounges perfect for that evening chill.
If you're leaning towards a splash of opulence, Golden Villas Aruba awaits. Picture this: your own private pool and a panorama of the vast ocean. Sounds like a slice of heaven, right? However, if you're more into savvy spending without compromising on style, check out Pearl Aruba Condos. Comfortable, chic, and friendly on the pocket.
Next on our journey is Montserrat. Envision green canopies and a peace that's almost palpable. For views that'll leave you speechless, Vue Point Hotel is the place. Set atop a hill, every morning is like a canvas painted with nature's finest.
For a hint of nostalgia combined with today's comfort, Olveston House is like a warm embrace from the past. And if you're someone who thrives amidst the whispers of nature, Gingerbread Hill offers an eco-sensitive yet thrilling retreat.
So, whether it's the allure of Aruba's dynamic shores or Montserrat's soul-soothing vistas, there's a bed with your name on it.
Adventures Await: Exploring the Allure of Aruba and Montserrat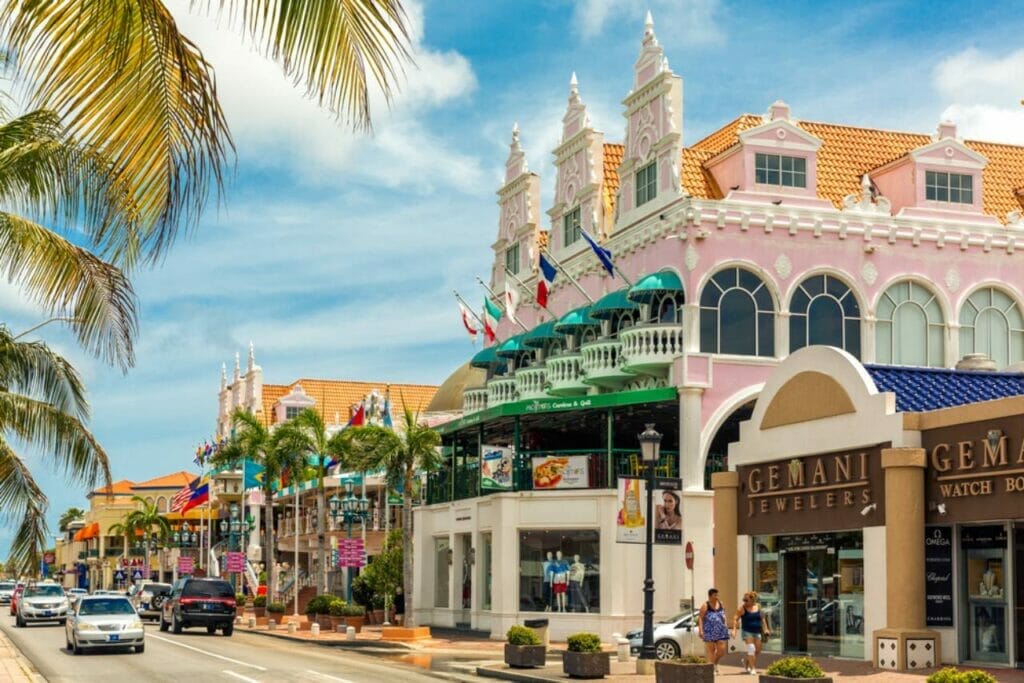 In Aruba, feel the island's lively heartbeat! Families, think fun-filled days: pristine Eagle Beach for your kiddos' next sandcastle masterpiece, and the colorful underwater world of Baby Beach for snorkeling fun. For the lovebirds among us, imagine hand-in-hand strolls with Palm Beach's mesmerizing sunsets painting the horizon.
Adventurous souls? Arikok National Park with its raw landscapes and secret caves awaits. And for the ones craving a little opulence? Picture yourself at a swanky resort, shopping in style at Oranjestad, or catching the breeze while windsurfing.
Now, for a pace that's a tad more languid, Montserrat beckons. Families, gear up for a bonding session hiking the awe-inspiring Soufrière Hills volcano. It's nature's classroom for the young and the young-at-heart! Couples, imagine a world where only the two of you exist on secluded black sand beaches like Rendezvous Bay.
Adventure junkies, the island's coral gardens and sunken ships are calling for exploration. On a budget? Dive into Montserrat's genuine heartbeat with cozy guesthouses and the flavors of local cuisine. But if luxury is your melody, boutique havens here offer cozy nooks, top-notch service, and spa sessions with the Caribbean's soothing hum as your soundtrack.
So, are you feeling the electric vibe of Aruba or the calming embrace of Montserrat? Either way, these islands are your ticket to lasting memories. Grab that sun hat, throw in your swimsuit and hiking gear, and let's embark on a Caribbean dream!
Wheels of Wanderlust: Navigating Aruba and Montserrat with Car Rentals
Picture this: you're setting your sights on the Caribbean, eyeing either the lively Aruba or the serene Montserrat. Both are a treat for families, lovebirds, adrenaline junkies, the budget-smart, and those craving a sprinkle of luxury. Each island tells a different transportation tale, shaping how you'll soak in their charm.
For families or couples wanting to weave their own story, Ocean Drive Car Rental, 3XD Car Rental, and Aruba Car Rental have got you. Whether it's packing up an SUV for a family beach day or cruising down the coast in a chic convertible, your Aruban escapade awaits. For the thrill-seekers, Turo Car Rental promises rides with a twist, turning your adventures up a notch!
Now, let's sail to Montserrat's tranquil shores. Here, the journey feels more like a gentle whisper, with the island's calmness reflected in every turn. For those wanting to map out their own adventure, Tiptop Enterprise offers dependable wheels.
Picture cruising through scenic routes, unveiling Montserrat's secrets one by one. And while Montserrat might not have Aruba's vibrant buzz, its quaint allure has its own magic—imagine hopping in a quaint island car and discovering hidden gems at your whim.
To wrap it up, if Aruba's vivacious shores beckon you, there's a ride for every flavor of fun. Meanwhile, Montserrat woos with its laid-back allure, supported by trustworthy rentals that let you journey at your own beat.
Savoring Flavors: Culinary Journeys in Aruba and Montserrat
Imagine this: In Aruba, with its golden beaches and lively spirit, every meal is an invitation to a fiesta of flavors. If you're traveling with family, the Olivia Mediterranean Restaurant is a must-visit. Here, the rich aromas and fresh ingredients are sure to win over even the most discerning little diners.
Looking for a romantic setting? Whisper sweet nothings to your partner at the Bohemian Bar & Restaurant, as the soft sea breeze sets the mood. And for those with an adventurous spirit, Salt and Pepper Tapas Bar & Restaurant is a treat! Dive into a myriad of tapas that promise a culinary roller-coaster.
Now, think Montserrat. This serene oasis, with its green panoramas, offers dining that echoes its relaxed and elegant vibe. Hank's Beach Bar is perfect for families: picture enjoying scrumptious dishes with your toes dipped in the sand.
Want to spark some romance? Summer Breeze Restaurant, with its romantic setting and island-inspired dishes, is where love stories find their flavor. And for the adventurers among you, a meal at Ziggy's Restaurant is incomplete without swapping stories with fellow wanderers over a delectable spread.
Worried about the budget? Both islands have got you covered. From street-side stalls serving local goodies to quaint cafes with budget-friendly menus, your stomach and pocket will thank you. If you're leaning towards a bit of opulence, both Aruba and Montserrat know how to serve up luxury on a plate.
So, whether you're planning a family vacation, a dreamy date, an adventurous outing, or looking to dine in style without breaking the bank, Aruba and Montserrat are culinary destinations waiting to be discovered.
Aruba vs. Montserrat FAQ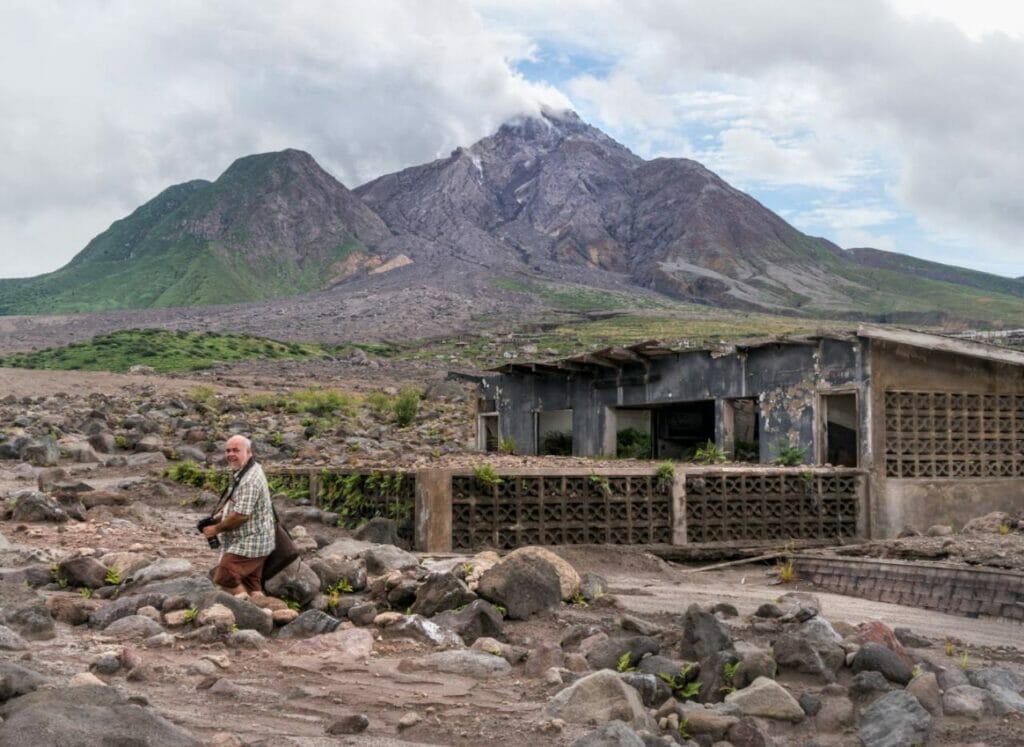 What is the culture of Montserrat?
Montserrat's culture is a captivating blend of Afro-Irish heritage that reflects its historical roots. The island's vibrant traditions, music, and dance forms showcase the fusion of African and Irish influences. Festivals like the St. Patrick's Festival celebrate Montserrat's Irish connections, while local artisans contribute to the rich arts scene with their intricate pottery and woodwork. Visitors are made to feel like a part of the community by the friendly people, adding to the island's distinctive cultural experience.
Why is Montserrat so famous?
Montserrat gained fame due to its dramatic natural beauty and the impact of the Soufrière Hills volcano. The terrain of the island was affected by the 1990s eruption, which created a distinctive landscape of volcanic ash in the south and lush rainforests in the north. Montserrat's stunning landscapes, hidden waterfalls, and captivating hiking trails draw nature enthusiasts seeking an unspoiled paradise. Additionally, its Afro-Irish heritage and vibrant festivals, such as the St. Patrick's Festival, have contributed to Montserrat's fame as a culturally rich and unique destination.
What is unique about Montserrat?
What sets Montserrat apart is its captivating blend of natural beauty and cultural heritage. The island's volcanic landscapes, including the Soufrière Hills volcano, offer a dramatic backdrop for exploration and adventure. Montserrat's Afro-Irish heritage infuses the local traditions, music, and arts, providing a distinct cultural experience. The island's tranquil and intimate setting, with secluded beaches and untouched nature, offers a peaceful retreat away from the crowds. Montserrat is genuinely unique in the Caribbean due to its exceptional blend of natural beauties and deep cultural charm.