Aruba vs. Kingston (Jamaica)
Experience the best of the Caribbean with a visit to the contrasting charms of Aruba and Kingston.
The main difference between Aruba and Kingston (Jamaica) lies in their appeal to different types of travelers. Aruba is renowned for its pristine beaches, warm climate, and vibrant nightlife, making it an ideal destination for beach lovers and party enthusiasts. Kingston, Jamaica's capital city, offers a rich cultural experience with its historical landmarks, museums, and music scene, attracting travelers seeking a deeper understanding of Jamaican heritage and traditions.
Choosing between the two depends on whether one prefers a relaxing beach getaway or an immersive cultural exploration.
| Category | Aruba | Kingston (Jamaica) |
| --- | --- | --- |
| Cost Range for 1 Week | $2,274 – $4,782 (source) | $334 – $1,457 (source) |
| Location | Caribbean | Caribbean |
| Geography | Flat desert island | Coastal city |
| Language | Dutch, Papiamento, English | English |
| Government | Parliamentary democracy | Constitutional monarchy |
| Currency | Aruban florin (AWG) | Jamaican dollar (JMD) |
| Tourism | Major tourist destination known for beaches and resorts | Popular tourist destination with historical sites and vibrant culture |
| Economy | Tourism, offshore banking, oil refining | Tourism, agriculture, mining, manufacturing |
Whether you crave a tranquil beach getaway or a vibrant city experience, both Aruba and Kingston have something incredible to offer.
Ultimate geography guide
Hey there, my fellow wanderlust warriors! Stuck choosing between two tropical gems for your next escape? Let me take you on a virtual whirlwind tour of Aruba and Kingston, Jamaica. They're both showstoppers, but which one's calling your name?
Aruba, first on the list! This pint-sized slice of the Dutch Caribbean is your dream ticket for those wanting a splash of sunshine and a dose of relaxation. Imagine powdery white beaches, shimmering blue waters, and the sun grinning down all year.
Thinking of a family beach day, romantic sunsets, or getting your adrenaline pumping with water sports? Aruba is your playground. And if rugged landscapes are more your thing, the northern coast will leave you starry-eyed. Don't be fooled by its rep for luxury; savvy travelers can unearth some fantastic deals!
Now, sway to the rhythm of Kingston, Jamaica. Ah, Kingston! This is where reggae pulses through the streets, and the spirit of the island envelops you. Delve deep into reggae's heart at the Bob Marley Museum or let your taste buds dance with spicy Jamaican jerk flavors in the lively markets.
And if you've got a hankering for heights, the majestic Blue Mountains are your stairway to heaven. Kingston's got a bed for every budget, be it plush hotels or cozy guesthouses.
Comparing terrains? Aruba's got an almost desert-like allure with its cacti and serene beaches. Ideal for kiddos and those looking for a placid swim. Kingston? Think lush tropics and a more rugged embrace by the sea. Not always swim-friendly, but oh-so-mesmerizing for nature buffs.
beach comparison: aruba or kingston
If you're on the lookout for a family-friendly oasis, Aruba might just steal your heart. Picture this: your little ones giggling as they build sandcastles on the serene Eagle Beach, while you snorkel in the shimmering waters of Boca Catalina. This Dutch Caribbean paradise is an all-age playground, promising countless memories under the sun.
But if you've got a thirst for culture and a dash of adventure, Kingston is calling your name. Feel the beat of reggae as you dance barefoot on Hellshire Beach, with tempting aromas from local food stalls teasing your taste buds.
Fancy riding the waves? Don't miss the exhilarating surf at Bull Bay. Whether you're igniting romance or soaking up Jamaican vibes with family, Kingston's lively beaches are sure to leave a lasting imprint.
Thinking about where to stay? Aruba caters to every traveler's pocket. Snuggle up in a quaint beach bungalow, indulge in a family-centric resort, or experience the warmth of a local guesthouse. If luxury's your middle name, Aruba's upscale resorts will sweep you off your feet with spa sessions, exclusive beaches, and first-class services.
And for the pure beach aficionados among us, both Aruba and Kingston will leave you in awe. While Aruba flaunts its immaculate beaches and vibrant water sports, Kingston entices with secluded coves nestled against dramatic cliffs, making every moment feel like a personal postcard.
Ready to make some beach memories? Whether you lean towards Aruba's family fun or Kingston's cultural pulse, both destinations promise a slice of heaven for every beach lover.
Top rated activities and attractions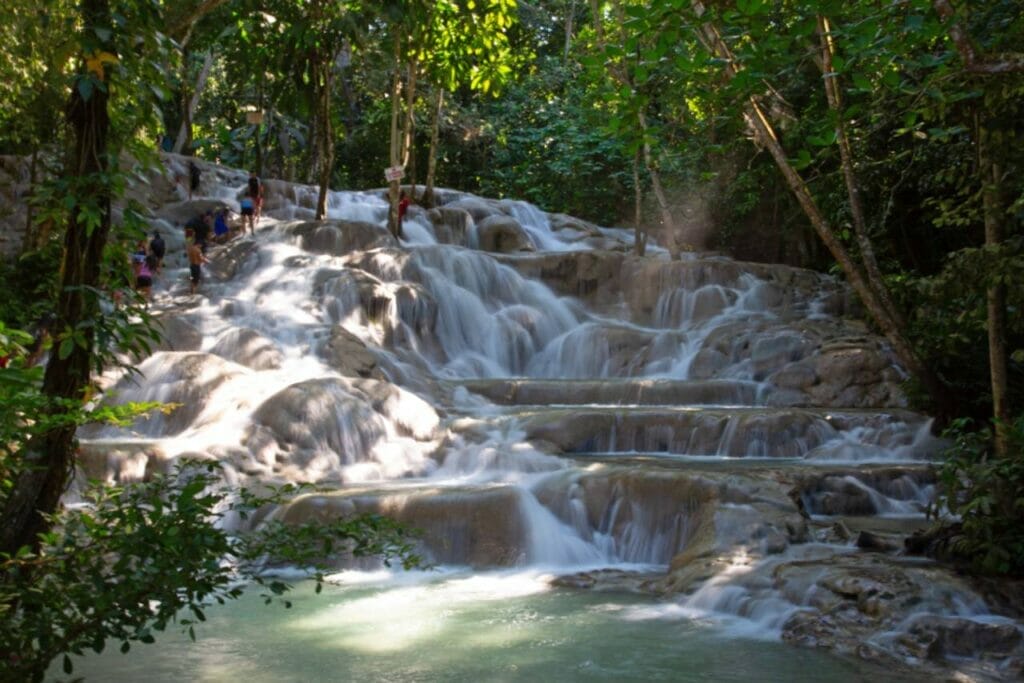 Picture this: You're in Aruba, toes digging into the soft white sands, eyes soaking in the shimmer of the turquoise sea. Families? Oh, you'll adore those kiddie giggles while building sandcastles or chasing waves. Couples, imagine sharing a sunset sail, the sky painting colors as deep and warm as your feelings.
Adventure junkies, the ocean beckons with the allure of snorkeling and windsurfing. And for the ones who love a sprinkle of luxury, imagine unwinding at a top-notch resort, sipping on a cocktail, and getting that much-deserved spa day.
Now, let's transport to Kingston, Jamaica. It's an explosion of culture, vibes, and rhythms. Families, groove to the iconic beats of Bob Marley and introduce the kiddos to the world of reggae. Got that thrill-seeker spirit? Conquer the trails of the Blue Mountains or feel the majestic rush of the Dunn's River Falls.
And hey, budget travelers, get lost in Kingston's lively markets and relish the authentic flavors of the streets. But if you're leaning towards a bit of opulence, there are serene luxury havens awaiting you amidst the green.
Aruba and Kingston are more than just destinations; they're stories waiting to be lived. Whether it's family time, lovey-dovey moments, adrenaline rushes, or a bit of penny-saving paired with lavish treats, these places have penned the script.
where to stay in paradise?
Imagine Aruba. Picture diverse landscapes that tug at your heartstrings. For those special moments with your partner, consider the quaint charm of the Boardwalk Boutique Hotel Aruba. Tucked amidst serene gardens, it offers intimate casitas for that lovely retreat.
Or perhaps, you and your family are after an all-inclusive treat? Dive into the endless joys at Barceló Aruba. And for a stay that blends affordability with elegance, The Mill Resort Aruba is the place to be.
Now, let's fly over to Kingston, Jamaica. At the heart of this bustling city stands the AC Hotel by Marriott, a blend of modernity and luxury, perfect for couples on a chic getaway. Or if you're someone with an eye for sleek design and elegance, the Spanish Court Hotel will captivate your senses.
And to all my fellow adventurers out there, after a day soaking in Kingston's rich tapestry of culture and history, the Terra Nova All Suite Hotel is your lavish haven to recharge and relish.
In essence, be it the inviting beaches of Aruba or the soulful rhythms of Kingston, you're in for a stay as unique as you. Whether you're all about boutique vibes or sheer luxury, these places promise memories you'll cherish forever.
Aruba and Kingston: car rental tips
When it comes to transportation in this Caribbean paradise, you've got options that cater to all kinds of adventurers. For families and couples seeking convenience and flexibility, Sunset Car Rental Aruba, XL Car Rental, and More4Less Jeep&Car Rental have got your back.
Whether you're cruising to the beach or exploring the island's natural wonders, these rentals are perfect for making unforgettable memories.
On the flip side, if you're considering a Kingston escapade in Jamaica, get ready for a city bursting with culture and charm. Transportation here blends seamlessly with the city's vibrant energy.
Families can rely on well-known names like Avis Rent A Car, ensuring safety and comfort as you explore Kingston's historic sites. Meanwhile, Island Car Rentals and Rico's Car Rental offer options for budget-conscious travelers without compromising on quality.
No matter which destination you choose, the allure of the open road and the promise of new experiences await. Aruba's laid-back atmosphere is best explored at your own pace with a trusty rental, while Kingston's urban delights and rich heritage are yours to uncover with the ease and convenience of a rental car.
food guide in paradise
First stop: Aruba, where sun-kissed beaches meet a feast of flavors. Families, if you're keen on diving into local delights, make a beeline for Aquarius. With the waves as your backdrop, dive into a spread of fresh seafood and Caribbean favorites.
And the best part? They adore kids! But if you're lighting the candle of romance, you'll fall head over heels for Papiamento Restaurant. Nestled in a historic Aruban home, the blend of European and Caribbean dishes in an intimate setting spells perfect date night.
For those with an appetite for adventure, CHILLIN' Restaurant and Bar is your jam. Imagine ziplining to your table with the city lights twinkling below – it's a treat for both your stomach and soul! If upscale dining is your scene, Fromage Brasserie has got the magic touch. Picture French sophistication meets Jamaican hospitality, all dished up on a plate of gourmet goodness.
Worried about the cash? Don't sweat it! Both spots offer some wallet-friendly wonders. Over in Aruba, Restaurant anno 1877 dishes out flavors that tell tales of the island's past, all while minding your bucks. In Kingston, Dining With Curvy is your ticket to an authentic Jamaican feast that won't cost a fortune.
So, families, lovebirds, adventurers, and budget-watchers, listen up! From toes-in-the-sand dining to ziplining to your seat, and from cozy budget bites to lavish luxury, our picks in Aruba and Kingston promise a taste trip you'll be raving about for years.
Aruba vs. Kingston (Jamaica) FAQ
Which is better: Aruba or Jamaica?
Both Aruba and Jamaica offer unique experiences, so the answer depends on personal preferences. Aruba is known for its serene beaches, calm ambiance, and Dutch influence, making it a popular choice for those seeking a tranquil beach getaway. On the other hand, Jamaica, particularly Kingston, is famous for its vibrant culture, reggae music, and bustling city life. It all comes down to whether you prefer a relaxed island paradise (Aruba) or an energetic city with rich cultural heritage (Jamaica).
Why is Kingston, Jamaica, so popular?
Kingston, Jamaica, is popular for several reasons. Firstly, it is the birthplace of reggae music, with iconic artists like Bob Marley contributing to its global recognition. Secondly, Kingston is a vibrant city that embodies the Jamaican spirit of resilience and joy, pulsating with life day and night. Lastly, the city's diverse cultural scene, historic landmarks, and lively entertainment options attract visitors looking to immerse themselves in the authentic Jamaican experience.
What is Kingston, Jamaica, famous for?
Kingston, Jamaica, is famous for its rich cultural heritage, being the birthplace of reggae music and home to legendary artists like Bob Marley. The city's vibrant music scene, with numerous reggae clubs and bars, draws music enthusiasts from around the world. Additionally, Kingston is renowned for its historic landmarks, such as the Bob Marley Museum and Port Royal, reflecting its colonial past as a pirate haven. With its lively atmosphere and cultural significance, Kingston stands as a prominent symbol of Jamaican identity and artistic expression.