Planning your next tropical getaway? Look no further than Aruba and Jamaica, two stunning destinations that promise an unforgettable experience.
The main difference between Aruba and Jamaica: Aruba is a Dutch Caribbean island located off the coast of Venezuela, known for its dry climate and stunning beaches. It boasts a diverse cultural mix influenced by Dutch, Spanish, and indigenous traditions. Jamaica is an island nation in the Caribbean Sea, known for its lush landscapes and vibrant reggae music scene.
Its culture is heavily shaped by African, British, Spanish, and indigenous influences. These distinct geographical and cultural characteristics set Aruba and Jamaica apart.
| Category | Aruba | Jamaica |
| --- | --- | --- |
| Cost Range for 1 Week | $2,274 – $4,782 (source) | $358 – $2,299 (source) |
| Location | Located in the Southern Caribbean Sea | Located in the Caribbean Sea |
| Geography | Mostly flat with sandy beaches and arid landscapes | Mountainous terrain with rainforests and coastal plains |
| Language | Official languages: Dutch, Papiamento, and English | Official language: English; Jamaican Patois widely spoken |
| Government | Parliamentary democracy under the Kingdom of the Netherlands | Constitutional monarchy and parliamentary democracy |
| Currency | Aruban Florin (AWG) | Jamaican Dollar (JMD) |
| Tourism | Known for pristine beaches, luxury resorts, and diving opportunities | Famous for reggae music, vibrant culture, and beach resorts |
So pack your bags and get ready to discover the wonders of these tropical paradises!
Local Culture and Hospitality
Aruba and Jamaica each boast a vibrant and welcoming local culture that adds to the allure of these tropical destinations. In Aruba, the cultural influences of Dutch, Spanish, and indigenous Arawak heritage blend seamlessly to create a unique identity. The locals, known as "Arubans," are renowned for their warm and friendly nature, making visitors feel right at home.
Aruban hospitality is evident in their welcoming smiles, willingness to share their traditions and stories, and their dedication to ensuring that visitors have a memorable experience. Travelers can immerse themselves in the local culture by attending lively festivals such as Carnival, where vibrant parades, music, and traditional costumes celebrate Aruba's rich heritage.
In Jamaica, the cultural tapestry is woven with influences from African, European, and indigenous Taino roots, resulting in a lively and diverse society. Jamaicans, known for their infectious spirit and lively personalities, embody the concept of "irie" – a Jamaican Patois term meaning peace, happiness, and contentment.
Visitors to Jamaica will feel the warmth of the people's welcome, whether they interact with the locals, eat traditional Jamaican food at a neighborhood restaurant, or dance to the reggae music at a fun beach party. The Jamaican people take pride in sharing their traditions, such as storytelling, dance, and the vibrant art of handicrafts, providing visitors with a genuine and immersive cultural experience.
Beaches
When it comes to beaches, both Aruba and Jamaica offer breathtaking stretches of pristine sand and crystal-clear turquoise waters. Aruba's beaches are renowned for their powder-soft sand and vibrant shades of blue. Palm Beach and Eagle Beach, in particular, are popular for their calm waters and picturesque sunsets.
In contrast, Jamaica's beaches are known for their more rugged and natural beauty. Negril's Seven Mile Beach captivates visitors with its long expanse of golden sand and breathtaking sunsets. The beaches in Jamaica often have a more lively atmosphere, with beach bars, reggae music, and a vibrant mix of locals and tourists.
Reggae Music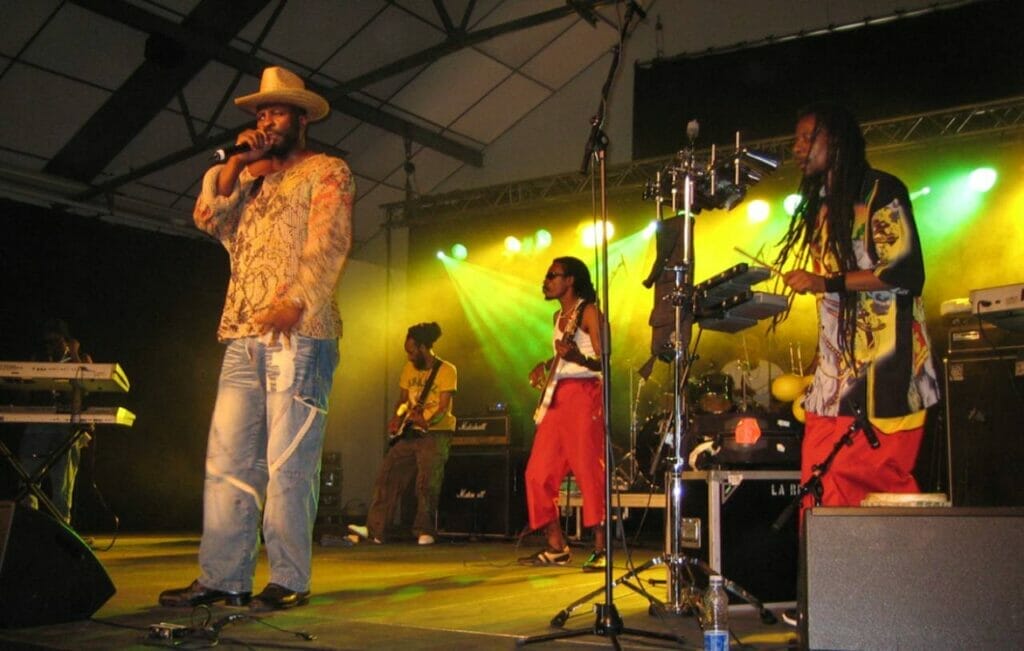 No discussion of Jamaica would be complete without mentioning its iconic contribution to the world: reggae music. The pulsating rhythms and soulful melodies of reggae have transcended borders and touched the hearts of people worldwide. Legendary musicians like Bob Marley were born in Jamaica, where their music still has an impact on listeners today.
Reggae music may not have the same historical significance in Aruba, but the island's nightlife and entertainment scenes nevertheless use it, giving the atmosphere a hint of the Caribbean.
Waterfalls
If you're seeking nature's spectacle, both Aruba and Jamaica offer captivating waterfalls that are sure to leave you in awe. Aruba may be known for its arid landscape, but it boasts a hidden gem known as the Natural Pool. Nestled within Arikok National Park, this natural pool is formed by the crashing waves that spill over the rugged coastline, creating a picturesque setting for a refreshing dip.
In contrast, Jamaica's Blue Hole and Dunn's River Falls provide a more traditional waterfall experience. The Blue Hole in Ocho Rios offers turquoise waters surrounded by lush greenery, where visitors can take a thrilling leap into the inviting pools. Dunn's River Falls, a majestic cascade of terraced limestone steps, allows adventurers to climb up the falls, creating an exhilarating and memorable experience.
Activities and Attractions
Aruba and Jamaica offer a plethora of activities and attractions that cater to various interests and preferences. In Aruba, water sports enthusiasts can indulge in an array of thrilling activities. There are numerous aquatic activities, such as windsurfing along the shore and snorkeling in the pristine waters.
Divers may explore the fascinating underwater world filled with diverse marine life thanks to the island's spectacular coral reefs, which also offer fantastic chances for scuba diving. On land, visitors can embark on ATV tours, go hiking in Arikok National Park, or take a leisurely stroll through the charming streets of Oranjestad, the capital city, with its vibrant shops and colonial architecture.
Jamaica, which is renowned for its natural beauty, has a variety of activities for outdoor enthusiasts. Dunn's River Falls, one of the island's most famous landmarks, invites visitors to climb its terraced limestone steps while being caressed by the cascading waters. The mystic Blue Mountains provide a haven for hikers, offering breathtaking vistas and opportunities to explore coffee plantations and hidden waterfalls.
For those seeking cultural experiences, a visit to Bob Marley's former residence, now the Bob Marley Museum in Kingston, is a must. Additionally, visitors can delve into history by exploring the colonial architecture of Falmouth or take a relaxing bamboo rafting trip down the Martha Brae River. From adrenaline-pumping adventures to cultural explorations, Aruba and Jamaica have something for every traveler.
Adventure Sports
For the adrenaline junkies, both Aruba and Jamaica offer an array of adventure sports to get your heart racing. With activities like windsurfing, kitesurfing, and snorkeling, Aruba is a paradise for fans of water sports. The constant trade winds make it an ideal destination for those seeking an exhilarating windsurfing experience.
In Jamaica, the lush mountains and rivers provide a playground for adventure seekers. Activities like river tubing, zip-lining through the rainforest, and hiking to hidden waterfalls offer a thrilling escape into nature. Whether you're gliding over the water in Aruba or exploring the rugged terrain of Jamaica, both destinations offer unforgettable adventures for those craving an adrenaline rush.
Blue Mountains
For hikers and wildlife lovers, Jamaica's Blue Mountains, a UNESCO World Heritage Site, offer a breathtaking setting. This magnificent mountain range offers amazing views and unusual flora and animals. It is cloaked in mist and covered in deep vegetation. The Blue Mountains are home to some of the world's best coffee estates, where you can indulge in a freshly brewed cup while taking in the tranquil surroundings. Coffee aficionados will be thrilled to learn this.
Aruba, with its flat terrain, doesn't boast mountains of such grandeur. However, its picturesque landscapes and scenic coastal drives provide their own charm, offering a different kind of beauty to explore.
Local Cuisine
Aruba and Jamaica tantalize taste buds with their delectable and distinct local cuisines. In Aruba, the culinary scene reflects the island's diverse cultural influences. Visitors can savor mouthwatering seafood dishes like fresh red snapper or indulge in Aruba's famous seafood soup known as "keshi yena."
Visitors are invited to go on a culinary experience in Jamaica, which is known for its rich and spicily prepared food. The island's signature dish, jerk chicken or pork, tantalizes taste buds with its fiery spices and smoky flavors. Other Jamaican specialties include "ackee and saltfish" (the national dish), "curried goat," and "escovitch fish."
Aruba vs. Jamaica FAQ
Is Aruba better than Jamaica?
Aruba and Jamaica are both unique and offer distinct experiences, making it difficult to determine which is better. Aruba boasts pristine beaches with powder-soft sand and crystal-clear waters, while Jamaica offers a more rugged natural beauty with lively beaches and iconic waterfalls. Each destination has its own vibrant culture, local cuisine, and exciting activities. The choice ultimately depends on personal preferences and the kind of experience one seeks, whether it's a relaxed beach getaway or an adventurous exploration of nature and reggae culture.
Is Aruba a part of Jamaica?
No, Aruba is not a part of Jamaica. Separate island Aruba can be found 15 miles north of Venezuela in the southern Caribbean Sea. It is a constituent country of the Kingdom of the Netherlands. On the other hand, Jamaica is an island country in the Caribbean Sea that is west of Haiti and south of Cuba. Although both destinations offer tropical experiences, they are distinct and have their own unique characteristics.
Where is Aruba from Jamaica?
Aruba is located approximately 970 miles west of Jamaica in the Caribbean Sea. While the two islands share a geographical proximity, they are separate entities with distinct cultures and identities. Venezuela to the south and other Caribbean islands like Curaçao and Bonaire are Aruba's nearest neighbors. The distance between Aruba and Jamaica makes them independent travel destinations, each offering its own charm and allure to visitors.