Aruba, with its picturesque landscapes and inviting warm breeze, lures travelers to its shores with miles of pristine white sandy beaches and unique natural wonders like Arikok National Park.
Aruba is an island located in the southern Caribbean Sea, constituting a constituent country of the Kingdom of the Netherlands. It has a semi-arid climate and is renowned for its pristine beaches and vibrant tourism industry. Guadeloupe is an archipelago situated in the eastern Caribbean, being an overseas department and region of France. It has a tropical climate and boasts a diverse landscape with volcanic islands, rainforests, and beautiful coastlines. These distinct locations and political affiliations contribute to unique cultural experiences and governance structures in each territory.
| Category | Aruba | Guadeloupe |
| --- | --- | --- |
| Cost Range for 1 Week | $2,274 – $4,782 (source) | $760 – $4,702 (source) |
| Location | Caribbean Sea, near Venezuela | Caribbean Sea, near Dominica |
| Geography | Flat, arid, desert-like | Mountainous, rainforest |
| Language | Dutch, Papiamento, English | French, Creole |
| Government | Parliamentary democracy | Overseas department of France |
| Currency | Aruban florin (AWG) | Euro (EUR) |
| Tourism | Popular tourist destination | Popular tourist destination |
Whether you seek relaxation or adventure, Aruba and Guadeloupe are ready to enchant you with their natural beauty and warm hospitality.
Paradise Showdown: Aruba vs. Guadeloupe – A Tale of Stunning Shores
Ever found yourself daydreaming about azure waters and the soft embrace of golden sands? Let me introduce you to the Caribbean jewels: Aruba and Guadeloupe. At first, they might just seem like twin paradises, but each island sings its own beautiful melody. Let's explore them together, so you can pick the perfect backdrop for your dreamy getaway, no matter your travel style.
Step off the plane in Aruba, and it's like getting a warm hug from an old friend. Its beaches are sugar-white, and the sun? Oh, it never takes a day off. This little slice of the Netherlands is a canvas of cactus-dotted landscapes and awe-inspiring rock formations.
And for those lovebirds among you, its tranquil waters are perfect for diving deep into underwater mysteries or maybe just a gentle snorkel. Drench your senses in a vibrant mix of Dutch elegance and local flair – think street art, soulful tunes, and dishes that dance on your tongue.
But if Guadeloupe whispers your name, prepare to be enchanted by its vibrant blend of French finesse and Caribbean cool. Picture lush rainforests, mighty volcanoes, and a culture that's a mesmerizing dance of European grace and African spirit. Adventure junkies, the trails of the Soufrière volcano await your footprints.
Families, you'll be spoilt for choice, whether it's giggles under cascading waterfalls or time-traveling in ancient plantations. And the food? Let's just say it's like a French chef and a Caribbean grandma cooked up a storm together.
Tightening those purse strings? Both islands have got you. In Aruba, pick from snug guesthouses to plush resorts that fit just right. Guadeloupe brings European charm at wallet-friendly rates – think quaint B&Bs or those lovely Creole cottages where time seems to pause.
And for those who adore the luxe life, both islands roll out the red carpet. Lounge on Aruba's Palm Beach with first-class treatment, or let Guadeloupe's Grande-Terre cradle you in luxury with spa days, vintage wines, and views that'll steal your breath away.
So, families, couples, adventurers, budget wanderers, and luxury lovers – both Aruba and Guadeloupe are calling. Dive into their stories, bask in their glory, and create memories that will warm your heart forever. Your next chapter in paradise is just a plane ride away!
Choosing Bliss: Aruba or Guadeloupe for Your Ultimate Beach Getaway?
Starting off with Aruba – a true Caribbean gem that beckons families with its picture-perfect beaches. The island's Eagle Beach is a haven for those seeking calm and serenity. Imagine building sandcastles with the kids while the turquoise waves gently kiss the shore.
But hey, adventure seekers, don't be fooled! Aruba's Palm Beach offers a vibrant scene with various water sports like windsurfing and kayaking, sure to get your adrenaline pumping. And if luxury is your jam, Aruba's high-end resorts along these beaches redefine indulgence – sip on a cocktail while watching the mesmerizing sunset paint the sky.
Now, let's whisk you away to the captivating Guadeloupe. This French-Caribbean paradise is a favorite among couples seeking a romantic escapade. Grande-Anse Beach in Basse-Terre sets the mood with its lush surroundings and tranquil ambiance – perfect for strolling hand in hand along the shore.
Attention, adventure seekers and families: La Caravelle Beach in Grande-Terre offers a playground of activities, from snorkeling around vibrant coral reefs to embarking on exciting hiking trails. Budget travelers, you're in for a treat – Guadeloupe's public beaches provide affordable fun and a chance to mingle with locals while savoring delicious creole snacks.
In the ultimate showdown of Aruba vs. Guadeloupe, it's clear that both destinations cater to various tastes and budgets. So whether you're a family seeking a tropical retreat, a couple in search of a romantic rendezvous, an adventure junkie, or a traveler watching those purse strings, these beachy heavens have got you covered.
Luxury Havens: Where to Stay – Aruba vs. Guadeloupe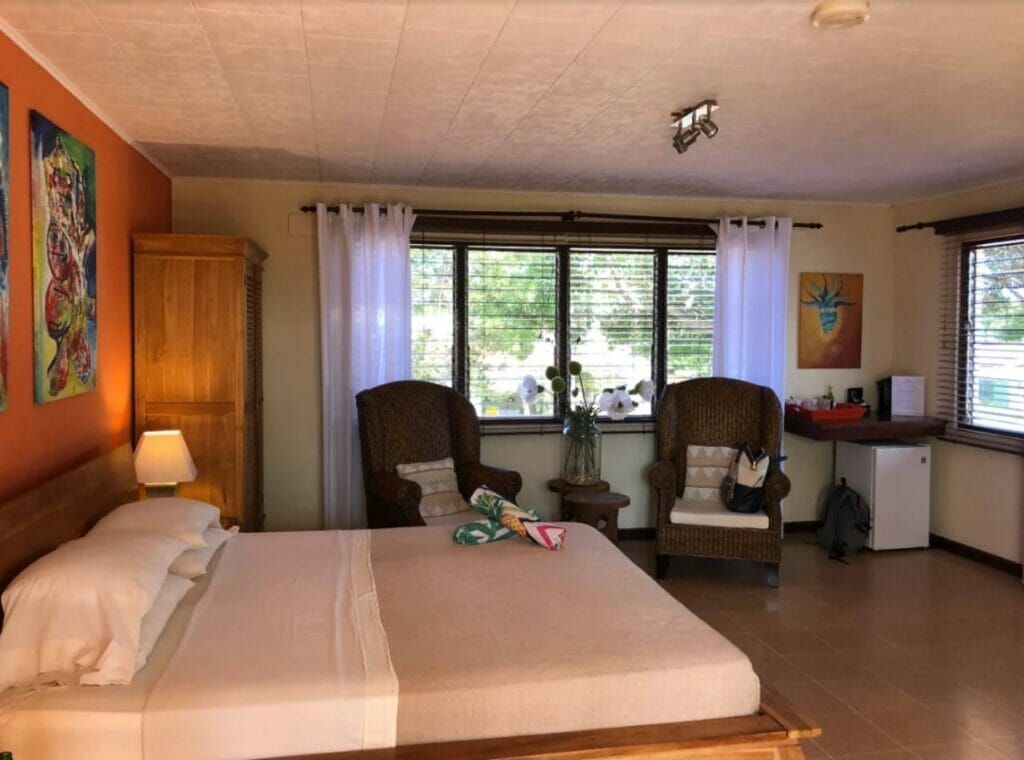 With its intimate atmosphere and attention to detail, it's perfect for couples seeking a romantic retreat. Meanwhile, if you're traveling with the whole gang, the Tamarijn Aruba All Inclusive Resort offers an array of family-friendly activities and dining options that'll keep everyone smiling.
And let's not forget the Casa del Mar Beach Resort – where luxury meets relaxation. It's a haven for those who want to treat themselves to a bit of indulgence amidst Aruba's natural beauty.
Now, let's hop over to Guadeloupe, where accommodations are as diverse as the island's landscape. For families looking for a blend of convenience and relaxation, the La Creole Beach Hotel & Spa is a true gem. With its beachfront location and a range of amenities, parents can unwind while the kids make a splash.
Adventurous souls, listen up! Amaudo might just steal your heart with its eco-friendly bungalows nestled in lush gardens – perfect for couples seeking a cozy haven after a day of exploring. And for those with an appetite for both fine living and fabulous food, Le Relais du Moulin – Hôtel, Restaurant offers a delectable blend of comfortable rooms and delectable dining experiences.
No matter which island you lean towards, both Aruba and Guadeloupe promise accommodations that cater to every kind of traveler. From budget adventurers to luxury lovers, these tropical havens are ready to welcome you with open arms and a warm Caribbean breeze.
Thrills Unleashed: Aruba vs. Guadeloupe Activities Faceoff
Aruba, the Caribbean gem known for its sparkling turquoise waters and pristine white sands, beckons families with open arms. Palm Beach is a paradise for sandcastle-building and paddleboarding, creating memories that'll stick with your little ones for a lifetime. If you're on a budget, fear not! Eagle Beach offers a more wallet-friendly scene without compromising on the stunning views.
Couples seeking romance won't be disappointed either – imagine strolling hand in hand along the Lovers' Bridge, catching those awe-inspiring sunsets that ignite the sky in hues of pink and orange.
On the other hand, the tropical haven of Guadeloupe boasts an array of lush rainforests and secluded waterfalls that'll make any adventure seeker's heart race. Hiking up La Soufrière volcano is an experience of a lifetime, offering both challenge and reward as you reach the summit and marvel at the panoramic island vistas.
For those with luxury in mind, upscale resorts in Grande-Terre offer a blend of relaxation and indulgence. Couples can't resist the allure of Basse-Terre's hot springs, where they can soak their worries away amidst a backdrop of tropical greenery.
If you're all about underwater exploration, Aruba's diverse marine life is a dream come true for snorkelers and scuba enthusiasts alike. The Antilla shipwreck is an underwater playground waiting to be discovered, adding an extra layer of excitement for adventure seekers.
Guadeloupe, however, takes you on an enchanting journey beneath the waves as well, with its Pigeon Island boasting some of the Caribbean's best diving spots. Families can share the thrill of glass-bottom boat tours, unveiling the vibrant underwater world without even getting their feet wet.
Wheels of Exploration: Car Rental Adventures in Aruba and Guadeloupe
Aruba, a gem in the Caribbean, boasts an array of transportation options that cater to every traveler's needs. Families and couples, fret not! Value Car Rental, Super Car Rental, and GMAX CAR RENTAL are your go-to choices. From spacious minivans for your brood to cozy cars for two, these options have got your crew covered.
Adventurers, get set to explore the rugged terrains – Aruba's got plenty of 4×4 rentals for you to conquer the off-beaten paths. Worried about the budget? Fear not, my frugal friends! Aruba has options that won't break the bank while keeping you cruising in style.
Now, let's hop over to Guadeloupe, where the lush landscapes and warm vibes await. For families seeking a touch of luxury and space, GINA AUTO's SUV rental is a dream come true. Couples looking to enjoy the Caribbean breeze can opt for a quick ride with Rent A Car Guadeloupe – Aéroport Pôle Caraïbes.
They've got options that cater to your adrenaline-fueled escapades. Whether it's hiking, water sports, or just discovering hidden gems, Guadeloupe's transportation options ensure you're always ready to roll.
So, whether you're a family in pursuit of unforgettable memories, a couple seeking romance under the sun, an adventurer ready to tackle new horizons, or a traveler on a budget not willing to compromise on experiences, both Aruba and Guadeloupe have got your transportation needs sorted.
Culinary Voyage: Savoring Aruban and Guadeloupean Dining Delights
In Aruba, where the sun perpetually kisses the shore, the dining scenes are as vibrant as its landscapes. Families, how about digging into some comfort food at Barefoot Restaurant? Feel the sand beneath your feet while picking from a menu that'll have even the fussiest kid smiling.
And for the lovebirds out there, let Passions On The Beach sweep you off your feet, with dinners under a starry canopy that feel straight from a dream. Adventurous souls, get ready for a culinary thrill at Screaming Eagle Restaurant. Dive into their tapas-style offerings that promise a taste adventure.
Now, over to Guadeloupe. Imagine a culinary masterpiece painted with French finesse and Creole charisma. Families, you're in for a treat at Le Zagaya. Relish the harmonious union of local spices and French flair that'll be a hit with everyone at the table. If it's romance you're after, let Ti Kaz'la set the mood with their heartwarming Creole classics.
And for those of you counting the pennies, Chez Margaux has your back with delightful local dishes that won't empty your pockets. Oh, and if you've got luxury on your mind, Guadeloupe pulls out all the stops with dining experiences that ooze opulence.
So, whether it's the easy-going allure of Aruba's Barefoot Restaurant, the dreamy vibes of Passions On The Beach, the innovative spread at Screaming Eagle, or Guadeloupe's delightful Le Zagaya, intimate Ti Kaz'la, or pocket-friendly Chez Margaux, you're guaranteed a culinary journey like no other in these Caribbean havens.
Whatever your travel vibe – be it seeking adventure, romance, family time, or a taste of luxury or budget-friendly options – your gastronomic desires are set to be fully satisfied.
Aruba vs. Guadeloupe FAQ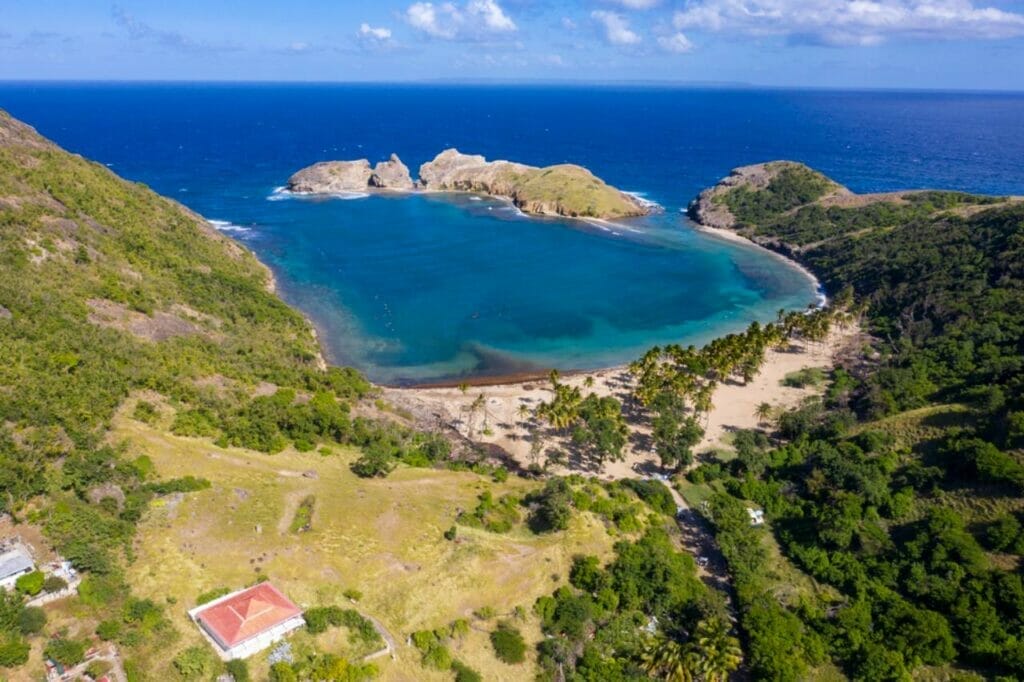 Where is Guadeloupe located?
Guadeloupe is located in the Caribbean Sea, specifically in the eastern part of the Caribbean archipelago known as the Lesser Antilles. It is situated between the islands of Dominica to the south and Antigua and Barbuda to the north.
Which country is Guadeloupe?
Guadeloupe is an overseas department and region of France. It is an integral part of the French Republic and governed by French law. As such, it is considered a part of the European Union, using the Euro as its currency, and its official language is French.
Which country is the owner of Aruba?
Aruba is a constituent country of the Kingdom of the Netherlands. While it is an autonomous entity within the Kingdom, the Netherlands is responsible for the defense and foreign affairs of Aruba. Aruba retains its own government, headed by a prime minister, and has its own distinct culture and identity.