Looking for the perfect Caribbean getaway? Let me introduce you to Aruba and Grand Cayman!
The main difference between Aruba and Grand Cayman lies in their geographical locations and cultural experiences. Aruba, a Dutch Caribbean island, is renowned for its arid landscape, diverse beaches, and vibrant nightlife. Grand Cayman, part of the British Overseas Territory, offers lush surroundings, world-class diving opportunities, and a more laid-back atmosphere.
Travelers seeking a lively and diverse nightlife might prefer Aruba, while those desiring a tranquil escape with exceptional diving might lean towards Grand Cayman.
| Categories | Aruba | Grand Cayman |
| --- | --- | --- |
| Cost Range for 1 Week | $2,274 – $4,782 (source) | $725 – $3,010 (source) |
| Location | Southern Caribbean | Western Caribbean |
| Geography | Flat, desert-like terrain | Low-lying coral islands |
| Language | Dutch, Papiamento, English | English |
| Government | Parliamentary democracy | British Overseas Territory |
| Currency | Aruban florin (AWG) | Cayman Islands dollar (KYD) |
| Tourism | Beaches, resorts, water activities | Beaches, snorkeling, diving, water sports |
| Economy | Tourism, oil refining, finance | Finance, tourism, offshore banking |
Whether you're a cultural enthusiast, an adventure seeker, or a food lover, both islands have something special to offer. So, which one will be your dream destination?
Navigating History and Geography: Aruba vs. Grand Cayman
Dreaming of your next slice of tropical heaven? Let me whisk you away on a cozy journey through the sun-soaked tales of Aruba and Grand Cayman – two Caribbean wonders that beckon families, lovebirds, adventurers, and explorers with any budget.
Ah, Aruba! This Dutch Caribbean darling showcases a desert backdrop where cacti stand tall, basking under the sun's glow. For those with an adventurous streak, the island's rugged northern coastline beckons with promises of hidden coves, hikes, and snorkeling.
But there's more! As the sun kisses your skin, immerse yourself in the tales of the indigenous Arawak, Spanish conquerors, and Dutch settlers that shape its vibrant spirit. With every step on Eagle Beach's soft sands or dance during their festive celebrations, you'll feel Aruba's hearty hug.
Now, imagine Grand Cayman – a pristine canvas painted with coral touches. Its endless white beaches and deep-blue waters are a feast for the eyes. While the iconic Seven Mile Beach lures you into a serene embrace, whispers of pirate adventures and tales of shipwrecks beckon the curious at heart. Dive into its maritime mysteries or experience the seamless blend of British colonial charm and the rich traditions of its islanders.
From families crafting sandcastles to couples lost in a sunset gaze, from thrill-seekers diving into histories to budget-conscious or luxury travelers, Aruba and Grand Cayman are your keys to crafting stories of a lifetime. Between the contrasting beauty of Aruba's deserts and Grand Cayman's serene shores, you're in for a treasure trove of memories.
So, whether you're toasting to the day with a drink on Aruba's Palm Beach or swimming alongside the playful stingrays in Grand Cayman's Stingray City, let the Caribbean's magic color your travel tales.
Beach Battle: Aruba vs. Grand Cayman's Coastal Charms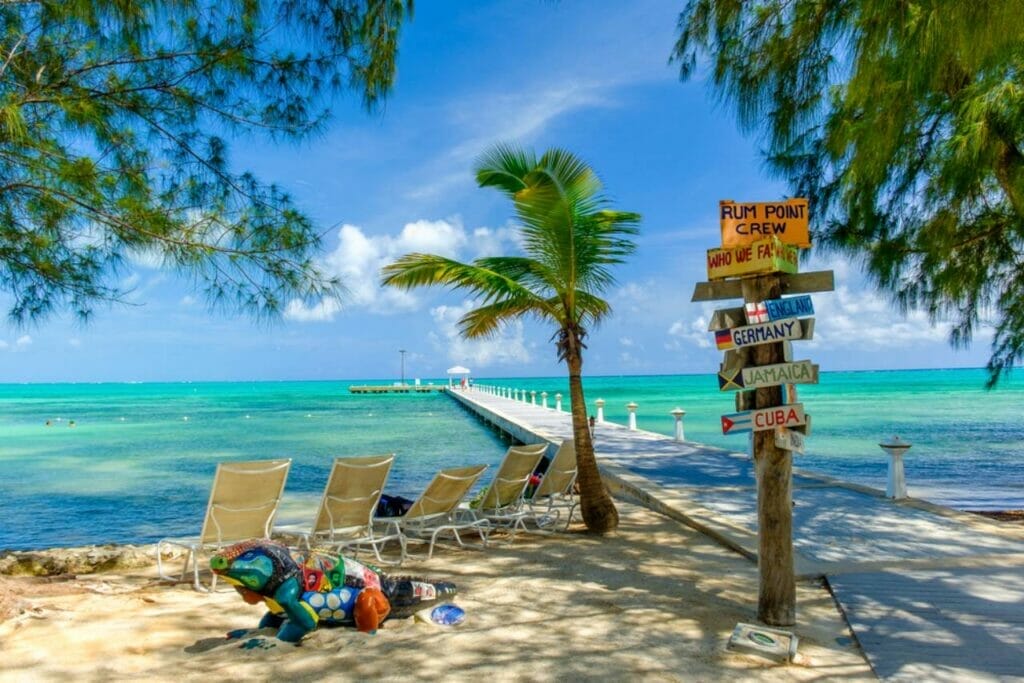 For families hunting for that magical mix of sun and fun, Aruba is your sandy playground! Eagle Beach with its fluffy white sand and gentle embrace of the waves is just waiting for your kids to build their next sand masterpiece.
And if you're leaning more towards Grand Cayman, don't fret! The sparkling waters of Seven Mile Beach are perfect for a splash-about or an enchanting snorkeling adventure with your little adventurers.
Dreaming of romantic getaways? Let Aruba's Palm Beach be the canvas to your love story. Picture this: Walking side by side, the sun dipping low, painting the sky with warm pinks and golds, while the ocean murmurs sweet lullabies. Grand Cayman counters with Starfish Point Beach, where you and your partner can trace the shoreline, discovering starfish and savoring those close, quiet moments against a canvas of calm blue waters.
To my thrill-seekers and marine lovers, Aruba's Baby Beach is your underwater gateway, a mosaic of colorful marine wonders. And if the wind calls you, try your hand at windsurfing at Arashi Beach, letting the exhilaration wash over you.
On Grand Cayman's shores, Rum Point Beach beckons with the promise of kayaking under clear skies. And for an unforgettable brush with nature, dive into the waters of Stingray City and meet its graceful residents.
Traveling on a budget? Aruba's Druif Beach welcomes you with open arms, beach bars, and bites that won't break the bank. For those seeking a touch of luxury, however, Grand Cayman's Camana Bay Beach promises plush resorts, private lounges, and culinary delights that dance on your palate.
Families, lovebirds, adventurers, budget wanderers or luxury seekers – Aruba and Grand Cayman have a beach with your name on it.
Choosing Your Island Retreat: Accommodation in Aruba and Grand Cayman
Let's start with Aruba, a jewel in the Caribbean. If you're a family looking for modern comfort and convenience, the Modern Hotel Aruba is a great choice. With spacious family suites and a range of kid-friendly amenities, it's a paradise for both parents and kids.
For couples seeking intimacy and relaxation, the Paradera Park Boutique Resort Aruba offers a tranquil oasis. Surrounded by lush gardens, it's the ideal spot for a romantic getaway. And if you're a luxury traveler, the St. Regis Aruba Palm Beach Resort is where opulence meets the ocean. Unparalleled service, stunning oceanfront views, and world-class facilities make it a haven of indulgence.
Meanwhile, over in Grand Cayman, a world of elegance and charm awaits. Calling all adventure seekers and families, Serenity Now — Luxury Cayman Villas provides the perfect home base for your thrilling exploits. With spacious villas that feel like your own private paradise, it's a haven for those seeking adventure by day and comfort by night.
Couples yearning for a romantic escape need to look no further than the Kimpton Seafire Resort + Spa. Walk hand in hand along the pristine Seven Mile Beach and indulge in luxurious spa treatments, creating memories to last a lifetime. And if you're all about that luxury lifestyle, The Ritz-Carlton, Grand Cayman is your sanctuary. This iconic resort offers a blend of sophistication and relaxation, promising an unforgettable stay.
Whether you're planning a family vacation full of laughter, a romantic getaway that rekindles the flame, adrenaline-pumping adventures, or a luxurious retreat, both Aruba and Grand Cayman boast accommodations that cater to your every need.
Tropical Escapes: Aruba vs. Grand Cayman Activities & Attractions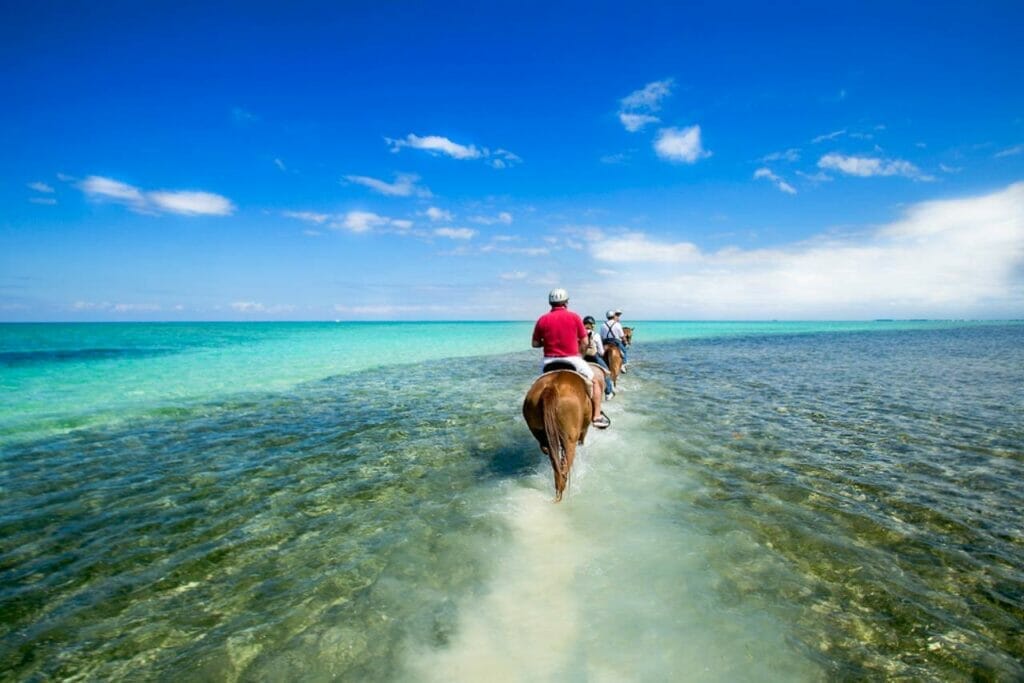 Imagine Aruba: sun-kissed and packed with delightful surprises. Families can soak up fun and sun at Eagle Beach, with its gentle waves being perfect for little ones. If you're on a romantic getaway, imagine the thrill of secret stolen kisses against the backdrop of Arikok National Park.
And oh, adventurers! Aruba beckons with windsurfing, breathtaking coral snorkeling, and even a dive into history with shipwreck explorations. Fancy a stroll? The vibrant streets of Oranjestad or a delicious bite at a local beach shack await. Whether you're indulging in luxury or counting those coins, Aruba's got a spot for you.
Now, let's drift to Grand Cayman. The island's charm is truly captivating. Picture families laughing as they swim alongside gentle stingrays in the crystal-clear waters of Stingray City. Lovebirds, imagine walking hand-in-hand, captivated by the sunset at Seven Mile Beach.
And thrill-seekers, get ready to dive into a world of wonders with unparalleled scuba experiences, where marine magic feels like a movie come to life. While Grand Cayman exudes opulence with plush stays, chic shopping, and gourmet feasts, those seeking affordable charm aren't left out. Dive into local markets, savor ocean-fresh seafood at cozy spots, and get lost in nature's embrace without spending much.
Whether you're planning a romantic waltz with your beloved in Aruba or dreaming of luxuriating in Grand Cayman's underwater wonderland, each island offers its own unique flavor.
The question is, which one tugs at your heartstrings more? Wanting a heart-pounding adventure, a lazy day under the sun, or a blend of both? The islands are waiting, and the choice is deliciously yours.
Driving Delight: Comparing Car Rental Experiences in Aruba and Grand Cayman
Let's start with Aruba, a paradise known for its stunning beaches and vibrant culture. When it comes to getting around, you've got options that cater to every travel style. If you're all about breezing through the island in style, Super Car Rental and GMAX CAR RENTAL have you covered.
Imagine cruising along the coast with the wind in your hair – perfect for couples aiming to add a dash of romance to their trip. Families can opt for Budget Rent A Car Aruba in Palm Beach, making those beach trips and family excursions a breeze without blowing the budget.
Now, let's jet over to Grand Cayman, where you'll find a transportation scene that's just as diverse as its marine life. For those who appreciate both adventure and wise spending, Budget of Grand Cayman has your back. You can explore the island's hidden gems without breaking the bank, leaving more room in your budget for underwater explorations.
Thrill-seeking travelers will love zipping around in style with Marshall's Rent-A-Car, perfect for embracing Grand Cayman's spirit of adventure. And if luxury is your game, Super Slick Car Rental offers a range of high-end options that perfectly match the island's upscale vibe.
So, whether you're planning a family-friendly escapade, a romantic rendezvous, an adrenaline-packed adventure, or a vacation that strikes a balance between budget and luxury, both Aruba and Grand Cayman have tailored transportation options to make your journey as unforgettable as the destinations themselves. It's time to hit the open road (or beachfront avenue) and create memories that will last a lifetime.
Culinary Showdown: Aruba and Grand Cayman's Epicurean Delights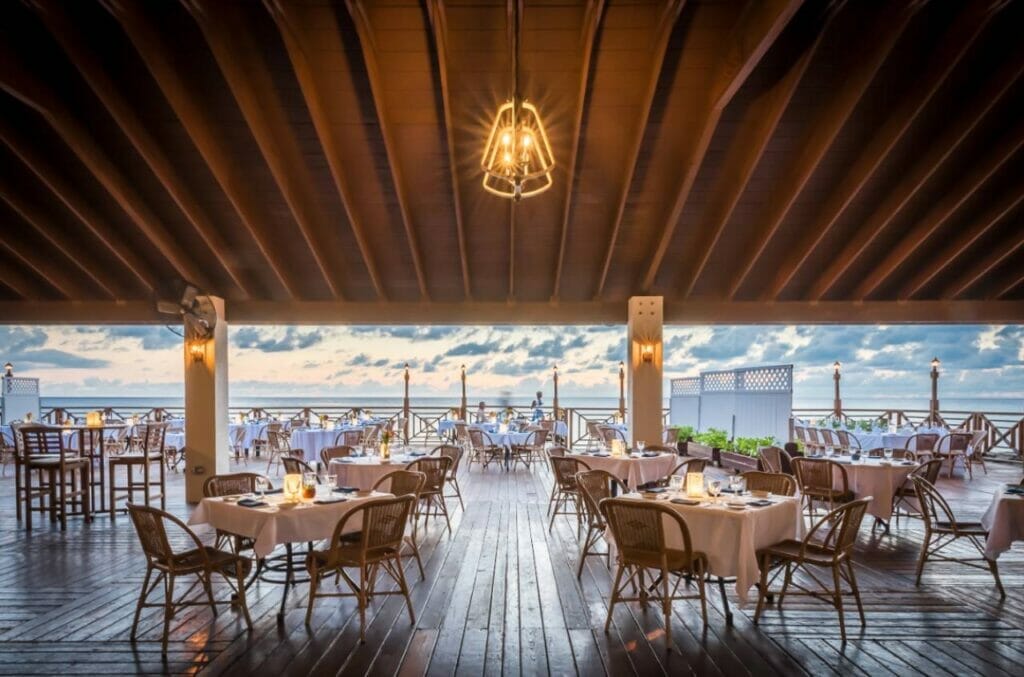 Let's paint a scene in Aruba first. Feel the gentle caress of the sands between your toes at Atardi, a beachside treasure where the menu sings praises of the ocean. As the sun bids adieu in a riot of colors, indulge in the freshest seafood.
Families, fear not! Madame Janette's warm courtyard is waiting to treat you to a meal that everyone, even the fussiest little one, will relish. And hey, if a zesty Mexican wave is what your palate craves, Chihuahua's Fiesta & Grill will have you dancing in delight.
Now, let's whisk over to Grand Cayman. Couples, light up your evening at Bacaro. This snug nook captures the essence of Italy, making for the dreamiest date night. Or step into the past and savor the dual delight of gourmet seafood and a slice of island lore at the Grand Old House Cayman, an erstwhile plantation home.
For families and adventurers craving an unexpected fusion, Tukka East End blends the Caribbean's zest with Australia's punch, all while the ocean plays a symphony for your senses.
Whether you're leaning towards Aruba or Grand Cayman, trust this: you're in for a symphony of flavors. From breezy seafood soirées to intimate Italian encounters, your island dining escapade promises to be unforgettable. Family trips, romantic interludes, or soulful solo adventures – prepare for your heart to beat to the rhythm of island tunes and your taste buds to embark on a journey of a lifetime.
Aruba vs. Grand Cayman FAQ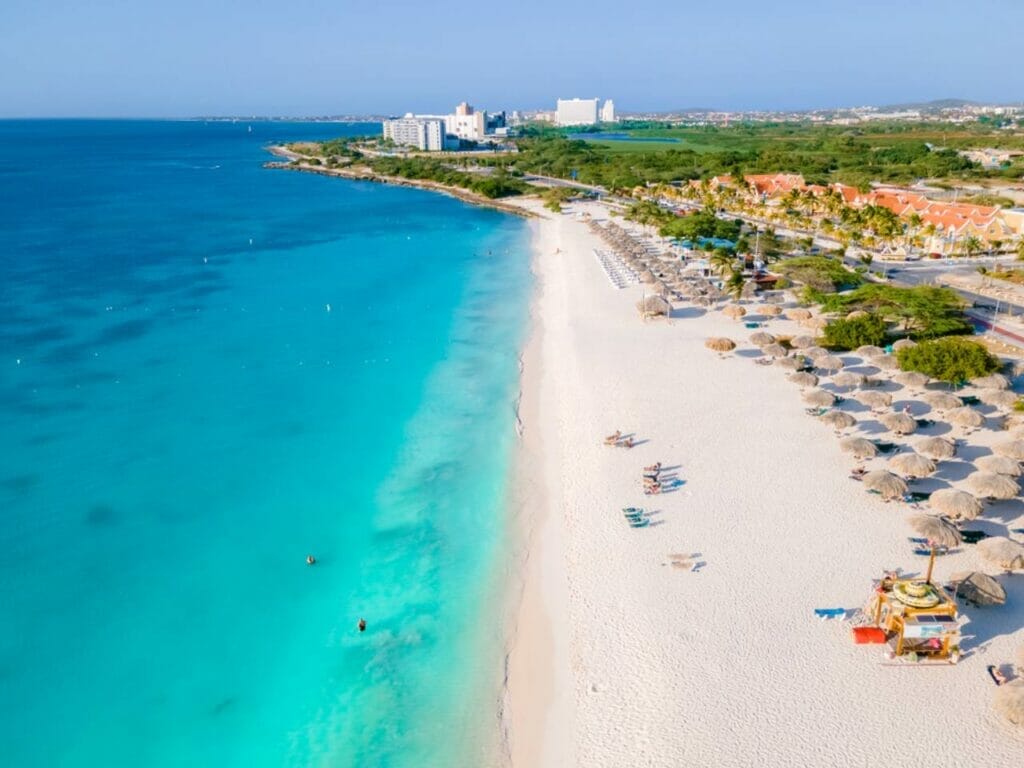 Are the Cayman Islands near Aruba?
Aruba is located in the southern Caribbean Sea, around 1,500 kilometers (930 miles) west of the Lesser Antilles. In contrast, the Cayman Islands are situated in the western Caribbean Sea, approximately 1,000 kilometers (620 miles) northwest of Jamaica. It's a 7 to 8 hours flight from Aruba to the Cayman Islands in a connecting flight without a layover.
Which is bigger: Grand Cayman or Aruba?
Aruba is bigger than Grand Cayman. Aruba covers an area of approximately 180 square kilometers (69 square miles), making it larger in size compared to Grand Cayman, which has an area of around 196 square kilometers (76 square miles).
What country are the Cayman Islands owned by?
The Cayman Islands are a British Overseas Territory. They are owned and governed by the United Kingdom. As a British Overseas Territory, the Cayman Islands maintain close ties with the UK and operate under its constitutional framework.