Aruba vs. Dominican Republic
Aruba and the Dominican Republic, two tropical havens nestled in the Caribbean, beckon travelers seeking an unforgettable escape.
The main difference between Aruba and Dominican Republic: Aruba and the Dominican Republic differ significantly in their geographical location and size. Aruba, a constituent country of the Kingdom of the Netherlands, is a small Caribbean island with a total area of approximately 180 square kilometers. In contrast, the Dominican Republic is a larger Caribbean nation occupying around 48,671 square kilometers.
Additionally, they vary in their cultural influences, political systems, and economic development due to their distinct histories and governmental structures.
| Category | Aruba | Dominican Republic |
| --- | --- | --- |
| Cost Range for 1 Week | $2,274 – $4,782 (source) | $376 – $2,518 (source) |
| Location | Southern Caribbean | Caribbean |
| Geography | Small island | Larger island |
| Language | Dutch, Papiamento | Spanish |
| Government | Parliamentary democracy | Democratic republic |
| Currency | Aruban Florin (AWG) | Dominican Peso (DOP) |
| Tourism | Major tourist destination | Major tourist destination |
| Economy | Tourism, oil refining | Tourism, agriculture |
To help you make an informed choice for your next adventure, let's delve into the attractions, historical heritage, activities, and amenities that make these Caribbean gems shine.
Introduction and Overview
When the desire to travel rekindles, the tropical allure of the Caribbean comes calling. However, choosing the ideal destination from among its radiant islands can be challenging. The Caribbean Sea is home to two mesmerizing jewels, Aruba and the Dominican Republic, each boasting unique attractions and distinct personalities. As potential tropical paradises for your next getaway, understanding these islands deeply can help you make the right choice.
Aruba, a Dutch Caribbean island, lies just off the coast of Venezuela, bathed by the southern Caribbean Sea. This petite island sparkles with white-sand beaches caressed by turquoise waters and sunlit skies. Known as "One Happy Island," Aruba offers not only a relaxing beach holiday but also an immersive cultural experience shaped by Amerindian, African, and European influences.
On the other hand, the Dominican Republic occupies the eastern side of Hispaniola Island in the Greater Antilles. Sharing its western border with Haiti, this Spanish-speaking nation is larger and more diverse in terms of landscapes and attractions. From the highest mountain peaks in the Caribbean to stunning white beaches, lush forests, and vibrant city life, the Dominican Republic invites visitors to dive into an exciting mix of nature and culture.
To help you with your tropical dilemma, let's delve deeper into the unique offerings of these Caribbean paradises, comparing their attractions, historical heritage, activities, and amenities, among other factors.
Attractions and Natural Beauty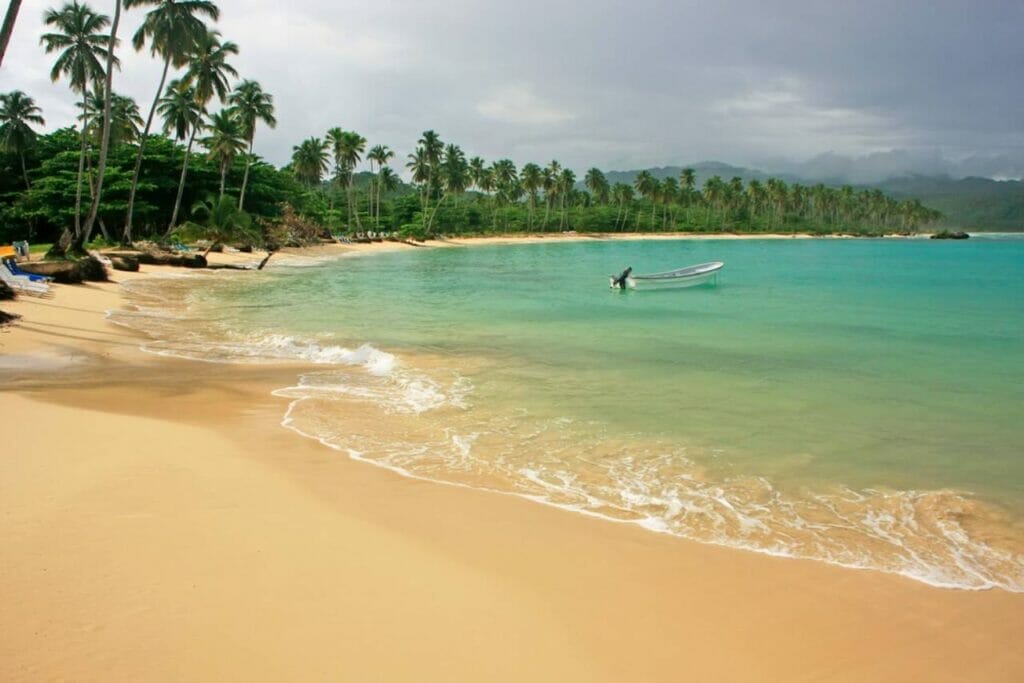 Aruba's major draw is undoubtedly its spectacular beaches, including the famous Eagle Beach, known for its soft white sands and calm, clear waters. Palm Beach, another favorite, is lined with high-rise hotels and bustling beach bars. However, beyond the beaches, Aruba surprises visitors with its diverse flora and fauna within the Arikok National Park. Covering almost one-fifth of the island, the park is home to unique species, indigenous cacti, and historic cave paintings.
Another gem in Aruba's crown is the California Lighthouse, an iconic landmark offering panoramic views of the island's rugged coastline. Animal enthusiasts would also enjoy a visit to the Donkey Sanctuary, a refuge for the island's loveable and historically significant creatures. Finally, the island's southern tip, dubbed "Baby Beach," offers a peaceful and shallow lagoon, perfect for families and snorkeling beginners.
The Dominican Republic's diverse geography lends it a bounty of natural attractions. Samaná Bay, located in the country's northeastern part, offers an unforgettable experience, particularly between January and March when the bay becomes a hotspot for humpback whale watching. The bay is also known for its radiant, bioluminescent waters, creating a surreal, glowing spectacle at night.
The country's inland regions boast breathtaking landscapes, including the three eyes ("Los Tres Ojos")—a series of turquoise-colored freshwater lagoons located inside caves. In the nation's northwest, the 27 Waterfalls of Damajagua offer thrill-seekers the chance to jump, slide, or swim through a series of cascading waterfalls. Furthermore, for those not afraid of heights, Pico Duarte, the highest peak in the Caribbean, challenges hikers with its demanding yet rewarding climb.
Cultural and Historical Heritage
Aruba's rich cultural heritage is a beautiful blend of indigenous Arawak roots, Spanish colonial history, and Dutch influences. The Archaeological Museum in downtown Oranjestad offers insights into the island's pre-colonial era, showcasing a collection of artifacts, ceramics, and shell and stone tools used by the Arawak people. Fort Zoutman, Aruba's oldest building, serves as another historical gem and is home to the historical museum.
Culturally, Aruba is a medley of influences. The official languages are Dutch and Papiamento, a Creole language blending elements of African languages, Spanish, Portuguese, Dutch, English, and Arawakan. The island's music is also a fusion of styles, with popular genres such as soca and calypso reflecting African rhythms, and tumba drawing from its Afro-Caribbean heritage. The Bon Bini Festival, held weekly at Fort Zoutman, is a wonderful display of the island's music and dance traditions.
The Dominican Republic, with its diverse cultural influences, offers a deeply rooted history. The Zona Colonial, or Colonial Zone, in Santo Domingo, offers a peek into the early Spanish colonial period. Designated as a UNESCO World Heritage Site, it houses the oldest cathedral, university, and monastery in the Americas. Fortaleza Ozama, a 16th-century fortress, and Alcázar de Colón, the palace of Christopher Columbus's son, are among the zone's must-visit sites.
Merengue, bachata, and salsa are part of the daily life of Dominicans and are often showcased in festivals such as the Merengue & Caribbean Rhythms Festival. The Dominican Republic is also known for its vibrant art scene, with its traditional faceless dolls being popular souvenirs, reflecting its cultural diversity and folklore.
Activities and Adventure
Aruba's position outside the hurricane belt and constant trade winds make it an idyllic destination for watersport enthusiasts. The island's south coast is particularly popular for snorkeling and diving, with sites like the Antilla Shipwreck hosting a myriad of marine life. For those keen on windsurfing and kitesurfing, the Fisherman's Huts area is a go-to spot, with gear rental and instruction readily available for beginners.
On land, the rugged terrain of Aruba's interior presents an exciting arena for adventure. Off-roading tours often venture to spots like the Natural Pool nestled within Arikok National Park. Other activities include horseback riding along the beaches or through the cunucu (countryside), and hiking up the Hooiberg for an awe-inspiring island view.
The Dominican Republic provides a wide range of adventure activities. Water enthusiasts can enjoy surfing in Cabarete, snorkeling in the clear waters of Catalina Island, or deep-sea fishing off Punta Cana's coast. But the adventure doesn't stop at the water's edge. Inland, visitors can zip-line through the lush forests, explore the caverns of the Fun Fun Cave, or white-water raft in the raging rivers near Jarabacoa.
For hikers, trekking to the summit of Pico Duarte, the Caribbean's highest peak, is a thrilling challenge. Meanwhile, golfers can tee off on world-class courses, including the seaside greens of Punta Espada and Teeth of the Dog, both ranked among the Caribbean's best.
Accommodation, Dining, and Nightlife
Aruba offers a broad range of accommodations to suit all types of travelers. Luxury resorts and high-rise hotels line Palm and Eagle Beaches, offering all-inclusive options and stunning sea views. For a more intimate experience, smaller boutique hotels, eco-lodges, and vacation rentals are spread across the island, some offering unique stays in restored colonial buildings.
Dining in Aruba is an exciting journey into its cultural mix, featuring local delicacies like Keshi Yena (stuffed cheese) and fresh seafood. The island's gastronomy also reflects Dutch, Indonesian, and Latin American influences. At night, Aruba comes alive with a vibrant nightlife scene, from beachside bars and lounges to exciting casinos and live music venues.
In the Dominican Republic, accommodation options range from all-inclusive resorts in Punta Cana and Puerto Plata to boutique hotels in Santo Domingo and Samaná. For those seeking an immersion in nature, eco-lodges and mountain retreats in areas like Jarabacoa and Constanza offer a tranquil escape.
Dominican cuisine is a flavorful fusion of Taino, Spanish, and African influences, with dishes like Sancocho (seven meat stew) and Mofongo (mashed plantains) not to be missed. The country also has a burgeoning gastronomy scene with international and fusion cuisine. When the sun sets, the rhythm of merengue and bachata fills the air, with numerous clubs, bars, and beach parties offering vibrant nightlife across the island.
Aruba Vs. Dominican Republic FAQ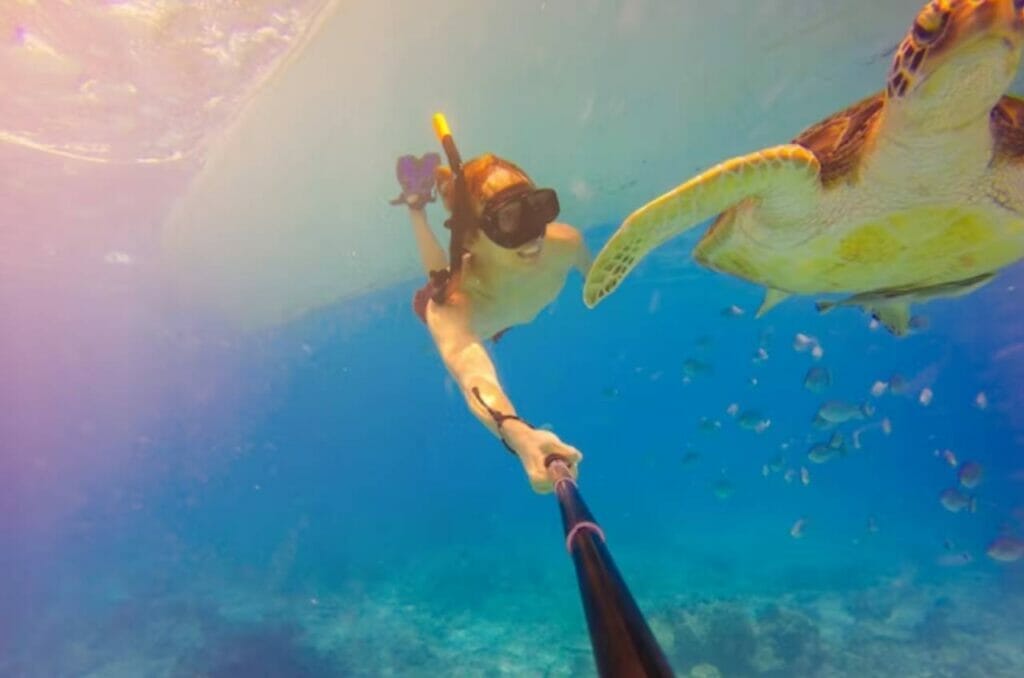 Which is better, Aruba or Punta Cana?
Determining whether Aruba or Punta Cana is better depends on personal preferences and what you're looking for in a vacation. Aruba offers stunning beaches, vibrant nightlife, and a mix of cultural influences. It is known for its dry climate and diverse activities, such as snorkeling and off-roading tours. Punta Cana, on the other hand, boasts beautiful beaches, luxurious all-inclusive resorts, and a laid-back atmosphere. It is renowned for its golf courses and water activities like snorkeling and fishing.
Is Aruba near the Dominican Republic?
Aruba is not near the Dominican Republic. Aruba is a constituent country of the Kingdom of the Netherlands located in the southern Caribbean Sea. It is situated approximately 1,000 kilometers (621 miles) west of the Lesser Antilles and about 29 kilometers (18 miles) north of the coast of Venezuela. The Dominican Republic, on the other hand, is a country located in the Caribbean region of North America, sharing the island of Hispaniola with Haiti. It is situated to the east of Cuba and Jamaica, and it is quite a distance from Aruba.
Is Punta Cana more expensive than Aruba?
In general, Punta Cana tends to be more affordable compared to Aruba. Punta Cana offers a range of all-inclusive resorts and accommodation options that cater to different budgets. The dining, activities, and shopping cost in Punta Cana can also be relatively lower than in Aruba.