Aruba vs. British Virgin Islands
Escape to the tropical paradises of Aruba and the British Virgin Islands, where contrasting landscapes and vibrant cultures await.
The main difference between Aruba and British Virgin Islands: Aruba and the British Virgin Islands (BVI) differ primarily in their geographical locations and cultural vibes. Aruba, situated in the southern Caribbean, boasts a more arid landscape, vibrant nightlife, and a mix of Dutch and Caribbean influences. the British Virgin Islands, nestled in the northeastern Caribbean, offer lush greenery, serene beaches, and a laid-back atmosphere with a British and Caribbean fusion.
Travelers seeking a desert-like climate and lively entertainment may opt for Aruba, while those in search of a tranquil escape surrounded by nature might prefer the British Virgin Islands.
| Category | Aruba | British Virgin Islands |
| --- | --- | --- |
| Cost Range for 1 Week | $2,274 – $4,782 (source) | $992 – $4,713 (source) |
| Location | Southern Caribbean | Eastern Caribbean |
| Geography | Flat, arid, and desert-like | Mountainous and hilly |
| Language | Dutch, Papiamento, English | English |
| Government | Parliamentary democracy | Parliamentary democracy |
| Currency | Aruban Florin (AWG) | US Dollar (USD) |
| Tourism | Popular tourist destination | Popular yacht chartering destination |
| Economy | Tourism, oil refining | Tourism, financial services, offshore sector |
Indulge in exquisite local cuisine, immerse yourself in rich cultural heritage, and embark on thrilling outdoor adventures. Join us as we compare these tropical gems and provide essential travel tips to plan your perfect getaway.
Island Chronicles: Tracing the Past and Exploring Landscapes
Ready for a heartwarming tropical escape? Whether it's a cherished family holiday or an intimate escape just for two, today we're setting sail to the magical Caribbean worlds of Aruba and the British Virgin Islands. Each destination, with its own tale to tell, awaits travelers like you – whether you're after family fun, romance, budget travels, or luxury experiences.
Imagine the soft caress of the sand on Aruba's immaculate beaches, where the gentle waves whisper tales of ancient times. This island, a beautiful mosaic of desert landscapes and beachside hideaways, might be small but it's big in spirit. Aruba's rich history, from its native Arawak beginnings to its European influences, echoes through its quaint buildings and festive celebrations.
On the other hand, the British Virgin Islands invite you to a realm of romance and exploration. Perfect for couples and adventure-seekers, these islands, with their rugged charm and sapphire waters, urge you to explore secretive bays, dive into lively coral sanctuaries, or sail into the dreamy horizon. And the tales? Oh, they are brimming with tales of pirates and European voyages, waiting for you to uncover.
For the savvy traveler, Aruba extends its hands with pocket-friendly stays without skimping on the tropical charm. And if you're looking to splurge a bit, both Aruba and the British Virgin Islands have lavish resorts and experiences, set amidst scenes of untouched beauty.
So, if you're a family with a thirst for diverse adventures, lovebirds chasing sunsets, an explorer seeking untouched marine beauty, or someone seeking the perfect balance between cost and comfort, Aruba and the British Virgin Islands are ready to become the backdrop for your memories. Now, all you've got to decide is: which Caribbean jewel will host your next unforgettable journey?
Sandy Shores Showdown: Aruba's Beaches vs. British Virgin Islands' Coastline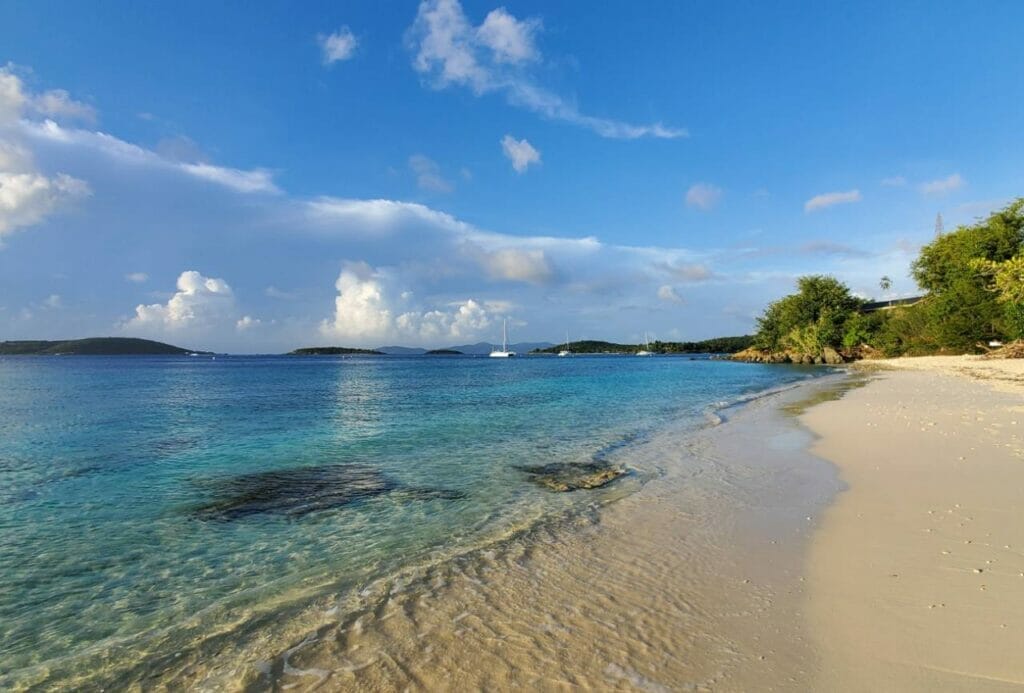 Aruba, with its sun-kissed coastline, is like a beach lover's playground. Families can sprawl out on the powdery white sands of Eagle Beach, which seems tailor-made for sandcastle building and beach volleyball. Couples, on the other hand, might find their bliss at Palm Beach, where romantic sunsets paint the sky with hues of orange and pink.
Adventure seekers will have a blast kiteboarding and windsurfing at Boca Grandi Beach, catching those Caribbean winds. If you're mindful of your wallet, fear not! Aruba's Baby Beach offers a budget-friendly haven, perfect for snorkeling in calm, shallow waters.
And for those who crave luxury, the private beaches of Arashi Beach are nestled against rocky cliffs, offering exclusivity and stunning backdrops for relaxation.
Now, let's set sail to the British Virgin Islands – a secluded haven for beach aficionados. Smuggler's Cove is a family-friendly gem, where kids can explore rock pools while parents bask in the sun's warm embrace. For couples seeking seclusion, Spring Bay Beach's hidden coves and turquoise waters provide an intimate escape.
Adventure seekers will find their thrill on Cane Garden Bay, known for its surfing opportunities and vibrant beach bars. Tight on budget? The Baths on Virgin Gorda are well worth the visit, featuring awe-inspiring granite formations and tide pools to explore.
And if luxury is your middle name, then picture yourself on the sugary sands of White Bay Beach, Jost Van Dyke – a paradise within a paradise, with upscale amenities and a laid-back vibe.
Whether you're a family building sandcastles, a couple strolling hand in hand, an adventure seeker riding the waves, or a traveler mindful of expenses or seeking lavish experiences, both Aruba and the British Virgin Islands offer a diverse range of beaches that will steal your heart and leave your footprints in the sands of paradise.
Retreat Havens: Lodging Delights in Aruba and the British Virgin Islands
Meet Aruba, our Caribbean jewel. Families, the Dorado Eagle Beach Hotel awaits you. Picture spacious suites and a buzzing kids' club where your little adventurers can play, all while you bask in the golden sun.
Lovebirds, the Juanedu Boutique Hotel is your romantic nook. Tucked away in tranquility, it's an intimate sanctuary made just for two. And for our peace-seekers, let the rhythmic sound of the sea at the Serene by the Sea lull you into ultimate relaxation.
Ready for some island hopping? Dive into the mesmerizing British Virgin Islands. For a sprinkle of luxury, Scrub Island Resort, Spa & Marina is a dream come true. Your private villa overlooking azure waters will feel like your personal paradise.
And for those chasing both romance and raw nature, the Rosewood Little Dix Bay is a scene straight out of a postcard. Imagine your plush villa, surrounded by green, with the vast ocean stretching out before you.
On a tighter budget? No worries! Mango Bay Resort is your friendly neighborhood oasis that offers comfort without the hefty price tag. From families to honeymooners to individual wanderers, the magic of Aruba and the British Virgin Islands caters to every kind of traveler.
Island Adventures Unveiled: Aruba vs. British Virgin Islands
Aruba, a gem in the Caribbean, is like a dream come true for families seeking adventure and relaxation. With its powdery white sand beaches and crystal-clear waters, you'll be tempted to spend all day building sandcastles and snorkeling with your kids.
But wait, there's more! How about a thrilling off-road jeep safari through the rugged Arikok National Park? You'll feel like an explorer on a mission. For couples, romantic sunset horseback rides along the shore are simply magical. And foodies, get ready to tantalize your taste buds with local treats at the Bon Bini Festival.
Now, let's set sail to the British Virgin Islands, where luxury and adventure converge. For those craving a slice of paradise, the pristine beaches of Tortola offer the perfect blend of relaxation and water sports. Snorkeling through the famous Baths at Virgin Gorda is like stepping into an underwater wonderland hand in hand with your partner.
Adventure seekers, how about some world-class sailing? Hop aboard and explore hidden coves and uninhabited islands, living your pirate dreams. If you're on a budget, fear not! Camping on the white sandy shores of Anegada is an experience you won't forget, and it won't break the bank.
Whether you're looking to splurge or save, both Aruba and the British Virgin Islands have got you covered. In Aruba, luxury travelers can bask in the lap of indulgence at high-end resorts, enjoying spa treatments with a view that's worth every penny.
Meanwhile, the British Virgin Islands offer a unique blend of upscale island life and rustic charm. Dive into a world of underwater wonder with guided scuba diving tours that cater to every level of experience.
Whether you're a family of explorers, a couple seeking romance, an adventure enthusiast, or a budget-conscious wanderer, Aruba and the British Virgin Islands beckon with open arms and a plethora of attractions and activities to make your tropical dreams come true. The only tough part? Choosing which paradise to explore first!
Wheels and Waves: Navigating Aruba and the British Virgin Islands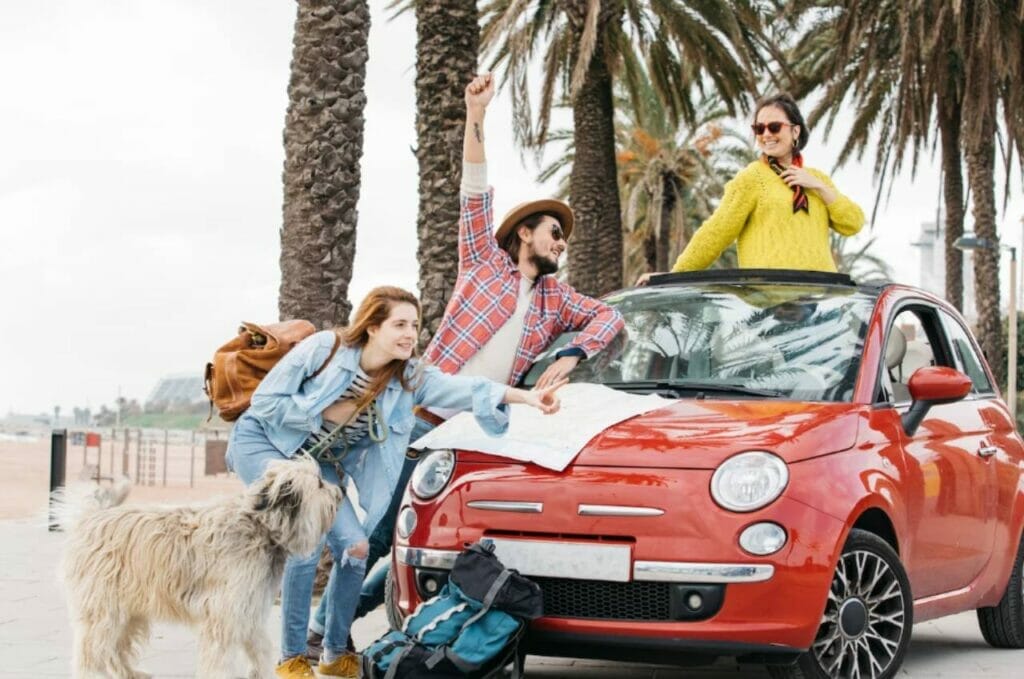 Starting in Aruba, let the island's warm embrace and gentle breezes welcome you. For those prioritizing reliability without breaking the bank, give Real Deal Car Rental Aruba a peek. They've got the perfect ride for families, lovebirds, and solo explorers ready to chart their own course.
If you're the type who cherishes unique moments, Chener Car Rental might be right up your alley. And hey, tech aficionados! Aruba Car Rental and Turo Car Rental are modernizing island travel, giving you a taste of the sharing economy, island-style.
Landing on Tortola? Denzil Clyne Jeep & Car Rental awaits, and trust me, there's no better feeling than tropical breezes playing with your hair as you roam in a jeep.
Need to get around swiftly? Speedys Car Rentals promises a smooth ride. Based in New Town? Check out New Town Car Rental, and indulge in tropical adventures without denting your wallet.
Whether you're in Aruba or the British Virgin Islands, there's a ride waiting just for you, tailored to your tastes and budget. So, pack your bags for family fun, love-soaked moments, high-octane adventures, or a sprinkle of everything.
These island gems promise not just a journey, but stories and memories that'll make you smile for years. Ready, set, explore, and let the islands work their magic on you!
Culinary Journeys: Tasting Delicacies of Aruba and the British Virgin Islands
Imagine Aruba's golden sands and lively culture – this island dazzles with dining spots that echo its diverse charm. Families, gather around at Ruinas del Mar. Here, amidst the serene resort setting, every dish blends local and global flavors, ensuring smiles even from the most selective little diners.
Couples, let love sparkle under the stars at Yemanja Woodfired Grill, where every grilled seafood aroma dances with the whisper of the ocean waves. And to the fearless adventurers, your day's thrill finds its worthy conclusion at Windows on Aruba Restaurant. Feast your eyes on vast vistas, while rejuvenating with dishes crafted with passion.
Now, let's sail to the British Virgin Islands. Nestled amidst these islands is a dining haven that's intimate and oh-so-magical. Fall in love all over again at CocoMaya Restaurant on Virgin Gorda – a place where Asian spices flirt with Latin American zest.
Traveling on a shoestring? No worries. Chez Bamboo Restaurant serves love on a plate with a perfect meld of Caribbean and French delights that won't empty your pockets. And for moments of pure indulgence, the restaurant at Leverick Bay unfurls a red carpet for your senses, presenting dishes that spell luxury in every bite.
Be it the lively vibes of Aruba or the calming embrace of the British Virgin Islands, your culinary journey will weave tales of joy, love, adventure, and sheer opulence. So, wherever you are in life's journey – be it families cherishing togetherness, couples lost in each other's eyes, adventurers gearing up for the next thrill, or souls seeking simple comfort or sheer luxury – these islands have a plate waiting just for you.
Aruba vs. British Virgin Islands FAQ
Are the British Virgin Islands better?
The notion of whether the British Virgin Islands are "better" is subjective and dependent on individual preferences. However, the British Virgin Islands offer a distinct charm with their cluster of over 60 islands, lush green hills, and picturesque harbors. The islands are renowned for their idyllic sailing conditions, secluded anchorages, and world-class diving spots. If you seek a tranquil and intimate island experience, rich in natural beauty and maritime adventures, the British Virgin Islands may be the ideal destination for you.
Is Aruba part of the British Virgin Islands?
No, Aruba is not part of the British Virgin Islands. Aruba is a separate island located in the southern Caribbean Sea. It is considered a constituent country inside the Kingdom of the Netherlands. Aruba boasts its own unique cultural identity and offers visitors arid landscapes, rugged coastlines, and pristine white sandy beaches.
Is it worth going to the British Virgin Islands?
Undoubtedly, a visit to the British Virgin Islands is worth considering. The natural beauty of the islands, with lush green hills, isolated beaches, and colorful marine life, makes for an excellent environment for a wonderful trip. The British Virgin Islands are renowned for their exceptional sailing conditions, offering opportunities to explore the picturesque harbors and navigate pristine waters. Whether you seek tranquil relaxation or thrilling outdoor adventures, the British Virgin Islands offer a worthwhile and enchanting destination for travelers seeking a tropical paradise.