Aruba Snorkeling: 10 Best Places to Go Snorkeling in Aruba
So, you've decided to visit Aruba this summer? Get ready for an exhilarating yet exciting stay in a Caribbean paradise that offers so much. The world-class beaches, excellent weather conditions, and welcoming culture mean there's so much to do. The island is also a water sports paradise, with many exciting places to enjoy swimming, snorkeling, windsurfing, paddleboarding, etc.
If you've always wanted to tick snorkeling on a picturesque, white-sand beach on your bucket list, you should pack your bags for Aruba. The island offers so many fascinating snorkeling locations.
We took the time to visit most, and here are our top 10 places to go snorkeling in Aruba:
Arashi Beach
Boca Catalina and Catalina Cove
Antilla Shipwreck
Natural Pool
Baby Beach
De Palm Island
Mangel Halto
Flamingo Beach
Puerto Chiquito
Rodgers Beach
Let's take a closer look at the locations to see what each offers and how you can make the best of your snorkeling experience when you get there.
1. Arashi Beach
Easily the most recommended snorkeling spot in Aruba because of its serene ambiance. The abundance of underwater life in Arashi Beach combines with its gentle current to make it a delight for snorkelers desiring underwater adventure.
Amateur and advanced snorkelers will enjoy swimming alongside the colorful schools of fish that populate the water. Add that to the nice chunk of healthy coral reef that flows all the way to the end of the beach, and you can tell that it's a perfect spot for advanced snorkelers. 
Arashi Beach is best described as a quiet and relaxing beach characterized by its white sand, calm water, and an exciting collection of sea life. A large parking lot, a snack shack, and huts complement these features to make it perfect for swimming and sunbathing too.
Whether you want to go snorkeling with your family or relax on the beach and enjoy Aruba's beautiful scenery, this beach offers it all. We recommend entering the ocean from the left side of the beach for a full experience of the collection of sea life available here.
2. Boca Catalina and Catalina Cove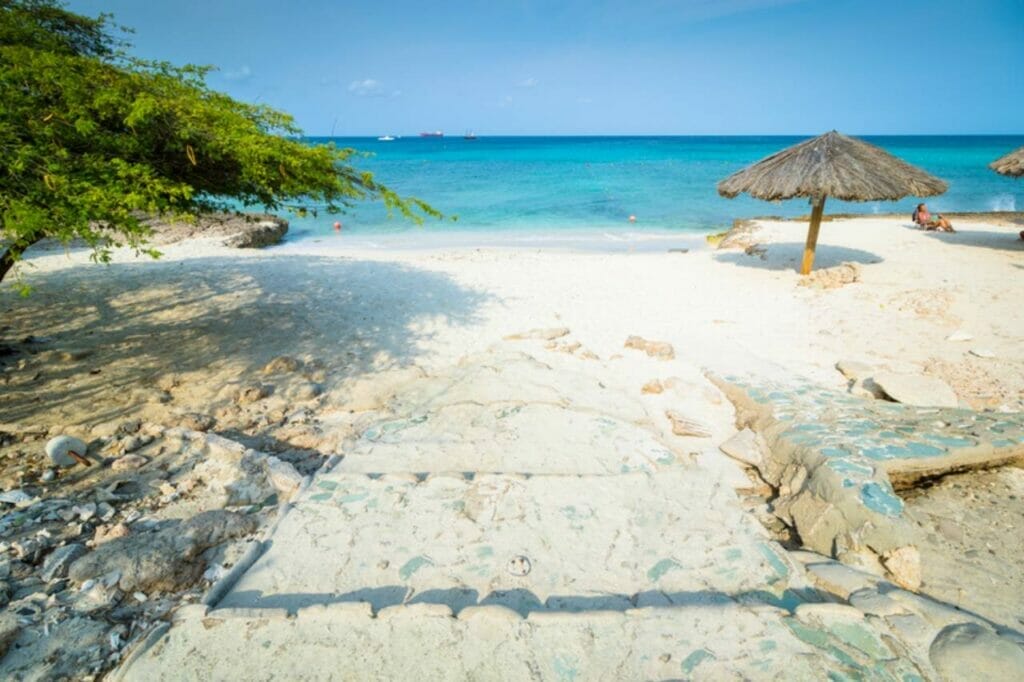 This is an attractive spot for snorkelers that want to experience the authentic Aruba lifestyle because of the number of locals that frequent the location.
Beginners are always drawn to the calm, crystal-clear waters at the Boca Catalina and Catalina Cove. However, there's more to see in this sea. The rich marine life in the sea includes coral reefs, sponges, dolphins, and colorful schools of fish. The seagrass beds offshore make Catalina Cove an excellent destination to snorkel with sea turtles.
First-time visitors typically love to go farther south to Tres Trapi, where they can see many fascinating sea stars and rock formations. You can swim along the shoreline if you're a sucker for adventure. Otherwise, you can use the stairs carved into the rock to enter the water.
You can visit Catalina Cove alone or as part of an excursion team. However, the sea's popularity among locals means there is never a shortage of people there.
3. Antilla Shipwreck
There's no better time to experience some of the memories you've read in books than while on vacation.
Snorkeling the Antilla Shipwreck gives you an excellent opportunity to see one of the largest shipwrecks in the Caribbean.
The sunken World War II ship is offshore near the north end of Aruba. There's enough of the ship visible to snorkelers, but that's not all. There's also an impressive amount of sea life to see. However, you must always be ready to swim against a current, as wind and choppy water are common at the wreck. 
The best way to get to the Antilla Shipwreck is by joining a snorkeling tour. Resist the temptation to swim to the shipwreck from Malmok Beach because it is surprisingly far, and the water is rough with strong currents.
4. Natural Pool
Also known as "Cura di Tortuga" (turtles cove), this pool has more than enough to keep you busy throughout a day's tour.
The pool consists of a stunning collection of rock creations formed by volcanic activity. As the name suggests, turtles often visit this pool.
There's also abundant sea life here to make it an adventure for anybody. What stands this beach out is the availability of different locations for different snorkeling skill levels. A significant turn-off for beginners can be the occasional pick-up of currents. But even that is enjoyable for skilled snorkelers.
Novice snorkelers that are not so comfortable with strong currents can snorkel inside the bay or the reef. There are very few bits of coral and small schools of fish to see her. Snorkelers who want to enjoy more sights swim about 200 yards from the calm bay.
Before going this far, it's important to note that the current can be quite intimidating.
5. Baby Beach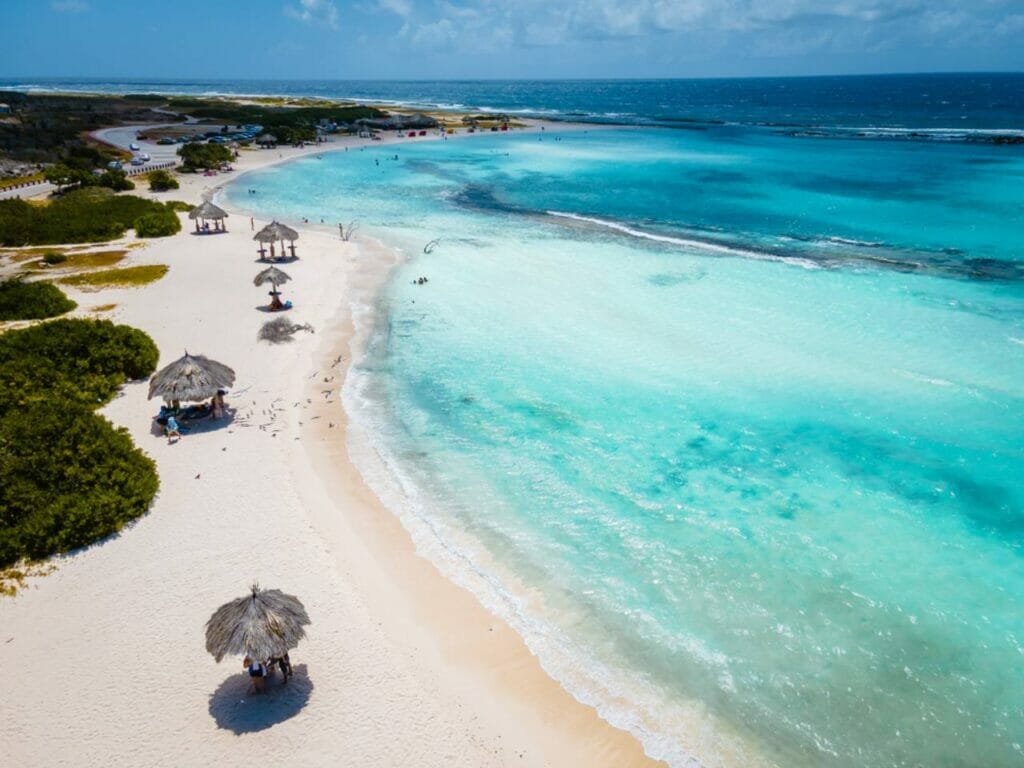 Although often considered one of the most dangerous snorkeling beaches in Aruba, we can't deny the beauty of the Aruba Baby Beach. This large, protected bay is lined with a sandy beach. Of course, the shallow water on the beach is excellent for swimming.
But most dive shops believe that the beauty of snorkeling is best absorbed from just outside the reef. But the waves and current further outside the bay are too strong for even experienced swimmers. Thus, most locals strongly advise against snorkeling in this location. If you can withstand being pushed out to the sea by a strong current, why not. 
If you've included going to Baby Beach in your to-do list, it's best to plan to chill on the beach with friends, eat at the beach bar, or swim in the shallow calm bay.
If you want to enjoy snorkeling in the bay, then it's better to try other snorkeling locations in this article.
6. De Palm Island
Not many snorkeling locations around the world measure up to De Palm Island in the quality of things to see. This island is surrounded by its coral reef, enabling snorkelers to snorkel from the shore instead of needing to take a boat tour.
De Palm Island offers the best of both worlds – novice snorkelers can join any of the complimentary guarded tours snorkeling twice every day. This tour has so much to see, including some of the island's most colorful fish. 
While snorkeling on the reefs, a favorite activity is looking for parrotfish in different hues. There are many other activities to engage in, including looking out for spotted moray eels on the reef's nook.
There are snorkel equipment rentals on the highland for experienced snorkelers that do not fancy going on tours. The island is also a perfect relaxation spot, with lots of spots to grab authentic Aruban meals and icy cocktails to calm your nerves after an exhilarating experience in the water.
7. Mangel Halto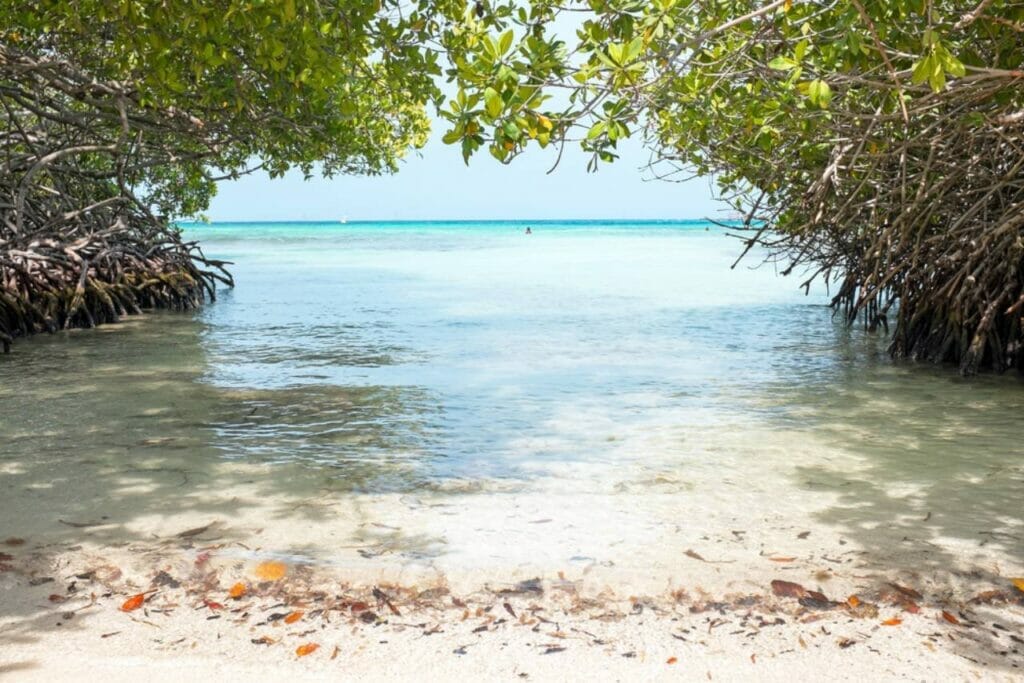 Located on the southeastern coast, south Spanish Lagoon is Mangel Halto, a snorkeling location known for its nice healthy corals, and astonishing marine life. This beach is famous among adventurous tourists and it's easy to see why.
As a first-time visitor, you'll have a unique view of this spot's turquoise lagoons. These lagoons are surrounded by mangroves, giving them the perfect backdrop for moments when you want to relax and soak in nature's beauty. 
The shallowness of the initial part of the water means you need to walk a small distance to the deeper parts before putting on your fins.
To get to the fin, you'd need to swim out straight, in line with the yellow buoy. It's important to point out that this is not exactly a beginner spot because of the exposure, currents, and potentially long swim. That's not to say you can't have fun as an experienced snorkeler.
Snorkelers in this category can always snorkel in the shallow parts to the left and right of the dock, where they can still find small patches of rocks, small corals, fishes, and other creatures.
8. Flamingo Beach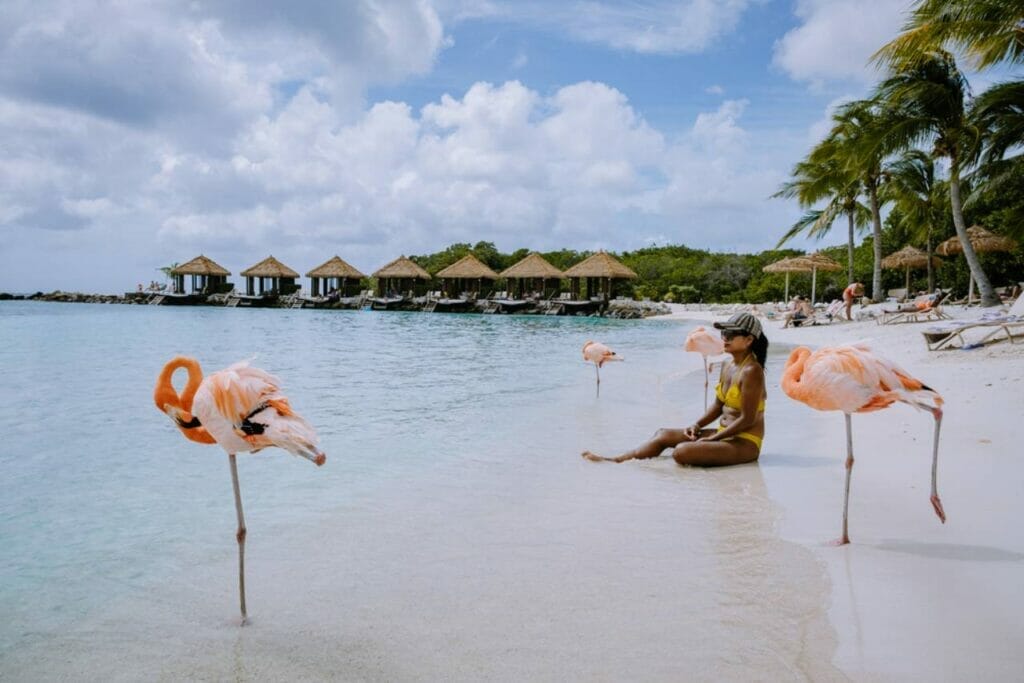 You've probably seen pictures of this beach online, with its turquoise water and numerous pink flamingos walking among sunbeds. Flamingo Beach is one of the most beautiful snorkeling locations in Aruba, which is evident in its rank as Aruba's most photographed tourism location.
It is located on the Renaissance Aruba Resort's private island. Most tourists can access this private island from anywhere by water taxis.
While snorkeling here is good, it's not the main attraction for most visitors. Most visitors come to see the renowned flamingos strutting around the beach and to take photos. That's not to say it's not a good snorkeling location.
There's an artificial lagoon strategically located at the front of the beach, where snorkelers can swim with an incredible diversity of Caribbean fish. The lagoon's current may pick up depending on weather conditions, but it is mostly safe for beginners and novice snorkelers.
Like most other snorkeling locations in Aruba, you can join a private tour or snorkel by yourself. The beach gets human traffic all year round, so you'd find something to entertain you throughout your stay.
9. Puerto Chiquito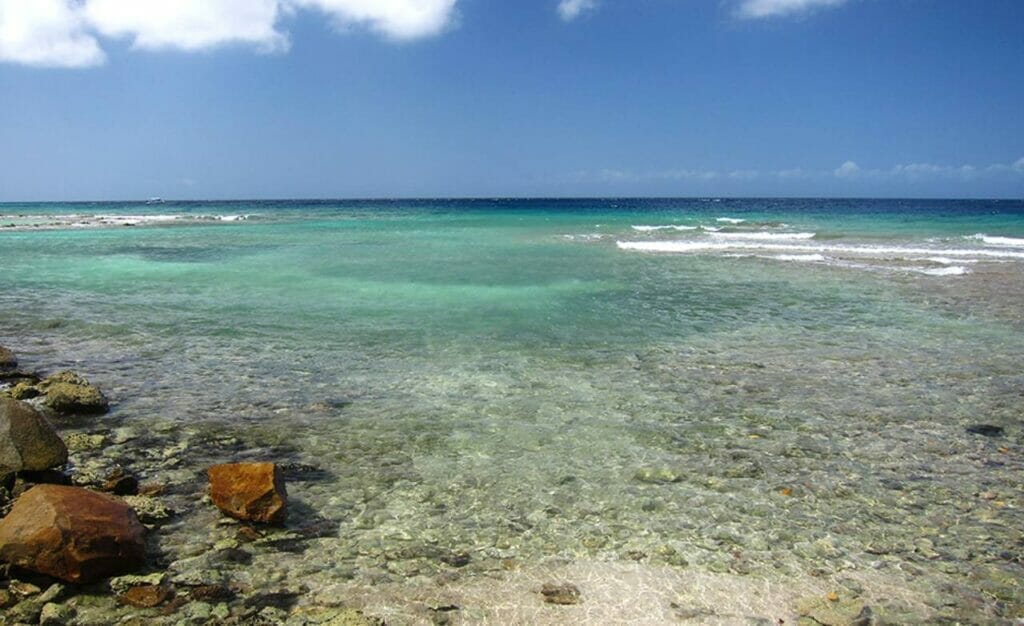 Located southeast of Mangel Halto is Puerto Chiquito, a fantastic spot for experienced snorkelers. This spot, also popularly called Hole in The Wall, features an incredibly diverse range of fish species and other sea animals.
It is usually characterized by wind, waves, and a significant level of current. Unless you're a very experienced snorkeler, avoid going into the waters when the waves get high.
Since it's not a protected cove, you'll be swimming on your own in an open ocean most time. Nonetheless, you'll still see boats coming here once in a while, so it makes sense to use a swim buoy for easier identification by boat riders. 
Please note that the spot does not feature any beach, making it difficult to hang out here. All you'd find are small rocky bays to the left and right of the parking area. The water contains several different fish species.
The current typically moves from left to right, so we recommend swimming against to current to get to the reef. This way, you won't have to swim against the current when coming back cos you'll be more tired.
10. Rodgers Beach
Often described as a cousin to the more popular Bay beach, this small beach is a fantastic location to snorkel during your visit to Aruba. The 264 meters long beach is located at the immediate left of Baby Beach, sweeping around a reef-protected bay. Thus, most tourists consider it an ideal location for a quiet retreat.
This narrow, scenic, white sand beach is known for its abundance of colorful fish schools and calm water ideal for snorkeling, sunbathing, and swimming.
The most enjoyable thing about this beach is its private beach feel, despite being a public beach. Rodgers Beach is typically quiet during weekdays, making it an excellent location to grab a chair, pull out your book, and read. However, you'll find many locals and tourists enjoying the beach on more busy weekends.
So weekends are a better time to snorkel here because you'll have company.
Aruba Snorkeling Safety Tips
Now that you've decided to finally enjoy some snorkeling experience in Aruba, the first thing you should do is learn some safety tips. Even if you're going on a tour, it's still an excellent idea to know a few ways to stay safe.
The oceans in Aruba are beautiful, with so many features to keep you busy throughout your stay. But you must never forget the importance of safety. Here are some safety tips to always have in mind.
Go with a buddy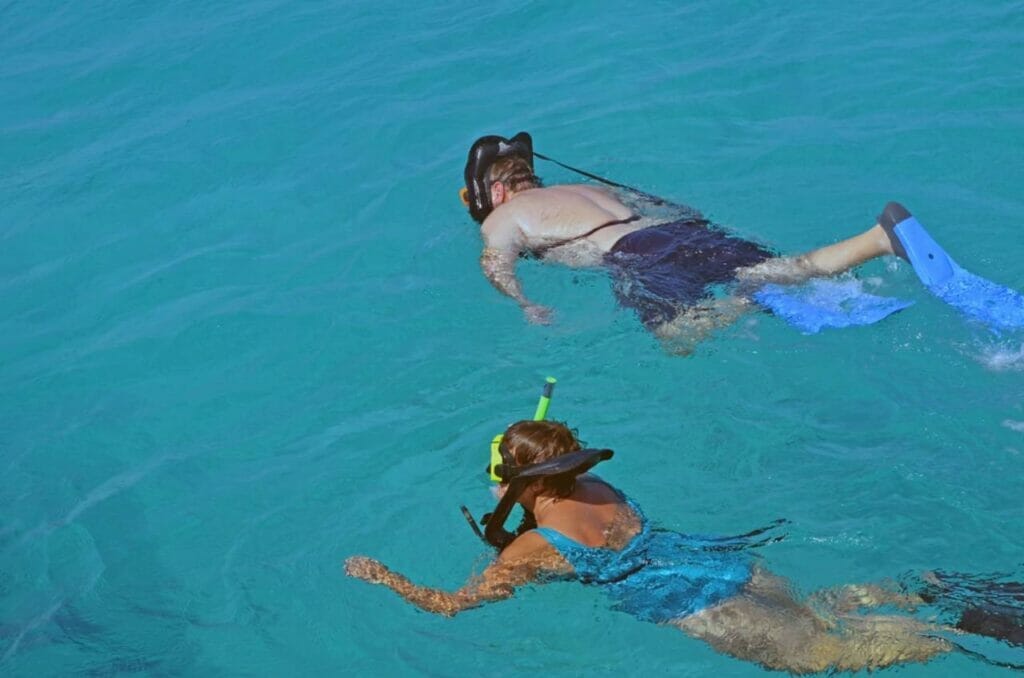 Even the most experienced swimmers still need help once in a while. So, before hitting the waters, ensure you have a buddy to watch out for you. A buddy is always the closest respondent in case of an emergency. If you don't have a buddy, join tours. Most of the snorkeling locations on our list have tours you can join any day.
Check weather conditions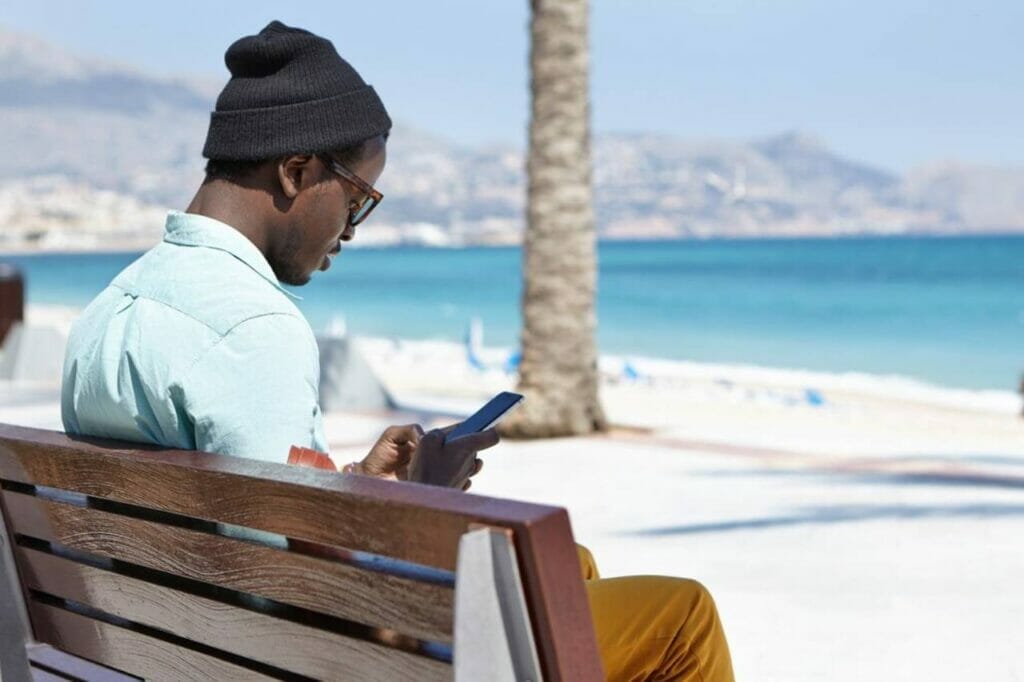 If you're going to hit the waters, you better be sure it's absolutely safe. One of the things to look out for is weather conditions. Ensure that the current, wave, and wind conditions are favorable for your snorkeling level before entering the ocean.
Some snorkeling locations are typically more dangerous than others, so it makes sense to always read warning signs and talk to locals before snorkeling in any ocean. However, if the ocean's current catches up with you, don't swim against it. Swim in its direction as long as it takes you somewhere safe. 
Invest in top-quality snorkel equipment
Although often overlooked, gear is important to your overall snorkeling experience. Bad snorkeling gear and equipment can significantly limit your abilities. Thus, it makes sense to buy the best products from trusted manufacturers.
Apart from your snorkeling experience, the top-quality gear also helps to ensure safety. Inferior items may break at crucial moments when you need the best, causing serious distress and danger. 
Know your snorkeling ability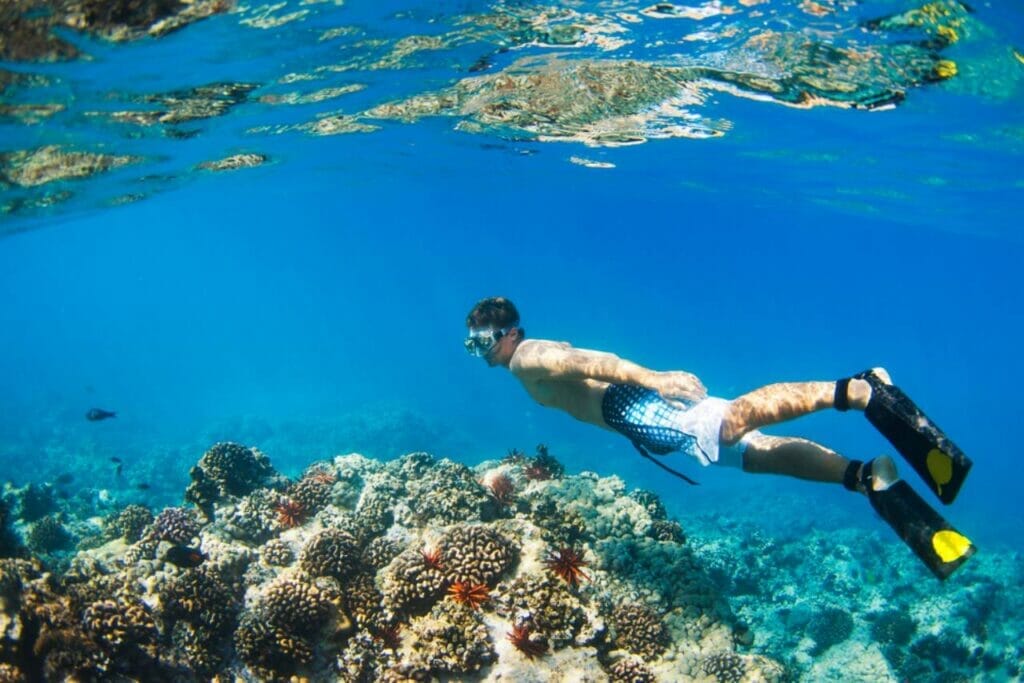 If you plan to snorkel before the year runs out, now's the best time to learn how to swim. Whether you're snorkeling in shallow waters or deep parts, it makes sense to have some swimming experience.
If you have minimal swimming experience, consider buying snorkel buoyancy vests. The design of these vests allows for easy inflation or deflation to suit your needs. Notwithstanding, you still don't want to go too far from the shore.
Recap: Aruba Snorkeling Guide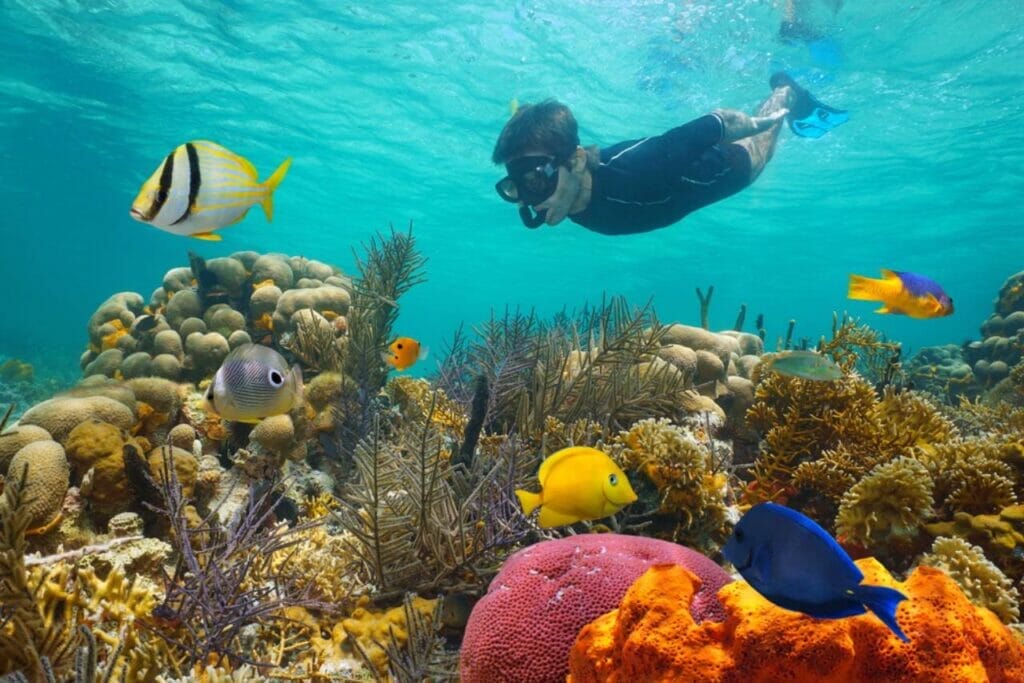 There you have it, a look at the top snorkeling spots in Aruba. Planning a vacation can be stressful, especially for places you've not been to. It makes sense to note things to do before your visit.
Snorkeling is a top activity in Aruba because how else can you enjoy the beautiful beaches on the island other than jumping on them?
We've reviewed 10 of the best snorkeling locations in this article, including their features and how best to enjoy them. We've also included some safety tips to help you stay safe throughout your snorkeling experience.