Aruba Skydiving: Best Place to Skydive in Aruba 
Aruba skydiving: The thrill of free-falling over 10,000 feet altitude is incomparable. The incredible coastline in Aruba and the crystal blue waters of the Caribbean offer breathtaking scenery from your vantage point. 
Whether you want to confront your fears or tick off your bucket list, skydiving in Aruba gives you a magnificent perspective. Here's an article that offers everything you should know about skydiving in Aruba.
Why Skydive in Aruba?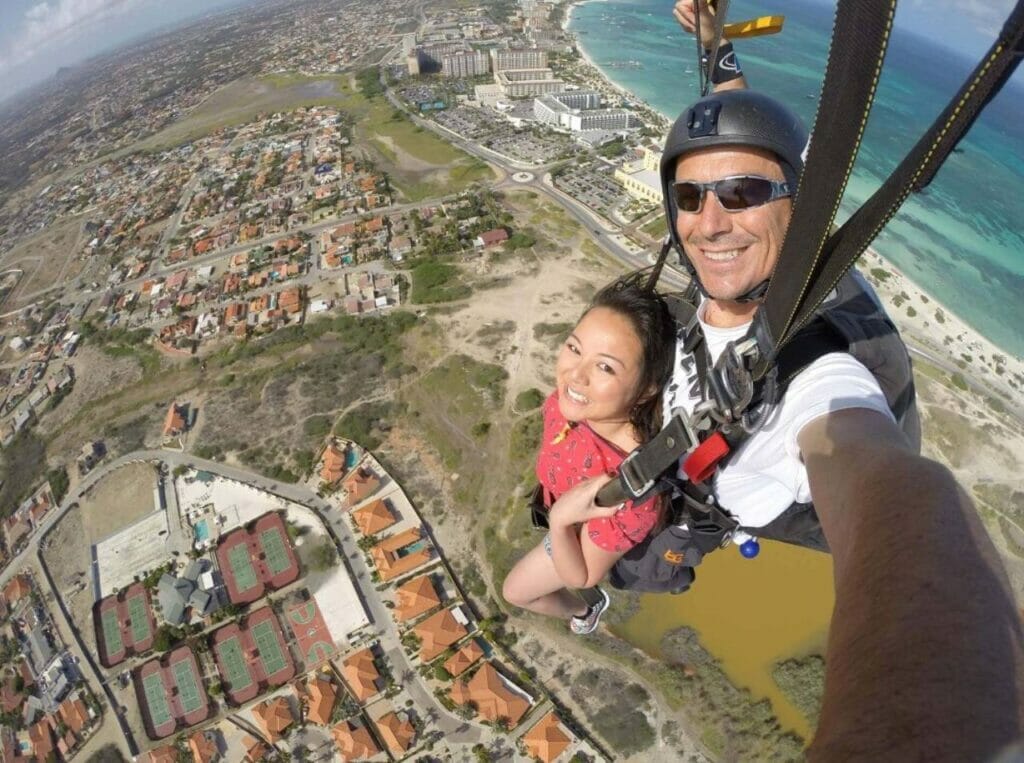 Skydiving is different everywhere. Factors such as the plane you use, the people you jump with, and the views provide a unique experience. Moreso, the exhilarating experience that comes with skydiving in Aruba would make your tour story more exciting.
Are you wondering why you should skydive on your next trip to Aruba? Here are some reasons worth knowing.
Mind Blowing Views
Skydiving in Aruba will give you a bird's eye view of the most stunning Caribbean island. From a height of 10,000 feet, your view stretches over the entire island, parts of Venezuela, and Curacao.
When your parachute opens, take a deep breath to gaze over green hills, quaint dutch-styled houses, high-rise buildings, luxurious ocean, and long stretches of coastline that look like art.
Perfect for Firstimers
Aruba is gratifying to first-time skydivers worldwide. The island provides tandem skydiving so that you will take your first human flight strapped to a professional.
The fully-licensed instructors operate under the safety rules and regulations of the United States Parachute Association (USPA).
The Diving Age
The minimum diving age requirement varies according to location. Aruba's minimum age requirement is 13 years. However, the minor must weigh up to 45kg (100 lbs) and have a parent present to sign a waiver to grant permission.
In comparison, in most parts of Europe, like France, Norway, and the United Kingdom, the minimum age for skydiving is 16 years. The United States has 18 years as its minimum age requirement.
There are records of people up to 103 years experiencing the thrill of their first jump. You only need to be relatively healthy, in good shape and have the cognitive ability to recognize the risks involved in skydiving.
The People You Jump With
The people with whom you share your experience make it better. The skydiving crew in Aruba are some of the friendliest people you will ever meet. The best jump instructors are available to understand your individual needs and know how to make it exciting despite your nervousness.
Additionally, you will meet other regular jumpers, which might be a start to great friendships. You become a part of an extraordinary global community when you make your first jump.
The #1 Best Place to Skydive in Aruba
Aruba is a tiny island at just 70 square miles. Because of Aruba's windy climate, there is only one drop zone for skydiving on the island.
Skydive Aruba is the only and best place to skydive in Aruba.
About Skydive Aruba
Operating out of Noord, Skydive Aruba is the only licensed skydiving company on the island. Safety is a priority, and you will experience the rush of adrenaline with fully licensed instructors certified by the US Parachute Association.
Equipment maintenance is essential when it comes to skydiving. This maintenance is carried out only by the staff trained to service, maintain, and repair parachuting equipment by the Federal Aviation Administration (FAA) Parachute Riggers.
Skydive Aruba uses a Cessna 182 aircraft specifically designed for skydiving. This aircraft is the most popular jump plane in the world. It accommodates four people and takes 20 minutes to reach an altitude of 10,000 feet. Skydive Aruba has been operating for over 25 years, with over 20,000 jumps at 120 mph.
The cost of a tandem jump is about $299 per person. Interested clients can deposit $50 per person and pay the rest on the day they decide to jump. You will get a 10-15 minute video of the experience and dozens of pictures capturing each moment.
Since divers are not allowed to bring their equipment, you will have to pay a separate fee for your photos and videos. The shots cost $75, while the video also cost an extra $75.
Expert Aruba Skydiving Tips
Skydive Aruba offers same-day group discounts for six or more people. Each member of the group receives a $25 discount on their purchase.
Skydive Aruba provides free shuttle pick-up from your hotel and back. This free transportation also extends to one friend and family who is allowed to come and watch you.
The duration of your jump adventure is 2 hours, depending on weather conditions. You can also choose your appointment late morning, noon, or early afternoon. Skydive Aruba is open for jumping throughout the year.
It is best to dress comfortably, preferably in shorts and t-shirts. Your shoes should not have hooks, meaning only sneakers and no flip-flops, sandals, or hiking boots. Skydive Aruba have special goggles that go over glasses for people that wear them.
Skydive Aruba has a weight limitation. The minimum weight is 100 lbs (45kg), and a maximum of 220 lbs (100kg).
Skydive Aruba only offers tandem skydiving. Due to Aruba's small size and windy weather, there's only one drop zone on the island. As a result, experienced skydivers cannot jump over the island.
Recap: Best Places to Skydive in Aruba in 2023
Parachuting is an exhilarating experience with incredible physical and mental benefits.
Skydive Aruba is the best place for skydiving in Aruba. First-time thrill seekers are guaranteed mindblowing expertise with the tandem skydiving service provided by Skydive Aruba.