Aruba Restaurants: 30 Best Places to Eat in Aruba
The culinary aspect of any vacation can play an important role in making it positively (or negatively) memorable. If you visit Aruba, you might fall into the trap of going to the same handful of restaurants over and over. But there are plenty of Aruba restaurants worth visiting on the island:
Water's Edge Restaurant, Restaurant Anno 1877, The West Deck, Po-Ke Ono, and 2 Fools and A Bull are the best restaurants in Aruba because of their unique concepts, quality of food, and authenticity of the cuisine.
This article covers 30 restaurants worth checking out in Aruba. You can visit the following on different days and last an entire month without having to go to the same restaurant twice. Based on an assessment of genuine customer and critic reviews as well as reservation figures, this is the most comprehensive resource on the best restaurants in Aruba.
Wilhelmina Restaurant
Ike's Bistro
Aqua Grill Aruba
Ocean Z Restaurant
The Old Cunucu House Aruba
Aquarius
Po-Ke Ono Aruba
L.G. Smith's Steak & Chop House
Coco Plum Restaurant
Water's Edge Restaurant and Bar
Quinta del Carmen
Restaurant Anno 1877
The Wine Room
Bohemian Bar and Restaurant
Senses Fine Dining Restaurant
Infini by Urvin Croes
The Pastechi House
Lobby Restaurant and Bar Aruba
Fresco
The West Deck
Así Es Mi Peru
5 O'Clock Somewhere Bar & Grill
Opus Ocean & Grill
Yemanja Woodfired Grill
Fred Royal Restaurant
Pika's Corner Aruban Cuisine
Barefoot Restaurant
Papillon Restaurant
2 Fools And A Bull
Gostoso Restaurant
1. Wilhelmina Restaurant
If you want to dine at a place that offers a variety of cuisine without sacrificing the quality of its food, Wilhelmina Restaurant is a restaurant to include in your dining itinerary. The restaurant offers fresh seafood, delicious steaks with beverage pairing options, and homemade pizza and pasta.
2. Ike's Bistro
This Bistro's vibe is as good as its food. Its tropical pool, dim evening light, and four-course tasting menu are its key selling points. Reserve your spot for an amazing dinner date by the pool. And make sure to order a Mediterranean wine to go with the atmosphere and the food.
3. Aqua Grill Aruba
If you want to enjoy the fusion of British seafood with the laid-back Caribbean atmosphere, then Aqua Grill Aruba is the spot you must visit. It combines the classic British seafood tradition with a relaxed Caribbean vibe.
4. Ocean Z Restaurant
For a boutique hotel dining experience, head over to the Ocean Z Restaurant at Ocean Z Hotel. The restaurant offers the exclusivity and attention that only a small establishment can afford, alongside the premium culinary experience associated with big names.
5. The Old Cunucu House Aruba
A visit to Aruba is incomplete without authentic Aruban cuisine. The Old Cunucu House is a pillar of the Aruba foodie culture, as it has been serving authentic Caribbean food for over 20 years. It is set in a farmhouse that is over 150 years old, which means it is worth visiting just for the atmosphere and location alone.
6. Aquarius
If you like Aruban food and luxury interiors, Aquarius is the spot for you. It offers Caribbean seafood, meat, and desserts in a setting decked with premium contemporary decor. It also offers an all-you-can-eat buffet that is uncommon for establishments of Aquarius's stature.
7. Po-Ke Ono Aruba
Po-Ke Ono expands what it means to dine in Aruba by bringing authentic Asian cuisine under the head chef Urvin, who wants to bring limitless possibilities to his diners. The chef is a local star who has won Iron Chef Aruba.
8. L.G. Smith's Steak & Chop House
If you're cautious of the foreign dining experience, then you'll find no better quality controlled dining experience than the one offered by L.G. Smith's Steak & Chop House. USDA-inspected aged prime steaks, as well as local seafood, are two of its most in-demand dishes.
9. Coco Plum Restaurant
A location-convenient restaurant like Coco Plum might end up on your dining itinerary just because it is on the main street in Downtown ORajenstad. But it is actually worth dining at because of its cute outdoor patio, which makes an interesting experience out of even the simplest snack.
10. Water's Edge Restaurant and Bar
If you want to enjoy a view of the ocean alongside your steak and alcohol, then Water's Edge Restaurant and Bar is a pretty good candidate for your reservation. It is located on J.E. Irausquin Boulevard and is worthy of a visit if you plan to head out to Manchebo when you're in Aruba.
11. Quinta del Carmen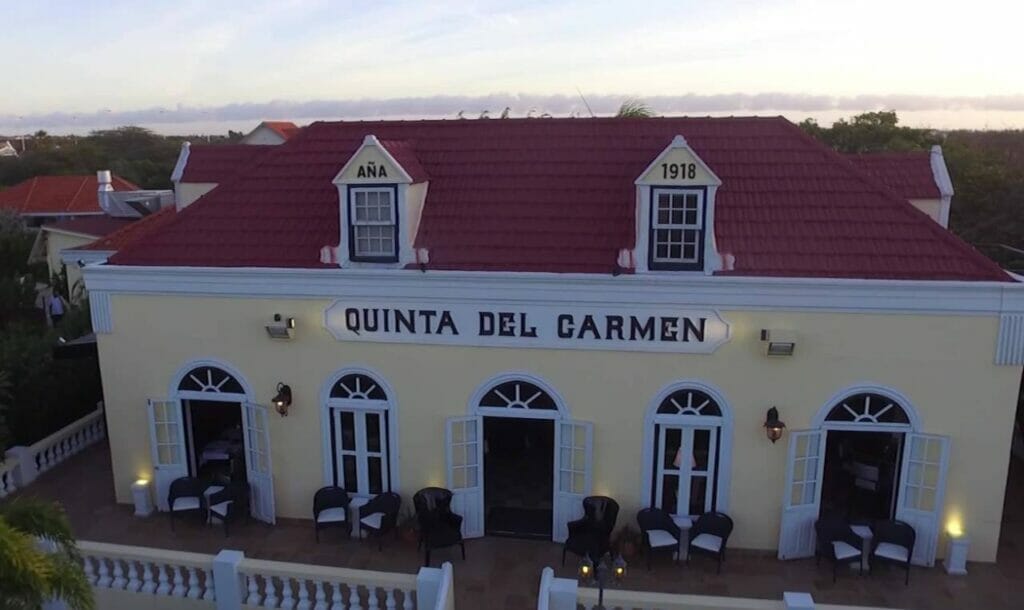 Outdoor and courtyard dining in Aruba is a great experience, as it capitalizes on the beauty and weather of Aruba. Quinta del Carmen is one of the most popular dining spots in Bubali and consistently ranks in the top 50 dining establishments in the country. Definitely worth a visit.
12. Restaurant Anno 1877
Located in an 18th-century building, Restaurant Anno 1877 offers a unique dining experience that allows you to enjoy a slice of history. You can choose from a range of soups, salads, and appetizers that have landed this restaurant in Forbes, among other publications.
13. The Wine Room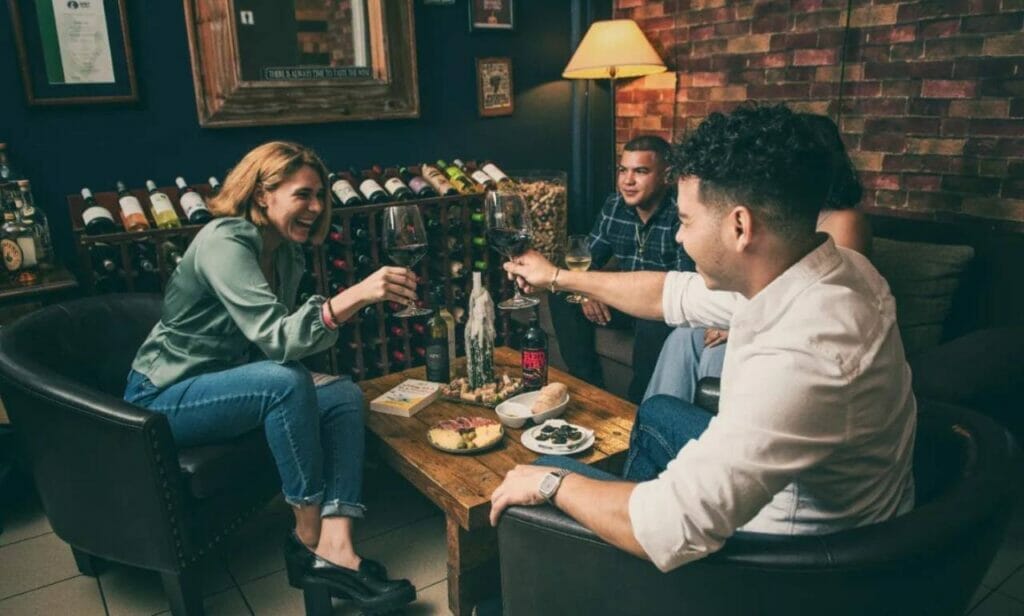 The Wine Room in Aruba is a great place to enjoy seafood bites, cheese, and wine with friends and family. Although not the perfect spot for square meals, The Wine Room is an irreplaceable stop in any culinary tour in Aruba.
14. Bohemian Bar and Restaurant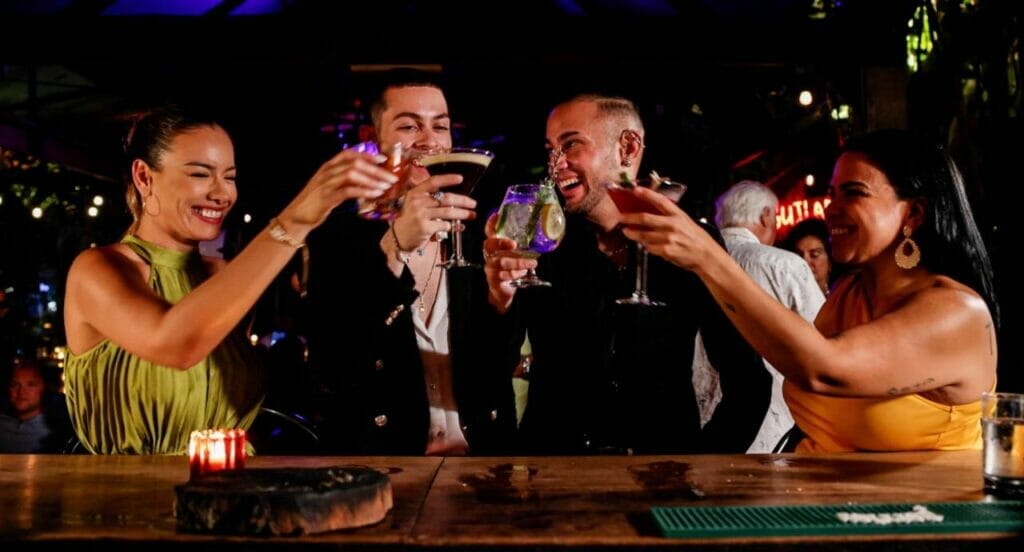 The Bohemian is a positive-vibe dining and drinking establishment that showcases local artists, especially musicians, and hosts festive multi-cultural parties. It's a great spot for singles and couples but is not ideal for families with children.
15. Senses Fine Dining Restaurant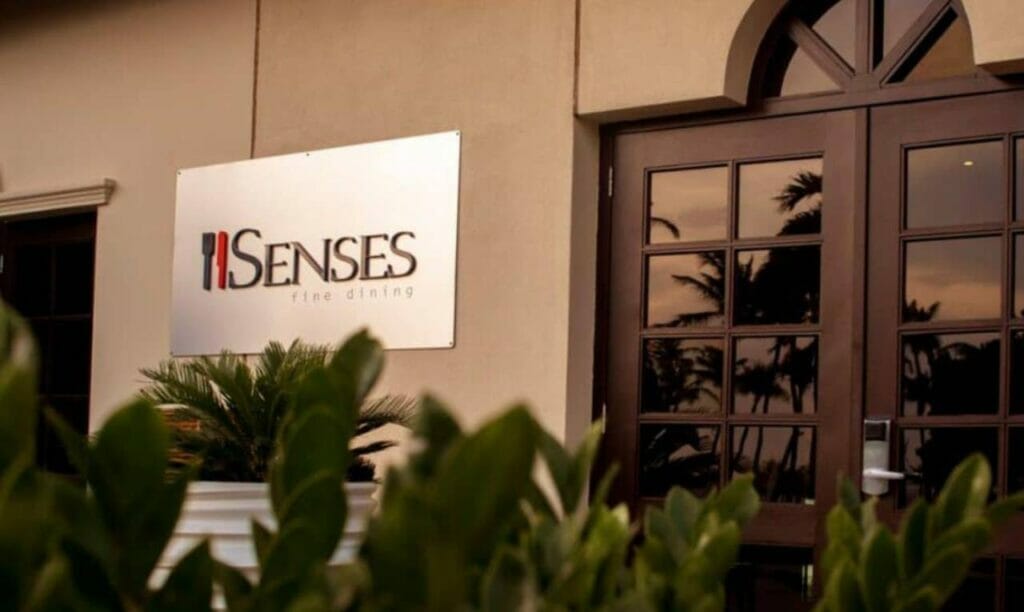 Inspired by the European approach to the culinary experience, Senses offers a pan-Scandinavian twist on the French perspective of fine dining. Expect classic dishes presented in a new light.
16. Infini by Urvin Croes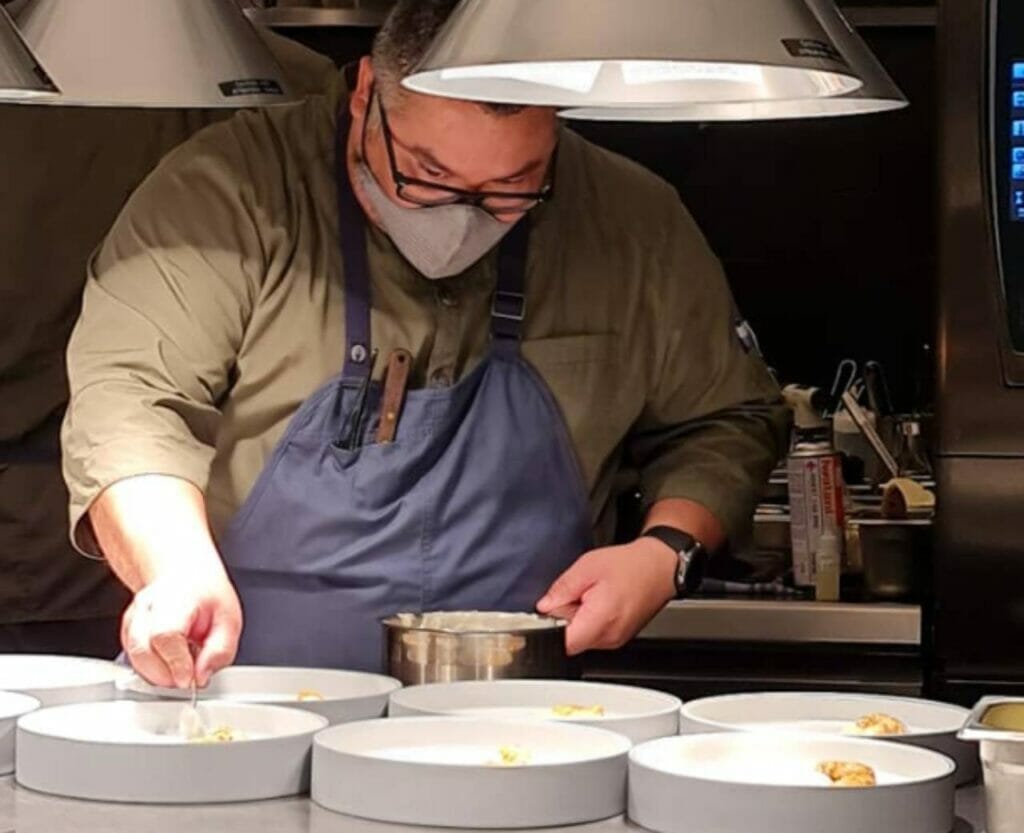 Urvin Croes, the local legend behind Poke Ono, has yet another establishment where he serves as the executive chef. And that's Infini, a restaurant with an Umami-inspired menu.
17. The Pastechi House
One of Aruba's most popular dishes is its Pastechi, which the Pastechi House has mastered like none other. When in Aruba, you must have Pastechis, and whenever possible, you should have them from The Pastechi House.
18. Lobby Restaurant and Bar Aruba
This restaurant has become a tourist favorite because of its consistently good drinks. The atmosphere is great, as is the grub. Be sure to check out its stuffed mushrooms.
19. Fresco
When the weather is right, and you feel like having a great breakfast, head out to Fresco for its Italian Cuisine breakfast featuring Ricotta Pancakes, baked eggs, and pastries.
20. The West Deck
Offering grilled fast food and meats, The West Deck is best for a fun-filled dinner party or a casual brunch. It has a marine-inspired interior with a deck-themes serving station and even a back-of-the-house area reminiscent of the Captain's quarters.
21. Así Es Mi Peru
Aruba has a notorious rainy season in which nothing is better than soup and a rain cover, both of which are provided by the Así Es Mi Peru. Specializing in Peruvian cuisine, this dining establishment offers the best from Peru's roster of 300 soups.
22. 5 O'Clock Somewhere Bar & Grill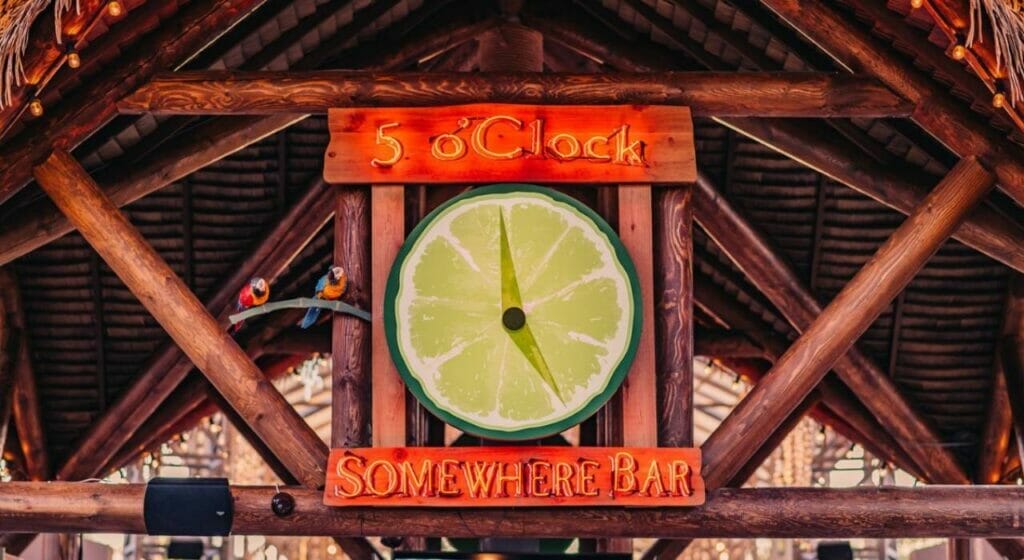 5 O'Clock Somewhere Bar & Grill gets' the beach theme right with a surfboard-heavy decor, neon lights that brighten up the night, and a thatched roof center bar that looks as cool as it sounds. The grub and drinks are pretty good, but the vibe is a major reason for visiting this place.
23. Opus Ocean & Grill
For seafood lovers, one of the best spots is Opus Ocean & Grill, located in the Havenstraat, Oranjestad. Its specialty is fresh food that is connected to the land and water.
24. Yemanja Woodfired Grill
If you want envy-inspiring food in the $40 to $70 per-head range, then Yemanja Woodfired Grill should be your go-to place for grilled seafood and meats. It is an Art-deco-decked establishment in Wilhelminastraat.
25. Fred Royal Restaurant
Also known as Fred Royal Aruba, the Fred Royal Restaurant is a fine dining establishment headed by chef Roy Engelen. It has a well throughout the menu and high-end service.
26. Pika's Corner Aruban Cuisine
Pika's corner has vegan options as well as gluten-free options. It is a spot for the diet-conscious Caribbean food lover. From vegan stews and soups to pescatarian fried fish, the restaurant has something for everyone, including carnivores.
27. Barefoot Restaurant
Dine under the stars on a beach at Barefoot Restaurant, which features benches and tables like any other restaurant but no walls or roof. The dining experience at this establishment feels like a picnic, and even strangers dining at the same time share a sense of social camaraderie.
28. Papillon Restaurant
If you really get into themed dining, then Papillon restaurant's french Caribbean cuisine is sure to captivate you. Its menu is based on the journey of Papillon from captivity to freedom. Definitely a memorable experience.
29. 2 Fools And A Bull
A mischievous concept, a menu that changes every night, and a restauranteur who doesn't take himself too seriously; what's not to love? 2 Fools And A Bull has a U-shaped bar where only 17 guests can dine and that too, together. The dinner is a 5 ½ course menu which is as unpredictable as it is deliciously surprising.
30. Gostoso Restaurant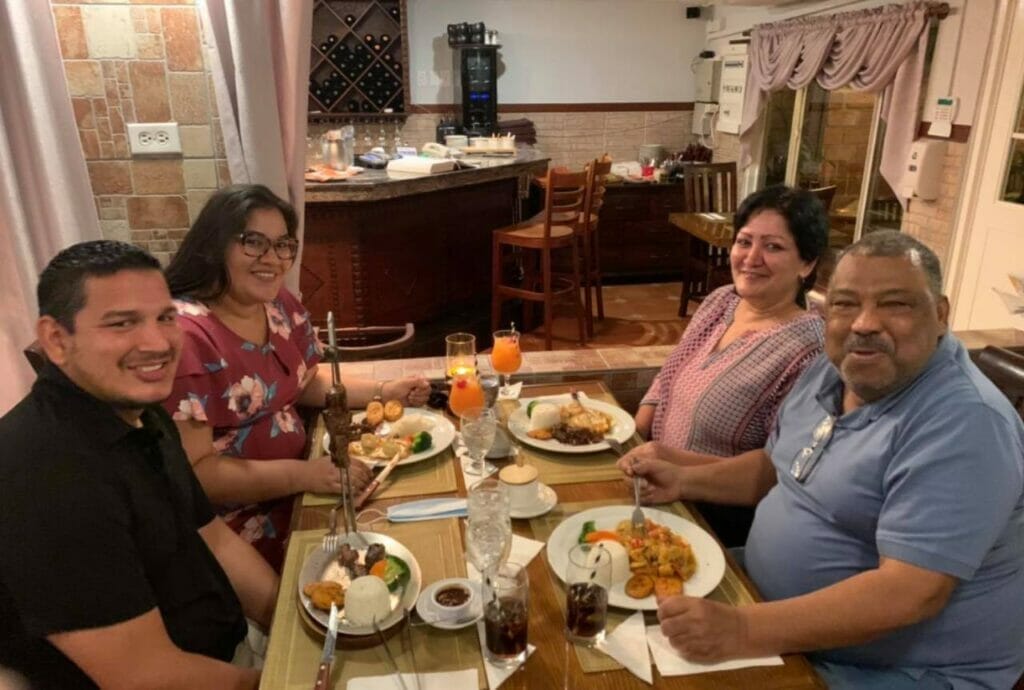 A unique blend of Aruban and Portuguese cuisine are the highlights of Gostoso. For those who have enjoyed Aruban cuisine and want to try something familiar yet different, this fusion restaurant is worth a visit.
Final Thoughts on the Best Aruban Dining in 2023
Aruba has plenty of places to eat. But if you don't know the story behind the establishments, you will miss hidden gems and end up dismissing some great dining opportunities.
Use the resource above as your guide to the best places to eat in Aruba, and make sure to check off the restaurants that are most interesting to you.