5 Best Aruba Jeep Tours in 2023 (w/Prices)
Most people visit Aruba for its world-class beaches and resorts, legal gambling, and near-perfect weather. Aside from these pleasantries, you can also include Aruba jeep tours in your itinerary. The island's landscape features natural formations of quartz diorite, lava, and limestone, which you can best explore in a 4X4 vehicle.
A jeep tour through Aruba is the perfect way to get that ocean breeze in your hair and see a different side of the island. So what are you waiting for, here is all you need to know about Aruba jeep tours in 2023.
What Are the Different Types of Aruba Jeep Tours?
1. Island Ultimate Safari
This is arguably Aruba's most adventurous off-road tour, attracting over 250,000 passengers since its introduction.
It is a full-day island excursion, costing $80 for children (ages 2 to 12) and $129 for adults. The ticket price includes lunch, refreshments, snorkeling gear, and transport to and from your accommodation.
Pick up from your accommodation is at 8:30 am, where all participants meet at the operator's offices and depart in a small caravan of Jeeps carrying 8 to 10 passengers each.
The trip has 11 stops, starting with the California Light House and concluding in San Nicolas. Swimming and snorkeling are available at Baby beach, and the Natural pool stops, but this depends on the sea conditions.
If you are not a strong swimmer, you can request life vests before departure.
2. Elite Jeep Private Safari
This four-hour premium customizable private tour is ideal for friends, families, and couples. Ticket prices vary depending on the number of passengers, with the minimum being two passengers at $700 and a maximum of 8 passengers at $1,160.
The cost includes a tour guide, water, sodas, snorkeling gear, and authentic Aruban barbeque with local beer and an open bar.
You also get a GoPro Camera during the tour, but you need to book this a day in advance. The tour operator lets you create your itinerary, with the Elite guides offering recommendations of important landmarks and the best snorkeling and swimming sites.
3. Natural Pool Off-Road Safari
This 4-hour tour lets you explore Aruba's rugged outback in open-air vehicles.
Ticket prices vary between operators, depending on the number of passengers, stops, and vehicle choice. Jeep prices start from $65 for children (ages 6 – 12), $79 for teenagers (ages 13 – 17), and $79 for adults (18 years and above). Ticket prices include refreshments and snorkeling gear.
The Natural Pool off-road safari has three stops, starting at the Baby Natural Bridge and Ruins, then to the Natural Pool, and concluding at Alto Vista Chapel. You will pass the California Light House, Bushiribana Gold Mill Ruins, Ayo Rock Formation, and Arashi Beach along the way.
If you feel more adventurous, add the Cliff Jump and North Coast Explorer package.
This trip also includes UTV rides in your excursion, with ticket prices starting at $285 for 2- seater UTVs to $540 for a 5-seater UTV. The tour lasts 6 hours, and your ticket includes lunch, an $11 per person entrance fee to Arikok National Park, and a tour guide.
4. Beach Escape Off-Road Adventure
The tour is a 6-hour adventure of up to 8 passengers per vehicle. It offers you the opportunity to visit Aruba's most exclusive sites and features more snorkeling stops than the rest.
The route covers Aruba's rugged north coast, with stops at Mangel Halto, Baby Beach, Bushiribana Gold Mill Ruins, Alto Vista Chapel, and Arashi Beach.
Ticket prices are $75 for children and $95 for adults. The price includes pick up and drop off, authentic Aruban lunch, refreshments, snorkeling gear, and a tour guide. All trips begin at 8.30 am, and bookings can be made through your hotel or by calling the tour operator.
5. Cave and Snorkel Off-Road Safari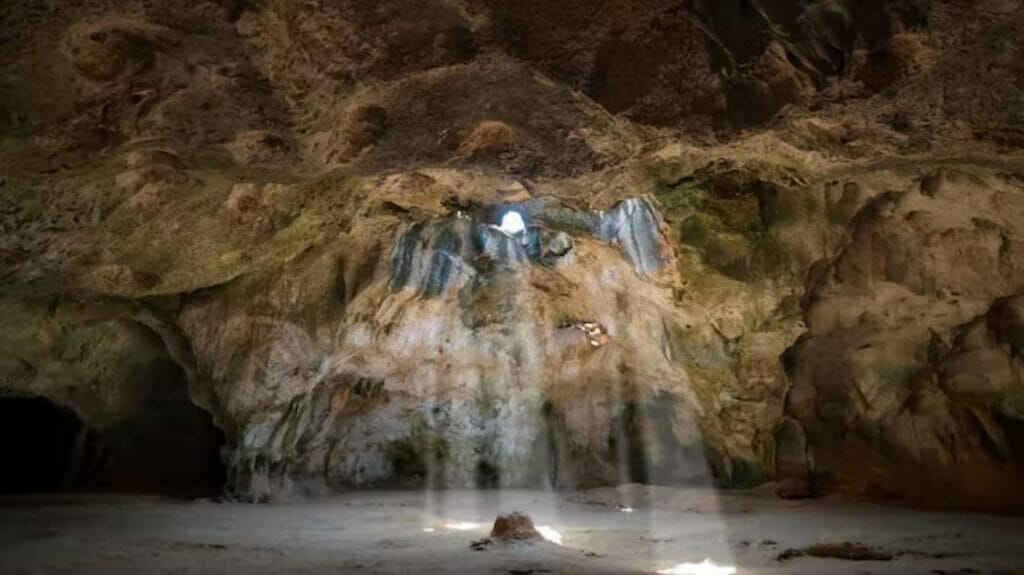 The tour is a 4.5-hour adventure, allowing you to interact with Aruba's indigenous wildlife and vegetation. You will also explore natural caves, giving you a glimpse of Aruba's ancient culture.
The trip is open to tourists aged 4 and above, with ticket prices starting at $65 for children (ages 4 – 12, and $79 for teenagers and adults. The price includes a certified tour guide, admission fees, snorkeling gear, and a bottle of water.
Your journey begins at 8:30 am and covers five stops, including Indian Cave Paintings, Fontein Caves, Guadiriki Caves, Boca Prins, and snorkeling at Mangel Hato. You will pass by Windmill Park Vader, Lourdes Caves, and local neighborhoods.
What are the Different Things to Bring on Aruba Jeep Tours?
Most jeep tours include water-based activities, requiring you to carry swimwear, towels, and a change of clothes.
Ensure you have sunscreen during your trip since the sun can get pretty intense in Aruba.
Sneakers or hiking boots are also necessary, especially if your trip includes stops at the Akirok National Park, which has a rocky terrain. Avoid wearing jewelry because it can limit your mobility during hikes or get lost when participating in water activities.
Bring a camera to take pictures of the beautiful landscape because not all tour operators provide one during the trip.
Carry extra cash with you because most ticket prices do not cover access fees, and not all venues accept credit card payments.
Some Aruba Jeep tour operators offer self-drive excursions and will only let you do so with a valid driving license.
Read This Before Booking an Aruba Jeep Tour!
Aruba jeep tours are not recommended for tourists with back or kidney problems and those who are pregnant.
Cruise passengers should book jeep tours and excursions with their respective cruise lines.
Aruba jeep tours vary depending on the operator. Inquire directly from the operator or through your hotel's guest services department.
Jeep tour companies offering self-drive excursions may require you to pay extra for a Collision Damage Waiver when renting the vehicle.