Aruba Itinerary: What to do in Aruba for a Week?
Aruba is among the top vacation spots in the Caribbean, welcoming over 2 million hotel and cruise tourists yearly. Despite its relatively small size of about 69 square miles, the island's warm and sunny climate allows for all-year-round tourism activity. From white sandy beaches with all-inclusive resorts to beautiful landscapes, this Aruba itinerary paints the perfect picture of the perfect week on the island.
So if you're scratching your head about where to start on Happy Island, here is what to do in Aruba if you're going to be there for a week or so.
1. Arriving in Aruba and Settling in
Oranjestad is Aruba's main entry point, where you can arrive by cruise ship or airplane. Cruise ships dock in piers to the north end of Oranjestad, while airplanes land at the Queen Beatrix International Airport. It takes about an hour to clear customs and immigration. Then you can avail of the different transport options, including taxis, buses and car rental services.
Accommodation is plenty on the island, with most hotels and resorts in the Palm Beach area. The most in-demand properties are Eagle Aruba Resort & Casino, Renaissance Wind Creek, and Manchebo Beach Resort & Spa.
The island also offers timeshare accommodation, vacation rentals, and Airbnb properties if you are looking for more budget-friendly options. The Blue Residences, Surf Club by Marriott, and Gold Coast Club are among the properties to consider for your week-long stay. They have fully-equipped kitchens, pool and beach access, and kids' play areas for those vacationing with family.
2. The Climate in Aruba Is Hot and Humid. Bring Sunscreen, Sunglasses, and A Hat
Average daily temperatures in Aruba are about 83.1 degrees Fahrenheit, with cool trade winds preventing you from getting too hot and sweaty. The sun can be quite strong during the summer, so ensure you have plenty of sunscreen when visiting the numerous public beaches.
Popular beaches on the island include:
Arashi beach in the Noord District features coral reefs and shipwrecks ideal for snorkeling, diving, and surfing.
Boca Grandi beach in downtown San Nicolas is perfect for kite surfing, thanks to its steady trade winds and challenging waves. It features a beach bar, where you can enjoy chilled drinks watching the day's activities. Swimming is discouraged in this area due to the strong ocean current.
Baby Beach on the southern tip of Aruba is a great option for families because of its serene environment, being away from major tourist hot spots. Its warm, clear waters make it ideal for casual swimming and beachcombing activities.
Palm Beach is a two-mile-long shoreline, hosting Aruba's high-end resorts, shopping areas, and nightclubs. This area is perfect to end your second vacation day, offering beautiful sunsets and vibrant nightlife.
3. Explore the Antilla and Aruba's Incredible Marine Life
The Antilla is a World War 2 German freighter that is now the Caribbean's largest shipwreck. You can book a 90-minute underwater adventure to explore it through operators like Atlantis Submarines Expedition and Semi-Subamarine Expedition. These trips take you to about 130 feet below, allowing you to view different ocean creatures, including turtles, barracudas, Mahi Mahi, and Atlantic Sail Fish.
After your trip, you can spend the afternoon exploring Oranjestad, Aruba's Dutch-inspired capital city. The streets have luxury boutiques, duty-free shops, cafes, and jewelry stores catering to varied styles and tastes.
Pro-Tip: A free tourist tram offers city tours from the souvenir stores at the cruise terminal to the main street downtown area.
Notable sites you can see and visit during your city tour include:
Huisje Wild is a 19th-century house that now serves as a monument.
The Archaeological Museum houses artifacts representing Aruba's ancient cultures.
Fort Zoutmann and Willem III Tower served as outposts for protection against pirates and enemies on the island.
The Protestant Church features a Bible Museum, with the nearby Santa Anna Church, famous for its neo-gothic architecture and oak-wood altar.
4. San Nicolas Art Scene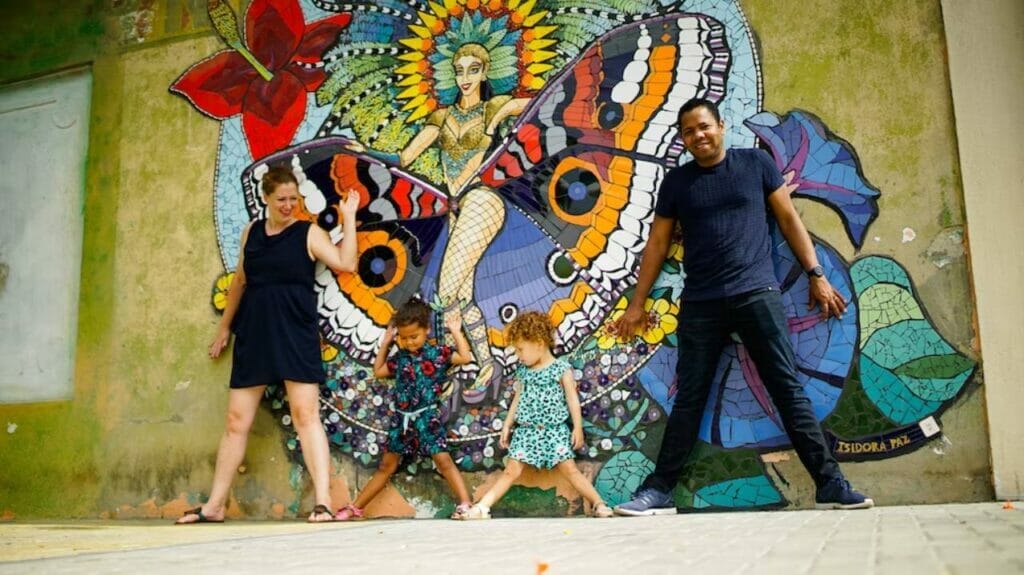 Also known as Sunrise City, San Nicolas represents Aruba's emerging art scene. Strolling down the city streets presents you with buildings with iconic murals showcasing the island's vibrant wildlife and culture. These include two-story flamingoes, cacti sculptures, and various sea shell paintings blanketing the walls of different buildings.
The city also has several galleries and boutiques where you can purchase handcrafted jewelry and canvas paintings from local artists. San Nicolas also hosts the Aruba Art Fair, a three-day event in November featuring music and dance performances by local and international artists. There are also on-site sculpture-making and cooking competitions, where tourists can experience authentic Aruban artistry at its finest.
5. The Donkey Sanctuary in Bringamosa
Donkeys hold a special place in Aruba's culture, having been the main mode of transport before the introduction of motorized vehicles. The venue allows you to pet and hug the animals during your visit, also offering insight into the animals' significance in the island's history.
Soothing brays and close-up greetings with their warm muzzles welcome each visit. You can enjoy cold drinks while learning about the sanctuary's operations at the visitor center and complete your visit by donating or purchasing donkey-themed souvenirs from the gift shop.
6. Flamingo Beach
Staying at the Renaissance Resort offers you exclusive access to Flamingo beach, where you spend the day interacting with Aruba's flamingoes. The beach is on the Renaissance Aruba Private Island, featuring private cabanas, nature trails, and pristine sandbars.
Tourists can take selfies with the birds, hand-feeding them, or enjoy a casual swim with the flamingoes patrolling the waters. You can also book catamaran tours to idyllic spots like Arashi Reef and Boca Catalina for snorkeling and at-sea lunches. Sunset cruises are also available, where you enjoy cold drinks as you welcome the night.
7. Arikok National Park
Arikok National Park is Aruba's largest, covering nearly 20% of the land. It features three distinct geological formations:
Limestone
Quartz diorite
Lava
Trekking through the park exposes you to indigenous plant and animal species supported by the different microclimates resulting from the varied landscape. Among the wildlife are the Aruban whiptail lizard, Baker's cat-eyed snakes, Aruban parakeets, and schocos.
Historical sites such as the Fontein Cave contain Arawak paintings and graffiti by pre-Columbian settlers. Other sites you can visit include Jamanota Hilltop, which provides a 360 view of the entire island, Quadiriki Cave, which is home to several bat species, and Conchi, a natural pond resulting from a protective barrier of rocks from the sea.
You can wine and dine at the café in Boca Prins, a natural beach where turtles nest.
8. All-Day Happy Hour at Carlitos
If you enjoy different cuisines, then Aruba is your perfect destination! The island is full of restaurants and bars offering cuisine that caters to every palate. Carlito's is among the favorites thanks to its all-day happy hour, where you can enjoy various Aruban cocktails like Coecoei, Ponce Crema, and Balashi.
Aruban cuisine features dishes with Dutch, South American, and Caribbean influences. Restaurant menus contain dishes rich in seafood, cornmeal, hot sauce, and tropical fruit. Popular dishes include Keri Keri, a mixture of shredded fish fillet sauteed in butter and a mixture of vegetables and spices.
Keshi Yena is another Aruban dish worth tasting. It is a mixture of Gouda cheese, spiced meat, onions, tomatoes, and olives.
9. A Fun Day at De Palm Island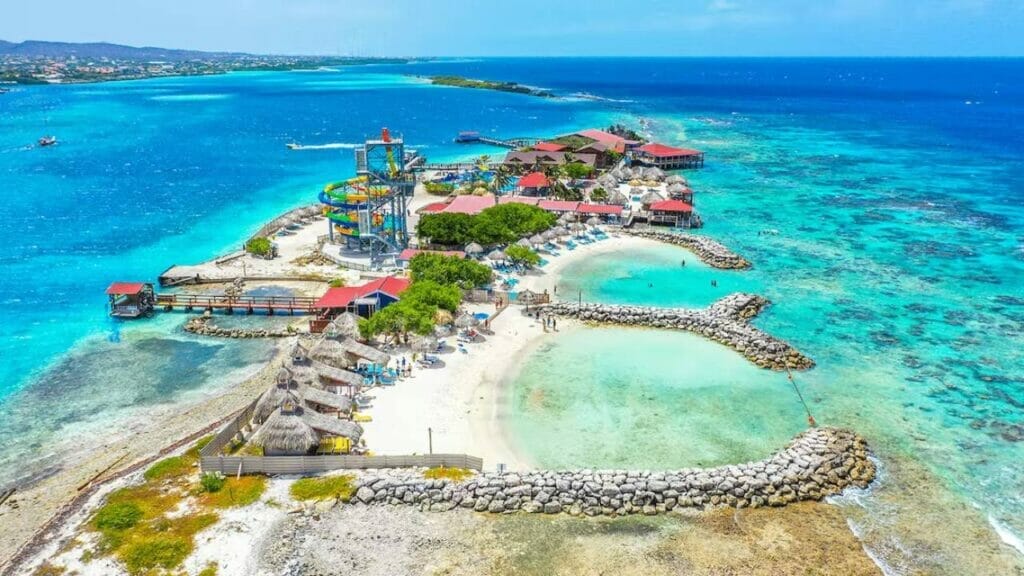 De Palm Island is a special spot on the southwest coast of the mainland, full of family-fun activities.
You will drive 10 minutes from Oranjestad and take a 5-minute ferry to the venue. It includes a small beachfront where you can enjoy banana boat rides, beach volleyball, and snorkeling.
The highlight of De Plam Island is Blue Parrotfish Waterpark. Families can enjoy thrilling waterslides, swimming activities, and games at the kids' play area. Plenty of restaurants offer snacks and full-course meals whenever you feel hungry. Adults can also spend time in private beach cabanas featuring sofas, beach beds, and concierge services.
A bonus of visiting De Palm Island is its resident Chilean Flamingo population. You will find them gathering along the shoreline and will sometimes come up to you for a treat. There are also a few peacocks around the venue, offering a welcome distraction from the flamingoes.
10. Aruba Jeep Tours
Allocate at least two days in your itinerary for Aruba Jeep tours. Several companies offer guided tours, but it is better to self-drive for the excursion. Aruba is safer than other island destinations, and it is easy to navigate since most inhabitants speak English. The best time to start your journey is around 9 AM, as there is plenty to see across the island.
Important sites to include in your journey are:
The California Lighthouse on the island's north end is a bright, white lighthouse built in 1914, which was used to warn approaching ships of the rocky shoreline. You can climb to the observation deck to watch the Aruban sunset.
The Bushiribana Gold Mill Ruins are a throwback to Aruba's gold rush of 1824. The site contains remnants of mines and processing mills from that era.
Casibari rocks are a natural rock formation consisting of huge boulders that you can climb to the top for a panoramic view of the island.