Hiking in Aruba: 10 Best Aruba Hiking Trails
Though Aruba is well known for its pristine white beaches, clear waters, and weather to die for, inside the island lies a network of hiking trails. The exhilarating architecture on the land is filled with cacti, ancient mines, and craggy terrains that lure you to get down and dirty.
If you're a thrill freak, this is one place you can enjoy plenty of hiking trips all week long. Here are the 10 best hiking trails in Aruba:
Alto Vista Chapel to Beach Road Loop
Arikok National Park
Mount Hooiberg
Daimari to Conchi Natural Pool
Bushiribana Gold Mill Ruins Walk
Jamanota Trail
Spanish Lagoon's Magical Mangrove Hiking Trail
Northern Tip Trail
Ayo Rock Formations
Casibari Rock Formations
1. Alto Vista Chapel
Whenever you set out to hike in Aruba, the Alto Vista Chapel is the most recommended spot to start your adventure. It is perfectly located between so many trails, and you can head anywhere from the Vista Chapel. It is also safe to park behind the Chapel and use it as a reconnaissance point.
It is a serene place to reflect, and the fantastic Peace Labyrinth close to the compound gives you the tranquility you need after a long hike. While the labyrinth looks like a maze, it is mainly a reflection area.
One such trail to explore while at the Alto Vista Chapel is a short trip in the beautiful Beach road loop. The trail is perfect for families and beginners as it is short (a little under 0.8 miles) and takes 10 minutes to complete.
Although some people find this too easy, the views along the trail are thrilling, and you'll see some of the most ancient sites and variations of cacti forests.
2. Arikok National Park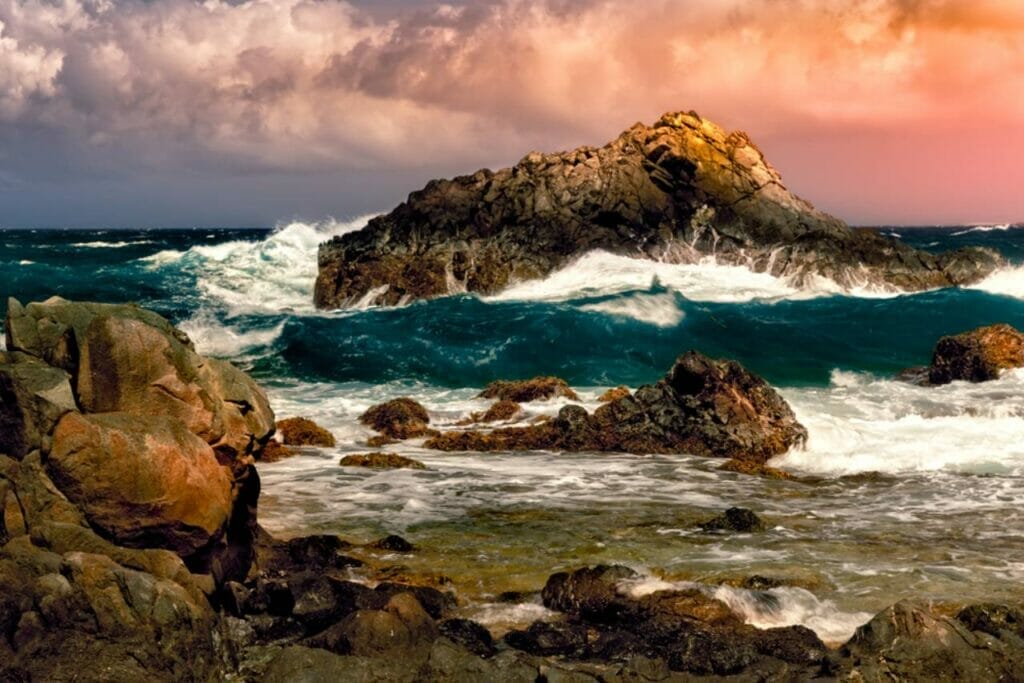 Arikok National Park is Aruba's most treasured park, full stop. The park was recently named the Caribbean's best attraction by USA TODAY. The park has about 6 trails including abandoned gold ruins, ancient caves, and limestone cliffs.
Since the trails are so diverse and run several kilometers, it is best to find a tour guide through the National Park's official contacts or browse for independent tour companies around Aruba. If you're an experienced hiker and want to go alone, ensure you visit the Welcome Center for tips, directions, and possible charges.
3. Mount Hooiberg
One of Aruba's highest points is Mount Hooiberg. It has a distinct cone shape visible from nearby places such as Oranjestad or Santa Cruz. Hooiberg comprises raised volcanic rocks going up to 154 feet.
The mountain is frequently visited by locals and tourists who come to enjoy the panoramic view of Aruba and sometimes beyond. Tourists love hiking in Hooiberg as it's accessible with painted stairs and hiking trails that lead to the top.
The trail is around 0.7 miles and should take 30 minutes. If you don't mind a bit of challenge, you can choose the red trail as an alternative rough and rocky trek to the summit. As you approach the stairs, you'll see a red arrow pointing away from the green-shaded stairs- this is the rocky alternative route.
Apart from the breathtaking view of Aruba, Hooiberg is engulfed with diverse cacti and wildflowers that are brighter after a season of rainfall. Expect to see a few lizards basking on the hot rocks or mountain goats trekking on steep spots.
4. Daimari to Conchi Natural Pool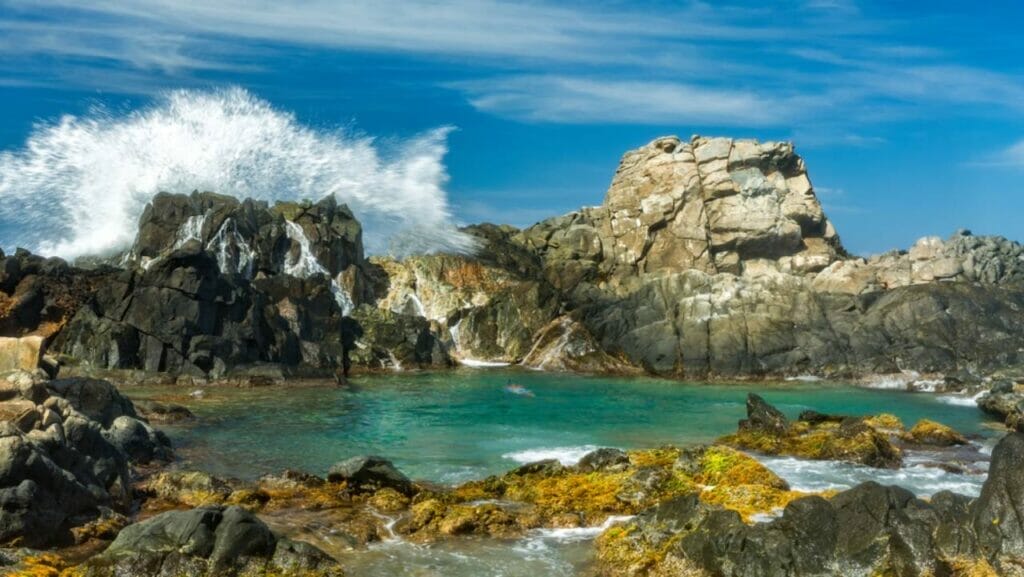 There are many ways to reach the Conchi Natural Pool, and tourists commonly use the gravel route in 4WDs and park near the pool. Those who want to hike here have an interesting route that stretches from Arikok National Park Welcome Center and heads through the dry limestone trails.
But there is also a gentler seaside route from Daimari to Conchi Natural Pool. This trail is easy to navigate and has unique views of the coastline and the dunes of Daimari beach. It is a 2.6-mile trip, and a slow-paced trail can talk about two and a half hours.
The Daimari route is best explored early in the morning when the temperatures are just warming up. Plus, it's the perfect time to watch the Magnificent Frigatebird or the Brown Pelican wandering around the island.
5. Bushiribana Gold Mill Ruins Walk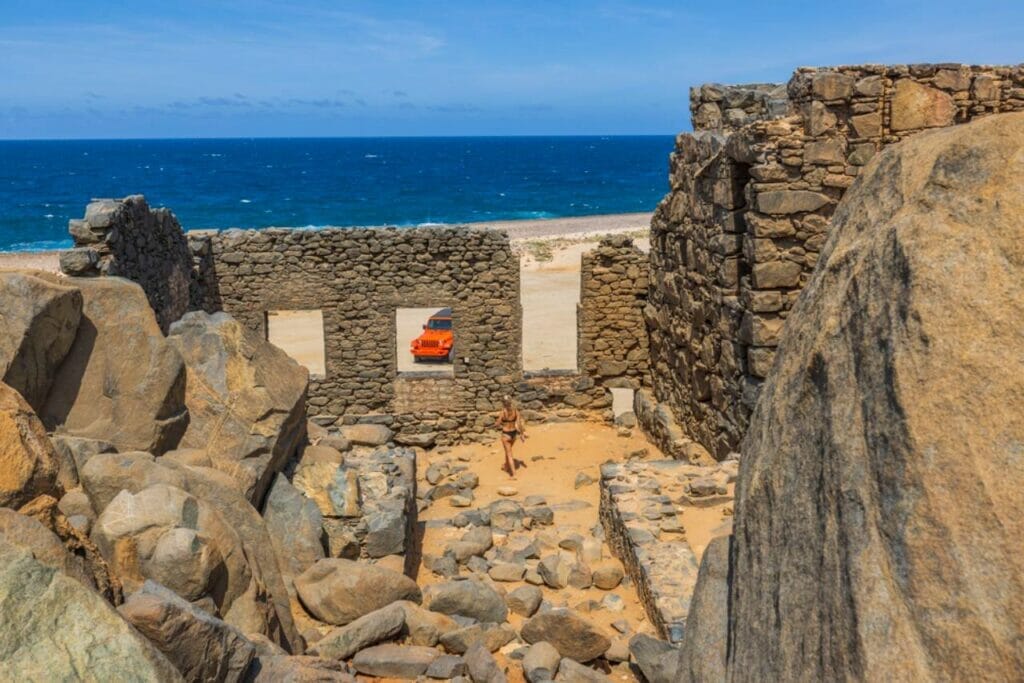 Aruba has a few ancient gold mines, and the Bushiribana Gold Mill Ruins tops the best for hiking. This family-friendly trail is about 0.9 miles and can be coupled with the 4.5-mile Calbas trail through Wariruri Beach.
The Noord was once a bustling mining economy developed when a boy stumbled on a gold nugget in the Rooi Fluit riverbed. The discovery led to a gold rush, and about three mining stations were set up to harvest the precious mineral.
The gold mine operated for ten years and harvested up to 2,000 ounces of gold before it was closed in 1883. A British Company later reopened the gold mine, which lasted another decade before closing permanently.
Bushiribana Gold Mill is now considered an ancient site, and important for Aruba's history. Some of the walls were carefully preserved, and you can see them today. A hike to these ruins is a must if you love adventure and history.
6. Jamanota Trail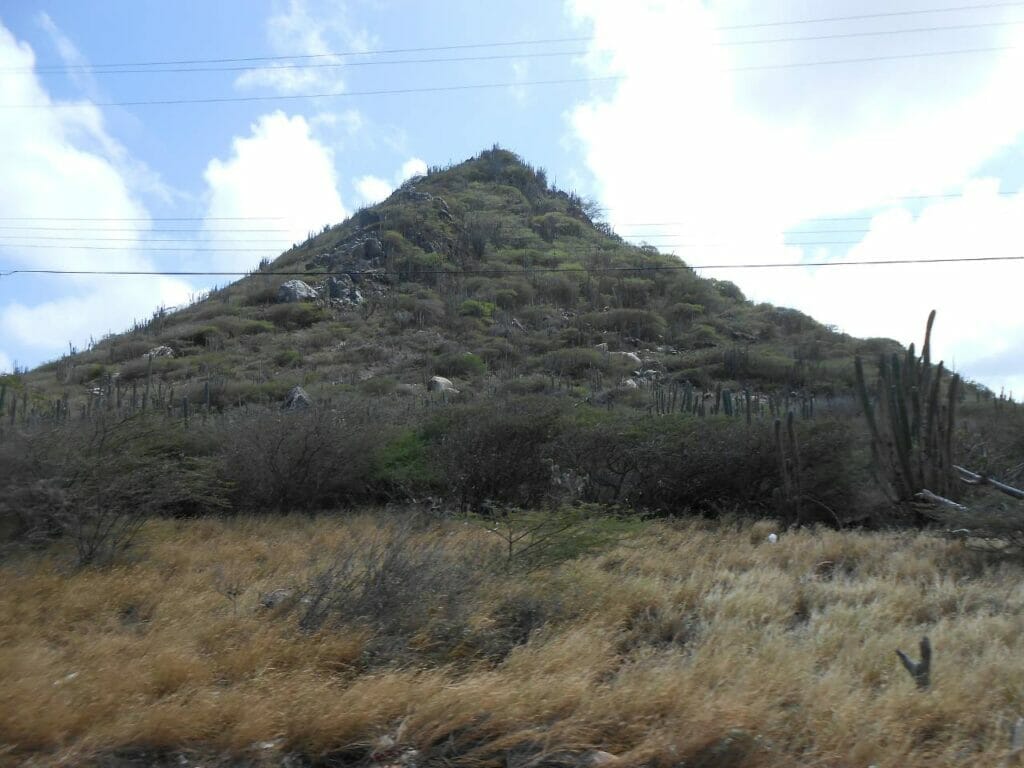 Being the highest point in Aruba, trekking Mount Jamanota is a practice dating for more than a century by the Arawak people. This moderately-difficult trail is about 616 ft above sea level, and it provides an excellent 360-degree view of Aruba. You may be lucky to see Venezuela on a clear day.
Along the trail are cacti-laden paths, hundreds of bird and lizard species, and a scene worth watching. Jamanota's trail to the top should take 40 minutes to one hour, depending on your hiking skills.
What's interesting about the Jamanota trail is that you can extend your hike at various cool places near the mountain. Most folks love descending to the Fontein Cave or the twin beaches of Dos Playa. Fontein cave has plenty of ancient drawings and landmarks created by the first settlers of Aruba. And what other way to complete your hike than cooling off on the surf spots at Dos Playa?
7. Spanish Lagoon's Magical Mangrove Hiking Trail
The picturesque Spanish lagoon is a protected wetland with lovely scenery in its mangrove ecosystem. You can access the magical mangrove from the northern side of Arikok Park and extend your hike by a few miles.
Thick mangroves are the dominant flora spread across the banks of the lagoon. You may be lucky to see nests of burrowing owls along the banks or iguanas sunbathing in the trees. The magical Spanish Lagoon trail is best combined with a kayak trip along the wetlands or a visit to the ancient Balashi Gold Mill Ruins.
8. Northern Trip Trail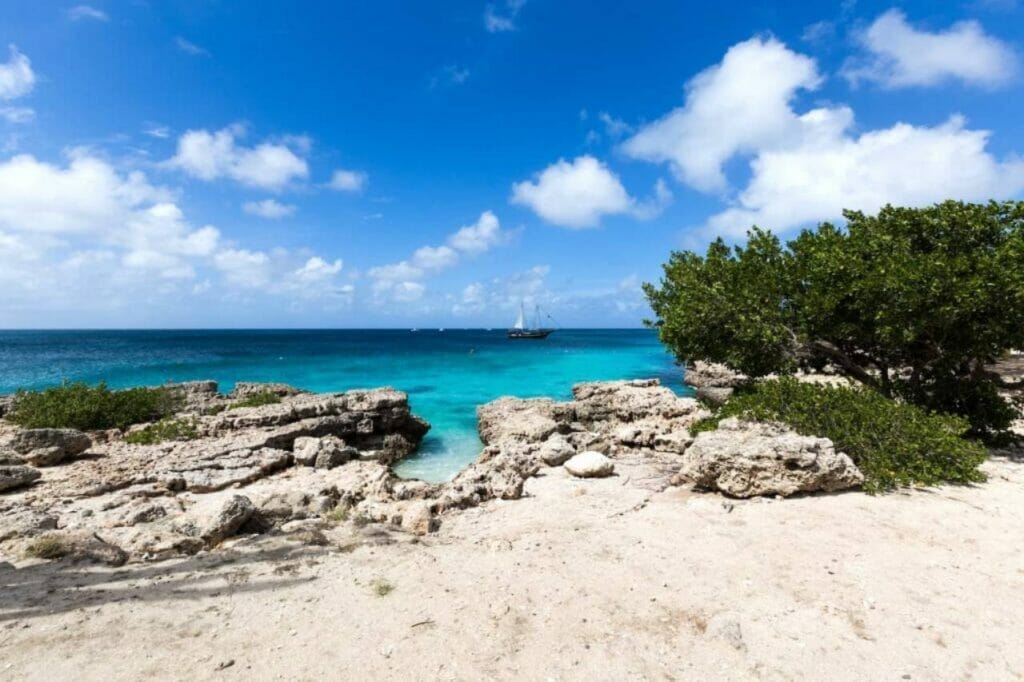 Probably Aruba's most adventurous hiking trail ends at the northernmost tip of the Caribbean island. The trail is unique and meanders in sandy dunes, dirty roads, and rocky shorelines. The trip is not short of breathtaking views, particularly on the coastal side of the island.
The trail also leads you to an undiscovered gem of Aruba- Malmok. It is the least visited site in Aruba despite having beaches as thrilling as Santa Cruz or the Oranjestad. Perhaps it's because Malmok is located far north.
Before you reach the iconic California Lighthouse, you'll have a 2.6-mile loop that lasts about an hour. Photographers should aim to go just before dawn as the magical sunrise provides Instagram-friendly views.
9. Ayo Rock Formations
Aruba is not well-known for its hilly surfaces, and the rock formations spur tourists' interest and explorers. The Ayo Rock Formations are large boulders of monolithic rocks that add aesthetics to the relatively flat island of Aruba.
The formations are located on the west side of Aruba and were used as shrines by the original inhabitants. If you're interested in the history of Aruba, these formations give you a glimpse of the past with ancient paintings and drawings.
Hiking at the Ayo rock formations is an adventure as the rocks don't have any steps carved for tourists. So, you have to scramble your way to the top if you want a beautiful view. It is not rare to find species of lizards and iguanas basking on the rocks, especially mid-morning. The spiky cacti are spread all over the island, including Ayo.
There are no amenities close to Ayo, so carry your pack of refreshments and snacks. Ayo is usually quiet, with fewer crowds than other hiking spots in Aruba.
10. Casibari Rock Formations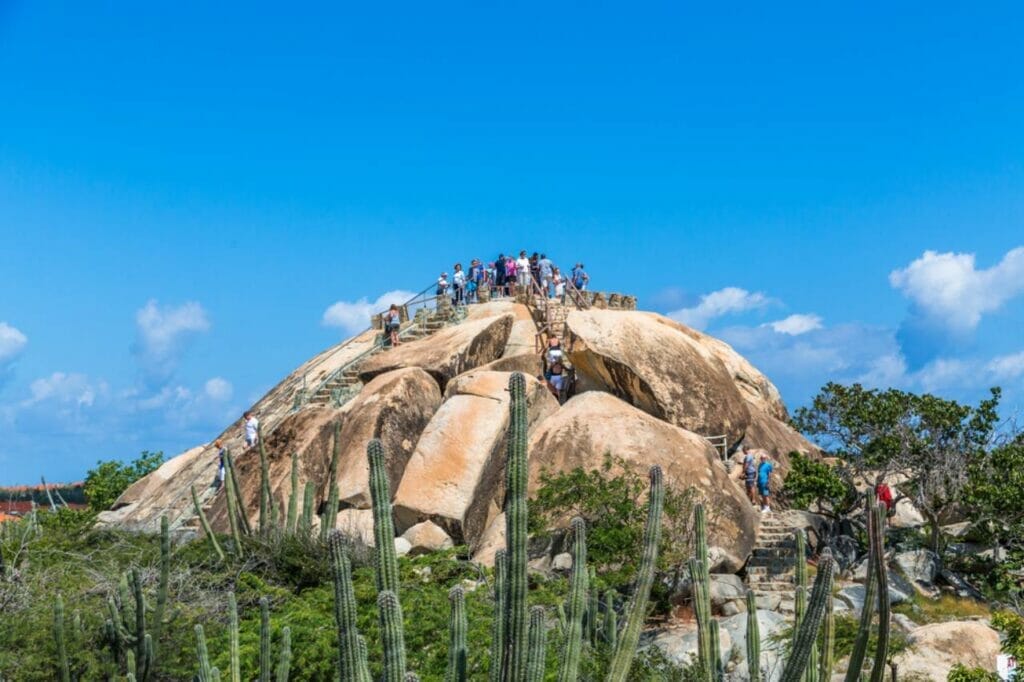 The Casibari Rock Formations is situated close to Paradera village and contains a myriad of diorite boulders spread across the formation. It is a scenery not many would associate with Aruba as it is fairly dry, and the nooks and crannies weave across the trails.
For historians and archaeologists, it is still a mystery how these rocks ended up in Aruba. However, their presence is connected to the Arawak people who came to Aruba in about 2000 BC. The drawings have every blueprint of these indigenous people, and it is suspected to be a place of worship.
Casibari offers an excellent place for short hikes as the narrow lanes and edges are good leg exercise. The highest elevation is 140 ft, and when you reach this height, you may be lucky to see the coastline of Venezuela on the south side.
Though these rock formations are far from hotels and restaurants, you can grab a snack at Casibari's souvenir shop and snack bar. Plus, the government has made steps on some of the rocks to provide easy hiking and allow hikers to reach the summit. Casibari is never short of fantastic flora and fauna, so expect some wildflowers, cacti, burrowing owls, and more.
Key Takeaways: Hiking Tips in Aruba
First time hiking in Aruba? No problem. Here are a few Aruba Hiking tips to get you started:
Carry enough in your backpack. Depending on the location, you may need a few items in your backpack, including navigation equipment, water, safety items, and food. Places like the ayo rock formation are far from shops, so you may want to carry enough refreshments.
Wear synthetic fiber clothes like polyester that are breathable and easier to break. These clothes are perfect for Aruba's hot climate. If you plan to visit the beach, don't forget your extra clothes.
Consider a tour company. They offer great deals and may provide safety items or things you'd otherwise forget. Tours also have guides who know the history of Aruba by heart.
Hike with a friend or family. Going on a trail alone is not only boring but unnecessarily risky. Find a buddy to explore the views of Aruba, and you'll have someone to pick you up when you slip on the rugged terrains.
Carry your cell phone and set the location on, in case of emergency.