4 Aruba Caves to Visit on Vacation in 2023
Aruba is a top destination in the Caribbean Sea. It is a beautiful island with lots of resorts, beaches, and unexplained underground spaces. Aruba caves are one of the most mesmerizing natural formations distributed on the west side of the island. Bonus: caves don't get swarmed with tourists, even during peak season!
Plenty of Aruba's caves are yet to be discovered, although the current ones continue to pique the interest of tourists. Here are the top 4 caves worth visiting on your next trip to Aruba.
Quadirikiri Cave
Fontein Cave
Huliba Cave
Cave Pool
| Cave Name | Location | Type of Cave | Features | Difficulty Level |
| --- | --- | --- | --- | --- |
| Fontein Cave | North of Oranjestad | Limestone | Stalactites, Stalagmites, underground lake | Moderate |
| Guadirikiri Cave | Arikok National Park | Limestone | Stalactites, Stalagmites, underground lake, colorful rock formations | Moderate to Difficult |
| Huliba Cave | Arikok National Park | Limestone | Stalactites, Stalagmites, underground lake, unique rock formations | Easy to Moderate |
| Arawak Indian Cave | Arikok National Park | Limestone | Prehistoric rock paintings, Stalactites, Stalagmites | Easy |
| Quadirikiri Cave | Arikok National Park | Limestone | Stalactites, Stalagmites, underground lake, narrow passageways | Moderate to Difficult |
Before we delve into Aruba's caves, let's look at how they are formed on the island.
How Are Caves in Aruba Formed?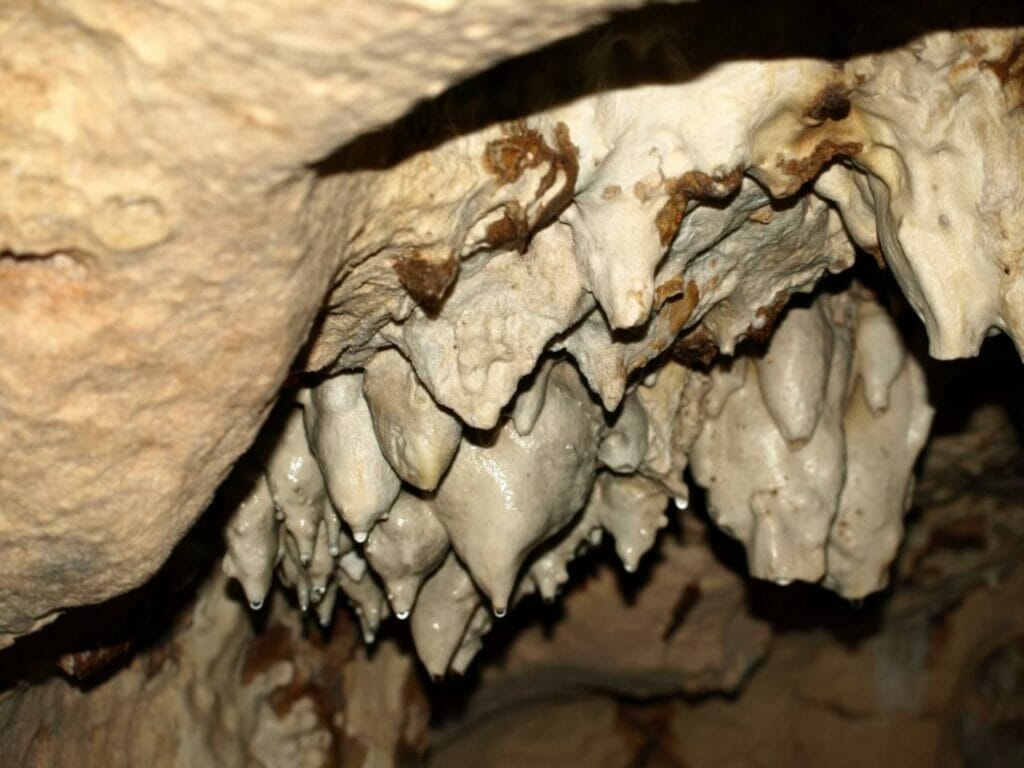 Aruba has an interesting geology with plenty of limestones on the windward side, and almost 90% of caves in Aruba are solution caves.
Solution caves are formed by the action of groundwater dissolving the limestone bedrock. When rainwater absorbs carbon dioxide from the air and runs off in streams, it may form a weak carbonic acid when it contacts the bedrock. The acid slowly dissolved minerals in the rock, forming cavities and tunnels over time.
This process typically takes place below the water table and will slowly be exposed to form caves. Some caves are only exposed from above from melting glaciers or streams that dry out underground.
1. Quadirikiri Cave
So much culture surrounds Quadirikiri Cave, a scenic cave on the windward side of Arikok National Park with skylights on several chambers that bring light during the day. This cave is one of the most visited in Aruba, although it is hot and humid.
Inside Quadirikiri cave lies three large rooms illuminated by holes in the ceiling. The last room lacks lighting and provides a natural habitat for hundreds of bats.
Like most limestone caves, Quadirikiri has nice formations of stalactites and stalagmites. On the walls and ceilings of the cave are prehistoric drawings believed to be written by Amerindians or Arawaks. The drawings depict images that seem to be human beings and separate drawings of eyes.
Archaeologists believe the drawings were painted by people under the influence of hallucinogens in search of divine inspiration.
While the caves form naturally, it is clear that ancient inhabitants lived in the caves or used them as spiritual grounds. The original inhabitants of Aruba were Arawak Indians chased from Northwest Venezuela during the Spanish conquest.
Quadirikiri is accessible from Monday to Sunday from 9 am to 3:30 pm. Since it is inside Arikok National Park, access to Quadiririki cave is included in the park's entrance fee (USD 11).
2. Fontein Cave
A few kilometers south of the Boca Prins beach is the Fontein Cave. Located at the heart of Aruba's largest National Park, the cave is filled with interesting formations and ancient art. It is not rare to find local tour guides on your way to Fontein cave.
They are friendly and will give you a thrilling experience as you explore the cave. Unlike many tourist destinations, guides don't demand tips, but it comes in handy if you tip something small.
At first glance, you'll see graffiti on the ceiling, some date back to the late 1500s, and others as recent as the 1800s. For instance, Dutch Governor J.K Meyer's graffiti from 1830 is still visible on the limestone.
The Arawak Indians living in ancient Aruba had made the caves their homes, and there are several animal cave drawings dating 3500 years. Some of these carvings include tortoises, fish, and other creatures.
While you gaze at the drawings, you may notice stalactite and stalagmite formations covered in algae. You might want to carry a torch since the cave isn't well-lit. Otherwise, if you have a guide, they'll always have one.
Fontein cave is hot and humid. It may be a bit uncomfortable on a sunny afternoon, but luckily the cave runs up to a nearby water source where you can cool your feet. The water source is also an interesting formation since its source of water is still a mystery for locals and explorers.
If you're lucky enough, you'll meet little fish on the waters who like to lick away your feet as you unwind on the clear waters.
3. Huliba Cave
Also known as Barranca Sunu Cave or Naked Rock, Huliba cave is part of an exhilarating cave complex in Arikok National park. You'll also hear locals call this cave the Tunnel of Love, and there's an interesting reason why they do.
Its Tunnel of Love nickname hails from the heart-shaped opening on one of the cave's entrances. Huliba has four other entrances, but folks prefer using the Tunnel of Love's 90-meter corridor.
Legend has it that the Tunnel of Love was once a hideout spot for a chief's daughter who had an affair with one of the locals. When the chief discovered this secret relationship, he got angry and went to the cave to take out both of their lives. As the lovers' spirits went to the heavens, they caused a hole in the cave's ceiling forming a heart shape.
Huliba cave is also believed to have been a safe harbor for pirates' treasures, where they used to hide valuables. Since the cave is dark and has many corridors, there may be inside the cave today. Some locals believe some treasures may still be there.
With steep and narrow spaces, navigating through the cave requires you to crouch and crawl at times. It is recommended to wear proper gear and enough flashlights to light up the dark passages. Once inside, you'll glance at a picturesque formation of stalactites and stalagmites with no algae.
Like most caves, there are hundreds of bats living inside Huliba. It is particularly dominated by two species- Long-nosed bats and Long-tongued fruit bats. They are harmless and will only come out at night.
Another interesting feature of this cave is a carved-out sculpture of the Virgin Mary located in one of the caves. The area was probably used for religious purposes or as a shrine. Since Huliba cave is hot and humid, the best times to visit are early in the morning or late in the afternoon.
4. Cave Pool
One of the recent discoveries in Aruba includes this gorgeous water fountain inside a cave opening. The Cave Pool features crispy waters and a chance to "cliff-jump" while basking in the sun. If you're up for an adventure, then the cave pool is definitely a spot worth visiting.
The cave is off the coast of Aruba next to Bushiribana Gold Mill Ruins (also a nice place) beneath a steep edge next to the sea. It has a tiny inlet which you need to use a ladder to enter the pool.
It may not be a pleasant entrance, but the untouched waters engulfed by volcanic rocks make it worthwhile. However, we advise practicing safety mobility procedures as you move around. The terrain is rough, and some rocks are slimy.
Once you're at the bottom, it is a short walk to the split caves and the nice turquoise water. Along the way are chunks of craggy volcanic rocks that fell during the formation of this cave pool. While the first pool is small, it is the closest to the entrance. The other two pools are further ahead on the large caves and are deep enough to swim in.
Since the Cave pool is a recently discovered spot, you'll rarely find as many tourists as in other places like Conchi Pool. This can be an excellent way to spend your afternoon if you appreciate the serenity of being alone or with family and a few friends.
Top Tips While Visiting Aruba Caves
It is always frustrating to come from vacation and realize you missed a few good spots or paid more for a cheap service. That's why we included these tips to help you have a good time on your next visit to Aruba caves.
Always look for tour guides to help you move around the caves. They don't cost much, and you will know every detail about the ancient caves of Aruba.
Carry a flashlight or headlamp, as most of the best parts are covered in complete darkness.
Wear clothes with synthetic fabrics. Almost all caves are hot and humid. Bring a change of clothes in case you get wet.
The caves require a moderate fitness level, so get ready to climb and crawl as you explore some of the earth's deep spots.
Always stay in groups as you navigate the darker parts of the cave. Going caving alone is risky and unnecessary, especially when guides are willing to take you for free.
In Summary: Aruba Caves to Visit in 2023
We hope this guide provides you with enough information to get out and explore the unique caves of Aruba.
There are plenty of caves to visit on this small island, and it is worth booking a cave tour if you are in a group of people. The caves are close to many beautiful spots and are worth discovering on your future visit!