Architecture In Alaska: Must See Inspirational Designs in AK
Alaska's architecture truly is some of the world's grandest masterpieces, as well as extremely famous among Alaskan people.
It is home to the Alaska Center for the Performing Arts located in downtown Anchorage, the Conoco-Phillips Building as well in downtown Anchorage, the St. Andrews Parish in Eagle River, the Sealaska Heritage Institute Walter Soboleff Center, and much more.
It is easy to say that Alaska is also home to a good architect or two. Although it gets its reputation mainly from being cold, the farthest north state of the US with many remote places, and being extremely expensive to live in, it is clear that Alaska's architectural design is a bit underrated.
If you are an architect looking to create your next masterpiece in the beautiful northern land of Alaska, then there are several companies ready to help you.
Design Alaska, for one, is a multi-disciplinary firm that is made up of registered professionals in architecture. These professionals are there to assist you in the civil, structural, mechanical, fire protection, electrical, and control systems of your new design.
Another great one that we will talk about is Architects Alaska, which also provides professional architects, but they are also skilled in planning and interior design.
So, if you are an architect considering starting your next project in Alaska, read on.
The Design Style in Alaska's Architecture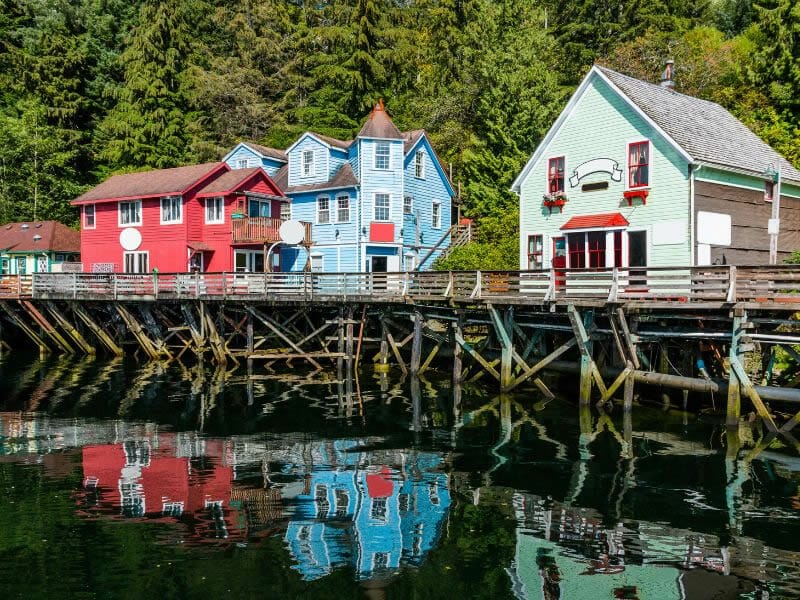 Architecture in Alaska is in a class all of its own.
Separated from the rest of the U.S. by some considerable margin, the office and home designs and styles are part in keeping with the traditions of home building in Alaska but also to deal with the harsh weather conditions and the cold Alaska endures for much of the year.
Igloos are of course traditional for areas having to deal with heavy snow and ice, although buildings in all sorts have replaced almost all of them, you can still find amazing architecture designs in and around Alaska, like the infamous igloo building below.
The terrain and beauty of the AK state is an inspiration in itself, but imagination is in abundance with one of the widest array of design styles you are likely to see in any other U.S. state.
When people say Alaskans do things in their own way, they're not kidding!
Architectural Companies in Alaska
For those looking for professional architectural services, inspiration or recruitment potential for those budding architectures, the following should provide helpful.
Design Alaska
Design Alaska's team of architect professionals make up the multi-disciplinary firm. They are skilled in the civil, structural, mechanical, fire protection, electrical, and control systems of new architectural designs and buildings.
Additionally, Design Alaska is willing to help architects with environmental engineering, landscape architecture, and surveying.
This company's motto is "committed to our clients, dedicated to our employees, and devoted to our community." They also state that they have been religiously doing so since the year 1957.
Design Alaska is dedicated to strengthening the community, which is one of their core values. This community is Fairbanks.
They work hard in partnership with the city of Fairbanks, and are loyal to ensuring that the city's appeal is always beautifully enhanced but always has an obvious touch of compassion.
The awards that Design Alaska has received are a grand total of four. The Green Star Award for environmental consciousness, Business in Arts Award, Youth Friendly Award from Spirit Youth, and the Family Friendly Business Award have all been rightfully added to Design Alaska's display of acclaim.
The team that makes up Design Alaska are all residents in the city of Fairbanks themselves, and makes the company the largest engineering and architecture firm in the interior of Alaska. Clients come to Design Alaska for help with their designs of new projects and even for the expansion of old ones.
Architects Alaska
Architects Alaska is very similar to Design Alaska in the sense that the company is a team of professional architects with expertise in the fields of architecture, planning, and interior design, with its locations in Anchorage, Wasilla, and Bozeman.
Their architecture portfolio consists of projects completed in a multitude of areas. These include commercial and retail, community, education, healthcare, housing, industrial, interiors, remote, and worship.
All in all, Architects Alaska goes anywhere and everywhere. They are willing to take on practically any project from individual houses and churches to hospitals.
Architects Alaska states that they expect themselves to exceed the expectations of their clients; giving everything they do 110% effort. Also a part of their core values is achieving design excellence, improving Alaskan communities, respecting the unique and diverse environment of Alaska, and is committed to developing and encouraging the personal growth of its team.
Founded by Edwin B. Crittenden in the year of 1950, Architects Alaska has been supporting the growth and development of Alaska's early territorial days and watched it enter into statehood.
Throughout its history, Architects Alaska has built everything from nursing homes to maternity centers for the help and growth of the Alaskan state.
Alaska is a Great Place for You to Start Your Next Project
Alaska is a great place for you to start your next project, and with these helpful and encouraging teams on your side, you are set up for success.
By investing in a high quality team to help you with your designs, you are exposing your project to a fresh set of eyes, unique opinions, and trusting the mucky parts you don't like dealing with to a team of people with expertise, your new project will be built bigger, better, and stronger.
Two is better than one, but what is even better than two is more than two. With its arising industries, great military bases, and architectural wonders already established, Alaska is definitely a place worth considering for your next project.