Antigua Yacht Charters: Sail the Caribbean in Style
Discover the Caribbean's hidden paradise and sail in ultimate style with Antigua's yacht charters. Horizon Yacht Charters, Dream Yacht Charter, Miramar Sailing, and Mystic Amara III offer a range of options that cater to every traveler's desires.
Whether you're a seasoned sailor or a novice, these charters provide luxury yachts with modern amenities, professional crews, and personalized itineraries tailored to your preferences. From exploring historic sites like Nelson's Dockyard National Park to snorkeling in vibrant coral reefs off Green Island, or witnessing stunning sunsets in Deep Bay, Antigua offers a plethora of breathtaking experiences.
So, set sail and embark on an unforgettable adventure through the turquoise waters of the Caribbean.
| Yacht Charter Company | Description | Special Features | Types of Charters |
| --- | --- | --- | --- |
| Horizon Yacht Charters | Offers a diverse range of luxury yachts with modern amenities. | Offers comprehensive training courses for those who wish to improve their sailing skills. | Bareboat and skippered charters. |
| Dream Yacht Charter | Specializes in crafting bespoke yacht experiences. | Attention to detail in planning the journey, eco-friendly practices. | Tailored charter services. |
| Miramar Sailing | Offers day charters and sunset cruises. | Excellent customer service, intimate sailing experiences. | Day and sunset charters. |
| Mystic Amara III | Provides exclusive luxury yacht charter services. | Personalized experiences, private chef, and high emphasis on safety. | Private luxury charter. |
Horizon Yacht Charters: Luxury Yacht Options and Charter Services
Exploring Antigua's crystal-clear waters, Horizon Yacht Charters offers an unparalleled sailing experience. The company is renowned for its collection of sleek, luxury yachts that are primed for your indulgence.
These yachts are equipped with modern amenities, ensuring your journey through the azure Caribbean waters is nothing short of spectacular. Whether you're an experienced sailor or a novice, Horizon provides diverse yacht options to suit your skill level.
Horizon's services are a testament to their understanding of customer needs. With the option of a bareboat charter, experienced sailors can captain their journey, making spontaneous detours to Antigua's secluded beaches. For those who prefer a guided trip, Horizon offers skippered charters, where an experienced sailor navigates you through the best spots while you relax and soak up the sun.
But that's not all. Horizon Yacht Charters steps it up a notch by offering comprehensive training courses for those who wish to improve their sailing skills. So, you get to enjoy the beauty of Antigua while learning from the best in the business. This combination of luxury, flexibility, and professional service truly sets Horizon apart from the crowd.
Lastly, Horizon's charter services are designed to cater to a variety of budgets. This way, they ensure that sailing the Caribbean in style isn't exclusive to just the super-rich. From affordable options to opulent luxury charters, Horizon is committed to providing a memorable experience that doesn't compromise on comfort or style.
Dream Yacht Charter: Tailored Sailing Experiences and Crewed Yachts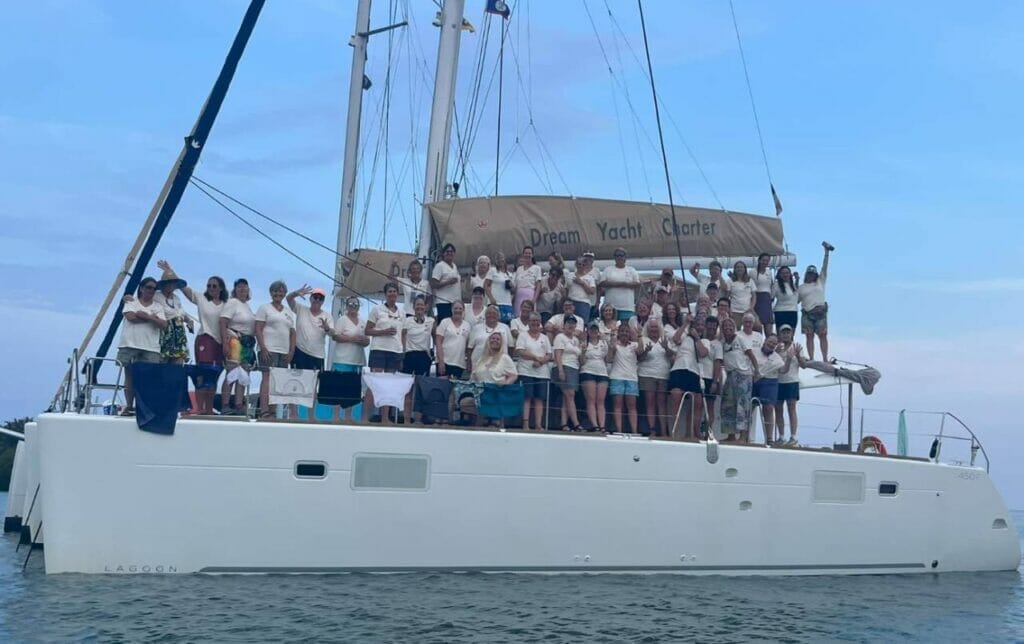 Dream Yacht Charter, as the name suggests, specializes in crafting bespoke yacht experiences. This service focuses on tailoring your journey to fit your personal preferences, making your trip a truly unique adventure. Want to snorkel in untouched reefs or spend a quiet evening on a secluded beach? With Dream Yacht Charter, you're the boss.
When it comes to its fleet, Dream Yacht Charter boasts an array of impressive crewed yachts. These vessels are equipped with luxurious amenities and helmed by a professional crew dedicated to providing top-tier service. You'll have a chef on board to whip up gourmet meals and a captain who knows the waters around Antigua like the back of his hand.
What sets Dream Yacht Charter apart is their attention to detail. From the moment you step aboard, every aspect of your journey is meticulously planned and executed to ensure your comfort. Your itinerary is designed according to your interests, whether that's exploring remote coves, sampling local cuisine, or simply lounging on the deck with a cocktail in hand.
Moreover, Dream Yacht Charter is conscious of the environment. They strive to provide a sustainable sailing experience by adopting eco-friendly practices, such as using solar energy for some onboard functions and promoting responsible marine tourism. So, you can indulge in the luxury of their tailored experiences with the assurance of making a minimal impact on the beautiful Antiguan environment.
Miramar Sailing: Day Charters and Sunset Cruises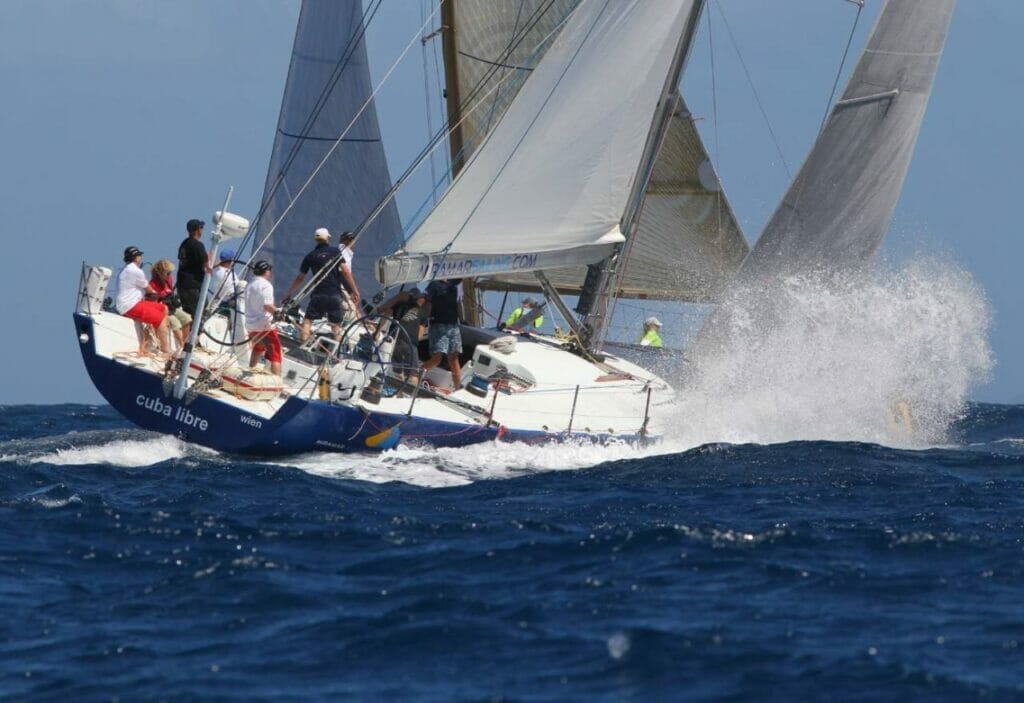 For those seeking a more intimate experience, Miramar Sailing offers day charters and sunset cruises. With Miramar, you get to sail the turquoise waters of Antigua and explore its vibrant marine life in a single day. Their charters are perfect for short-term visitors who want a taste of Antigua's maritime beauty without committing to a multi-day journey.
Miramar's sunset cruises are the jewel in their crown. Imagine sailing into the sunset, drink in hand, as the Antiguan sky transforms into an artist's palette of oranges, pinks, and purples. It's a serene experience that'll take your breath away, leaving you with memories to cherish for a lifetime.
Don't fret if you're new to the world of yachting. Miramar is also known for its excellent customer service and its willingness to go the extra mile to ensure your comfort. They'll brief you about the basics of yachting and safety protocols, ensuring you can relax and enjoy the ride.
Mystic Amara III: Private Luxury Charter with Exclusive Services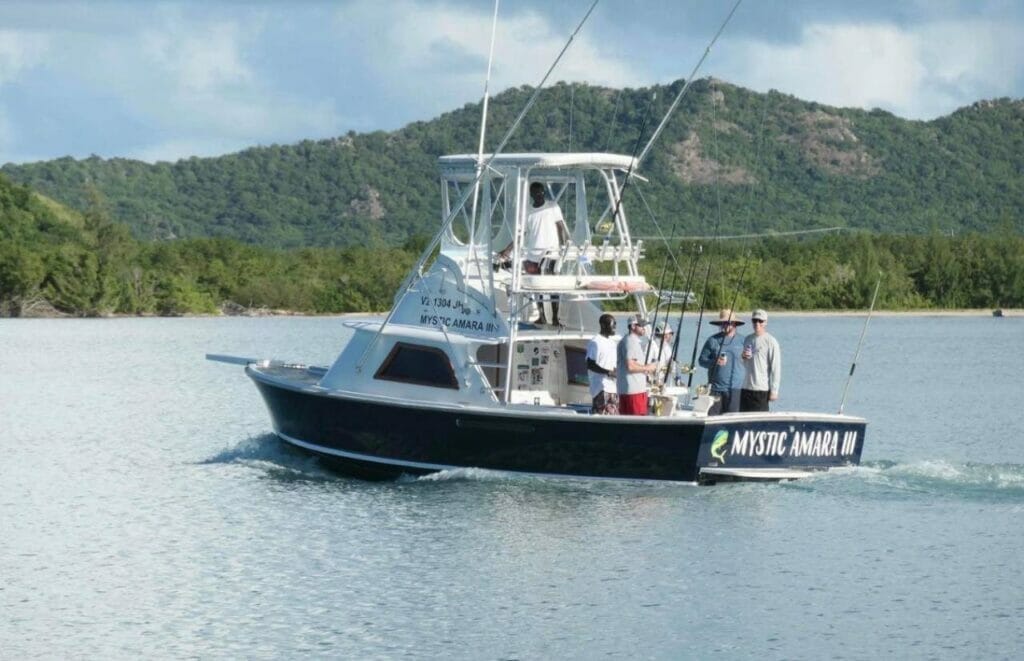 Finally, we have Mystic Amara III, the epitome of exclusive luxury yacht charter services in Antigua. Mystic Amara III promises a private, high-end yachting experience with a particular emphasis on quality and luxury. They cater to travelers who appreciate the finer things in life and desire an unforgettable sailing adventure in Antigua's beautiful waters.
Their luxurious yacht, the Mystic Amara III, is a magnificent vessel that stands out in terms of aesthetics and functionality. The yacht's design exudes class and sophistication, while the interiors are fitted with plush amenities and conveniences. This creates an atmosphere of exclusive comfort and luxury that remains unmatched.
What makes Mystic Amara III's services exclusive is their dedication to providing personalized experiences. Each chapter is meticulously planned according to your preferences, ensuring that your voyage is nothing less than perfect. You'll have a professional crew at your service, ready to cater to your every need, and a private chef to serve gourmet meals prepared to your liking.
Moreover, Mystic Amara III is also known for its commitment to safety. Despite the emphasis on luxury and exclusivity, they don't compromise on safety standards. This ensures that you can sit back, relax, and enjoy the incredible views of Antigua's coastline without worry.
Noteworthy Locations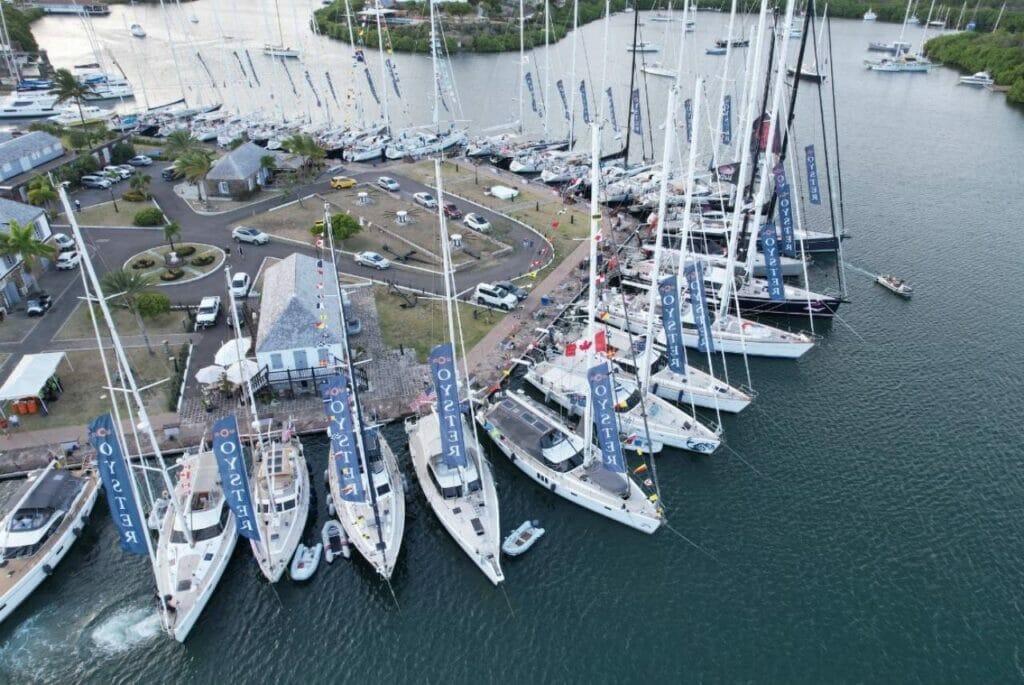 Antigua is a paradise of hidden gems, waiting to be discovered by adventurous sailors. One such wonder is Nelson's Dockyard National Park, a UNESCO World Heritage Site located in English Harbour.
The dockyard is steeped in history, offering charming Georgian-era buildings, restaurants, and an informative maritime museum. Sailing through English Harbour provides a picturesque view of the dockyard, making it a must-visit spot on your yacht charter.
Just north of Antigua lies the small, uninhabited island of Green Island, a popular anchorage for yacht charters. Encircled by coral reefs, Green Island is an ideal spot for snorkeling and swimming.
The turquoise waters teem with marine life, making it a vibrant undersea world to explore. On land, the white sandy beaches are perfect for a beach barbecue or a tranquil afternoon under the Caribbean sun.
The west coast of Antigua offers another gem: Deep Bay. This horseshoe-shaped bay is renowned for its shipwreck, the Andes, a barque from Trinidad that sank in 1905. Now, it's a haven for snorkelers who come to witness the rich marine life that calls the wreckage home. Besides the underwater allure, Deep Bay offers stunning sunset views, making it a must on your yacht charter itinerary.
Seasons and Weather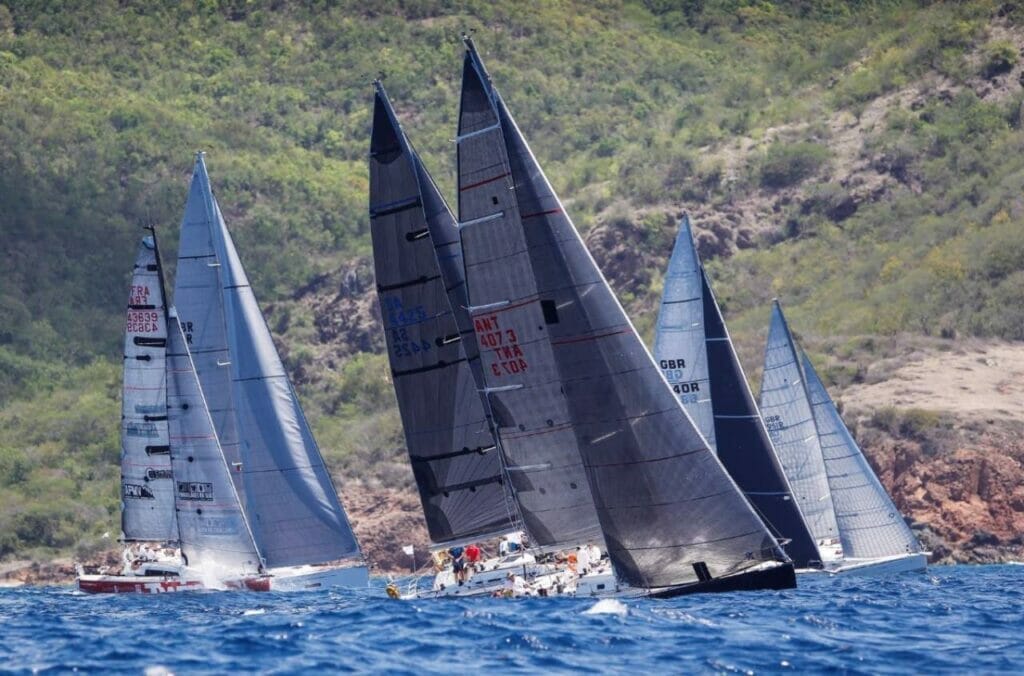 When planning a yacht charter in Antigua, it's essential to consider the seasons and weather. The peak sailing season runs from December through April when the weather is dry and the temperature hovers around a comfortable 26°C (79°F).
This is also when Antigua's sailing events, like the Antigua Yacht Show and the Antigua Sailing Week, take place, adding an extra layer of excitement to your journey.
However, if you're looking to avoid the crowd, consider visiting in May or June. During these months, the weather remains pleasant, with slightly warmer temperatures and occasional showers, and the tourist rush begins to wane.
Plus, you might find more competitive rates on yacht charters during this time, making it an attractive option for budget-conscious travelers.
July through November is considered the hurricane season, with September and October being the peak months for potential storms. While modern weather forecasting allows for advanced warnings, it's always safer to avoid chartering during this period. Notwithstanding, Antigua's tropical charm is year-round, so with a little planning, you can ensure an unforgettable sailing experience.
FAQ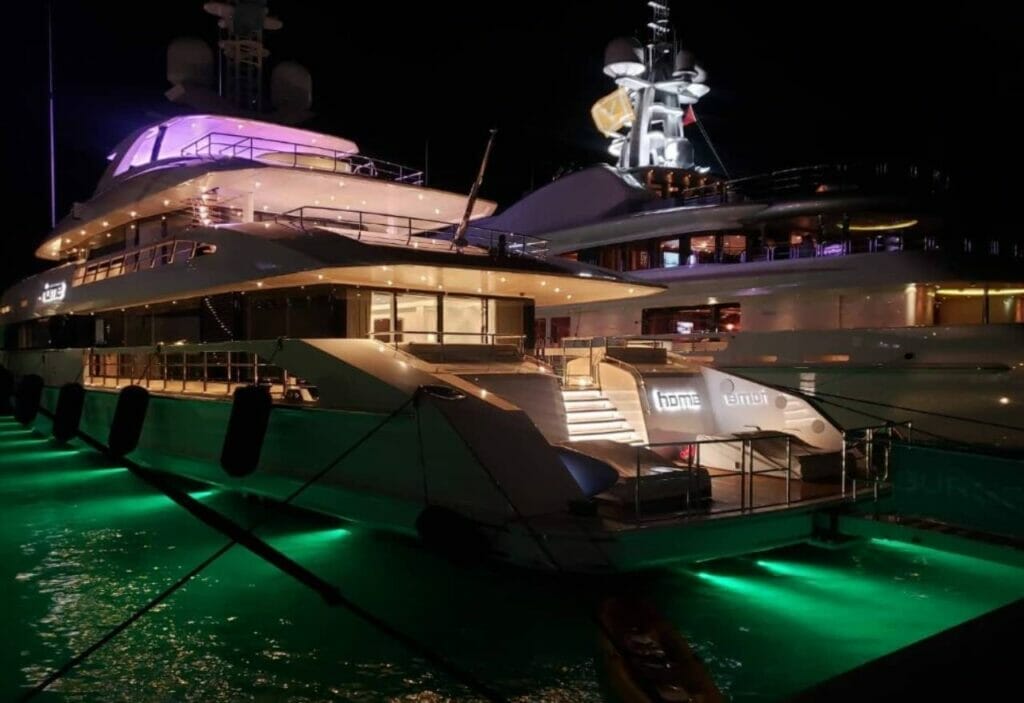 Who owns the yacht Antigua?
The yacht named "Antigua" does not have a single owner. The term "Antigua" is often used in yacht names as a reference to the Caribbean island of Antigua, which is a popular destination for yacht charters and sailing enthusiasts. Yachts bearing the name "Antigua" are owned by various individuals or companies involved in the yachting industry.
Where do yachts dock in Antigua?
Yachts in Antigua typically dock at several marinas and harbors located around the island. The most prominent docking locations include Nelson's Dockyard Marina in English Harbour, Falmouth Harbour Marina, and Jolly Harbour Marina on the west coast. These marinas offer a range of facilities and services to accommodate yachts of different sizes, providing easy access to the island's attractions and amenities.