Antigua vs. Aruba: Which Vacation Is Better?
If you're searching for an island getaway in the Caribbean, you've probably heard that Antigua or Aruba are some of the better destinations, offering scenic blue waters and white sand beaches. However, those are some of the only similarities between these islands.
An Aruba vacation is better for most people since it has stunning beaches and incredible attractions catered to tourists. However, if you aren't interested in attractions and want a quiet vacation on a gorgeous white sand beach, Antigua might be better for you.
Let's compare these popular tropical destinations and determine whether Antigua or Aruba will make a better vacation spot for you. I'll tell you about the cost of each island, the most available transportation, the main attractions, outdoor activities, and more to give you a glimpse of what each island has to offer.
Antigua vs. Aruba: An Overview
| Category | Antigua | Aruba |
| --- | --- | --- |
| Cost Range for 1 Week | $1,974 per person | $1,822 per person |
| Transportation | Rental vehicle, taxi, bus | Taxis, public bus, rental vehicles, bike |
| Main Attractions | St. John's, Historic Sites, Beaches, Greencastle Hill National park | Oranjestad, Arikok National Park, Beaches, Water Parks |
| Outdoor Activities | Hiking, snorkeling, swimming, scuba diving | Swimming, snorkeling, diving, windsurfing, desert hiking, wildlife and animals |
| Best Time To Visit | May To August with June being the best month | April To August, with the best month being April |
| Atmosphere | Rustic, laid-back, flat beaches with small towns and few large hotels | Tropical desert with a more tourist-catered atmosphere |
Cost of Stay: Weekly (USD)
Overall, Antigua and Aruba are very similar cost-wise, and they have an average price for a tropical island vacation, which can be a bit higher than desired.
Aruba is just a bit cheaper than Antigua, thanks to the competition in touristy areas like Oranjestad and Palm Beach. So, if you're looking for a bargain in Aruba, stay in one of these more touristy areas.
Also, staying at an Airbnb, bed & breakfast, or private rental can save you tons of money in both Aruba and Antigua. Rates for decent private rentals can be as low as $40 per night, so check out the listings in the area you want to stay in.
Transportation
Transportation is more readily available in Aruba, and there are more opportunities to walk or bike.
In Antigua, things are more spread out, the roads can be bumpy, and the buses are pretty unreliable on the island's northern half, so it's best to opt for an all-inclusive hotel and take taxis here.
Still, renting a car could be a good option if you want to get out and see the island in all its glory. Just be aware that the roads aren't well-maintained, wild donkeys may block traffic, and you will have to drive on the left side.
On the other hand, driving and walking in Aruba is a lot easier, and there's always the city bus.
This ease of getting around goes hand in hand with the more touristy vibe of Aruba, and it's pretty simple to navigate the island without renting a car. However, if you want to go to many attractions while you're here, renting a vehicle will ultimately be cheaper than taking taxis.
Rental bikes are my favorite way to get around in Aruba. The island is small, and if you book your hotel in Oranjestad-West or Palm Beach, you can easily bike to most places.
Main Attractions
Regarding the number of attractions, Aruba is the clear winner.
Things To Do in Antigua
Antigua has fewer things to do than Aruba, but that can be beneficial if you want a mellow, relaxing vacation.
Antigua's capital, St. John's, is a beautiful place. Here, you can wander the historic areas of Antigua while taking advantage of the island's best shopping, the Old Courthouse Museum, galleries, and some incredible restaurants.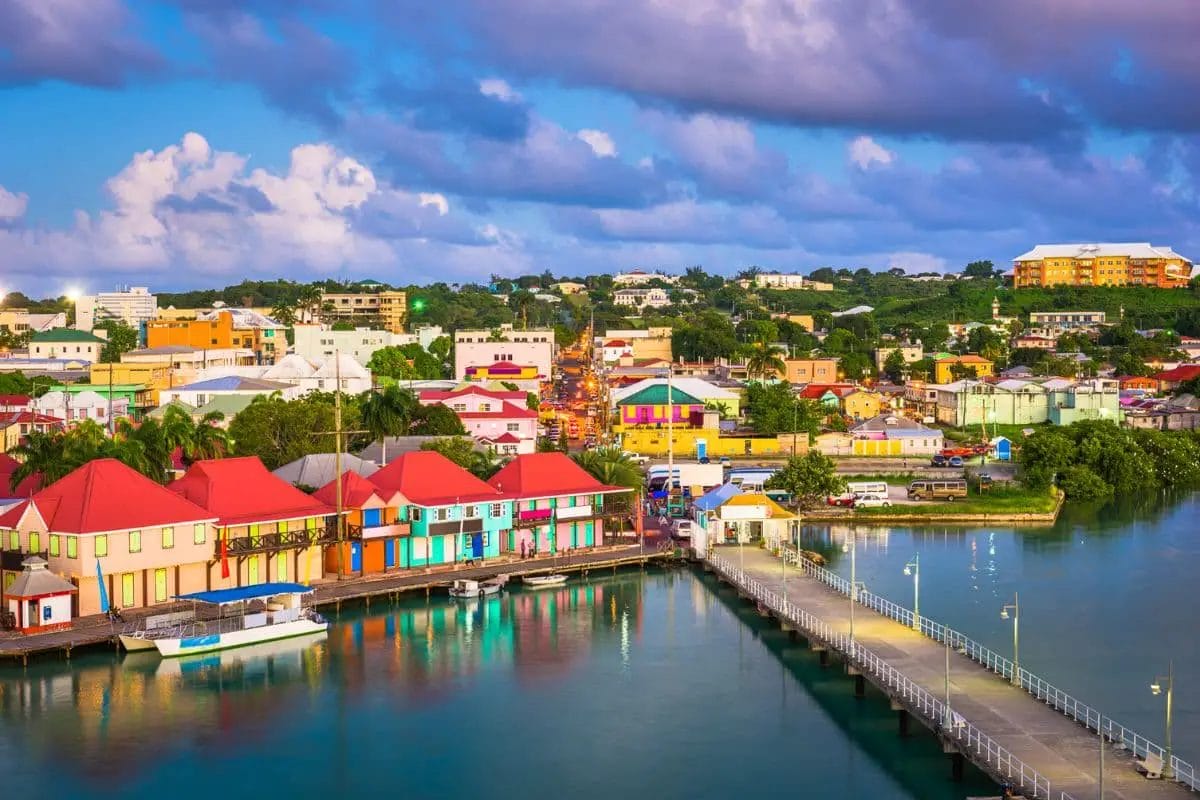 You might also want to visit Aruba's best historical sites, such as Betty's Hope Historic Sugar Plantation in St. Paul and Nelson's Dockyard Museum in St. Paul.
Otherwise, the beaches here are the best places to be.
Things To Do in Aruba
Aruba has a lot to offer in terms of attractions.
Most people choose to start their stay in Oranjestad, the capital. This gorgeous, quaint Dutch town comprises plenty of museums, shopping, restaurants, and galleries.
In Aruba, you'll also find incredible all-inclusive water parks like De Palm Island and many casinos, bars, and nightclubs in the more popular tourist areas.
There's too much to do to list here, so Aruba is the island for you if you want an action-packed vacation.
Outdoor Attractions
Antigua and Aruba both have tons of outdoor activities to offer. However, Antigua has better hiking and less populated beaches than Aruba, and Aruba has better wildlife sighting opportunities.
Outdoor Attractions Antigua
Antigua has 365 beaches. That's a lot of options, and it also means that the beaches never get too crowded. So, if you're looking for some seaside alone time or are on a honeymoon, Antigua might be what you're looking for.
The water here is clear, bright, and gentle, and there are over 100 shipwrecks around the island, so snorkeling or scuba diving is a must-do activity. Snorkel tours can also take you to the best spots, such as the coral-encrusted Andes Shipwreck off of Deep Bay.
Unlike Aruba, Antigua has some moderate-sized forest areas and a hillier landscape, which makes it an excellent choice for people interested in hiking. Greencastle Hill National Park is the best spot for a great trek.
If you want to learn more about how great Antigua can be for honeymooners, check out my other article comparing Antigua and St. Lucia for honeymoons.
Outdoor Attractions in Aruba
Naturally, the best things to do in Aruba are at the beach. Beaches like the scenic Eagle Beach, touristy Palm Beach, and mossy Arashi Beach are just a few of the best spots to go, and there's a beach for everyone, no matter your preferences.
There's also fantastic snorkeling in Aruba, with many coral reefs, shipwrecks like the Antilla Shipwreck, clear waters, and many fish to see.
Likewise, this island has some of the best spots for scuba diving, with tons of coral-encrusted wrecked ships, three types of sea turtles, parrot and angelfish, moray eels, and pufferfish.
Wind levels are also high here, so windsurfing, parasailing, and kite surfing are very popular.
Aruba also offers many wildlife attractions inland, so if you're an animal lover, Aruba might be the right spot.
Spot sunbathing flamingos on Renaissance Island, stop by the Aruba Ostrich Farm, or stroll in a lush, butterfly-filled indoor garden at the Butterfly Farm. You may also want to visit Aruba's Donkey Sanctuary and Phillip's Animal Garden, two popular animal rescues where you can get up close and interact with all sorts of animals.
Plus, if you want to venture out and see the local wildlife, you can always take a long desert hike through Arikok National Park.
Best Times To Visit
Aruba and Antigua have different off-seasons, which is when you'll find some of the best rates. However, finding the best weather within these windows is critical if you want the best vacation.
Best Time To Visit Antigua
The best time to visit Antigua is from May to November, but if you can plan your visit for June, I highly recommend it.
Antigua is most populated from December to March when the beaches will be full of tourists, and the prices will go way up. However, there's less rain during these months and a lesser chance of hurricanes.
Still, early summer, from late April to early August, is a safe window to visit if you want to take advantage of off-season prices while also avoiding hurricane season–which lasts from late August to November.
I highly recommend June for your stay here since the prices are low, the chance of rain is minimal, and the monthly average temps in Antigua have a high of 86.9° F (30.5° C) during June.
Best Time To Visit Aruba
The best time to visit Aruba is in Spring and early summer between April and August, but you'll find the lowest rates and best weather in April and May.
Aruba is safe from hurricanes but can get stormy between September and January.
Tourist season in Aruba occurs between January and March. While visiting during this timeframe may give you the best weather, it surely won't give you the best prices.
The early off-season in April and May is the best time to take advantage of lower accommodation, food, and travel prices. The weather during these months is also fantastic, with low rain chances and monthly highs that don't exceed 90° F (32° C).
If you want to learn more about the weather in Aruba or read more comparisons between this island and other destinations, my other article on Maui vs. Aruba might help you!
Atmosphere
Last but not least, the atmosphere between these islands is very different. Aruba has touristy vibes with activities and attractions galore, while Antigua takes pride in its laid-back, mellow, and serene atmosphere.
For that reason, Aruba might be a better choice if you want to stay active during your vacation, are traveling with children or family, or want more options when deciding what to do during your stay.
On the other hand, if you're looking for more of a retreat from your vacation or want to avoid touristy areas and other people, Antigua will be the best for you.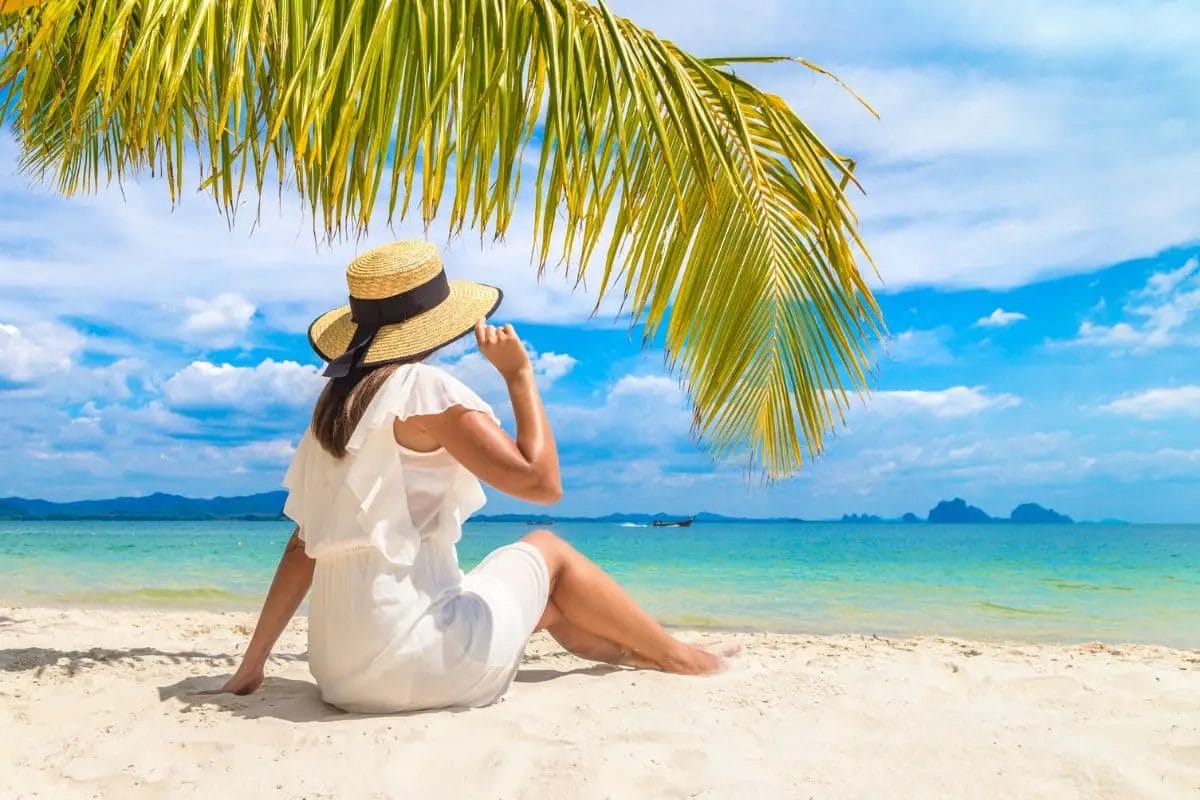 Final Thoughts: Aruba Vs. Antigua
Antigua and Aruba are great destinations for people who want to experience the Caribbean tropics.
However, Aruba makes for a better vacation for most people, as it has more things to see and do than Antigua. Aruba is also easier to get around on. Still, Antigua has its benefits, primarily for people looking for a serene getaway with few crowds, more open spaces, and a laid-back atmosphere.