Antigua Sailing: A Sailor's Paradise in the Caribbean
Look no further than Antigua if you've ever fantasized about sailing in a genuine Caribbean paradise. As a travel blogger that loves Antigua and the Caribbean, I can attest to the incredible sailing conditions that await you on this charming island.
Antigua is blessed with consistent trade winds, ranging from 15 to 20 knots, making it a haven for both beginners and seasoned sailors. The weather is equally inviting, with an average temperature of 81 degrees Fahrenheit year-round. And here's the best part: Antigua lies outside the hurricane belt, ensuring safe sailing even during the Atlantic hurricane season.
You may tailor your sailing experience to fit your ability level by exploring a mix of open seas and sheltered places. So grab your sunscreen and chart your course to Antigua for an unforgettable adventure on the high seas.
Sailing Conditions: Ideal Wind and Weather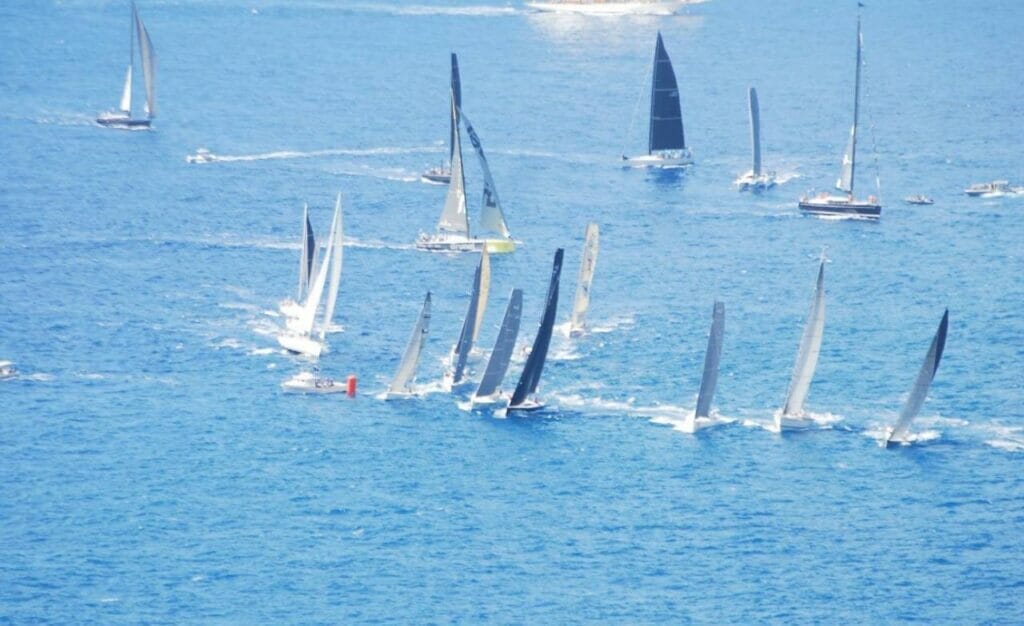 For good reason, Antigua is frequently praised as a sailor's paradise. The island is blessed with favorable sailing conditions nearly all year round. The trade winds that blow across Antigua are consistent and steady, typically ranging between 15 to 20 knots. These conditions provide an ideal mix of calm and challenge for both novice and experienced sailors alike.
The weather is equally inviting. Antigua boasts an average temperature of 81 degrees Fahrenheit, allowing sailors to enjoy their voyage in comfortable warmth. Moreover, the island is outside the hurricane belt, making it a safe haven for sailors even during the Atlantic hurricane season. But it's always crucial to monitor the forecast, just in case.
Antigua's waters also offer an excellent combination of open water and protected areas. This means that sailors can choose to test their skills in the expansive Atlantic Ocean or opt for a more relaxed sail in the island's protected bays and harbors. This variety allows for a unique and customizable sailing experience, regardless of skill level.
Speaking of variety, the wind and weather patterns do change slightly throughout the year. The driest months are typically February through April, while the windiest months are December through May. So it can be worth planning your trip appropriately depending on the type of sailing experience you're after.
Popular Sailing Routes: Exploring the Coastline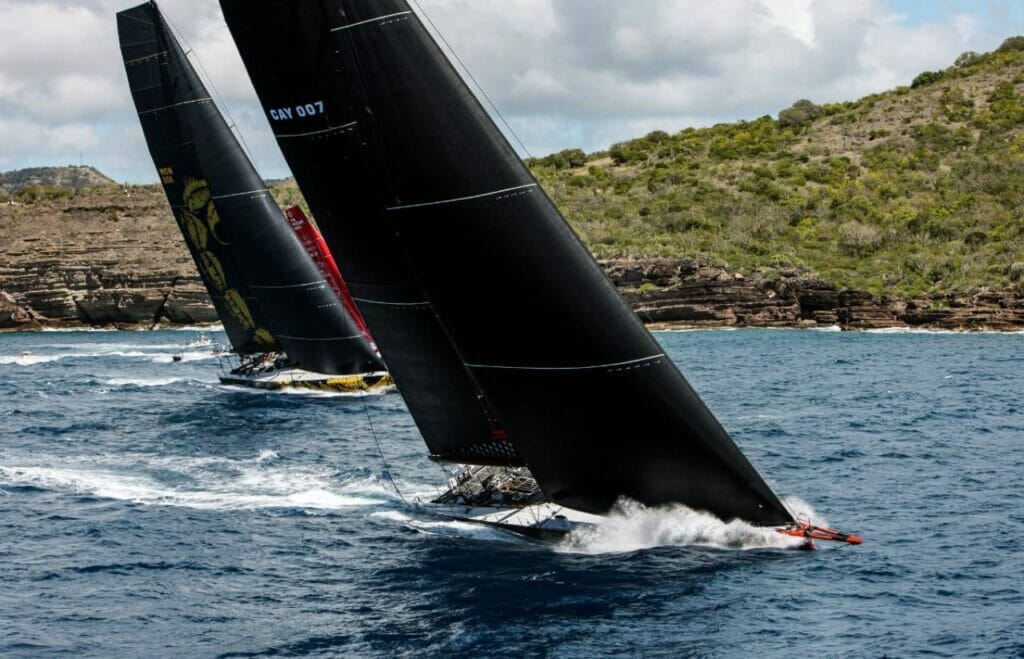 Navigating Antigua's waters can be a thrilling journey of discovery. The shoreline has little fishing towns, colorful coral reefs, and isolated beaches. One of the most popular routes takes sailors around the island, a journey of approximately 54 nautical miles. Although it is feasible to accomplish this circumnavigation in a single day, many people choose to spread it out over a few days in order to fully appreciate the experience.
For those interested in shorter trips, a day sail to Barbuda, Antigua's sister island, is a fantastic option. It's about a 30-nautical mile sail to Barbuda, where the reward is stunning pink sand beaches and a serene, less touristy atmosphere. Green Island, a tiny, deserted island off Antigua's east coast that's ideal for a private picnic or snorkeling excursion, is another well-liked quick trip.
The journey from English Harbour to Jolly Harbour is another favorite route. This voyage offers the chance to see historic sites like Nelson's Dockyard and Fort Berkeley, as well as stunning natural landmarks like Hermitage Bay and Five Islands Bay. No matter the route, remember to respect the marine environment by practicing safe and sustainable sailing habits.
Antigua Yacht Club Marina: Facilities and Services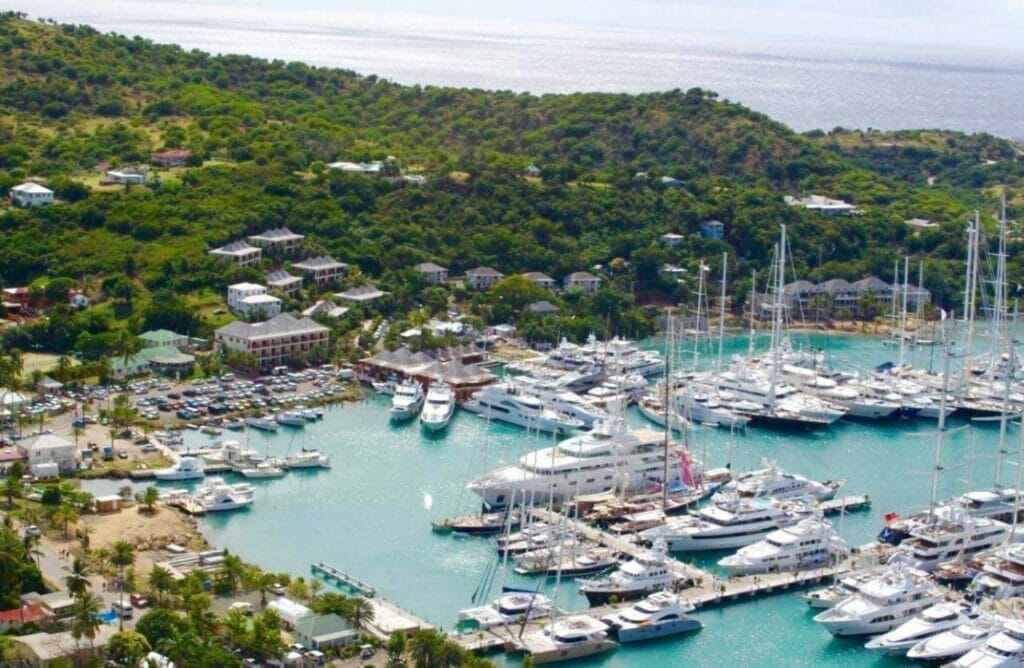 The Antigua Yacht Club Marina is a standout option among marinas in Antigua. This marina is located in Falmouth Harbour, a hub of Antigua's sailing community. With its range of facilities and services, it's an excellent home base for anyone embarking on an Antiguan sailing adventure.
The marina offers 30 stern-to-berths and 19 alongside berths, each equipped with water, electricity, and cable TV. The marina staff are helpful and experienced, offering assistance with docking, maintenance, and even arranging for repairs if necessary. The marina also has a fuel dock and can accommodate yachts up to 200 feet.
Aside from practical services, the marina is also host to a lively community. Here, sailors can swap stories over a drink at the yacht club bar or enjoy a meal at the on-site restaurant, which serves both local and international cuisines. Additionally, the marina is conveniently next to a grocery store, making it simple to fill up on supplies before setting sail.
Safety Tips for Sailing
While Antigua offers a remarkable sailing experience, safety should always be paramount. First, keep an eye on the weather prediction for the entire Caribbean region, not just Antigua. Because conditions might change suddenly, it's essential to be ready. If you're unsure about interpreting weather reports, consider hiring a local skipper or taking a sailing course.
Second, confirm that your boat has the necessary safety supplies, like life jackets, fire extinguishers, and flares. Regular maintenance checks on your yacht's engine, hull, and rigging are also crucial to ensure a safe journey. In case of any issues, remember that Antigua has several professional boat repair services available.
Always respect local maritime laws and regulations. This includes observing speed limits near the shore, adhering to anchoring restrictions, and respecting marine conservation areas. Moreover, always have up-to-date charts and a reliable navigation system on board.
Finally, keep yourself hydrated and sun-protected. The Caribbean sun can be stronger than many sailors are used to, so it's essential to drink plenty of water, wear sunblock, and take regular breaks in the shade.
You should be able to maximize your sailing experience and securely traverse Antigua's waterways with the assistance of this guide. Never forget that the voyage itself is just as important as the final goal, and sailing in Antigua is unlike any other adventure.
Sailing Events and Regattas
Participating in or watching one of the renowned sailing competitions on the island is the best way to see the vibrant energy of Antigua's sailing community.
Every year in late April or early May, Antigua hosts a week-long festival of yacht racing and shore events that attracts sailors from all over the world. It's a thrilling spectacle whether you're a competitor or a spectator.
The Antigua Classic Yacht Regatta is another key event in the Antiguan sailing calendar. Held just before Sailing Week, this event celebrates traditional and classic yachts. With an array of beautifully restored vessels on display, the Classic Yacht Regatta is a feast for the eyes and a testament to the island's rich maritime heritage.
Smaller events and races are also common throughout the year, like the Jolly Harbour Valentine's Regatta and the Antigua Barbuda Hamptons Challenge. So, no matter when you plan to visit, there's likely to be a sailing event happening.
Do note that these events can lead to increased maritime traffic and fully booked accommodations. Making your plans in advance is therefore advised if you intend to participate or even just watch.
Learning to Sail in Antigua
Antigua has a wealth of chances for sailing instruction, whether you're a beginner trying to learn the ropes or an experienced sailor looking to hone your craft. All ages and ability levels can take classes at one of the island's many sailing schools. Many of these schools are affiliated with internationally recognized sailing associations, meaning the qualifications you earn here will be valid around the world.
The National Sailing Academy is one such institution that offers courses for beginners and intermediate sailors. It boasts a group of knowledgeable professors that make sure students receive the ideal balance of academic knowledge and real-world experience. For those who prefer to learn in a more casual setting, private lessons can also be arranged with local skippers.
Another option is the Jolly Harbour Yacht Club, which offers Royal Yachting Association (RYA) certified courses. From basic beginner courses to advanced navigation and meteorology lessons, the club provides a comprehensive sailing education.
Last but not least, keep in mind that learning to sail entails more than simply boat handling. It's also about learning to respect the sea and understanding the local maritime customs and regulations. Antiguan sailing schools place a strong emphasis on these areas, ensuring you'll leave with a well-rounded understanding of what it means to be a sailor.
FAQ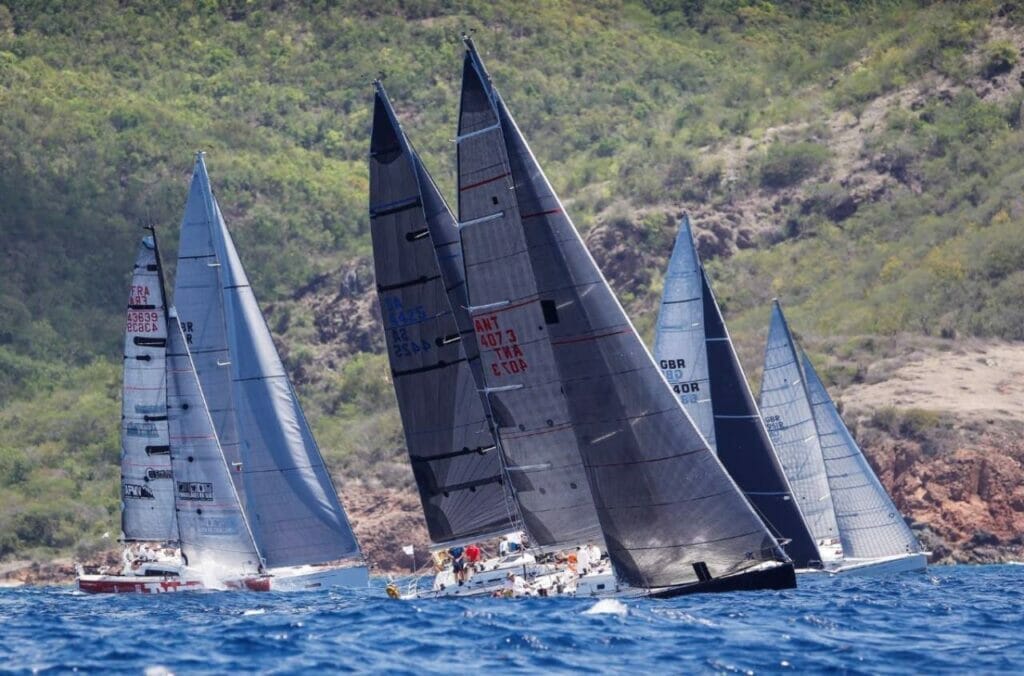 Is Antigua good for sailing?
Antigua is an excellent destination for sailing enthusiasts. With consistent trade winds ranging from 15 to 20 knots and a favorable climate, the island offers ideal sailing conditions year-round. Its location outside the hurricane belt ensures safety, and the combination of open waters and protected areas provides diverse sailing opportunities for all skill levels.
When is the ideal season for sailing in Antigua?
The dry season, which normally lasts from February to April, is the ideal time to sail in Antigua. During this period, the weather is generally calm and pleasant, with warm temperatures and steady trade winds. However, sailing can be enjoyed throughout the year, as Antigua's favorable conditions make it a popular sailing destination year-round.
What is the sailing time from Antigua to Barbuda?
Sailing from Antigua to Barbuda takes approximately 30 nautical miles.The trip can be finished in a few hours, depending on the weather and the pace of the ship. The reward for this short trip is the stunning pink sand beaches and the serene, less touristy atmosphere of Barbuda, making it a fantastic option for a day sail or a short sailing adventure.