Antigua Romantic Getaways: Secluded Retreats for Couples
Hey there, lovebirds! If you're looking for the perfect romantic getaway, Antigua is the place to be. This Caribbean gem is a haven for couples in need of tranquility and luxury.
Imagine staying at the Hermitage Bay, where cozy cottages nestled into the hillside provide jaw-dropping views, private plunge pools, and direct access to the beach. Or picture yourselves at the Carlisle Bay Resort, where modern chic meets Caribbean charm, and you can indulge in world-class cuisine and spa treatments. 
Feeling more adventurous? Hike to the summit of Mount Obama or hire a private yacht for a day of snorkeling and gourmet meals. Don't even get me started on the delectable local cuisine and dining options. From beachfront restaurants with panoramic ocean views to Caribbean cooking classes, Antigua has it all. 
So pack your luggage, clasp hands, and prepare for an unforgettable romantic weekend. Antigua is calling, and love is in the air!
| Category | Highlights and Recommendations |
| --- | --- |
| Accommodations | – Hermitage Bay: Tranquil, all-inclusive retreat with cozy cottages, private plunge pools, and direct beach access. – Carlisle Bay Resort: Elegant ocean-facing suites, modern chic ambiance, world-class cuisine, and spa facilities. – Tamarind Hills: Luxury private villas with stunning ocean views and beach access. |
| Activities | – 365 beaches: Soft white sand, azure waters, and a laid-back vibe. – Private yacht charter: Crystal-clear waters, snorkeling, and gourmet picnic on a secluded beach. – Mount Obama hike: Lush rainforests and panoramic views. – Sunset dinner cruise: Gourmet lunch, superb wines, and scenic coastal views. – Couples' spa treatments: Relaxing and rejuvenating experiences. |
| Honeymoon Packages | – Sandals Grande Antigua: Luxury accommodations, fine dining, water sports, nightly entertainment, champagne on arrival, private candlelit dinner on the beach. – Galley Bay Resort: Tailor-made packages for a customized honeymoon experience, suite choices, dining options, spa treatments, excursions. |
| Food and Dining | – Local cuisine: "Fungie and pepperpot," fresh catch of the day cooked Antiguan style. – Beachfront restaurants: Jacqui O's Beach House, Sheer Rocks, panoramic ocean views, Mediterranean-inspired menu, spectacular sunsets. – Nicole's Table: Caribbean cooking classes with a local chef. |
| Transport and Accessibility | – Renting a car: Explore the island at your own speed. Driving is on the left side of the road. – Taxis: Readily available for airport transfers or shorter trips. Island tours can be arranged. – Buses: Inexpensive option spanning most of the island. – Bicycles/Scooters: Picturesque and leisurely transportation for short distances. |
Secluded Resorts and Private Villas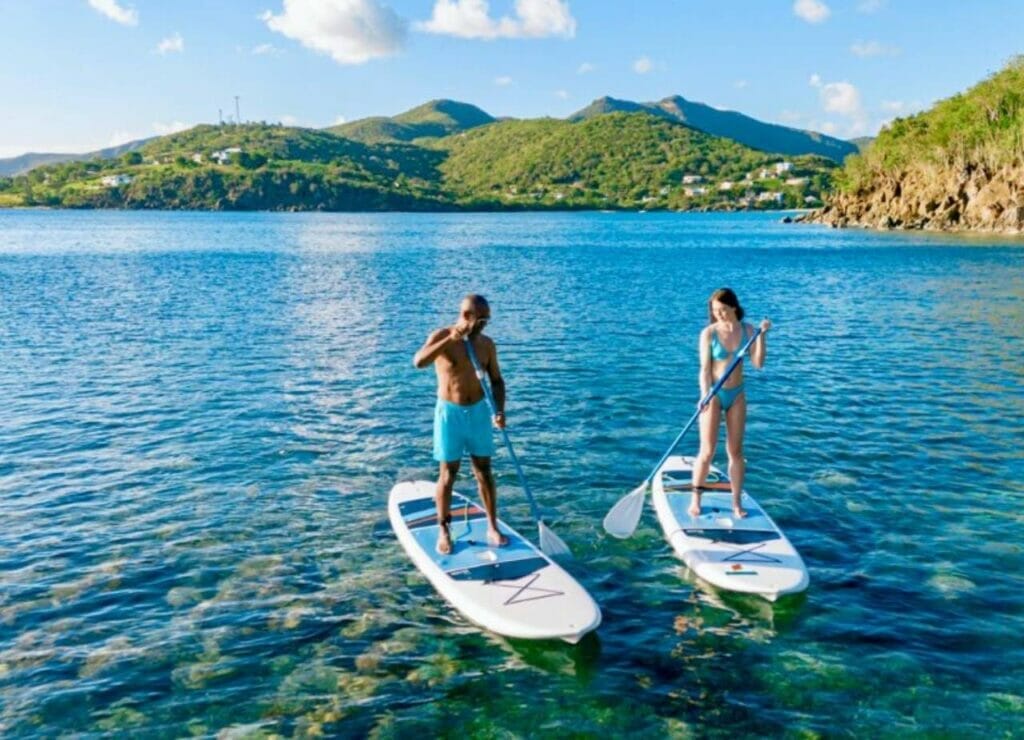 Antigua is truly a paradise for lovers looking for a tranquil escape. The island is filled with hidden resorts and private villas catering to couples wanting seclusion, elegance, and stunning vistas.
For instance, the Hermitage Bay is a tranquil, all-inclusive retreat that prides itself on luxury and seclusion. Here, individual cottages are nestled into the hillside, offering panoramic views of the bay, private plunge pools, and direct beach access, making it a top pick for Antigua romantic getaways.
Similarly, the Carlisle Bay Resort is an epitome of elegance and serenity. It features ocean-facing suites, a private balcony or terrace, and an ambiance that effortlessly blends modern chic with Caribbean charm.
Add to this the resort's world-class cuisine and spa facilities, and you have a recipe for an unforgettable romantic escape. For a more personalized experience, consider renting a private villa, such as those offered by Tamarind Hills. These luxury villines promise privacy, stunning ocean views, and immediate beach access.
What makes these resorts and villas even more romantic is the level of service and attention to detail. From private beach dinners under the stars to couples' massages amidst tropical gardens, each property goes above and beyond to make guests feel special. Waking up to the sound of waves, basking in the warm Caribbean sun, and watching the sunset from your private balcony are all parts of the daily routine here.
Overall, whether you want the luxury of a five-star resort or the intimacy of a private villa, Antigua has a wide range of romantic lodging alternatives. Each one is uniquely poised to provide a serene and secluded setting for your romantic getaway, making Antigua a top choice among discerning couples.
Couples' Activities and Experiences
Aside from luxurious accommodations, Antigua also offers an array of activities and experiences perfect for couples. Start your day with a peaceful stroll on one of Antigua's 365 beaches – yes, that's right, one for each day of the year! Each one offers soft white sand, azure waters, and an invitingly laid-back vibe.
For a truly unforgettable experience, consider chartering a private yacht for the day. Navigate the crystal-clear Caribbean waters, stop for a snorkeling session on a secluded coral reef, and enjoy a gourmet picnic lunch on a deserted beach. For a more ambitious adventure, climb through the island's lush rainforests to the summit of Mount Obama, Antigua's highest point, which offers panoramic views as far as Montserrat.
After all the adventure, indulge in a romantic sunset dinner cruise. You'll be treated to a gourmet lunch, superb wines, and an amazing view of the sun setting over the Caribbean Sea as you cruise down Antigua's gorgeous coastline. For those with a cultural bent, a night of live local music and dance performances could be just the thing to cap off an eventful day.
Of course, no romantic getaway to Antigua would be complete without some pampering. Many of the island's resorts offer couples' spa treatments, often in beachside or garden settings. From deep-tissue massages to aromatic body scrubs, these wellness experiences are designed to relax, rejuvenate, and bring couples closer together.
Honeymoon Packages
Antigua's status as a romantic destination is further cemented by its enticing honeymoon packages. Resorts like the Sandals Grande Antigua offer comprehensive packages that include everything from luxury accommodations and fine dining to water sports and nightly entertainment. The best part? These packages often come with special touches such as champagne on arrival, a special turn-down service, and a private candlelit dinner on the beach.
Galley Bay Resort, on the other hand, offers a more bespoke approach. Their tailor-made honeymoon packages allow couples to customize their experience, from the choice of suite and dining options to spa treatments and excursions. This means you can create your dream honeymoon, ensuring it's as laid-back or as action-packed as you desire.
In summary, Antigua's honeymoon packages provide couples with an idyllic blend of romance, adventure, and relaxation. With the island's natural beauty and the great friendliness of its inhabitants, it's no surprise that Antigua is a popular destination for newlyweds. With an array of romantic resorts, a wealth of activities, and enticing honeymoon packages, Antigua truly does have all the ingredients for a dream romantic getaway.
Food and Dining Experiences
An integral part of any romantic getaway is exploring the local cuisine and dining experiences, and Antigua is no exception. The island is a gastronomic paradise, with a wide range of eating alternatives that are as varied as they are excellent.
Start your gastronomic journey with local specialties such as "fungie and pepperpot," a comforting cornmeal dish paired with a hearty meat stew, or the fresh catch of the day cooked Antiguan style, seasoned with local spices and grilled to perfection.
For a romantic dining experience, consider visiting one of the island's beachfront restaurants, like Jacqui O's Beach House. This upscale eatery offers an exquisite menu of seafood and grill options, served in an idyllic setting with panoramic ocean views. Another option is Sheer Rocks, perched on a bluff overlooking the sea, this restaurant is famous for its Mediterranean inspired menu and spectacular sunset views.
Perhaps you're a couple who enjoys cooking together? Then don't miss out on Nicole's Table, where you can take Caribbean cooking classes and learn how to prepare local delicacies from an experienced local chef. Whether you're a foodie couple looking for the best local dishes or seeking a memorable dining experience, Antigua's food scene is sure to enthrall you.
Transport and Accessibility
Navigating Antigua is relatively straightforward. The island is compact, and most tourist destinations are within an easy drive. Renting a car allows you to explore the island at your own speed. Car rental agencies are abundant, and driving on the island offers a sense of freedom and flexibility. However, keep in mind that driving is done on the left side of the road, like in the UK.
Taxis are also readily available and are a popular choice for airport transfers or shorter trips. Many taxi drivers offer island tours, which can be a great way to see the sights with a local guide. Buses are another option, especially for budget-conscious travelers. They span most of the island and are an inexpensive method to move about but with a less consistent timetable.
Consider renting a bicycle or scooter for a more picturesque and leisurely way of transportation. These are perfect for short distances and can make for a fun, adventurous way to explore. Regardless of your mode of transportation, the island's beauty and relatively small size make getting around a pleasure rather than a chore.
FAQ
Which is the best part of Antigua to stay?
The best part of Antigua to stay for romantic getaways is the southwest coast of the island. This area is known for its beautiful beaches, expensive resorts, and private villas that provide privacy, amazing views, and convenient access to romantic activities. Resorts like Hermitage Bay and Carlisle Bay are located in this area, providing a perfect blend of tranquility and luxury for couples seeking a romantic retreat.
Why is Antigua expensive?
Antigua can be expensive due to several factors. Firstly, its remote location and limited land availability drive up the cost of goods and services. Additionally, the island heavily relies on imported goods, which incur transportation and import taxes. The high demand for luxury accommodations and upscale experiences also contributes to the overall higher prices in Antigua. However, the exclusive and pristine environment, coupled with top-notch amenities and services, make the expenses worthwhile for couples seeking a luxurious and romantic getaway.
Why is Antigua so popular?
Antigua's popularity as a romantic getaway stems from its unique combination of natural beauty and luxurious offerings. The island boasts pristine white-sand beaches, crystal-clear waters, and a relaxed Caribbean ambiance. Furthermore, Antigua's reputation for delivering first-rate lodgings, world-class dining experiences, and a variety of activities catered to couples makes it a popular destination. With its secluded resorts, breathtaking sunsets, and a wealth of romantic experiences, Antigua captures the hearts of couples looking for an unforgettable escape.