Antigua Nightlife: Vibrant Entertainment and Dining Experiences
Discover the vibrant nightlife of Antigua, where pulsating rhythms and delicious flavors collide.
From dancehall beats at clubs like Abracadabra to laid-back vibes at BeachLimerZ, there's something for every night owl. Enjoy stunning harbor views at Shirley Heights Lookout or try your luck at King's Casino. Experience live music, indulge in fresh seafood at Papa Zouk, and join lively street parties like the famous Jump Up.
Antigua's nightlife promises unforgettable moments filled with culture, flavor, and Caribbean charm. Prepare yourself to dance, eat, and make lifelong memories.
| Aspect | Summary |
| --- | --- |
| Bars and Nightclubs | Antigua offers a diverse range of bars and nightclubs, catering to different tastes and preferences. From dancehall beats at clubs like Abracadabra to laid-back vibes at BeachLimerZ, there's something for everyone. |
| Live Music and Entertainment | Live music is an integral part of Antigua's nightlife, with genres like steel pans, calypso, soca, and reggae. Popular venues include Shirley Heights Lookout and Russell's Bar & Seafood Restaurant. Street parties like the Jump Up are also a highlight. |
| Dining and Late-Night Eateries | Antigua's culinary scene is vibrant, ranging from high-end restaurants to local street food joints. Papa Zouk, Trappas, and C&C Wine Bar are recommended places to try. Street food is a must-try for local delicacies. |
| Cultural Events and Festivals | Antigua hosts various cultural events and festivals, such as the Antigua Carnival and Antigua Sailing Week. These events showcase the island's heritage, traditions, and artistic expressions. Smaller festivals like Wadadli Day and the Mango Festival also celebrate local culture. |
| Safety Tips | Safety precautions include planning your night out, traveling in groups, watching your drinks, and arranging transportation in advance to ensure a secure and enjoyable experience. |
Bars and Nightclubs in Antigua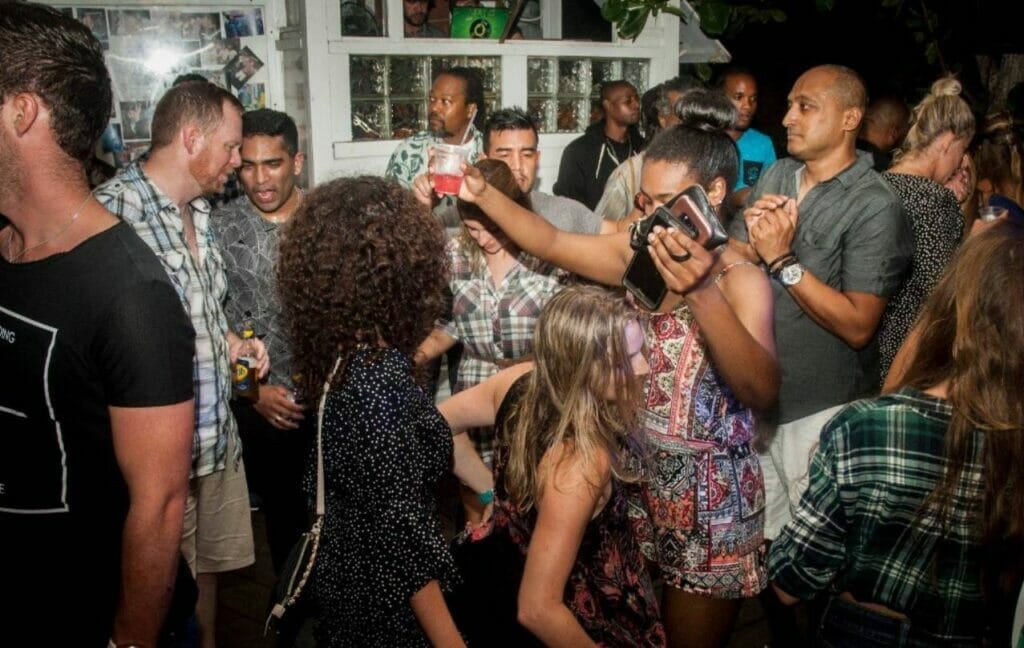 The nightlife in Antigua is diverse and offers something for everyone. From the pulsating rhythms of dancehall and reggae that echo out from the heart of clubs like Abracadabra, to the more serene and laid-back atmosphere at places like BeachLimerZ, Antigua's nightlife scene is anything but dull.
You can find a place that matches your vibe whether you're a die-hard partygoer or just seeking to chill with a drink thanks to the diversity.
English Harbour, especially, is known for its lively nightlife. This area houses many popular spots like Shirley Heights Lookout, which is not only a bar but also offers an awe-inspiring view of the harbor. The crowd here is a blend of locals and tourists, all dancing and enjoying the night under the Caribbean sky.
Moving towards St. John's, the capital city, you can experience the colorful and thrilling Casino-style nightlife at King's Casino. Here, neon lights, chiming slot machines, and card tables can provide an entirely different kind of entertainment. It's worth a trip, whether you want to try your luck or just take in the glamorous environment.
Don't forget to try the local rum punches and Caribbean cocktails offered at these venues. The drinks, infused with tropical flavors, are just as vibrant as the nightlife and promise an unforgettable experience.
Live Music and Entertainment
Live music is an integral part of Antigua's nightlife. As the sun sets, the sounds of steel pans, calypso, soca, and reggae permeate the island, providing an authentic Caribbean rhythm to the night. The Shirley Heights Lookout, already noted for its views, hosts a Sunday Barbecue party with a live steel band and reggae music, offering a night of delicious food, incredible views, and foot-tapping music.
There are several locations in Antigua where you may listen to live music. For instance, Russell's Bar & Seafood Restaurant offers a relaxing ambiance with live jazz music every Friday night. Additionally, if you're fortunate enough to go to Antigua during the yearly Carnival, you'll have an unforgettable experience with the music and culture of the island.
Be sure to also check out the street parties held in various parts of the island, particularly the Jump Up at English Harbour every Friday night. The event features local bands and everyone – locals and tourists alike – joins in the fun, dancing in the streets and celebrating life in true Antiguan style.
For those interested in theater, the Larder presents a unique offering of dinner and a movie. This combination of food and entertainment adds a unique twist to your typical night out and shows another facet of Antigua's nightlife.
Dining and Late-Night Eateries
Experiencing Antigua's nightlife is incomplete without diving into its culinary scene. There are several late-night restaurants on the island that provide a variety of delectable foods. From high-end restaurants serving international cuisine to local street food joints, there's something to cater to every palate.
One of the local favorites is Papa Zouk, located in St. John's. It's the ideal place for a late-night lunch because of its reputation for offering fresh seafood and a large selection of rums. Another great place to eat is Trappas, located near English Harbour. This cozy eatery serves a range of dishes from fresh local seafood to delicious international fare.
For a more sophisticated dining experience, you can head to C&C Wine Bar in Redcliffe Quay. The establishment not only provides mouthwatering tapas but also a vast selection of wines from all around the world. Exceptional cuisine and wine, along with the welcoming and laid-back ambiance, guarantee a fun night out.
Finally, no mention of Antigua's dining scene can be complete without street food. Grabbing a late-night snack from a food stand, like a tasty roti or a serving of ducana (a local sweet potato dumpling), can be the perfect end to your night out. Be sure to try the local delicacies while enjoying the nightlife. The culinary experience is sure to make your Antigua nights unforgettable.
Cultural Events and Festivals
Along with having a thriving nightlife, Antigua is renowned for its numerous cultural celebrations. Throughout the year, the island comes alive with celebrations that showcase its heritage, traditions, and artistic expressions.
The Antigua Carnival, a vibrant and exhilarating celebration conducted every year in July and August, is one such occasion. The carnival features vibrant parades, music, dance, and elaborate costumes, providing an immersive experience of Antigua's culture. Anyone who wants to absorb the culture of the area and take in the vivid environment of the island must attend the Antigua Carnival.
Antigua's Antigua Sailing Week, which takes place in late April or early May, is another significant cultural occasion. This internationally renowned regatta attracts sailors from around the world who come to compete in thrilling races amidst the stunning backdrop of Antigua's crystal-clear waters.
In addition to these significant occasions, Antigua holds other smaller festivals that highlight various facets of the island's culture. For example, the Wadadli Day Festival pays homage to the local traditions, arts, and crafts of Antigua, showcasing the talents of local artisans and musicians.
The Mango Festival, held in July, is a delightful celebration of Antigua's most beloved fruit, featuring mango tastings, cooking demonstrations, and live entertainment. Visitors get the opportunity to interact with the local population and learn more about Antigua's cultural history through these festivities.
Safety Tips for Nightlife
While Antigua's nightlife is often entertaining and safe, there are a few steps that should be taken to guarantee a seamless and secure encounter. Here are some safety tips to keep in mind:
Plan your night out: Before heading to a bar or nightclub, research the venue and its location. Stick to well-known establishments with positive reviews. Another smart move is to let a friend or member of your family know what you're doing and where you'll be.

Travel in groups: It's always safer to go out with a group of friends rather than going alone. Having a trusted group around you adds an extra layer of security and makes it easier to navigate unfamiliar areas.

Watch your drinks: Be cautious with your drinks to avoid any potential incidents of tampering. Never take beverages from strangers and always keep an eye on your drink.
If you must leave your drink alone, place an order for a replacement when you come back.

Arrange transportation in advance: Before going out, make sure you have a plan for getting back to your accommodation safely. Pre-arrange a taxi, use a reputable ride-sharing service, or check if the venue provides shuttle services. Avoid accepting rides from unknown individuals.
By following these safety tips, you can enjoy Antigua's nightlife while prioritizing your well-being and ensuring a memorable experience.
FAQ
Does Antigua have nightlife?
The nightlife in Antigua is thriving and there are many different ways to have fun. From pulsating dance clubs like Abracadabra to laid-back beachfront bars like BeachLimerZ, visitors can enjoy a variety of venues to suit their preferences. The island's nightlife includes live music, street parties, and cultural events, ensuring there's always something happening to keep the nights alive.
Why is Antigua so popular?
Antigua is well known for its breathtaking natural beauty, immaculate beaches, and clean seas. Its reputation as a tropical paradise draws visitors seeking relaxation, water sports, and picturesque landscapes. The island's rich history, vibrant culture, and friendly locals further enhance its appeal. The popularity of Antigua is additionally increased by yearly occasions like the Antigua Carnival and the Antigua Sailing Week, which draw tourists from across the world and offer distinctive experiences.
Is Antigua a beautiful place?
Antigua is renowned for its breathtaking beauty. Visitors are treated to an exquisite backdrop of the island's verdant green scenery, pristine white sand beaches, and blue seas. Antigua's picturesque harbors, historic sites like Nelson's Dockyard, and panoramic viewpoints such as Shirley Heights Lookout showcase its natural and architectural splendor. Whether exploring the coastline or immersing in the vibrant culture, Antigua offers an abundance of scenic vistas that make it undeniably beautiful.