Antigua Luxury Resorts: Indulge in Caribbean Hospitality
Antigua's luxury resorts offer a perfect mix of grand experiences and exclusivity. Step into a world of indulgence and privacy, where breathtaking views, impeccable service, and unforgettable moments await.
From the secluded luxury of Hermitage Bay to the private paradise of Jumby Bay Island, and the all-inclusive elegance of Curtain Bluff to the contemporary charm of Carlisle Bay, each resort promises a unique and exceptional getaway.
Immerse yourself in the beauty of Antigua and create cherished memories in these luxurious havens.
| Resort Name | Description | Activities & Attractions | Dining Experience |
| --- | --- | --- | --- |
| Hermitage Bay | Secluded luxury resort located on Antigua's breathtaking western coast, known for its tranquility and intimacy. | Water sports, yoga classes on the beach, guided hikes around the island. | Gourmet cuisine served at an open-air restaurant, using the freshest local ingredients. Every meal is a unique culinary experience. |
| Jumby Bay Island | Private island resort off the coast of Antigua, offering unmatched luxury and privacy. | Sunset cruises, exploring the island's nature trails. | World-class chefs preparing delectable dishes from locally sourced ingredients. Every meal is a culinary journey. |
| Curtain Bluff | All-inclusive resort located on a cliff, known for its stunning views and elegance. | Paddleboarding, kayaking, tennis, spa treatments, yoga classes. | Lavish international fare to Caribbean inspired delicacies served in the resort's restaurants and bars. |
| Carlisle Bay | Contemporary luxury resort on Antigua's south coast, blending modern sophistication with Caribbean charm. | Not specified in the text. | Extraordinary dining experiences at the resort's restaurants, details not specified in the text. |
Hermitage Bay: Secluded Luxury and Tranquil Ambiance
Hermitage Bay is a true haven of secluded luxury nestled on Antigua's breathtaking western coast. If you're seeking privacy, tranquility, and an intimate escape, this exclusive resort is the perfect destination. As soon as you set foot on the resort, you'll be enchanted by the tranquil atmosphere and the seamless fusion of unmatched natural beauty, first-rate service, and top-notch facilities.
The resort features 25 spacious and elegantly appointed cottages, each designed to offer a truly immersive experience. These cottages provide stunning views of the Caribbean Sea and are surrounded by beautiful tropical gardens.
What sets Hermitage Bay apart is its commitment to sustainability and eco-consciousness. The cottages are carefully built using locally available materials to ensure they mix in with the surroundings while also offering visitors a pleasant and cozy experience.
Indulgence is the name of the game at Hermitage Bay, and the resort goes above and beyond to cater to your every desire. Each cottage comes with its own private plunge pool, allowing you to take refreshing dips in the privacy of your own oasis.
The open-air showers add a touch of tropical charm, immersing you in nature while providing a unique bathing experience. Expansive verandas provide the perfect spot to unwind, bask in the sun, or simply savor the mesmerizing views.
A devoted personnel group committed to providing highly individualized service is at the center of Hermitage Bay. You will be welcomed with warmth and sincere hospitality as soon as you arrive. Every part of your stay will be customized to your tastes thanks to the staff's attention to detail, making you feel like a really cherished guest.
For those seeking relaxation and rejuvenation, Hermitage Bay offers a tranquil wellness center where you can indulge in a range of rejuvenating spa treatments. Let skilled therapists pamper you with holistic therapies, massages, and beauty rituals that will leave you feeling refreshed and revitalized.
Food enthusiasts will be delighted by the gourmet cuisine served at the resort's open-air restaurant. Using only the freshest local ingredients, the skilled culinary crew takes great satisfaction in producing culinary marvels that will excite your taste senses. Every meal is a unique culinary experience, whether you're savoring a candlelight supper or taking a leisurely lunch by the beach.
To truly immerse yourself in the natural wonders of Antigua, Hermitage Bay offers a range of activities to enhance your stay. Take part in exhilarating water sports excursions like kayaking, paddleboarding, or snorkeling to see the abundant marine life that lives in the beautiful Caribbean seas.
Engage in yoga classes on the beach, allowing the serene setting to inspire inner peace and balance. For those seeking to explore the island's captivating landscape, guided hikes are available, offering a glimpse into the rich biodiversity and scenic beauty of Antigua.
Hermitage Bay is more than simply a five-star resort; it's a haven where exclusivity, peace, and unmatched service come together to create a truly memorable experience. If you're yearning for a secluded retreat amidst nature's splendor, Hermitage Bay awaits you, ready to exceed your every expectation and create cherished memories that will last a lifetime.
Jumby Bay Island: Private Island Paradise
For those seeking the epitome of luxury and exclusivity, Jumby Bay Island is a private island paradise situated just off the coast of Antigua. Accessible only by boat, this secluded oasis offers a level of privacy and seclusion that is truly unmatched. You are immediately transported to a world of unadulterated luxury and peace the moment you step foot on the beautiful sands of Jumby Bay Island.
Each magnificent villa and room at the resort has been painstakingly crafted to provide the greatest in comfort and elegance. No matter the accommodation you select—a big suite tucked away in beautiful gardens or a beachfront house with direct access to the soft sands—you'll be surrounded by unmatched beauty and tranquility.
The accommodations are havens of tranquility, complete with private pools, expansive outdoor living spaces, and dedicated 24-hour service that caters to your every need, ensuring a truly personalized and indulgent experience.
Jumby Bay Island takes pride in curating unforgettable moments for its guests. The resort's various restaurants offer exquisite dining experiences, where world-class chefs prepare delectable dishes using the finest locally sourced ingredients. Whether you're savoring freshly caught seafood, indulging in Caribbean-inspired delicacies, or experiencing international flavors, every meal is a culinary journey that delights the senses.
Beyond the exceptional dining experiences, Jumby Bay Island offers a wealth of activities to enhance your stay. Embark on a breathtaking sunset cruise and witness the mesmerizing hues of the Caribbean sky as the sun dips below the horizon. 
Explore the island's enchanting nature trails, where you can discover the diverse flora and fauna that call this private paradise home. For those seeking relaxation, the pristine beaches beckon, inviting you to unwind on the powdery sands and soak up the Caribbean sunshine.
Every aspect of Jumby Bay Island is designed to ensure a truly luxurious and unforgettable experience. From the stunning natural beauty that surrounds you to unparalleled levels of service and attention to detail, this private island retreat embodies the essence of Caribbean opulence. 
Whether you're seeking a romantic getaway, a family vacation, or simply a well-deserved escape, Jumby Bay Island is a true gem that promises an idyllic and exclusive Caribbean experience like no other.
Curtain Bluff: All-Inclusive Luxury and Stunning Views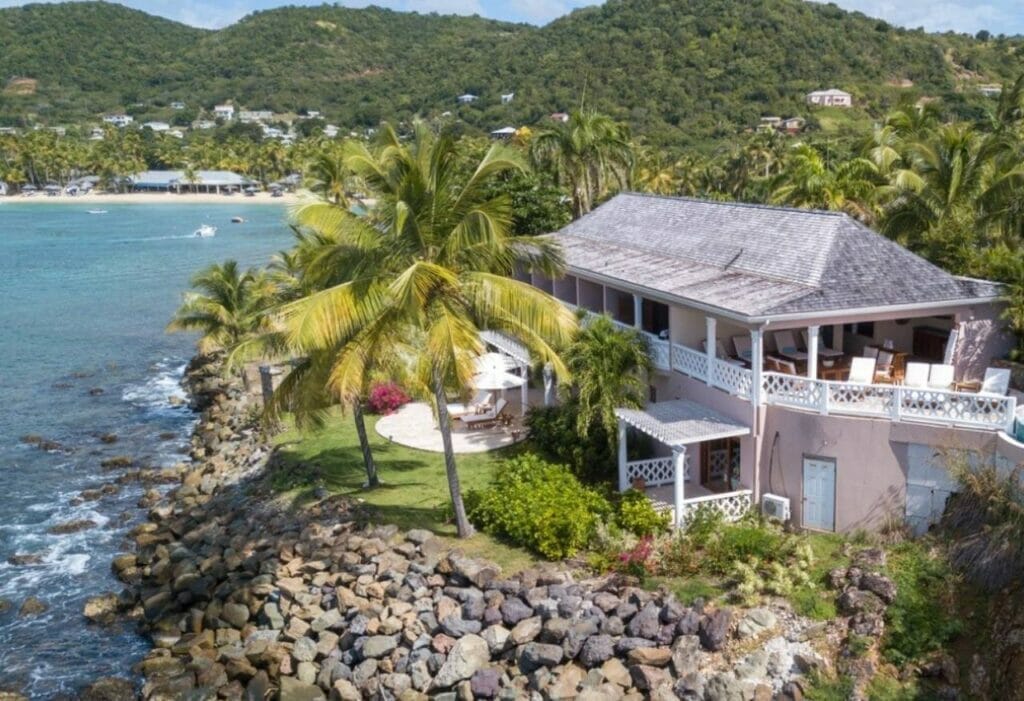 Curtain Bluff, a posh all-inclusive resort, is tucked away on a gorgeous cliff with a view of the Caribbean Sea's turquoise seas. It offers guests an exceptional vacation experience. This exquisite hideaway is famous for its tasteful fusion of elegance, unspoiled natural beauty, and top-notch services, providing a once-in-a-lifetime experience for discriminating guests seeking the height of luxury.
One of the standout features of Curtain Bluff is its breathtaking location, boasting not one, but two stunning beaches. The secluded bay beach offers a calm environment for swimming and snorkeling, allowing you to discover the thriving marine life beneath the clear waters.
On the other hand, the wilder surf beach beckons sun-seekers, providing the perfect spot for sunbathing and leisurely beachcombing. With an array of complimentary water sports and activities on offer, including paddleboarding, kayaking, and tennis, adventure and relaxation await at every turn.
The accommodations at Curtain Bluff are designed to provide the utmost comfort and showcase the resort's stunning surroundings. From spacious rooms with private balconies to luxurious suites complete with refreshing plunge pools, each guest is treated to a slice of paradise.
Curtain Bluff's all-inclusive package, which allows visitors to indulge in scrumptious meals and high-end beverages without a worry in the world, is one of its most alluring features. The resort's restaurants and bars serve a range of delectable food, from lavish international fare to delicacies inspired by the Caribbean that are made with the best ingredients.
Whether you're enjoying a romantic candlelit dinner under the stars or sipping refreshing cocktails by the pool, every culinary experience at Curtain Bluff is a feast for the senses.
Beyond the beaches and dining experiences, Curtain Bluff offers a range of additional amenities and services to enhance your stay. Immerse yourself in total relaxation at the resort's luxurious spa, where skilled therapists will pamper you with indulgent treatments and therapies. 
Stay active with fitness facilities, tennis courts, or partake in yoga classes overlooking the azure waters. Every detail of your visit will be handled with the highest care and expertise by Curtain Bluff's attentive and committed team, resulting in a smooth and wonderful experience.
Curtain Bluff is a testament to the allure of all-inclusive luxury and the natural beauty of Antigua. With its stunning location, an array of activities, world-class amenities, and exceptional service, this resort offers an idyllic escape for those seeking a truly unforgettable Caribbean getaway. Prepare to be enchanted by the splendor of Curtain Bluff and create cherished memories that will last a lifetime.
Carlisle Bay: Contemporary Elegance by the Beach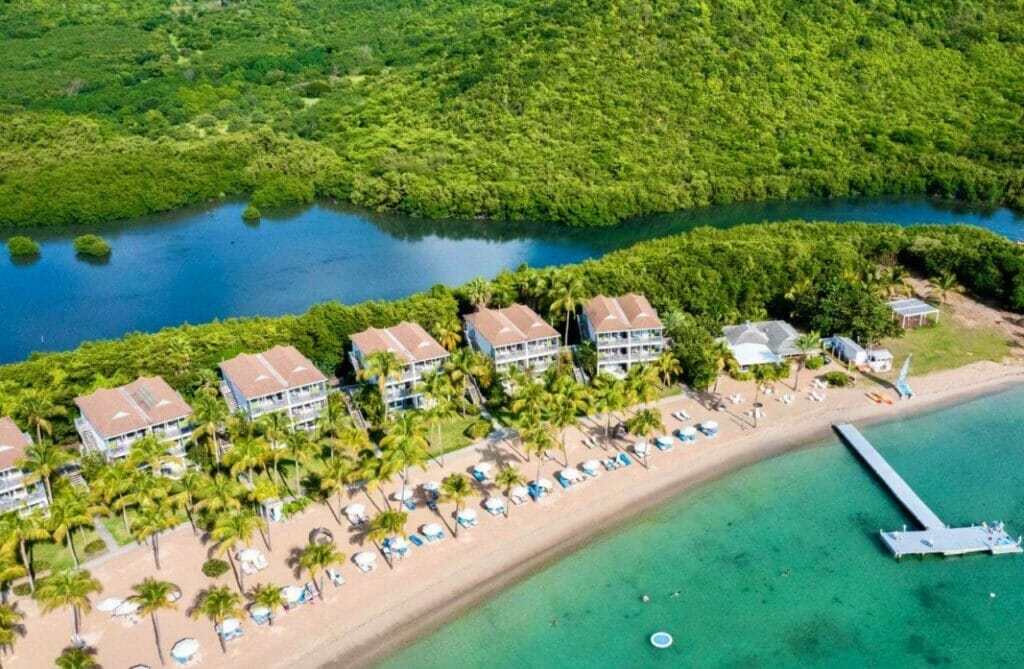 Nestled along Antigua's captivating south coast, Carlisle Bay is a captivating luxury resort that seamlessly blends contemporary elegance with the natural beauty of its surroundings. This beachfront haven offers a perfect retreat where modern sophistication harmonizes with laid-back Caribbean charm, creating an idyllic setting for a truly luxurious getaway.
The accommodations at Carlisle Bay are a testament to refined contemporary style and comfort. From spacious suites to beachfront villas, each exudes an air of understated luxury. Step into these thoughtfully designed spaces adorned with a minimalist aesthetic, featuring clean lines, neutral tones, and natural materials. 
Whether you choose a suite or a villa, every room offers breathtaking ocean views that serve as a constant reminder of the stunning paradise that lies just outside your doorstep. On your individual balcony or patio, where you can take in the breathtaking views and soft coastal breezes, relax and unwind.
At Carlisle Bay, culinary excellence takes center stage. Prepare your taste buds for an extraordinary culinary journey as you indulge in exquisite dining experiences. The resort's restaurants boast a diverse range of options, from gourmet international cuisine that tantalizes the palate to mouthwatering fresh seafood specialties. 
Whether you're savoring a romantic beachfront dinner, enjoying poolside refreshments, or partaking in an elegant evening meal, each dining experience at Carlisle Bay is an opportunity to savor culinary artistry in a setting that perfectly complements the flavors.
The resort's opulent spa beckons, encouraging you to submerge yourself in a world of regeneration and peace after a day of adventure or relaxation. Here, you can indulge in a wide array of rejuvenating treatments and therapies designed to soothe the body, mind, and soul.
Let skilled therapists work their magic, offering bespoke spa experiences that leave you feeling refreshed and revitalized, ready to embrace the blissful ambiance of Carlisle Bay.
Whether you're seeking relaxation, adventure, or a harmonious blend of both, Carlisle Bay is the perfect retreat. Bask in the tranquility of its pristine white sands and immerse yourself in the turquoise waters that stretch out before you. 
Take part in thrilling water activities or just relax on the beach, letting the sound of the lapping waves lull you into a state of total tranquility. Whatever your desire, Carlisle Bay offers a seamless fusion of contemporary elegance, natural beauty, and world-class amenities, ensuring an unforgettable experience that will leave you longing to return.
FAQ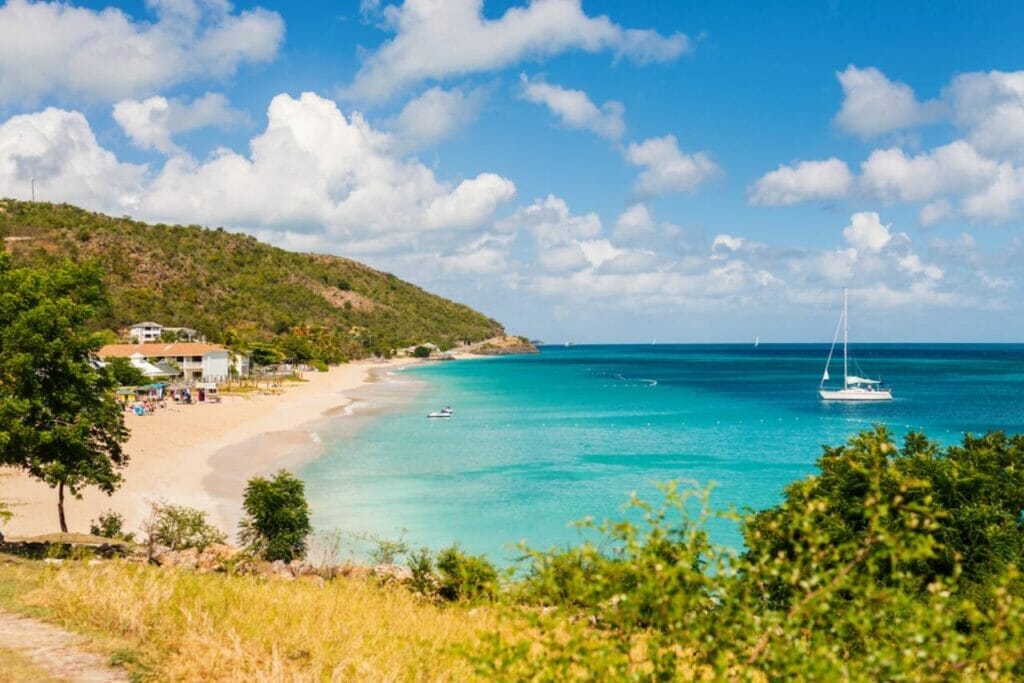 What are the best luxury resorts in Antigua?
The best luxury resorts in Antigua offer unparalleled experiences and exceptional service. Hermitage Bay stands out for its secluded luxury, tranquil ambiance, and commitment to sustainability. Jumby Bay Island offers the epitome of exclusivity, being a private island paradise accessible only by boat. Curtain Bluff impresses with its all-inclusive luxury, stunning views, and array of activities. Finally, Carlisle Bay showcases contemporary elegance, pristine beaches, and a luxurious spa. These top resorts in Antigua provide a perfect blend of opulence, natural beauty, and personalized hospitality.
Which luxury resorts in Antigua are romantic?
Romance flourishes at several luxury resorts in Antigua, creating unforgettable experiences for couples. Hermitage Bay sets the stage with its secluded and intimate atmosphere, private plunge pools, and captivating views of the Caribbean Sea. Jumby Bay Island offers a romantic haven on a private island, with luxurious beachfront villas, sunset cruises, and pristine beaches to enjoy hand-in-hand. Carlisle Bay enchants couples with its contemporary elegance, breathtaking ocean views, and indulgent spa experiences. These luxury resorts in Antigua provide the perfect backdrop for romantic getaways, ensuring cherished moments for couples to treasure.