Antigua Heritage Museums: Unveiling the Island's Past
Discover the captivating history of Antigua through a journey into its remarkable heritage museums.
From the Museum of Antigua and Barbuda, where artifacts and exhibits transport you through time, to the Dow's Hill Interpretation Center, with its enlightening multimedia presentations, and the bittersweet reality of Betty's Hope sugar plantation, these museums offer an immersive experience like no other. Complete your exploration at Harmony Hall, where a restored 19th-century plantation house now showcases vibrant Caribbean art, providing a fresh perspective on the island's rich culture. 
Each museum holds a piece of Antigua's history, inviting you to uncover the stories that shaped this enchanting island.
| Museum Name | Location | Opening Hours | Entrance Fee |
| --- | --- | --- | --- |
| Museum of Antigua and Barbuda | St. John's | 8:30 AM – 4:30 PM, Monday to Friday | Small fee, supports preservation |
| Dow's Hill Interpretation Center | English Harbour | 9 AM – 5 PM | Nominal fee, includes multimedia presentation and exhibits |
| Betty's Hope | Pares Village | Open daily, 9 AM – 5 PM | Small fee, supports preservation |
| Harmony Hall Art Gallery | Brown's Bay Mill | Varying hours (winter months) | Check website for details |
Museum of Antigua and Barbuda: Island's History and Cultural Artifacts
Anyone interested in Antiguan history must visit the Museum of Antigua and Barbuda, which provides a fascinating look into the island's colorful past. You'll come across items from the Arawak, the island's first known occupants, as you go through the museum's halls, along with displays that tell the story of the colonial era and vividly depict the island's past. Every item on display, from the intricately woven Arawak baskets to old sugar mill machinery, tells a story.
Not only is the museum a historical treasure chest, but it is also situated in a significant building. Housed in the Colonial Court House of 1750, it represents the oldest building still in use in the city of St. John's. Walking around, you can almost feel the weight of the history around you, adding another layer to the already intriguing experience.
The interactive exhibitions of the Museum of Antigua and Barbuda are its greatest strength. Visitors are encouraged to touch some artifacts, like fossilized remains from the island's prehistoric periods. This hands-on experience enables you to connect with Antigua's history on a more intimate level, transforming your museum visit into an immersive journey back in time.
Dow's Hill Interpretation Center: Multimedia Shows and History of English Harbour
Just a short drive from the bustling St. John's, you'll find Dow's Hill Interpretation Center nestled in the English Harbour area. The center effortlessly marries technology with history, offering enlightening multimedia presentations that span 15 centuries of Antiguan history. From the arrival of the first settlers to the struggles for independence, these presentations are both informative and moving, sure to leave a lasting impression.
The center's location is as significant as its exhibits. Situated on a hill, it offers panoramic views of the English Harbour and Nelson's Dockyard. As you learn about the island's past, you can gaze out over the historic sites involved in the very events you're discovering, helping you fully appreciate the context and scale of Antigua's history.
But Dow's Hill Interpretation Center isn't just about multimedia presentations. It's also home to an array of archaeological exhibits that provide a tangible connection to the past. Visitors can see authentic tools, pottery, and other artifacts unearthed from various parts of the island, further enriching their understanding of Antigua's vibrant heritage.
Betty's Hope: Sugar Plantation History and Heritage Displays
Betty's Hope is not just an ordinary heritage museum; it's a testament to Antigua's complex history, especially the era of sugar plantations. Established in 1650, the location was one of the island's first sugar plantations, and it ran continuously for more than 300 years. As you explore Betty's Hope, you'll get a glimpse into the bittersweet reality of the sugar era.
Two stone windmill towers, a testament to the plantation's industrial past, dominate the landscape of Betty's Hope. While one stands as a silent witness to history, the other has been fully restored, complete with sails and crushing machinery. Visiting the fully restored sugar mill offers a fascinating insight into the sugar production process of the time.
The visitor's center, located in the former cotton house, is a must-visit. Here, you'll find a small museum showcasing items excavated from the site, such as household items, tools, and machinery. There are also displays of maps, photographs, and informative texts that provide a context for the life and work at Betty's Hope during the plantation era.
Harmony Hall: Art Gallery and Historic Building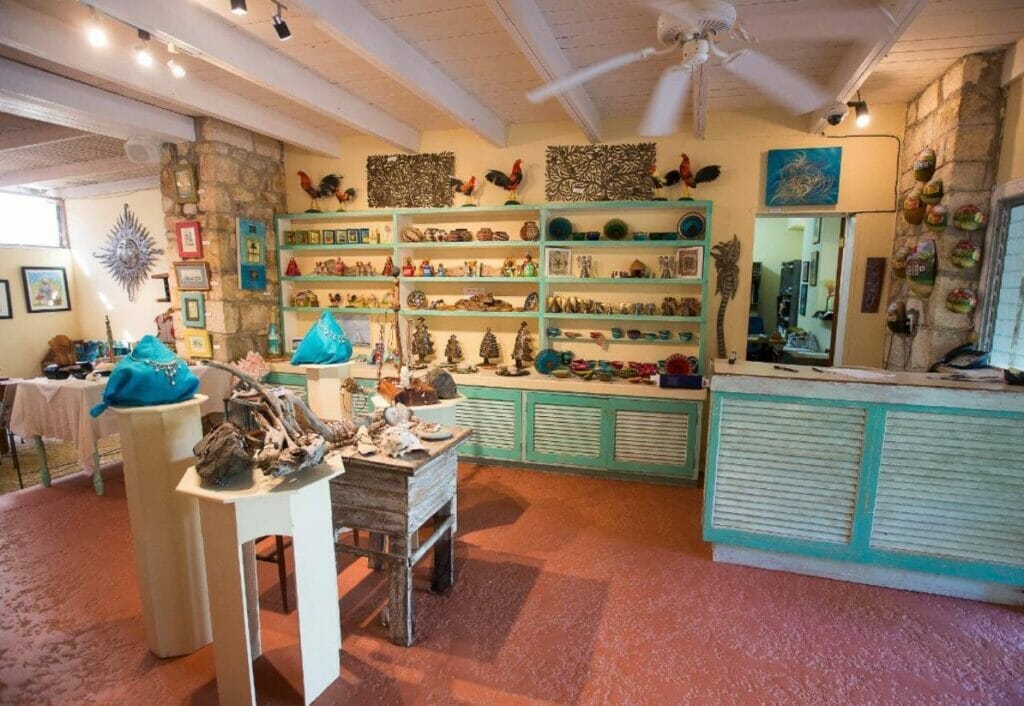 Rounding out your tour of Antigua's heritage museums, don't miss Harmony Hall. Once a 19th-century plantation house, Harmony Hall is now a vibrant art gallery celebrating Antiguan and Caribbean artists. The building, beautifully restored, retains its original charm, while inside, the walls come alive with a dazzling array of contemporary Caribbean art.
At Harmony Hall, you'll experience the island's culture from a new perspective. From vibrant paintings to intricate sculptures, the works of art on display explore various aspects of Antiguan and Caribbean life, culture, and history.
Yet, Harmony Hall is more than just an art gallery. It's a living piece of Antiguan history. The structure itself serves as a reminder of the island's past, and its renovation into a center for artistic expression illustrates Antigua's progress. The stunning views of Nonsuch Bay from the gallery's veranda offer a beautiful backdrop to your cultural exploration, making Harmony Hall an absolute must-visit.
Practical Information: Plan Your Visit to Antigua's Heritage Museums
For anyone planning a visit to Antigua's heritage museums, it's important to note some practical details. Starting with the Museum of Antigua and Barbuda, it is located at Long Street, St. John's and is normally open from 8:30 AM to 4:30 PM, Monday through Friday. 
There's a small entrance fee that directly supports the preservation of the museum. It's always a good idea to check their official website or give them a call for the most recent information.
Next up is Dow's Hill Interpretation Center, nestled in the English Harbour area, typically open from 9 AM – 5 PM. The center charges a nominal fee, which includes access to the multimedia presentation, exhibits, and the panoramic view of the English Harbour. 
As the center is slightly out of town, you may want to consider taxi services or rental cars for easy transportation. It's recommended to check their official website for the most recent visiting hours and other updates.
Betty's Hope, located at Pares Village, is an open-air site available for visitation daily, with a visitor's center open from 9 AM – 5 PM. There's a small fee to support the preservation efforts of the site. 
As for Harmony Hall Art Gallery, situated at Brown's Bay Mill, it usually opens in the winter months, with varying hours, so it's best to check their website before planning your visit. Given their somewhat secluded locations, it's worth considering renting a car or booking a taxi to ensure a hassle-free commute. 
Remember, while each of these places charges an entrance fee, the enriching experiences they offer are truly priceless.
FAQ
What is the name of the Antigua museum?
The Museum of Antigua and Barbuda is the name of the museum in Antigua. Situated in the capital city of St. John's, it serves as the national museum of the country. The Museum of Antigua and Barbuda provides a comprehensive overview of the history, culture, and natural heritage of Antigua and Barbuda via its exhibitions and artifacts.
Is Antigua a UNESCO World Heritage Site?
No, Antigua does not have a World Heritage Site designation from UNESCO. However, the island boasts several remarkable historical landmarks and sites that showcase its rich heritage. Notable examples include Nelson's Dockyard, a restored British naval base, and Shirley Heights, a former military complex offering panoramic views. These sites provide visitors with insights into Antigua's colonial past and contribute to its allure as a historical and cultural destination.
What Caribbean island has the best history?
Determining the "best" history among Caribbean islands is a subjective matter, as each island has its own captivating historical narrative. However, Antigua stands out for its significant historical importance in the region. It played a pivotal role during the era of sugar plantations and was deeply intertwined with the transatlantic slave trade. Today, Antigua's historical sites, including forts, plantations, and museums, offer glimpses into its past and contribute to the island's allure for history enthusiasts.