Antigua Festivals and Events: Celebrating the Island's Vibrant Culture
Hey there! Prepare to be immersed in Antigua's lively culture as we take you on a tour around the island's wonderful festivals and events.
Picture yourself surrounded by sleek yachts racing through crystal-clear waters during Antigua Sailing Week, or joining the energetic crowds at Antigua Carnival, where colorful parades and infectious music take over the streets. Not to mention the Food and Drink Festival, where you may sample delectable local food and learn about the island's rich culinary heritage. If music is your thing, the Antigua Roots Festival and Reggae Festival will have you swaying to the irresistible beats of Caribbean rhythms.
So, pack your bags, bring your dancing shoes, and get ready to celebrate Antigua's vibrant culture like a true local!
| Festival/Event | Time of Year | Description |
| --- | --- | --- |
| Antigua Sailing Week | Late April – Early May | A week-long international sailing event with yacht races and vibrant social events, including beach parties and local cuisine. Opportunities for both professionals and novices to participate. |
| Antigua Carnival | Late July – Early August | A month-long celebration of Antigua's cultural heritage featuring colorful parades, soca and calypso music, costumes, parties, and food fairs. |
| Food and Drink Festival | | A culinary event highlighting Antigua's culinary traditions and flavors with dishes from renowned chefs and local delicacies. Includes cooking demonstrations, workshops, and live music. |
| Antigua Roots Festival | June | A music festival celebrating Caribbean musical heritage, featuring diverse rhythms and melodies from renowned artists in genres such as reggae, soca, calypso and steelpan. |
| Classical Music Festival | November | A festival offering an immersion into classical music in a Caribbean setting, featuring internationally acclaimed musicians, orchestras, and chamber ensembles. |
| Reggae Festival | July | A tribute to the iconic genre of reggae, featuring performances by local and international artists with powerful reggae rhythms and messages. |
Antigua Sailing Week: Thrilling Yacht Racing and Festivities
A Regatta Like No Other
Antigua Sailing Week is a much-anticipated event that shows the island's enthusiasm for sailing and draws sailors from all over the world. Held annually in late April or early May, this thrilling regatta brings together seasoned sailors and novices alike for an exhilarating week of yacht racing.
Picture yourself on the shores, witnessing sleek and elegant yachts gliding through the crystal-clear waters of the Caribbean. Participants compete against one another, challenging their abilities and pushing the limits of speed and agility.
Beyond the Races: A Festive Social Scene
Beyond the heart-pounding races, Antigua Sailing Week offers a vibrant social scene. As the sun sets, the marinas and local bars come alive with festivities. Join the sailors and fellow spectators in celebrating the day's victories, sharing stories, and embracing the camaraderie that comes with a shared passion for sailing.
Live music performances, beach parties, and delicious local cuisine further enhance the festive atmosphere, ensuring that there's never a dull moment during this exciting event.
Opportunities for All
While Antigua Sailing Week is a world-class sailing event, it also welcomes spectators and offers opportunities for everyone to get involved. If you're new to sailing, you may join the race as a crew member or watch from a spectator boat. The event also includes special activities for families, such as junior sailing programs and onshore entertainment suitable for all ages. 
Whether you're a seasoned sailor or a curious visitor, Antigua Sailing Week promises an unforgettable experience blending high-adrenaline racing with a vibrant social scene.
Antigua Carnival: Colorful Parades and Live Music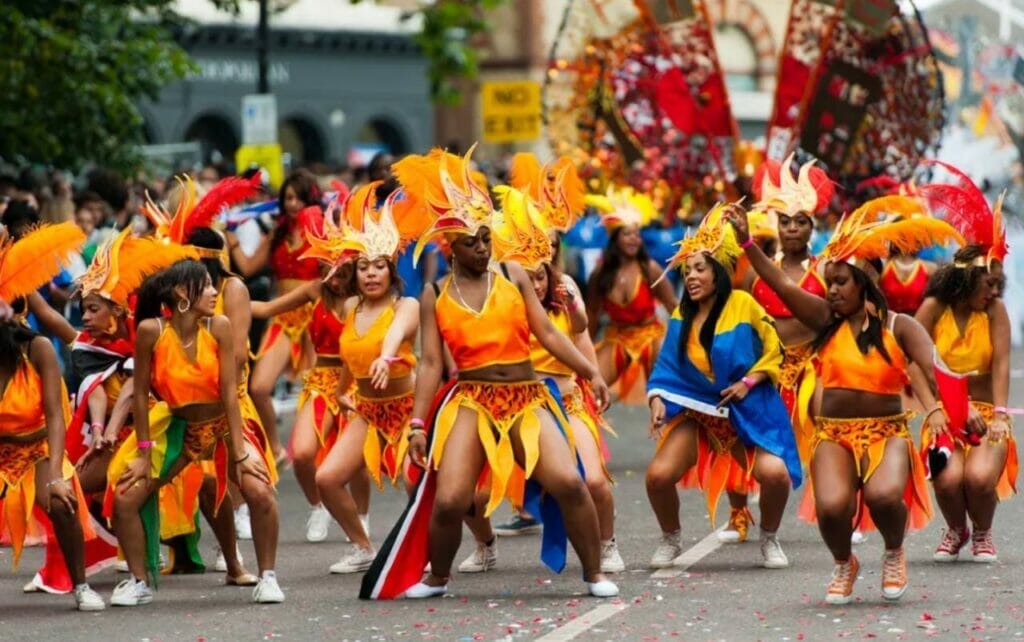 An Explosion of Culture and Expression
Antigua Carnival is a spectacle that showcases the island's rich cultural heritage, vibrant colors, and infectious energy. This festival held throughout the last week of July and the first week of August, captivates both locals and visitors with its colorful parades, throbbing music, and spectacular costumes. The streets come alive as revelers, known as "masqueraders," dance to the rhythm of soca and calypso music, their vibrant attire mesmerizing onlookers.
The Grand Parade: A Carnival Marvel
The highlight of Antigua Carnival is the grand parade, where bands of revelers adorned in feathered headdresses, sequined costumes, and colorful masks march through the streets. The infectious beat of steel drums and the hypnotic sound of whistles fill the air, creating an irresistible urge to join the festivities. 
From the Junior Carnival for the young ones to the exhilarating J'ouvert morning, Antigua Carnival offers a celebration of culture, music, and community that will leave you with unforgettable memories.
Beyond the Parades: Parties and Pageantry
Antigua Carnival is a month-long festival of music, dancing, and merriment, not only parades. Throughout the festival, many parties and activities are held around the island, allowing plenty of opportunity to get into the celebratory atmosphere.
Soca and calypso music fill the air at vibrant street parties, while local artists compete in talent shows and beauty pageants. Indulge in the flavors of Antiguan cuisine at food fairs and savor the local rum, which flows freely during this joyous season. Antigua Carnival is a time to let go, embrace the vibrant energy, and become part of the island's cultural tapestry.
Food and Drink Festival: Gastronomic Delights and Local Flavors
A Culinary Extravaganza
Prepare your taste buds for a tantalizing journey through Antigua's culinary landscape at the Food and Drink Festival. This scrumptious event highlights the island's rich culinary traditions and distinct flavors, giving a one-of-a-kind opportunity to enjoy local delicacies and immerse oneself in the vibrant food culture. 
From street vendors dishing out mouthwatering Antiguan street food to renowned chefs crafting innovative dishes, this festival is a paradise for food enthusiasts.
Local Delicacies and Global Influences
Indulge in the abundance of fresh seafood, tropical fruits, and spices that define Antiguan cuisine. Sample the famous pepperpot, a hearty meat stew, or try the succulent jerk chicken, infused with aromatic spices. Don't miss the opportunity to taste the sweet delights of local desserts like black pineapple tart or ducana, a sweet potato dumpling.
The Food and Drink Festival also celebrates the island's culinary diversity, with international chefs bringing their expertise and fusion flavors to the table, creating a unique blend of global influences.
Beyond Tastings: A Multisensory Experience
The Food and Drink Festival goes beyond just tasting extraordinary flavors. It offers a multi-sensory experience, engaging all your senses. Attend cooking demonstrations and workshops to learn about traditional Antiguan cooking techniques or watch renowned chefs showcase their culinary skills. 
Immerse yourself in the rhythmic beats of live music performances as you explore food stalls, where local artisans display their crafts. The event fosters a festive atmosphere in which locals and visitors alike may experience Antigua's robust cuisine culture and the tastes that make it really unique.
Music Festivals: Showcasing Caribbean Rhythms
Antigua Roots Festival: A Tribute to Caribbean Music
At the Antigua Roots Festival, you may immerse yourself in the soul-stirring sounds of Caribbean music. Held annually in June, this festival celebrates the rich musical heritage of the region, featuring performances by renowned artists representing various genres.
From reggae and soca to calypso and steelpan, the festival showcases the diverse rhythms and melodies that define Caribbean music. Feel the energy pulsate through your veins as you sway to the infectious beats and experience the vibrant cultural tapestry of the Caribbean.
Classical Music Festival: A Symphony in Paradise
For those seeking a different musical experience, the Antigua Classical Music Festival offers a delightful immersion into the world of classical music amidst the idyllic Caribbean setting. Taking place over several evenings in November, this festival brings together internationally acclaimed musicians, orchestras, and chamber ensembles.
Reggae Festival: A Melodic Journey
The Antigua Reggae Festival is a must-see for music fans and reggae fans. Held annually in July, this festival pays tribute to the iconic genre that originated in the Caribbean. Get ready to groove to the iconic rhythms, feel the positive vibes, and immerse yourself in the powerful messages of reggae music.
Local and international performers hit the stage, enthralling the crowd with their heartfelt performances. Whether you're swaying to the smooth sounds of reggae legends or discovering new talents, the Reggae Festival promises an unforgettable musical journey.
Cultural Significance of Antigua's Festivals and Events
Antigua's festivals and events hold deep cultural significance, representing the island's rich history, diverse heritage, and sense of community. Antigua Carnival, for example, is rooted in the island's African traditions and serves as a vibrant celebration of emancipation and freedom. 
The elaborate costumes worn by masqueraders during the grand parade are not only visually stunning but also symbolic, often reflecting themes of African folklore, mythology, and ancestral reverence.
The pulsating rhythms of calypso and soca music, as well as the energetic dance moves, further reinforce the cultural connection and bring people together in a joyous expression of Antigua's vibrant identity.
Antigua's music festivals also play a vital role in showcasing Caribbean rhythms and promoting cultural exchange. The Antigua and Barbuda International Music Festival, for example, not only draws world-class performers to the island but also gives local artists a platform to express their abilities and maintain traditional musical genres. 
These events serve as a reminder of Antigua's continuing cultural history, instilling pride in natives and allowing tourists to immerse themselves in the enthralling world of Caribbean music.
Practical Information: Attending Antigua's Festivals and Events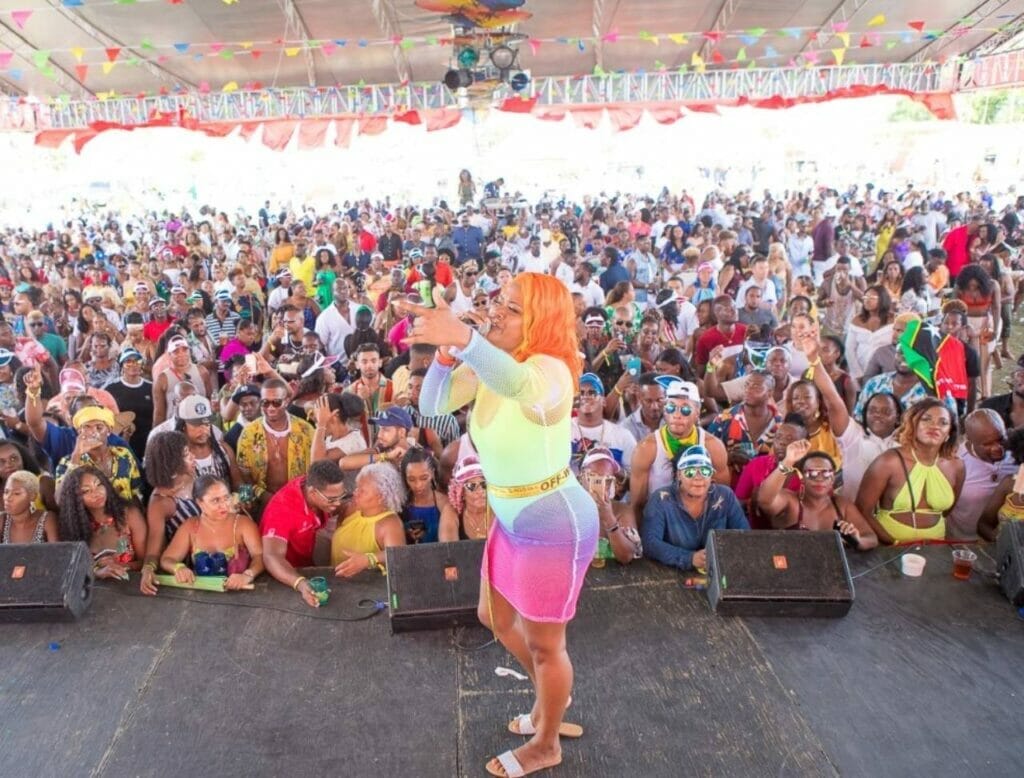 There are certain practical elements to bear in mind if you plan on attending Antigua's festivals and events. Because festival dates often change from year to year, it's critical to double-check the official schedules and plan your trip appropriately.
Antigua Carnival is usually celebrated in late July or early August, whilst Antigua Sailing Week is usually held in late April or early May. The Food and Drink Festival and Music Festivals may have specific dates as well, so be sure to research and confirm the timing before making travel arrangements.
When attending these events, consider booking accommodations in advance, as festivals can attract a large number of visitors. Choose a location that provides convenient access to the festival venues, ensuring you can easily navigate between events and enjoy the festivities to the fullest.
It's also a good idea to become acquainted with local transportation alternatives, such as taxis or rental vehicles, to help you navigate around the island throughout your festival experience.
Finally, get into the celebration atmosphere by immersing yourself in the local culture and customs. Respect the traditions and etiquette associated with each event, and be open to new experiences.
Don't hesitate to interact with locals and fellow festival-goers, as they can offer valuable insights, recommendations, and enriching connections. Remember to stay hydrated, apply sunscreen, and dress comfortably to fully enjoy the vibrant atmosphere of Antigua's festivals.
FAQ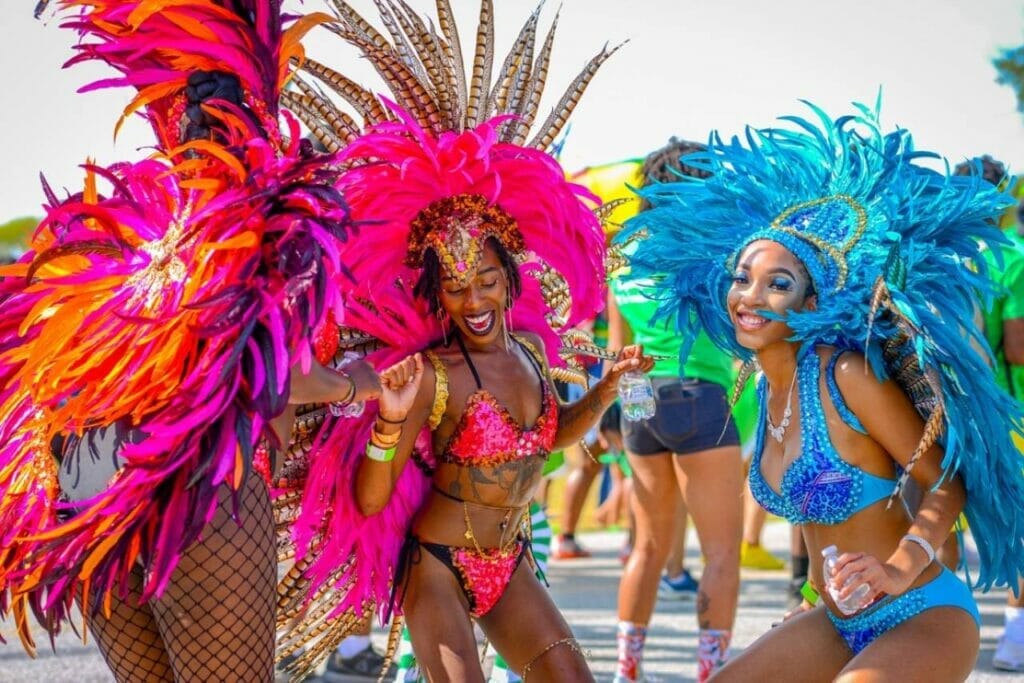 What festivals are celebrated in Antigua?
Antigua celebrates a variety of festivals throughout the year, showcasing its vibrant culture. Antigua Sailing Week, Antigua Carnival, the Food and Drink Festival, and the Antigua Roots Festival are all popular festivals. These events bring together locals and visitors to revel in thrilling yacht racing, colorful parades, tantalizing gastronomic delights, and the soul-stirring sounds of Caribbean music.
What is the main festival in Antigua?
The main festival in Antigua is Antigua Carnival, a vibrant celebration deeply rooted in the island's African traditions and history. This event, held throughout the last week of July and the first week of August, involves spectacular parades, dynamic dance acts, and pounding music. Antigua Carnival is a time when the entire island comes alive, embracing freedom, and expressing its vibrant identity through elaborate costumes, rhythmic beats, and joyous revelry.
What is Antigua Carnival called?
Antigua Carnival is widely referred to as "The Caribbean's Greatest Summer Festival," which accurately depicts the event's grandeur and significance, since it attracts both residents and visitors from all over the world.Antigua Carnival definitely lives up to its reputation as one of the Caribbean's most magnificent events, with its colorful parades, captivating music, and vibrant environment.