Antigua Family Vacation: Fun-Filled Activities for All Ages
A fun-filled vacation with family? Dreaming of bathing in the sun while the kids run around enjoying the sand and waves? Look no further than Antigua, the ultimate destination for an unforgettable family getaway.
From kid-friendly beaches like the idyllic Dickenson Bay Beach, where little ones can build sandcastles and splash in the calm waters, to the picturesque Jolly Beach with its golden sands and beachside restaurants, this Caribbean paradise has it all. But that's just the beginning—discover historic treasures, interact with gentle stingrays, soar through the rainforest on a thrilling zip line tour, and soak in breathtaking views from Shirley Heights Lookout. 
With these handpicked experiences, your dream of a sun-soaked family vacation in Antigua will become a cherished reality. So pack your sunscreen and get ready for an extraordinary adventure that will create lifelong memories for your entire family.
| Destination/Attraction | Description | Location |
| --- | --- | --- |
| Dickenson Bay Beach | Renowned kid-friendly beach with soft white sands and calm waters. Offers water sports activities. | Northwestern coast of Antigua |
| Jolly Beach | Picturesque beach with golden sands and gentle waves. Provides beachside restaurants and water sports rentals. | Southwestern coast of Antigua |
| Nelson's Dockyard | Historic naval dockyard with preserved buildings, marina, and a museum. Educational and enjoyable for the whole family. | English Harbour, Antigua |
| Stingray City | Unique attraction allowing visitors to swim and interact with gentle stingrays in their natural habitat. | Northeastern part of Antigua |
| Antigua Rainforest Canopy Zip Line Tour | Thrilling zip line tour through the rainforest with stunning views and educational experience. | Central Antigua |
| Shirley Heights Lookout | Viewpoint with panoramic views of Antigua's coastline. Offers Sunday evening barbecue and live music event. | Southern coast of Antigua |
| Devil's Bridge | Natural limestone arch carved by the Atlantic Ocean's waves. Appreciate the unique geological features. | Eastern coast of Antigua |
Kid-Friendly Beaches and Water Parks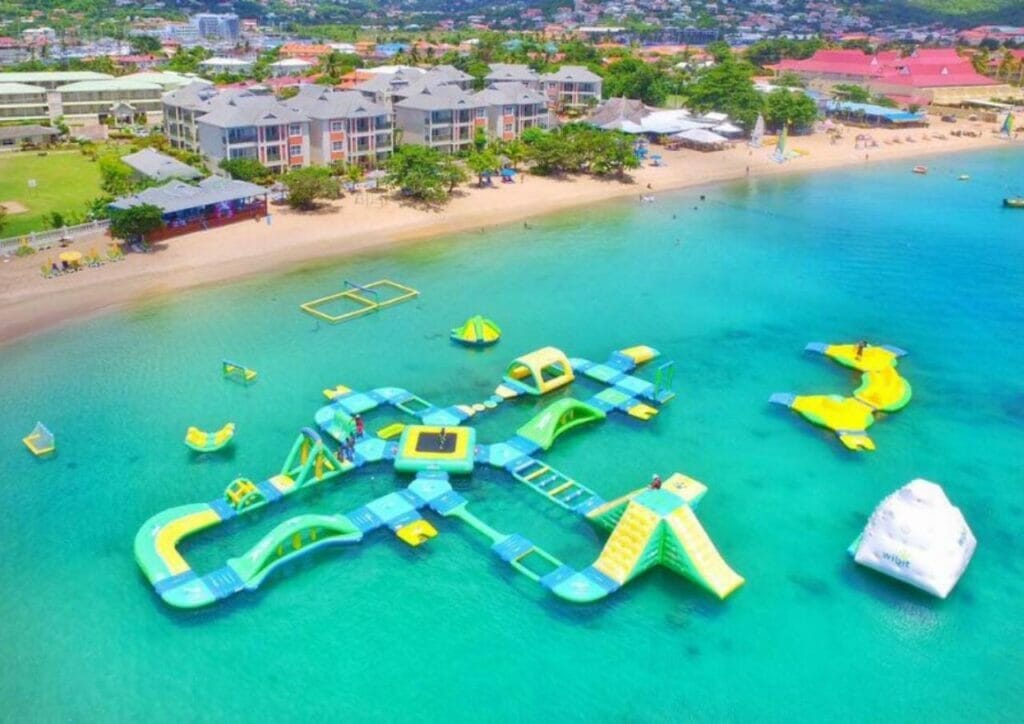 Dickenson Bay Beach
Antigua, with its pristine coastline and crystal-clear waters, offers a plethora of options for families seeking fun and relaxation on the beach. One notable spot that stands out as a kid-friendly beach is Dickenson Bay Beach, located on the island's northwestern coast.
Dickenson Bay Beach is renowned for its soft white sand and calm waters, making it an ideal choice for families with young children. As parents bask in the warm sun, children can delight in building sandcastles or engaging in friendly beach games. 
The gentle slope of the shoreline creates a shallow area where little ones can splash around safely, providing hours of entertainment and enjoyment. Parents can keep a watchful eye while unwinding on beach towels, knowing their children are happily occupied in a secure environment.
In addition to its serene ambiance, Dickenson Bay Beach offers various water sports activities that cater to families. Snorkeling is a popular option, allowing kids and adults alike to explore the vibrant underwater world and encounter tropical fish and colorful coral reefs. 
Kayaking is another exciting activity that families can partake in together, gliding across the calm waters and discovering hidden coves and secluded beaches. These water sports adventures provide opportunities for shared experiences and create lasting memories for the entire family.
Jolly Beach
Jolly Beach, situated on the southwestern coast of Antigua, is another fantastic choice for families seeking a delightful beach experience. This picturesque beach boasts a wide stretch of golden sand and gentle waves, inviting families to unwind and revel in the beauty of their surroundings.
Jolly Beach offers a family-friendly atmosphere with a range of amenities that cater to the needs of both parents and children. Beachside restaurants provide convenient dining options, ensuring that families can indulge in delicious meals while enjoying the stunning ocean views. For families seeking some aquatic excitement, Jolly Beach also offers facilities for water sports rentals.
Jolly Beach also presents an ideal opportunity for building sand sculptures with the soft sand or embarking on leisurely strolls along the shore, collecting seashells, and creating cherished family memories.
Family Excursions and Attractions
Antigua is not just about beaches; it offers a host of exciting excursions and attractions that cater to all ages. Here are some must-visit destinations and experiences that will make your family vacation in Antigua truly unforgettable:
Nelson's Dockyard
Step back in time at Nelson's Dockyard, a historic naval dockyard dating back to the 18th century. Explore the beautifully preserved buildings and stroll through the marina lined with sailboats. Visit the museum to learn about Antigua's rich maritime heritage and the role Nelson's Dockyard played in the island's history. Kids will be enthralled by the cannons, old ships, and interactive exhibits, making it an educational and enjoyable experience for the whole family.
Stingray City
For wildlife enthusiasts, a trip to Stingray City is a must. Located in the northeastern part of the island, this unique attraction allows visitors to swim and interact with gentle southern stingrays in their natural habitat. Join a guided tour where trained professionals provide safety instructions and fascinating insights about these magnificent creatures. Wade in the shallow waters and have the opportunity to touch and feed the stingrays, creating cherished memories and a deeper appreciation for marine life.
Antigua Rainforest Canopy Zip Line Tour
If your family seeks an adrenaline rush and a thrilling adventure, a visit to the Antigua Rainforest Canopy Zip Line Tour is a must. Soar through the lush rainforest on zip lines, gliding from platform to platform high above the ground. Traverse suspension bridges, taking in the stunning vistas of the surrounding canopy. Marvel at the breathtaking views from the treetops and learn about the island's diverse flora and fauna from knowledgeable guides. This eco-adventure provides an exciting and educational experience for the whole family.
Shirley Heights Lookout
Treat your family to breathtaking panoramic views of Antigua's coastline from Shirley Heights Lookout. Located in the south of the island, this historic fort-turned-viewpoint offers a magnificent vantage point to watch the sunset or enjoy the scenic beauty during the day. The lookout also hosts a famous Sunday evening barbecue and live music event, providing a lively and festive atmosphere for families to enjoy together.
Devil's Bridge
Explore the rugged beauty of Devil's Bridge, a natural limestone arch carved by the Atlantic Ocean's relentless waves. Located on the eastern coast of Antigua, this dramatic rock formation offers a mesmerizing sight and a chance to witness the power of nature. While it's important to exercise caution due to the strong currents, families can appreciate the unique geological features and capture memorable photographs.
Tips for a Smooth Family Vacation
Planning a family vacation can be exciting, but it also requires careful preparation to ensure a smooth and enjoyable experience for everyone. Here are a few additional tips to make the most of your Antigua family vacation:
Research family-friendly accommodations
Look for accommodations that specifically cater to families. Family-friendly resorts often provide amenities like children's pools, kids' clubs, and organized activities to keep children entertained. It's also helpful to check if the resort offers babysitting services or childcare options, allowing parents to have some time for themselves.
Explore local cuisine
Antigua boasts a rich culinary scene, and trying local dishes can be a delightful experience for the whole family. Sample traditional Antiguan dishes such as saltfish and fungi, pepperpot, or conch fritters. Additionally, consider visiting local markets or food stalls to try fresh tropical fruits and other local delicacies.
Embrace the island's culture and history
Antigua has a fascinating history and vibrant culture. Take the opportunity to engage with the local community and learn about the island's heritage. Visit museums, attend cultural festivals or events, and interact with locals to gain a deeper understanding of Antiguan traditions and customs.
Be flexible and allow for downtime
While it's essential to make the most of your time in Antigua, it's equally important to allow for relaxation and downtime. Family vacations can be packed with activities, but be mindful of not over-scheduling. Leave some room in your itinerary for spontaneous adventures or simply unwinding by the beach or pool. This flexibility ensures that everyone has a chance to recharge and enjoy the vacation at their own pace.
Capture memories
Antigua offers countless picturesque spots and memorable moments. Bring a camera or use your smartphone to capture the precious memories made during your family vacation. Encourage your children to take photos too, allowing them to create their own visual diary of the trip. These photographs will serve as a wonderful reminder of the experiences shared together as a family.
FAQ
What are the best family resorts in Antigua?
The best family resorts in Antigua offer a range of amenities and activities to ensure a memorable vacation for all. Two highly recommended options are the St. James's Club Antigua and the Jolly Beach Resort & Spa. The St. James's Club Antigua features multiple pools, a kids' club, and a variety of water sports, while the Jolly Beach Resort & Spa offers spacious accommodations, a children's program, and beachfront access. Both resorts provide a family-friendly atmosphere, excellent dining options, and opportunities for relaxation and adventure.
Which family resorts in Antigua are romantic?
While family resorts primarily focus on providing a fun and engaging environment for children, some also cater to couples seeking a romantic getaway. Two family resorts in Antigua that strike a balance between family-friendly amenities and a romantic atmosphere are The Verandah Resort & Spa and the Carlisle Bay Antigua. The Verandah Resort & Spa offers private cottages nestled in lush surroundings, perfect for couples looking for seclusion, while still providing facilities for families to enjoy. The Carlisle Bay Antigua offers elegant suites, stunning ocean views, and a tranquil setting, ensuring a romantic ambiance for couples amidst a family-friendly resort environment.