Antigua Family Activities: Fun-Filled Activities for All Ages
Hey there! Looking for the perfect family getaway? Look no further than Antigua, a Caribbean gem that has it all. As a travel blogger that loves Curacao, let me be your personal guide to this tropical paradise. Get ready for sun-soaked beaches, thrilling water sports, and cultural discoveries that will leave you and your loved ones with unforgettable memories.
From building sandcastles and splashing in the calm waters of Dickenson Bay to exploring hidden coves and snorkeling with friendly Southern Stingrays at Galleon Beach, Antigua offers endless adventures for all ages. Dive into history at Nelson's Dockyard, soak in breathtaking views from Shirley Heights Lookout, and indulge in captivating cultural shows at Dow's Hill Interpretation Center.
Get your bags packed and let's embark on an extraordinary family adventure in Antigua!
Beach Days and Water Sports: Family-Friendly Beaches and Activities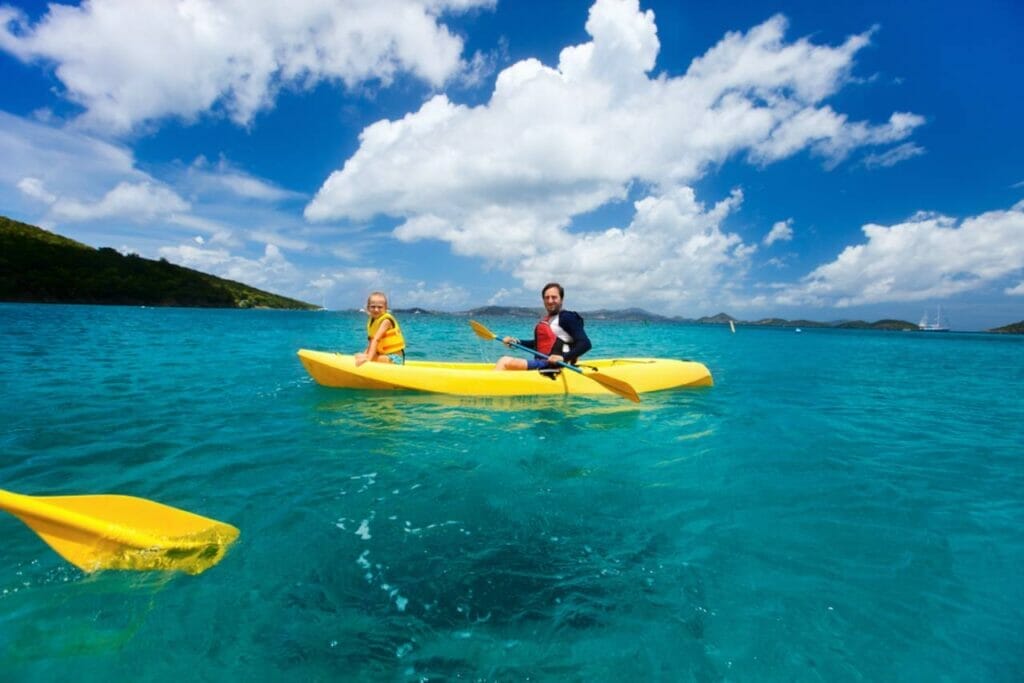 Antigua is renowned for its breathtaking beaches with crystal-clear turquoise waters and soft white sand. Here, families can soak up the sun and create unforgettable memories. Some of the must-visit family-friendly beaches include:
Dickenson Bay
With its calm waters and powdery sand, Dickenson Bay is perfect for families with young children. Engage in sandcastle-building competitions or simply relax under the shade of a palm tree while the kids splash around.
Take advantage of the water sports facilities available and try your hand at kayaking, paddleboarding, or even banana boat rides. The whole family can enjoy a leisurely swim, or snorkel together to discover the vibrant underwater world of tropical fish and coral reefs.
Half Moon Bay
This secluded beach offers a peaceful escape for families seeking a more serene atmosphere. Let the kids explore the tide pools teeming with fascinating marine life or go for a leisurely stroll along the shoreline. Set up a picnic and savor a delicious family lunch while admiring the stunning views.
Older children and teenagers can take part in exciting water sports like windsurfing or bodyboarding. Don't forget to capture precious family moments against the backdrop of Half Moon Bay's picturesque scenery.
Galleon Beach
Nestled within Nelson's Dockyard National Park, Galleon Beach provides a picturesque setting for families to enjoy a day of sun, sand, and adventure. The calm and shallow waters are ideal for young children to splash around safely.
Take a leisurely walk along the beach and explore the surrounding nature trails. For a unique experience, rent a kayak or paddleboard and embark on a family expedition to nearby Rendezvous Bay, where you can discover hidden coves and encounter marine life along the way.
Jolly Beach
Situated on the island's west coast, Jolly Beach offers a vibrant and lively atmosphere for families to enjoy. Engage in beach volleyball matches or build sand sculptures together.
Kids will love the supervised activities and games organized by the beach resorts, allowing parents to relax and soak up the tropical vibes. Grab a refreshing drink from one of the beach bars and watch as the sun sets over the horizon, painting the sky in a mesmerizing array of colors.
Stingray City Antigua: Interactive Encounters with Marine Life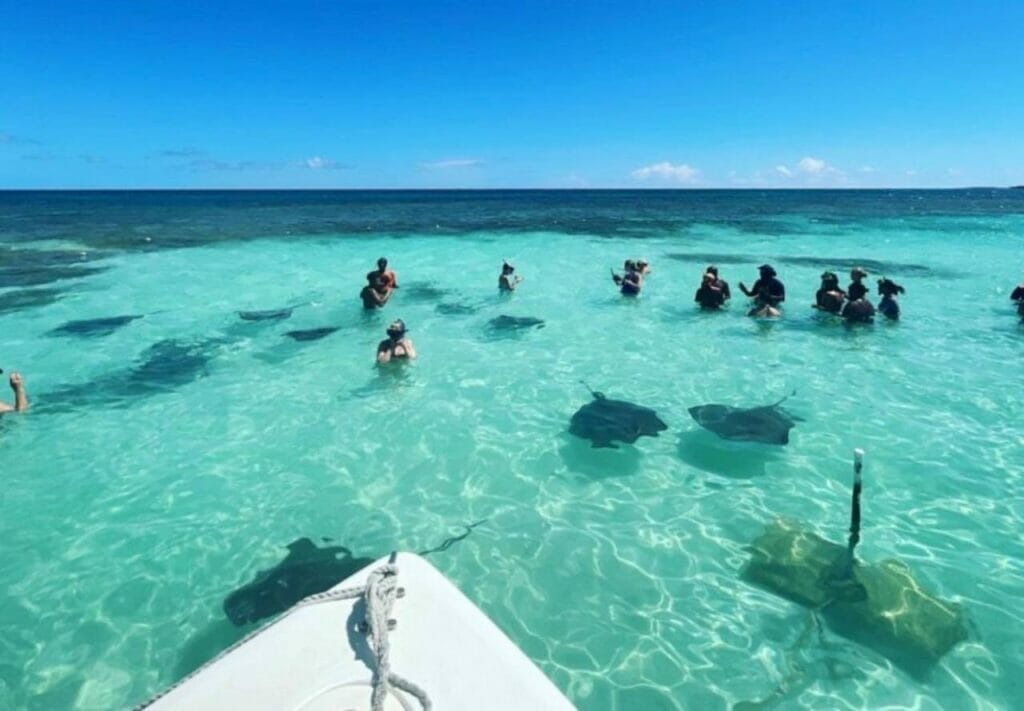 For a truly unforgettable experience, make sure to visit Stingray City Antigua. This unique attraction allows families to have interactive encounters with friendly Southern Stingrays. Here's what you can expect:
Swim with Stingrays
The highlight of Stingray City Antigua is the opportunity to swim and interact with these majestic creatures in their natural habitat. Your family will have the chance to touch and feed the stingrays under the guidance of knowledgeable instructors. Don't worry, these gentle creatures are completely harmless and the experienced staff will ensure your safety throughout the experience.
Educational Presentations
Before venturing into the water, you and your family will receive a comprehensive briefing about stingrays, their behavior, and their role in the ecosystem. Learn fascinating facts and gain a deeper understanding of these incredible creatures. The knowledgeable guides will also provide insights into conservation efforts and the importance of protecting marine life.
Snorkeling Adventure
After spending time with the stingrays, put on your snorkeling gear and explore the vibrant underwater world of Antigua. Marvel at the colorful coral reefs and encounter an array of tropical fish. Children will be captivated by the magical marine life that surrounds them, creating lasting memories of their time in the Caribbean.
Photography and Souvenirs
Capture the incredible moments spent with the stingrays by bringing a waterproof camera or opting for professional photography services available on-site. Take home beautiful snapshots that will forever remind you of this unique experience.
Additionally, browse through the gift shop and choose from a selection of souvenirs, such as t-shirts, keychains, and marine-themed mementos, to commemorate your visit to Stingray City Antigua.
Nelson's Dockyard: Historical Exploration and Picnic Spots
Step back in time and immerse your family in the rich history of Antigua by visiting Nelson's Dockyard. This UNESCO World Heritage Site offers a fascinating glimpse into the island's naval past. Here's what you can discover:
Historical Landmarks
Explore the beautifully preserved colonial-era buildings that makeup Nelson's Dockyard. Visit the Dockyard Museum to learn about the naval history and the life of Admiral Horatio Nelson. Walk along the stone walls and imagine the bustling activities of the past. Climb up to Shirley Heights Lookout for panoramic views of the harbor and the surrounding islands.
Picnic Areas
Within Nelson's Dockyard, you'll find scenic picnic spots where you can enjoy a delightful family lunch amidst the historical ambiance. Spread out a blanket under the shade of a tree and savor local delicacies while taking in the captivating views of the harbor. It's the perfect opportunity to relax, bond, and appreciate the beauty of your surroundings.
Boat Tours and Sailing Excursions
Nelson's Dockyard serves as a hub for boat tours and sailing excursions around Antigua. Embark on a family adventure aboard a traditional Caribbean sailing vessel or a modern catamaran.
Special Events and Festivals
Throughout the year, Nelson's Dockyard hosts various cultural events and festivals that showcase Antigua's vibrant heritage. If your visit coincides with one of these festivities, make sure to join in the celebrations.
From live music performances to traditional dances and local cuisine, these events offer a unique opportunity to engage with the local culture and create lasting memories for your family.
Dow's Hill Interpretation Center: Cultural Shows and Educational Exhibits
Located within the spectacular Nelson's Dockyard National Park, Dow's Hill Interpretation Center offers engaging cultural shows and educational exhibits. Here's what you can experience:
Cultural Shows
Immerse yourself in the vibrant history and culture of Antigua through captivating cultural shows. Witness colorful performances featuring traditional dances, music, and storytelling that depict the island's heritage. The energetic rhythms and mesmerizing movements will leave the whole family entertained and inspired.
Educational Exhibits
Explore the center's exhibits that showcase the rich diversity of Antigua's natural environment and cultural traditions. Learn about the island's flora and fauna, its indigenous people, and the impact of colonization. Interactive displays and informative panels provide a fun and educational experience for children and adults alike.
Panoramic Views
After exploring the exhibits, head to the observation deck at Dow's Hill for breathtaking panoramic views of the surrounding landscape. Marvel at the beauty of English Harbor, the lush greenery, and the azure waters. Take memorable family photos against this stunning backdrop and cherish the memories of your visit to Dow's Hill Interpretation Center.
Nature Trails
Adjacent to the center, you'll find nature trails that wind through the park's lush vegetation. Take a leisurely stroll with your family and discover the natural beauty of Antigua. Spot native birds, butterflies, and other wildlife along the way. These tranquil trails provide a peaceful escape and an opportunity to appreciate the island's biodiversity.
FAQ
Is Antigua a good place for kids?
Antigua is an excellent destination for kids, offering a wide range of family-friendly activities and attractions. With its pristine beaches, calm waters, and water sports facilities, children can enjoy swimming, snorkeling, and engaging in sandcastle building competitions. Antigua also provides unique opportunities for interactive encounters with marine life, such as swimming with friendly Southern Stingrays. Additionally, the island's historical sites, cultural shows, and nature trails offer educational and entertaining experiences for kids of all ages.
What is Antigua best known for?
Antigua is best known for its breathtaking beaches, boasting crystal-clear turquoise waters and soft white sand. The island is renowned for having 365 beaches—one for each day of the year—providing endless opportunities for sunbathing, swimming, and water sports. Antigua is also famous for hosting world-class sailing events, such as Antigua Sailing Week, attracting sailing enthusiasts from around the globe. Its rich history, including Nelson's Dockyard, a UNESCO World Heritage Site, further adds to Antigua's allure.
What is unique to Antigua?
One unique aspect of Antigua is its vibrant cultural heritage and warm hospitality. The island showcases its cultural diversity through lively festivals, traditional dances, and captivating cultural shows. Antigua's traditional cuisine, featuring dishes like "fungi" and "pepperpot," reflects the island's rich culinary traditions. Additionally, Antigua's position as a sailing hub and the home of the prestigious Antigua Yacht Club Race Week contributes to its distinct identity. The combination of natural beauty, cultural vibrancy, and maritime legacy makes Antigua a truly remarkable destination.