Antigua Beachfront Weddings: Idyllic Destinations for Tying the Knot
Dreaming of a picturesque beach wedding in a tropical paradise? Look no further than Antigua, where idyllic destinations await you.
With stunning beachfront venues such as Jumby Bay Island Resort, Galley Bay Resort & Spa, Carlisle Bay, and Curtain Bluff, your dream wedding becomes a reality. These venues offer customizable packages, expert event planning, and exquisite catering.
Engage a local wedding planner to navigate legal requirements and coordinate with vendors. Capture precious moments with professional photographers and videographers, enhance the ambiance with talented floral designers, and set the perfect mood with musicians. Pamper yourself with beauty and spa services.
Antigua's breathtaking venues and exceptional services create cherished memories that last a lifetime. Pack your bags and elevate your dream wedding to new heights in Antigua's enchanting embrace.
Popular Wedding Venues and Packages
Antigua boasts a plethora of stunning beachfront venues that provide the perfect backdrop for your wedding ceremony. Let's explore some of the most popular options:
Jumby Bay Island Resort is a haven of exclusivity and luxury nestled on a private island. Imagine saying your vows on a secluded white sand beach, surrounded by lush tropical gardens.
The resort offers customizable wedding packages that include expert event planning, exquisite catering, and top-notch amenities for you and your guests. With its unparalleled beauty and attention to detail, Jumby Bay ensures that your wedding day is nothing short of magical.
Galley Bay Resort & Spa, located on the pristine west coast of Antigua, offers an intimate and romantic retreat. Its palm-fringed beach and turquoise waters set the stage for an unforgettable wedding ceremony. The resort provides all-inclusive wedding packages that cover every detail, from decorations to personalized menus.
By choosing Galley Bay, you can rest assured that every aspect of your special day will be handled with care and professionalism, allowing you to focus on creating memories with your loved ones.
Situated on the south coast of the island, Carlisle Bay combines sophistication with natural beauty. The resort features a stunning crescent-shaped beach and luxurious accommodations. Their dedicated wedding planners will assist you in creating a tailor-made celebration, from the ceremony to the reception.
Carlisle Bay's renowned chefs will delight your palate with exquisite culinary creations, ensuring that your wedding feast is a memorable culinary experience for you and your guests.
Perched on a dramatic bluff overlooking the sea, Curtain Bluff provides a breathtaking setting for your beachfront wedding. With its elegant and timeless charm, this resort offers a range of packages tailored to your preferences.
Whether you envision an intimate ceremony on the beach or a grand celebration in their iconic Tamarind Tree, every detail is meticulously taken care of to ensure an unforgettable experience. Curtain Bluff's dedication to excellence and its stunning location make it an idyllic choice for couples seeking a truly magical beach wedding.
Planning Tips and Legal Requirements
Planning a beachfront wedding in Antigua requires careful consideration of legal requirements and logistical details. Here are some essential tips to help you navigate the planning process:
Before getting married in Antigua, research the marriage license requirements. Both partners must be at least 18 years old and provide valid passports or birth certificates. Additionally, a marriage license application must be completed and submitted to the Ministry of Legal Affairs at least two business days prior to the wedding. Familiarize yourself with these requirements to ensure a smooth and hassle-free process.
Engaging a local wedding planner can alleviate stress and ensure a seamless wedding experience. Collaborating with someone who is familiar with the local customs, regulations, and vendors will save you time and effort. A local wedding planner will guide you through the legal requirements, assist with venue selection, coordinate vendors, and handle other logistical aspects. Their expertise will allow you to relax and enjoy your special day without worrying about the details.
Consider the weather and season when planning your Antigua beachfront wedding. Antigua enjoys a tropical climate with warm temperatures year-round. However, it's important to be aware of the peak tourist season and the potential for rainfall during certain months.
Planning your wedding during the drier months (December to April) can increase the chances of ideal weather conditions and minimize the risk of unexpected showers. Keep an eye on the weather forecast leading up to your wedding day to make any necessary adjustments.
Arranging accommodations for your guests is an important consideration. Antigua offers a range of accommodation options, from luxurious resorts to charming boutique hotels. Provide your guests with a list of recommended accommodations at different price points, allowing them to choose based on their preferences and budget. Reserving a block of rooms at your chosen venue can simplify logistics for your guests and ensure that everyone is conveniently located near the wedding festivities.
Wedding Services
Antigua boasts a wide range of wedding services and vendors to enhance your beachfront wedding experience. Here are some key services to consider:
Photography and videography are essential for capturing the precious moments of your special day. Hire a professional photographer and videographer who specialize in beach weddings.
They will understand how to capture the natural beauty and intimate moments unique to Antigua. Look for experienced professionals with a portfolio that resonates with your vision and style. By entrusting your wedding memories to skilled photographers and videographers, you can relive those cherished moments for years to come.
Floral design and decor play a crucial role in transforming your beachfront venue into a magical setting. Work with talented floral designers who can create stunning bouquets, centerpieces, and arches adorned with tropical flowers.
They will help you achieve a romantic ambiance that complements the natural surroundings of Antigua. Share your vision with the floral designers and let their expertise and creativity bring it to life.
Music and entertainment set the tone for your wedding celebration. Consider hiring live musicians or a DJ who can create an atmosphere that resonates with you and your guests. Antigua offers a range of musical options, from local steel drum bands to reggae musicians. Infuse a Caribbean flair into your reception and let the music create a vibrant and joyful atmosphere.
Pamper yourself before the big day with beauty and spa services. Antigua's resorts offer bridal packages that include hairstyling, makeup, and relaxing spa treatments. Indulge in these services to ensure you look and feel your best on your wedding day. Schedule a trial session in advance to discuss your preferences and ensure that the beauty and spa services align with your vision.
Antigua, with its breathtaking beachfront venues and unparalleled natural beauty, is the ideal destination for couples seeking a magical beach wedding experience. From luxurious resorts to expert wedding planners and a range of exceptional services, Antigua offers everything you need to create cherished memories that will last a lifetime. So, pack your bags, exchange your vows on the sandy shores, and let the enchantment of Antigua elevate your dream wedding to new heights.
FAQ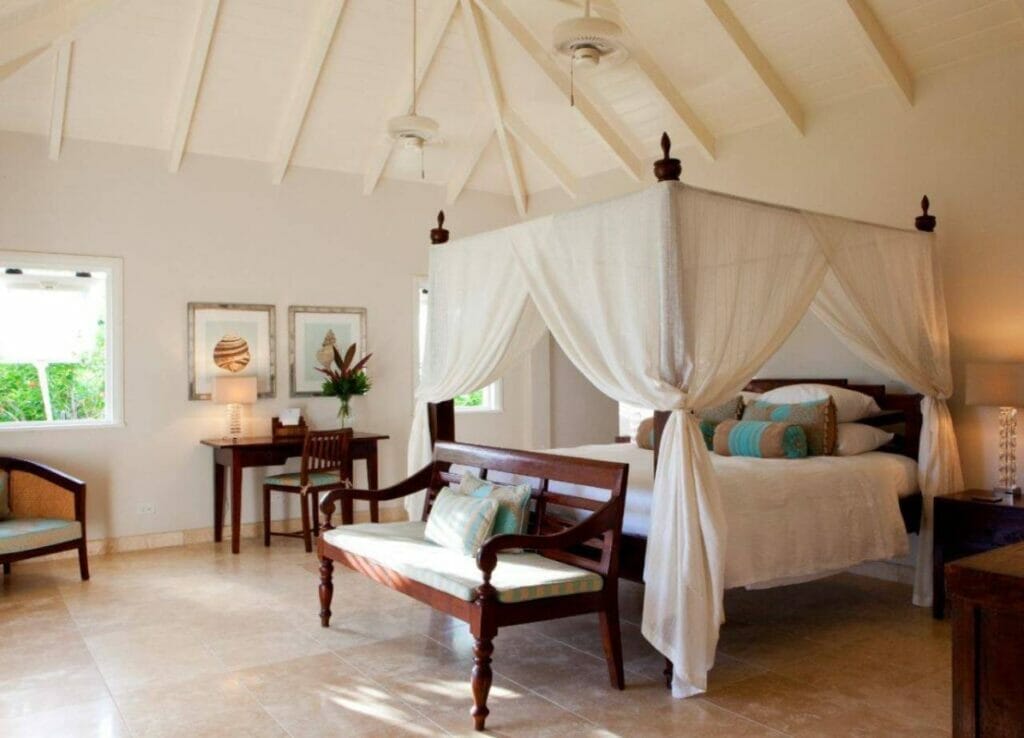 How much does it cost to get married in Antigua?
The cost of getting married in Antigua can vary depending on various factors such as the chosen venue, package inclusions, and additional services. On average, couples can expect to spend between $5,000 and $15,000 for a basic wedding package. However, luxurious options and personalized arrangements can increase the overall cost. It is advisable to consult with wedding planners and venues directly to get accurate pricing information tailored to your specific preferences.
Is Antigua a good place to get married?
Absolutely! Antigua is a fantastic place to get married, offering breathtaking beachfront venues, stunning natural beauty, and a romantic Caribbean ambiance. The island's exclusive resorts provide exceptional wedding packages, expert event planning, and top-notch amenities. With its warm tropical climate and idyllic settings, Antigua ensures a memorable and enchanting wedding experience for couples and their guests.
What is the best month to get married in Antigua?
The best month to get married in Antigua is during the drier months of December to April. This period generally experiences lower rainfall and more favorable weather conditions, providing an increased likelihood of ideal wedding days with minimal risk of unexpected showers. Planning your wedding during these months can enhance the chances of enjoying the island's stunning beaches and natural beauty to the fullest. It's always recommended to monitor the weather forecast leading up to your chosen date for any necessary adjustments.