Antigua Art and Craft Scene: Exploring Local Creativity
Discover the vibrant art and craft scene of Antigua, a hidden gem nestled in lush landscapes. From captivating galleries to bustling market stalls, this Caribbean paradise is a haven for local creativity.
Step into Harmony Hall, where colors and emotions come alive on canvas, showcasing the remarkable talent of Antiguan artists. Explore Fig Tree Studio Art Gallery, a treasure trove of traditional and contemporary creations. Wander through Redcliffe Quay's cobblestone streets, where artisan boutiques offer authentic souvenirs. Immerse yourself in the Antigua and Barbuda Art Gallery, which celebrates the island's rich cultural past.
Don't miss the dynamic art festivals and events that bring the island's art scene to life. Let this personal guide be your ticket to an unforgettable artistic adventure in Antigua.
| Location | Description |
| --- | --- |
| Harmony Hall | A gallery nestled in lush landscapes showcasing local and international artists. Known for its array of art forms, emphasis on local artistry, and interactive sessions with artists. |
| Fig Tree Studio Art Gallery | Located in St. John's, it is an intimate space exhibiting works of Antiguan artists across traditional and contemporary genres. Apart from art exhibitions, the gallery hosts workshops in painting, sculpture, and ceramics led by local artists. |
| Redcliffe Quay | A waterfront district in St. John's, offering artisan boutiques with handcrafted souvenirs. The boutiques provide an insight into Antigua's artistic past, with artists eager to share their work processes and stories. |
| Antigua and Barbuda Art Gallery | Situated in St. John's, this gallery presents a diverse collection of artwork celebrating the island's cultural heritage. It provides a platform for local artists and frequently delves into themes deeply rooted in Antiguan culture. The gallery also conducts workshops, seminars, and other cultural events. |
Harmony Hall: Gallery Exhibitions and Local Artistry
Nestled amidst the lush landscapes of Antigua, Harmony Hall stands as a beacon of artistic expression. This charming gallery showcases a plethora of captivating exhibitions that highlight both local and international artists.
When you enter the gallery, you are welcomed by a kaleidoscope of colors, textures, and emotions depicted on canvas. From abstract masterpieces to thought-provoking sculptures, Harmony Hall curates a diverse range of artwork that captivates visitors and celebrates the essence of Antiguan creativity.
One of the notable features of Harmony Hall is its emphasis on local artistry. The gallery proudly supports and promotes Antiguan artists, providing them with a platform to showcase their talents to a wider audience.
From intricate woodcarvings to vibrant paintings depicting island life, the gallery serves as a testament to the remarkable artistic prowess of the local community. Visitors may not only view the artwork but also interact with the artists, acquiring a better knowledge of the ideas behind their masterpieces.
Fig Tree Studio Art Gallery: Showcasing Antiguan Artists
Located in the center of St. John's, Fig Tree Studio Art Gallery is a hidden gem that art enthusiasts won't want to miss. This intimate gallery space showcases the works of talented Antiguan artists, offering a glimpse into the soul of the island's vibrant art scene. As you go around the gallery, you'll come across a wide range of creative genres, from traditional landscapes to modern mixed-media works.
Fig Tree Studio Art Gallery is more than just a space for displaying art; it is a hub for creativity and collaboration. The gallery frequently hosts workshops, allowing visitors to engage in hands-on artistic experiences led by local artists. 
These classes, whether in painting, sculpture, or ceramics, provide a unique opportunity to delve into your own creative energy while learning from Antiguan art experts.
Redcliffe Quay: Handcrafted Souvenirs and Artisan Boutiques
Located in the heart of St. John's, Redcliffe Quay is a charming waterfront district that not only boasts picturesque views but also serves as a haven for art and craft enthusiasts. The bright stores and vivid market booths providing a choice of homemade items will tempt you as you walk through the cobblestone alleyways.
From intricately woven baskets to delicate pottery, Redcliffe Quay is a treasure trove of locally made treasures.
One of the highlights of Redcliffe Quay is the abundance of artisan boutiques that line the streets. Here, you'll discover a wide variety of art and craft, each with a unique history. Redcliffe Quay's stores provide a genuine window into Antigua's artistic past, whether you're looking for a one-of-a-kind painting to hang on your walls or a hand-carved wooden sculpture to bring home. 
Don't forget to interact with the artists themselves, who are always eager to reveal the tales and procedures that go into their work.
Antigua and Barbuda Art Gallery: Celebrating Local Art and Culture
For anybody interested in Antigua's artistic community, a visit to the Antigua and Barbuda Art Gallery is a must. Situated in the capital city of St. John's, this esteemed gallery showcases a diverse collection of artwork that celebrates the island's rich cultural heritage. From traditional paintings and sculptures to contemporary installations, the gallery offers a comprehensive exploration of Antiguan artistic expression.
The Antigua and Barbuda Art Gallery allows established and emerging local artists to exhibit their work and interact with a bigger audience. 
The Antigua and Barbuda Art Gallery also offers workshops, seminars, and other cultural events to broaden the audience's exposure to art. Visitors may better appreciate the artistic process and the cultural relevance of the artworks thanks to these interactive activities.
This exhibition will take you on a fascinating tour through the island's cultural history, whether you're an art enthusiast or just curious about Antigua's creative culture.
Local Art Festivals and Events: Celebrating Creativity in Antigua
Antigua thrives as a hub of artistic expression, where local art festivals and events create a vibrant tapestry of creativity. The Annual Antigua Artist's Exhibition stands out as a highly anticipated gathering of local artists who showcase their diverse works across various mediums.
This enthralling exhibition provides visitors with a visual feast, immersing them in a world of vivid hues, complex details, and thought-provoking notions. It is an opportunity to witness the dynamic energy of Antigua's art scene and engage with the talented creators behind the masterpieces.
Apart from the Annual Antigua Artist's Exhibition, the island hosts a variety of art festivals and events throughout the year, each having its own particular flavor. A multi-day festival of creation, Antigua Art Week draws artists, collectors, and art enthusiasts from all over the world.
This event presents art exhibitions, live demonstrations, workshops, and interactive experiences that immerse participants in the captivating world of Antiguan art. It fosters connections among local and international artists, serving as a catalyst for artistic exchange while showcasing Antigua as a vibrant cultural destination.
Another remarkable event that shines a spotlight on the artistic talent of the island is the Antigua and Barbuda Independence Festival. This month-long celebration of Antigua's independence features art exhibitions, street performances, live music, and theatrical displays.
The festival honors the nation's cultural legacy while also providing a stage for artists to express their originality and display a wide range of artistic mediums. From traditional art forms rooted in Antiguan heritage to contemporary innovations, the Independence Festival highlights the evolution and resilience of the island's art scene, inviting visitors to revel in the infectious spirit of celebration.
Prominent Antiguan Artists: Masters of Creativity
Antigua is home to a profusion of exceptional artists who have made substantial contributions to the island's art sector. One such artist is Jan Farara, whose vibrant paintings capture the essence of Antiguan landscapes and culture. His use of bold colors and expressive brushstrokes brings the scenes to life, immersing viewers in the island's beauty.
Another notable artist is Gilly Gobinet, renowned for her intricate ceramic sculptures inspired by the rich flora and fauna of Antigua. Through their unique artistic styles and captivating works, these prominent Antiguan artists contribute to the preservation of the island's artistic heritage and inspire future generations of creatives.
Emerging Art Movements and Contemporary Expressions: Pushing Boundaries
Antigua's art scene is not confined to traditional forms; it is also marked by emerging art movements and contemporary expressions that challenge norms and push boundaries. Young artists like Rafael Superville and Maya Cozier are at the forefront of this artistic evolution, exploring new mediums and addressing pressing social and environmental issues through their creations.
Superville's thought-provoking installations and Cozier's experimental multimedia works engage audiences in critical conversations about identity, inequality, and sustainability. These emerging art movements and contemporary expressions breathe fresh life into Antigua's art scene, reflecting the evolving perspectives and concerns of the island's younger generation.
FAQ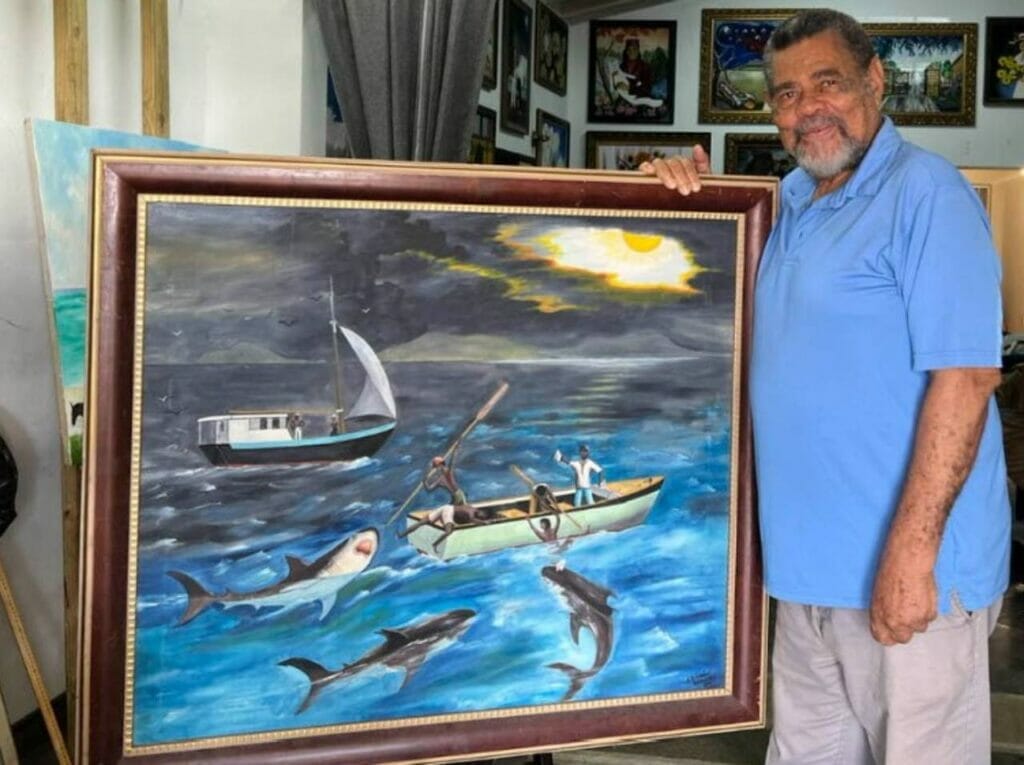 What do the arts entail in Antigua and Barbuda?
The arts of Antigua and Barbuda include a variety of artistic mediums, such as performing arts, visual arts, literature, and music. Local artists showcase their talents through vibrant paintings, intricate sculptures, and traditional crafts, reflecting the rich cultural heritage of the islands. These artistic endeavors serve as a testament to the creativity and artistic prowess of the Antiguan and Barbudan people.
What is Antigua known for?
Antigua is a popular beach and water sports destination because of its gorgeous beaches, azure waters, and beautiful coral reefs. The Caribbean island of Antigua is widely recognized for its strong nautical heritage, which includes hosting renowned sailing competitions like Antigua Sailing Week. The island's colorful culture, welcoming people, and exciting festivals further add to its appeal as a fascinating travel destination.
What is Antigua culture?
The culture of Antigua is a colorful blend of African, European, and indigenous elements. The cultural legacy of the island is commemorated via a variety of art forms, music, dance, and culinary traditions. The Antiguan culture embraces vibrant festivals like Carnival, where colorful costumes, calypso music, and rhythmic dancing take center stage. It is a culture that values community, storytelling, and the preservation of ancestral traditions, creating a unique and captivating identity for Antigua.