A Guide to the Annual Antigua Sailing Week Regatta
Get ready to set sail on an unforgettable adventure as we explore the captivating world of Antigua's Annual Sailing Week Regatta. Steeped in history and pulsating with maritime traditions, this premier Caribbean event has evolved from humble beginnings to a global phenomenon.
From thrilling races on the turquoise waters to savoring mouthwatering local cuisine and dancing to the infectious beats of Caribbean music, Antigua Sailing Week promises an extraordinary experience that will leave you with cherished memories and a deep connection to this nautical paradise.
Join me as we delve into the heart of Antigua's seafaring heritage, discover the exhilarating racing classes and competitions, and immerse ourselves in the vibrant onshore events and parties that celebrate the spirit of sailing excellence.
History of Antigua Sailing Week
Antigua Sailing Week, with its remarkable history, has become a cornerstone of the Caribbean's sailing landscape. The debut year of the regatta in 1968 marked the start of a long-standing custom that has only gotten stronger over time. What started as a modest gathering of passionate sailors has blossomed into an internationally acclaimed event, attracting participants from far and wide.
The significance of Antigua Sailing Week goes beyond its annual occurrence. It has a strong historical connection to the island's seafaring past. Due to its advantageous position and many natural harbors, Antigua has long been a haven for mariners. The island's inhabitants have relied on the sea for trade, exploration, and sustenance, forging a deep connection between Antigua and the art of sailing.
Antigua Sailing Week serves as a testament to this enduring relationship between the island and the sea. It embraces and showcases the maritime traditions that have shaped the local culture. The regatta has become an annual celebration, where sailors and sailing enthusiasts converge to honor the island's nautical legacy and revel in the joy of sailing.
Throughout its history, Antigua Sailing Week has experienced remarkable growth in popularity and prestige. Today, it stands as a premier event in the sailing community, renowned for its competitive racing, breathtaking scenery, and warm hospitality. Sailors of all skill levels, from seasoned professionals to passionate amateurs, eagerly anticipate this regatta as a pinnacle of their sailing calendar.
The allure of Antigua Sailing Week extends far beyond its shores. People from all over the globe come to Antigua to take in the spectacle, enjoy the lively atmosphere, and see the competing sailors' extraordinary talent and artistry. It is a spectacle that enthralls both competitors and spectators, creating enduring memories and developing an international feeling of togetherness.
Antigua Sailing Week stands as a testament to the enduring legacy of sailing and the island's commitment to celebrating the sport. This exceptional race solidifies its status as one of the most esteemed and cherished sailing events in the Caribbean with each passing year, leaving an enduring impression on all who take part.
Racing Classes and Competitions
Antigua Sailing Week offers a range of racing classes and competitions to suit sailors of different skill levels and boat types. From sleek and speedy racing yachts to classic and elegant cruising boats, there is something for everyone in this regatta.
Several other classes are available in the competition, including the very contested CSA Racing Division, which draws professional racers from all over the world. The One Design Classes, such as the fast-paced J/24 and the exhilarating Melges 24, provide exciting racing opportunities for those looking for a more level playing field.
For those who prefer a more relaxed experience, the Bareboat Class offers the chance to charter a boat and compete against other vacationing sailors. This class combines friendly competition with the opportunity to explore the stunning coastline of Antigua.
Onshore Events and Parties: Celebrating Sailing Excellence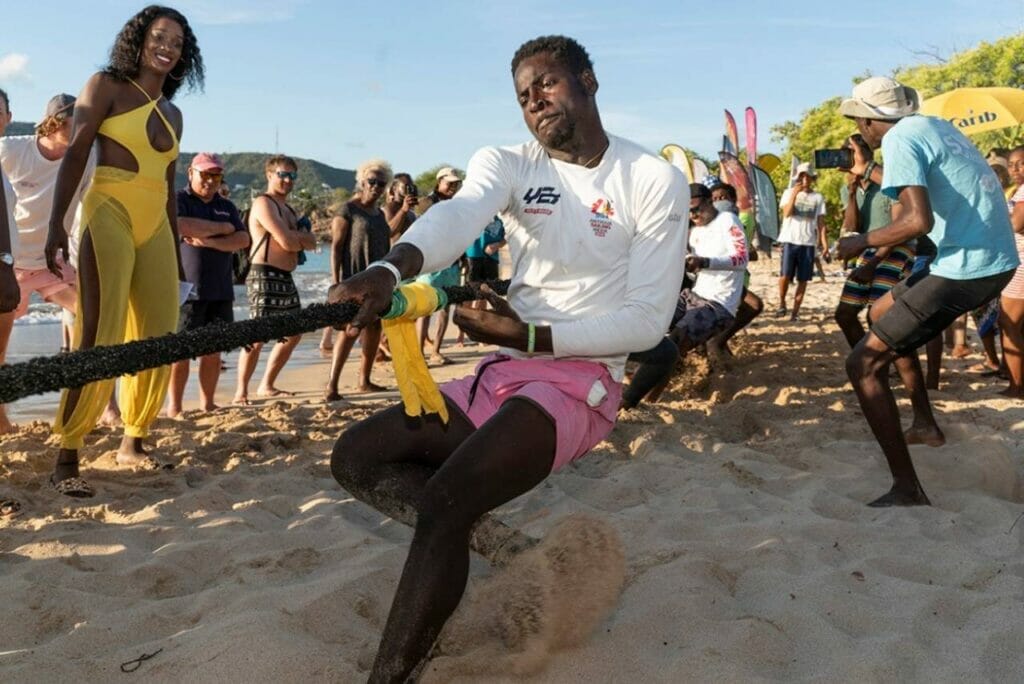 Beyond the thrilling on-water action, Antigua Sailing Week is equally renowned for its vibrant onshore events and parties. Antigua's coasts come alive with celebrations as the sun sets over the horizon, fostering an atmosphere of joy and celebration.
Attendees can take part in a variety of social gatherings, live musical performances, and cultural activities during the course of the week. The regatta's official opening and closing parties bookend the excitement of the races with energy and excitement. These events bring together sailors, locals, and visitors, providing a perfect opportunity to unwind and revel in the accomplishments of the week.
Antigua's renowned hospitality shines during Sailing Week as the island embraces visitors with open arms. Indulge in the mouthwatering flavors of local cuisine, ranging from succulent grilled seafood to tantalizing Caribbean specialties.
Sip on tropical cocktails crafted with fresh fruits and enjoy the warm Caribbean breeze as you mingle with fellow sailing enthusiasts. From beachside barbecues to elegant gala dinners, there is no shortage of options to satisfy your appetite for fun and celebration.
The pulsating rhythms of Caribbean music will beckon you to hit the dance floor and let loose. The nights are alive with the beats of soca, reggae, and calypso, providing the perfect soundtrack for an unforgettable party.
Local bands and internationally acclaimed artists take the stage, filling the air with infectious melodies and irresistible grooves. Whether you prefer swaying to the music or showcasing your best dance moves, the onshore events of Antigua Sailing Week guarantee an electric and vibrant atmosphere.
In addition to the lively parties, Antigua Sailing Week offers a range of cultural activities that showcase the island's unique heritage. Explore regional markets bursting with colorful handicrafts, spices, and fresh vegetables to immerse yourself in Antigua's lively culture. 
Visit historical sites that tell the tales of the island's rich past, from colonial architecture to naval landmarks. Engage with the local community and learn about their customs, from traditional dances to storytelling sessions that evoke the spirit of the island.
The fusion of sailing excellence and cultural immersion creates an experience that extends beyond the races themselves. Explore regional markets bursting with colorful handicrafts, spices, and fresh vegetables to immerse yourself in Antigua's lively culture. Whether you're a sailor or a spectator, the vibrant onshore events and parties offer an unforgettable journey of celebration, camaraderie, and discovery.
FAQ
When is the ideal season for sailing in Antigua?
In Antigua, the dry season, which normally lasts from December to April, is the ideal time to go sailing. This period offers consistently pleasant weather with warm temperatures, steady trade winds, and low chances of rainfall. These ideal sailing conditions make it the prime season for enjoying the azure waters and exploring Antigua's picturesque coastline.
What is the history of Antigua Sailing Week?
Antigua Sailing Week holds a remarkable history that spans over five decadesSince its founding in 1968, the regatta has grown to become one of the most prominent sailing competitions in the Caribbean.It originated as a small gathering of passionate sailors and has grown into an internationally acclaimed regatta that attracts participants from around the world. This event This occasion demonstrates Antigua's rich maritime past and the island nation's everlasting connection to the water.
Is Antigua good for sailing?
Antigua is renowned as an exceptional destination for sailing. Its strategic location in the Caribbean and natural harbors make it an ideal haven for sailors of all skill levels. The island's warm tropical climate, consistent trade winds, and crystal-clear waters create perfect conditions for sailing enthusiasts. Antigua provides a wide variety of sailing activities, from competitive racing to leisurely cruising, offering an exciting voyage on the high seas whether you are an experienced sailor or a novice.