Anguilla Vs. Turks And Caicos
Thinking of vacationing in the Caribbean but torn between Anguilla and Turks and Caicos? Look no further! In this travel guide, we'll explore the unique features of both destinations and help you make an informed decision.
The main difference between Anguilla and Turks and Caicos lies in their geographical locations and overall atmosphere. Anguilla is a tranquil and exclusive island known for its pristine beaches, luxurious resorts, and a focus on relaxation. Turks and Caicos is a diverse archipelago with a wider range of activities, including world-class diving and water sports, making it a popular choice for adventure seekers.
Travelers seeking a serene, upscale experience may prefer Anguilla, while those looking for more diverse activities may lean towards Turks and Caicos.
| Aspect | Anguilla | Turks and Caicos |
| --- | --- | --- |
| Cost Range for 1 Week | $1,075 – $5,298 (source) | $992 – $4,556 (source) |
| Location | Located in the Caribbean Sea | Located in the Caribbean Sea |
| Geography | Flat coral island with low-lying terrain | Consists of two island groups and numerous cays |
| Language | English | English |
| Government | British Overseas Territory | British Overseas Territory |
| Currency | Eastern Caribbean dollar (XCD) | United States dollar (USD) |
| Tourism | Popular for luxury tourism | Popular for luxury tourism and scuba diving |
| Economy | Reliant on tourism and offshore finance | Reliant on tourism and offshore finance |
So pack your bags, grab your sunscreen, and get ready for an unforgettable Caribbean adventure!
Landmarks and Landscapes
Hello, fellow adventure seekers! Are you daydreaming about the shimmering turquoise waters of the Caribbean, but find yourself torn between the Turks and Caicos Islands or the serene isle of Anguilla? Allow me to guide you through the striking landscapes and rich history of these two heavenly destinations.
First, let's sail to Turks and Caicos! Imagine being ensconced by powdery white sands, rhythmic swaying of palm fronds, and some of Earth's most breathtaking diving hotspots. This enchanting British Overseas Territory comprises of a whopping 40 islands and cays, each glistening with its distinct charm. If you're bringing along your family, they'll absolutely adore discovering marine life and splashing around in the gentle waves.
For couples, nothing beats a tender walk beneath the crimson hues of the setting sun. Thrill-seekers will have their heart racing exploring the colorful coral reefs or mastering the art of kiteboarding. Let's not forget the luxurious resorts that Turks and Caicos is famous for, offering an oasis of calm and comfort for those seeking some well-deserved pampering.
In contrast, we have the petite yet powerful Anguilla, famed for its pristine beauty and tranquillity. If a serene escape with your partner is what you seek, Anguilla is your paradise. With fewer visitors and more private beaches, it offers an unparalleled sense of exclusivity.
For the budget-conscious travelers, a selection of delightful guesthouses and pocket-friendly restaurants serving delectable Caribbean cuisine awaits. History enthusiasts will find Anguilla's past as a British colony, reflected in its architectural styles and cultural heritage, utterly captivating.
Although both Turks and Caicos and Anguilla are steeped in colonial history, they exude distinct charm. Turks and Caicos, once a sanctuary for swashbuckling pirates, is now a contemporary tropical haven. Conversely, Anguilla's legacy of revolution and independence adds a touch of authentic resilience to its charm. No matter what you choose, both islands promise a magical experience.
So, whether you're a family in search of sunshine-filled fun, a couple longing for quiet moments together, an adrenaline junkie craving excitement, or a traveler watching your wallet, both Turks and Caicos and Anguilla extend a warm welcome.
Deciding Your Dream Beach Escape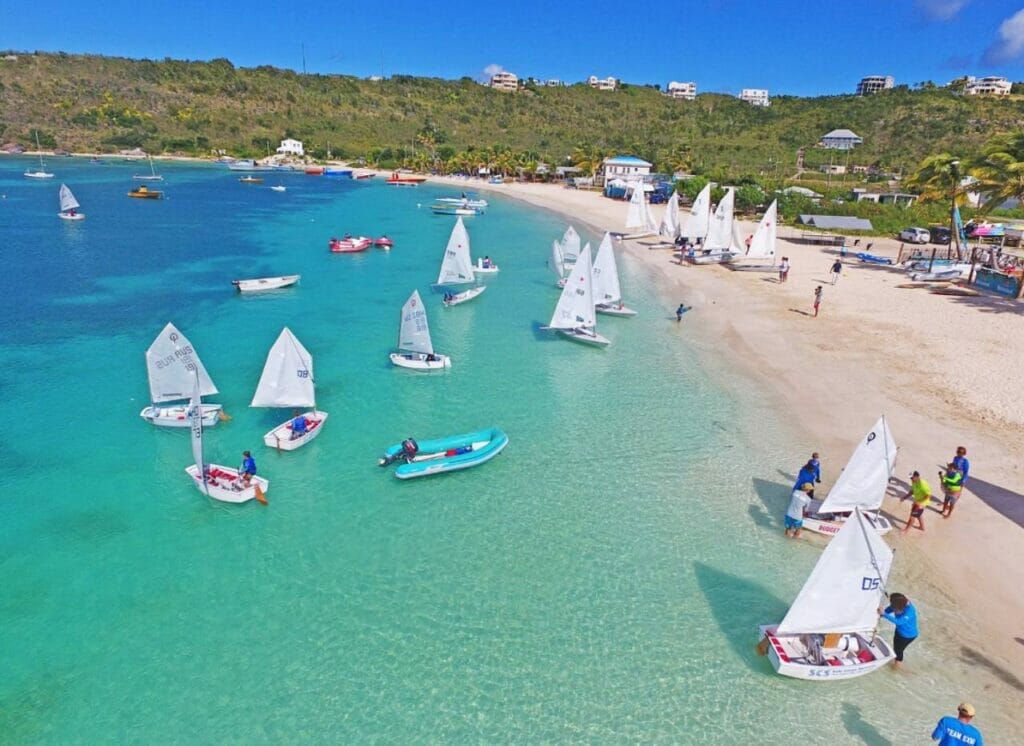 Can you almost hear the lapping waves and feel the soft sand beneath your toes? If your heart is yearning for a breathtaking beach vacation, let me introduce you to two Caribbean beauties that are simply irresistible – Turks and Caicos and Anguilla. Picture this: your feet sinking into velvety white sand, the shimmering turquoise waters stretching into infinity, and the soothing rhythm of the sea inviting you for a refreshing dip. Each island radiates its own unique allure, guaranteeing a slice of beach paradise for every type of traveler.
For those family vacations filled with sunshine and laughter, Turks and Caicos is a match made in heaven. Grace Bay Beach, gracing the main island of Providenciales, is regularly named among the world's most stunning beaches. With its gentle waters and shallow slope, it's a kids' paradise, perfect for playful splashing and sandcastle building.
For the adventurous ones, there's a world of vibrant marine life hiding beneath the surface. Over in Anguilla, the family-friendly Shoal Bay East is ready to welcome you. Picture building sandcastles, engaging in friendly beach games, and the possibility of spotting playful dolphins frolicking offshore. With its calm, shallow waters, you can relax and watch your little ones have the time of their lives.
Seeking a romantic escape? Both islands have you covered. Turks and Caicos exude a sense of tranquil intimacy, with hidden treasures like Malcolm's Road Beach or Leeward Beach offering a private retreat. Picture a romantic walk along the shoreline, hand in hand, as the setting sun paints the sky in shades of pink and orange.
Over in Anguilla, the enchanting coves and breath-taking sunsets promise moments to cherish. At Rendezvous Bay, snuggle up with your loved one under a blanket of twinkling stars, with the symphony of the waves as your background music.
For the adventurers out there, both island getaways serve up a generous helping of thrills. Turks and Caicos boast an underwater wonderland that's a dream come true for scuba divers and snorkelers, teeming with vibrant coral reefs and diverse marine life. For a surge of adrenaline, try paddleboarding, kiteboarding or jet skiing.
Anguilla matches the adventurous spirit with its own aquatic offerings. Test your snorkeling skills at Shoal Bay East and Meads Bay, or ride the winds with some windsurfing. If you're eager to uncover the island's secrets, why not embark on a boat tour?
Both Turks and Caicos and Anguilla are eager to cater to your vacation dreams, whether you're seeking affordability or the ultimate luxury. Turks and Caicos offer a variety of accommodations, ranging from family-friendly resorts to quaint boutique hotels, allowing you to tailor your holiday to your budget. If luxury is what you're after, Anguilla delivers with some of the Caribbean's most opulent beachfront resorts, offering private villas, upscale amenities, and world-class dining experiences.
Top Activities and Attractions
Turks and Caicos, with its mesmerizing coral reefs, is an absolute dream for water enthusiasts like us. Picture yourself snorkeling or scuba diving, surrounded by a kaleidoscope of colorful fish and graceful sea turtles – it's an experience like no other! And hey, if you're traveling with family, Grace Bay Beach is your go-to spot for building sandcastles and making unforgettable memories together.
If luxury is your thing, treat yourself to a day of pampering at one of the island's world-class resorts – you deserve it! And for the thrill-seekers in the house, trust me, kiteboarding and paddleboarding here are absolutely exhilarating!
Now, let's talk about Anguilla – a true hidden gem that'll steal your heart with its laid-back charm and pristine beaches. Walking hand in hand with your loved ones along the secluded coves of Shoal Bay or Meads Bay is pure bliss. And if you're looking to spark some romance, this island is the perfect destination for a getaway for two. Want a bit of adventure? Let's go hiking through the rugged terrain of Katouche Bay or exploring the mysterious Fountain Cavern National Park – it'll be like stepping into a real-life adventure movie!
But don't worry about breaking the bank, my friend. Both destinations have plenty of free or affordable activities that'll keep you smiling without emptying your wallet. We can soak in the breathtaking views at Turks and Caicos' Chalk Sound National Park, where the beauty comes at no cost. And there are some great budget-friendly snorkeling tours around the island that won't burn a hole in your pocket. For a dose of excitement without splurging, let's head to Anguilla's Little Bay – a hidden gem with crystal-clear waters and a thrilling cliff jump to get your adrenaline pumping!
So, whether you're looking to relax and unwind, go on exciting adventures, or savor delicious culinary delights, Turks and Caicos and Anguilla have got you covered.
Finding your home in paradise
In Anguilla, families can find their perfect home away from home at Sheriva Villas. With spacious and luxurious villas that can accommodate the whole gang, you'll have ample space to relax, play, and create everlasting memories. Meanwhile, couples can ignite their romance at the Aurora Anguilla Resort & Golf Club. Imagine waking up to breathtaking views of the Caribbean Sea and spending dreamy evenings stargazing hand-in-hand on the beach. It's pure magic!
For the thrill-seekers out there, Anguilla's Carimar Beach Club is an ideal pick. With its prime beachfront location, you can indulge in exhilarating water sports, snorkeling adventures, and explore the vibrant marine life. Budget travelers need not worry, as Anguilla offers pocket-friendly options like Carimar Beach Club, where you can enjoy beachfront bliss without breaking the bank.
Now, let's hop over to Turks and Caicos, where Sibonné Beach Hotel awaits families with open arms. Located right on Grace Bay Beach, this cozy hotel provides the perfect playground for kids and adults alike. Couples can experience pure bliss at the Seven Stars Resort and Spa, where you'll be pampered like royalty amidst the turquoise waters and lush gardens. Sunset strolls along the beach are a must!
Calling all adventure enthusiasts! Turks and Caicos offers an unforgettable experience at the West Bay Club. Dive into thrilling underwater escapades, explore shipwrecks, and immerse yourself in the wonders of the deep blue. And don't worry about your budget, because Turks and Caicos has Sibonné Beach Hotel, a comfortable and affordable option that still delivers an unforgettable island experience.
So, whether you're traveling with family, seeking a romantic escapade, craving adventure, or managing your budget without compromising on luxury, both Turks and Caicos and Anguilla have a perfect accommodation option just for you.
best car rental company for you
Anguilla is all about that chill, island life, where life's pace slows down to a delightful crawl. Here, navigating is as smooth as the island's signature rum punch with a variety of dependable car rentals at your disposal, like Andy's Auto Rentals, Bryans Car Rentals, and Junie's Car Rental.
They've got everything from nifty little compacts to roomy SUVs, just right for your beach-hopping escapades and to uncover hidden treasures. Plus, driving on Anguilla is a delight, with its sparse traffic and well-kept roads, making it a great choice for families looking to explore at their own leisurely pace.
On the flip side, the tropical jewel of Turks and Caicos offers a broader spectrum of transportation services to match all kinds of travel styles. For those who relish comfort and luxury, services like Sixt Car Rental and Grace Bay Car Rentals have a fleet of top-tier vehicles that'll turn your vacation up a notch. If you're of the adventurous ilk, Scott's Car Rental & Sales has rugged rides ready for your off-the-beaten-path expeditions on the islands.
There's something for every pocket in both places. If you're careful about your pennies, Anguilla's car rentals tend to be more wallet-friendly, leaving you more to splurge on mouthwatering meals and exhilarating activities. If you're in the mood to splurge, Turks and Caicos has a medley of car rentals with high-end, feature-loaded vehicles for a superlative road experience.
Be you a family, a couple, an adrenaline junkie, or any type of traveler, you're sure to discover the perfect ride to make your vacation unforgettable and absolutely effortless. So, pack those bags, rev up those engines, and get set for the vacation you've always dreamed of!
ultimate Dining Experience
Ready to explore a paradise that's all about scrumptious food and breathtaking island views? Well, grab your fork and knife, and let me introduce you to the tropical heavens of Turks and Caicos and Anguilla.
Traveling with the kiddos or on the lookout for something the whole family can enjoy? Then Anguilla is your go-to. Imagine, you're at Ocean Echo, a cool spot with something for everyone on the menu. And the icing on the cake? You'll be relishing your meal with the relaxing soundtrack of waves whispering to the shore, making memories that'll be etched in your heart forever.
Want to switch gears for an alluring dining experience? Swing by Veya Restaurant. With its Caribbean charm and an exotic blend of dishes like the signature fish stew and tantalizing lobster tempura, you'll be utterly bewitched. And for a laid-back meal by the beach, Straw Hat Restaurant is a real treat, serving yummy seafood and the freshest sea breeze.
Make sure to drop by Mango Reef Restaurant & Bar. It's got a cool range of yummy dishes from fresh-off-the-boat seafood to hearty Caribbean delights. Plus, it's relaxed atmosphere and stunning waterfront view are just the relaxation you need after a day full of island escapades.
Feeling a bit fancy? Bay Bistro is your answer. With their innovative take on food and unique tropical charm, it's the ideal spot for a romantic dinner or a feast with family. And for the fine dining aficionados, Coyaba Restaurant won't disappoint. Their creative fusion of Caribbean and international flavors, topped with impeccable service, promises to take your dining experience up a notch.
Whether you're watching your pennies or ready to splurge, both Turks and Caicos and Anguilla have your foodie dreams covered. Each island carries its own charm – Anguilla with its family-centric vibe and Turks and Caicos with its vibrant fusion of flavors.
dance and drink the night away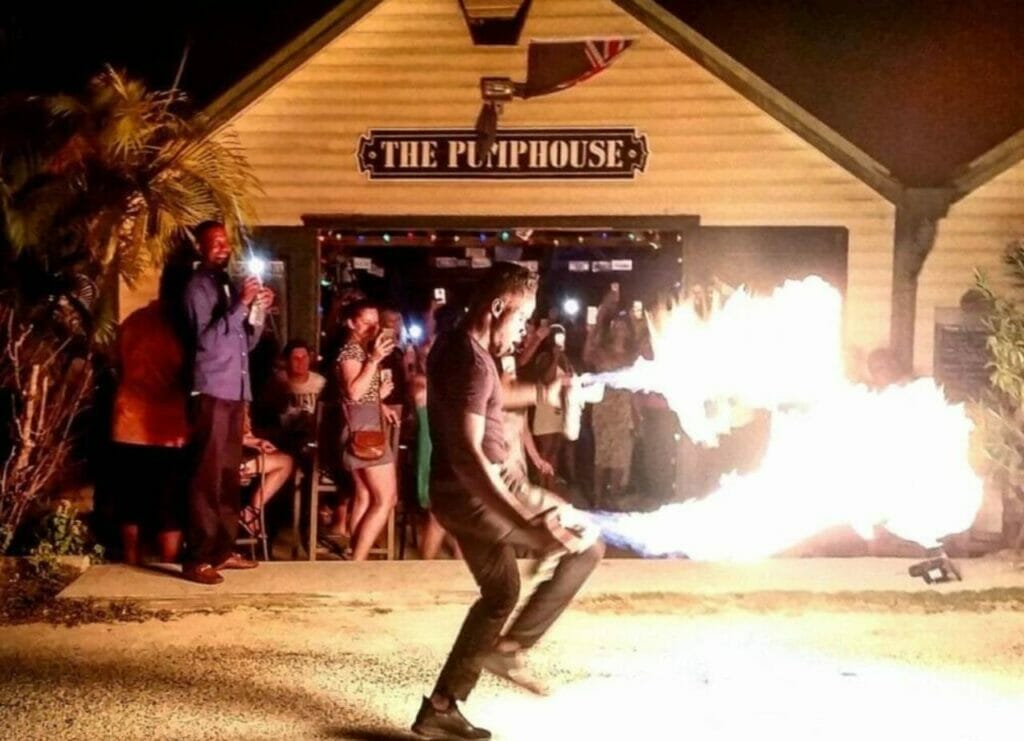 Let's start with Anguilla. Imagine yourself immersing in the cool and relaxed vibe of the island with a mix of lively fun. Picture this: you're chilling out at Gwen's Reggae Bar and Grill, moving gently to the beat of reggae music as you feast on tantalizing local cuisines.
How about a bit of soul-stirring experience? You can't miss a visit to Bankie Banx's Dune Preserve. This is not just any beach bar. Here, you'll find yourself swaying to live music, being captivated by magical bonfire nights, and even rubbing elbows with the legendary Bankie Banx himself! Want to up the ante on the fun? The Dip N Strip has you covered. Dance your heart out and create unforgettable moments in this lively haven!
Now, let's hop over to Turks and Caicos. This island offers its own exciting array of nightlife experiences that will keep you coming back for more. Fancy a bit of luxury? Blu Bar & Lounge has your name written all over it. Imagine sipping sophisticated cocktails while being mesmerized by jaw-dropping ocean vistas. If you prefer a more laid-back setting, make a beeline for The Office Bar & Lounge.
This charming spot on the beach offers a casual atmosphere, perfect for connecting with fellow travelers or simply soaking in the peaceful surroundings. For a taste of local culture and a fusion of flavors, head over to 809 TERRACE TCI. Here, you'll find a delightful blend of Caribbean and international gastronomy, live music, and a friendly vibe that'll make you feel right at home.
Anguilla Vs. Turks And Caicos FAQ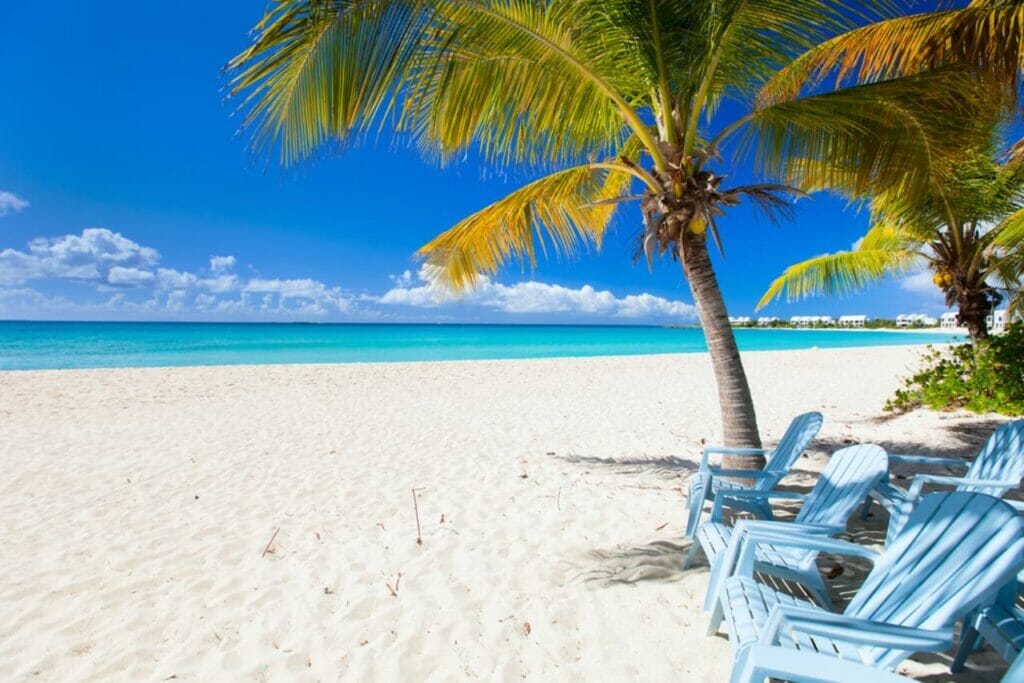 Which is better, Turks and Caicos or Anguilla?
Turks and Caicos and Anguilla are both stunning Caribbean destinations, each with its own unique charm. The "better" choice depends on individual preferences. While Anguilla boasts unspoiled beaches and a laid-back vibe, Turks and Caicos offers a wider range of water activities and a bustling tourism scene. Both destinations have luxurious resorts and excellent snorkeling opportunities. Ultimately, the decision comes down to whether you prioritize serene tranquility or a livelier atmosphere.
What is the prettiest island in Turks and Caicos?
Among the islands of Turks and Caicos, Providenciales (often called Provo) is widely regarded as the prettiest. Provo is famous for its breathtaking Grace Bay Beach, consistently ranked among the world's best beaches with its powdery white sand and turquoise waters. The island also offers a range of upscale resorts, delicious dining options, and abundant water activities, making it a top choice for travelers seeking natural beauty and luxurious experiences.
Why is Turks and Caicos so popular?
Turks and Caicos has gained popularity due to its unparalleled natural beauty and pristine beaches. The islands are renowned for their crystal-clear turquoise waters, vibrant coral reefs, and powdery white sand beaches. Visitors flock to Turks and Caicos for world-class snorkeling and diving opportunities, where they can explore diverse marine life and stunning underwater ecosystems. The destination's luxury resorts, upscale dining options, and exclusive ambiance have also contributed to its popularity among discerning travelers seeking a refined Caribbean experience.