9 Best Honolulu Hotels for Families
Finding the best hotel is essential when vacationing, but it's especially important when traveling with children. While Hawaii is a beautiful tropical place to take the family on a trip, you need to make sure that your hotel is suited to your family's needs. So, what are the best family-friendly hotels in Honolulu?
The best Honolulu hotels for families are Prince Waikiki, Queen Kapiolani, and The Hyatt Regency Resort. Each of these hotels offers a high-end family-friendly experience. Plus, they are located centrally to Honolulu, where many fun city attractions like the zoo are located. 
In the rest of this article, I will discuss the best family-friendly hotels in Honolulu and what each of them offers. Read on if you would like to learn more about these great hotels and how your family will enjoy them!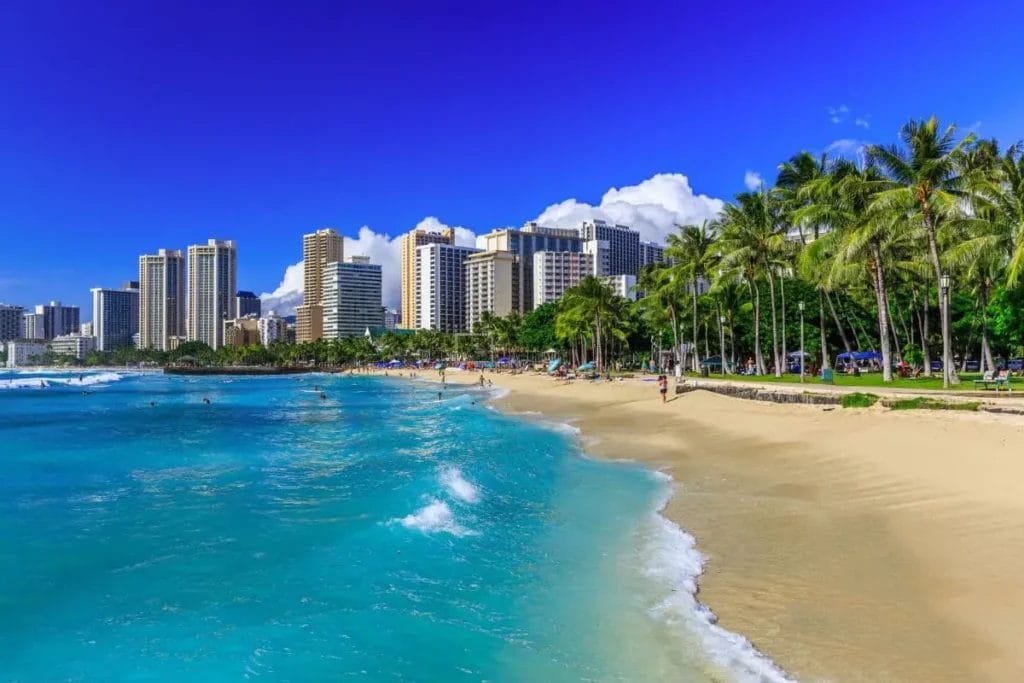 1. Prince Waikiki
The Prince Waikiki hotel is a fantastic option if you're looking for a luxurious stay for you and your children. This high-end hotel prides itself on being family-friendly and offers ocean view rooms overlooking a neatly arranged boat harbor. Additionally, they have large pools that are perfect for entertaining children and a few on-site restaurants for the whole family to enjoy.
This hotel is also great if you're looking for a place central to your activities. The Prince is a little over a 5-minute walk from awesome activities like the community center and shopping complexes. Plus, they have an on-site golf course and offer child care services for parents who need a night out.
If you have a furry friend you're looking to bring along, The Prince is also pet friendly for a small fee. Additionally, the layout of the hotel is large and spacious for families of any size.
Amenities include:
Large in-room safe
Mini refrigerator
Fitness center
Library
Guest computers
Resort shops
Bike and electric scooter rentals
Art gallery
Workshops and activities
Shuttle service to Waikiki
This hotel also has an awesome activities calendar where you can check in to see what's happening during your stay. The Prince offers various events such as live music and Cocokealohi Workshops (hat weaving). Each week presents new activities, so you should regularly consult the calendar to see the latest entertainment options at your hotel.
2. Queen Kapiolani Hotel
Another fantastic option if you're traveling with children is the Queen Kapiolani Hotel. This establishment offers stunning views of the nearby volcano and the ocean. Additionally, this hotel offers a slew of activities like lei-making and surfing lessons.
The Queen is a classy establishment with a beautiful pool and a nearby beach for sand castle building. The overall aesthetic of the hotel is tropical paradise and the decor gives off an air of relaxation.
There are two restaurants on the property, a coffee shop, and a restaurant called the Deck. This restaurant offers a breathtaking view of the island as you and your family enjoy a delicious meal and sample other sweet or savory creations.
This hotel is also pet-friendly if you want to travel with your pup. Also, this hotel is central to most Honolulu activities, making it ideal for exploring the city.
Amenities include:
In-room safe
Kitchenette
Room service
Laundry and dry cleaning service
Fitness center
Waikiki Shops
Royal club lounge
Yoga classes
Run club
So, if you're looking for a hotel in a great location with plenty of family-friendly activities, Queen Kapiolani Hotel is perfect. They do a great job facilitating island excursions and other adventures you can book at the front desk.
3. The Hyatt Regency Waikiki Resort & Spa
The next option is The Hyatt Regency Resort. This resort is perfect if you want a relaxing time with your children and a location that will be central to Honolulu's city attractions. This resort is also a short way from the Diamond Head Crater and the Honolulu zoo, a must-see attraction for the young.
Many of the resort's rooms overlook the green-blue ocean and are a short walk to the palm-covered sand beach. Additionally, they offer family rooms that include a king-size bed and couch that can fold out for your children or suites with two queen-sized beds.
Amenities include:
Large in-room safe
Baby crib upon request
Mini refrigerator
A large pool overlooking the ocean
Ukulele classes
Lei making classes
Surf lessons
Hawaiian culture class
A farmers market
Resort shops
Onsight spa [XX Best Honolulu Massage & Day Spas]
So with all the fun classes and things to do at this resort, you and your family will have no shortage of entertainment. Ukulele classes allow your young ones to get their wiggles out. Plus, the spa is a perfect place for adults to take a moment to relax.
You can also book other forms of entertainment and excursions right from the hotel. Adventures like snorkeling, hiking, and horseback riding down the beach are necessary if you have the time.
If you and your family are hungry, the resort has three restaurants to choose from but is also closely located to other food options. You can quickly shuttle or walk to nearby restaurants and attractions while staying here in Honolulu.
4. The Hilton Hawaiian Village
Another family-friendly resort is The Hilton Hawaiian Village. This hotel is perfect if you want an ample space with fantastic amenities. Not to mention, this hotel is also centrally located for essential activities and events in Honolulu. Plus, the resort offers beachfront views and easy access to the water.
Because this hotel is so large, they can offer a wide variety of entertainment and activities during your stay. For example, this hotel puts on its very own luau. If you and your children haven't already attended one, it's worth booking the experience.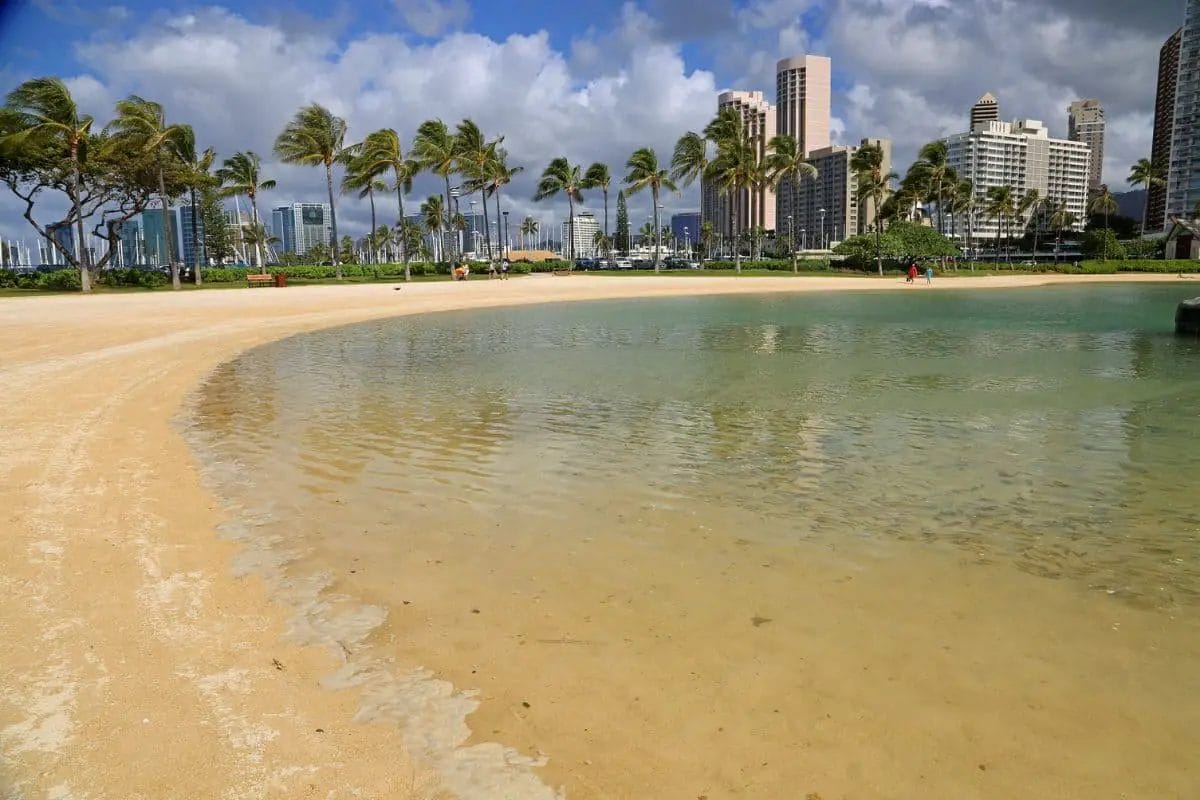 It's important to note that this hotel is split into four towers, so prices and views greatly vary based on the tower you book. For example, the Rainbow Tower is best if you want an excellent ocean or lagoon view. However, the Lagoon Tower has a good view of the lagoon and a boat harbor, depending on your room's side.
Amenities include:
Private pool (with some rooms)
Private terrace
Fitness center
Lagoon
Car rentals
Business center
Spa
Friday firework show
Submarine tour
Lei making
Kayak and paddle board rentals
Additionally, this hotel offers some live music and has a stunning saltwater lagoon. The 5-acre lagoon is completely blocked from the ocean and crystal clear. You and your children can rent kayaks or paddle boards to explore the lagoon or swim in the beautiful water.
As for food, the hotel offers three different dining options but is also a short distance from other restaurants if you want to leave. However, you can always have food delivered if that's easier for your family.
5. Embassy Suites Waikiki Beach Walk
The Embassy Suites is excellent for families if you're okay being a short way away from the beach. Despite the 21-story hotel not being directly on the beach, its upper rooms have a great ocean view. In addition, the hotel is in an excellent location for exploring Honolulu with easily tired kids.
The hotel also has a beautiful pool area you can swim in if you need a break from the salty ocean. Also, the Embassy offers made-to-order breakfast that is perfect for kids who are picky eaters. Not to mention all the food is amazing.
Amenities Include:
Mini kitchen
In-room safe
Private balcony
Complementary poolside drinks in the evenings
Hula lessons
Yoga classes
Bar and lounge
Rentable poolside cabanas
Live music on select days and nights
Your family can choose from a few different activities during your stay. However, there are also plenty of fun things to do in the nearby city, like the zoo or aquarium. So there is something for everyone on your trip.
6. Ambassador Hotel Waikiki
If you're looking to be more inland in Honolulu, then the Ambassador Hotel is a great option, though it's still close to the beach. However, compared to other family-friendly hotel options, this one is far more affordable. In addition, the hotel offers several room types, including rooms with mini kitchens in case your family prefers to cook and eat at the hotel.
This hotel also offers several activities, and you can book excursions directly through them if you want to go on more adventures during your stay. The location is excellent because it's close to both the city and the ocean.
Amenities include:
Mini kitchen
In-room safe
Fitness center
Free long-distance phone calls
Bike rentals
Business center
Swimming pool
Laundry facility
Whatever your goal is during your family vacation, this hotel provides many activities and plenty of relaxation. The pool is great for children looking to get their wiggles out, plus there are so many attractions close by that you can visit when you want to get out and explore.
7. Pearl Hotel Waikiki
Pearl Hotel is known for its spacious rooms, perfect for housing a family during a vacation. The hotel is also close to the beach and central to most city attractions. However, based on their location, they do not offer ocean view rooms. Still, most rooms can see a good portion of the island and city.
Additionally, this hotel is more petite and prides itself on friendly service, though there is no pool. However, the building is a close walk to the beach. Once there you and your family can get all your swimming in.
Amenities include:
Self-parking
Self-service laundry
Cribs available
Smoke-free property
Shuttle service
Mini refrigerator and microwave
Another great thing about Pearl Hotel is pet-friendly, so you needn't leave your furry friend at home. Additionally, because this hotel is smaller, they don't offer any activities. However, if you are a planner and like to get out and explore, this shouldn't be a problem for you and your family.
8. Coconut Waikiki Hotel
The Coconut is located back from the beach but has an excellent view of the island and an inlet of water. This hotel is smaller than some of the larger beachfront resorts; however, it's perfect if you're looking for a clean space with excellent service.
Plus, it's close to all the Honolulu sights on the island of Oahu. The hotel also offers a variety of room sizes to best fit your family's needs. The property also has a small heated pool where your kids can enjoy swimming.
Amenities include:
Kitchenette (depends on which room is booked)
Private lanai
Outdoor grill area
Complimentary tea and coffee are located in the lobby
Underground valet parking
Same day luggage storage
Concierge service
Coconut Hotel is a great option to keep your family near all the city attractions. Not to mention the price and location aren't easily beaten. However, it's important to note that this hotel is close to the city's noise, so if you're a light sleeper, you may need to pack ear plugs or find other accommodations.
9. Sheraton Waikiki
Finally, there is the Sheraton Waikiki. This hotel is a luxurious experience with stunning ocean and beach views. This hotel takes a more modern approach to its design and has large pools perfect for entertaining, high-energy children.
Also, this hotel houses some delicious restaurants that overlook the water. For example, Rumfire offers a stunning sunset view as you dine on their exquisite cuisine. This hotel is located directly on the famous Waikiki Beach and provides a great view of Diamond Head.
The Sheraton is a large hotel with over 31 floors; it has over 1,600 rooms. You can also book various room times to suit your family's space needs. For example, a room called the Ohana suite is designed for families to enjoy.
Accommodations include:
Mini refrigerator
Bidet
Iron and ironing board
Cribs upon request
Private deck
Fitness center
Infinity pool
Water slide
Poolside cabanas
Beach refreshment service
Ukulele lessons
Lei making classes
Business center
As you can see, the Sheraton offers a wide array of services for the whole family. There are multiple pools to enjoy, one of which has a water slide kids will immensely enjoy. Additionally, many rooms offer stunning views of the ocean and surrounding area.
This hotel is perfect if you're looking to relax in style with your family and remain central to the bustling city of Honolulu. Just be sure to book your room well in advance as reservations go quickly during Hawaii's busy months. Plus booking ahead will ensure you get a great room to fit your entire family.