8 Best Maui Condo Rentals and Resorts
There are many different types of travel housing accommodations on the island of Maui. However, condo rentals and resorts are the most popular option. So which condos and resorts are the best to book during your stay?
The best Maui condo rentals and resorts are Wailea Beach Villas and Four Seasons Resort. These fabulous locations provide stunning rooms with ocean views and are great for the whole family. Additionally, both provide great amenities and activities to keep you entertained during your stay.
In the rest of this article, I will discuss the top condos and resorts you can stay at while on the island. I will also cover their amenities and the pros and cons of each of these establishments. So if you want to learn more about where to stay in Maui, read on. 
1. Wailea Beach Villas
If waking up to the rhythmic sound of the pacific ocean outside your window in the comfort of a private villa sounds nice, you will enjoy Wailea Beach Villas. These condos are beautifully decorated and have a private balcony where you can enjoy a fantastic beach view. Plus, the condos are in a fantastic spot for exploring the rest of the island.
Wailea Beach Villas was first established in 1976, aiding locals in managing their condo properties. Eventually, the company was purchased by Destination Hotels, making the condos what they are today.
Additionally, Beach Villas is a family-friendly resort with a stunning pool for when you need a break from the clear ocean water. Also, because these villas are private condos, they have many home-like amenities. For example, many contain fully functional kitchen setups.
Amenities listed:
Fully stocked kitchenware and appliances.
Viking grill station on your private balcony.
Optional grocery stocking.
Washer and dryer units.
Fitness center.
2 lagoon-style pools with waterfalls.
1 adult-only pool.
Massage service near the pool.
Billiard room.
Business center.
Dry cleaning services.
As you can see, quite a few luxury amenities are available at the Villas. The fully operational kitchens make it easy to cook in. Home cooking is an excellent option since there are so many unique fruits, fish, and other tasty things to try if you like to cook.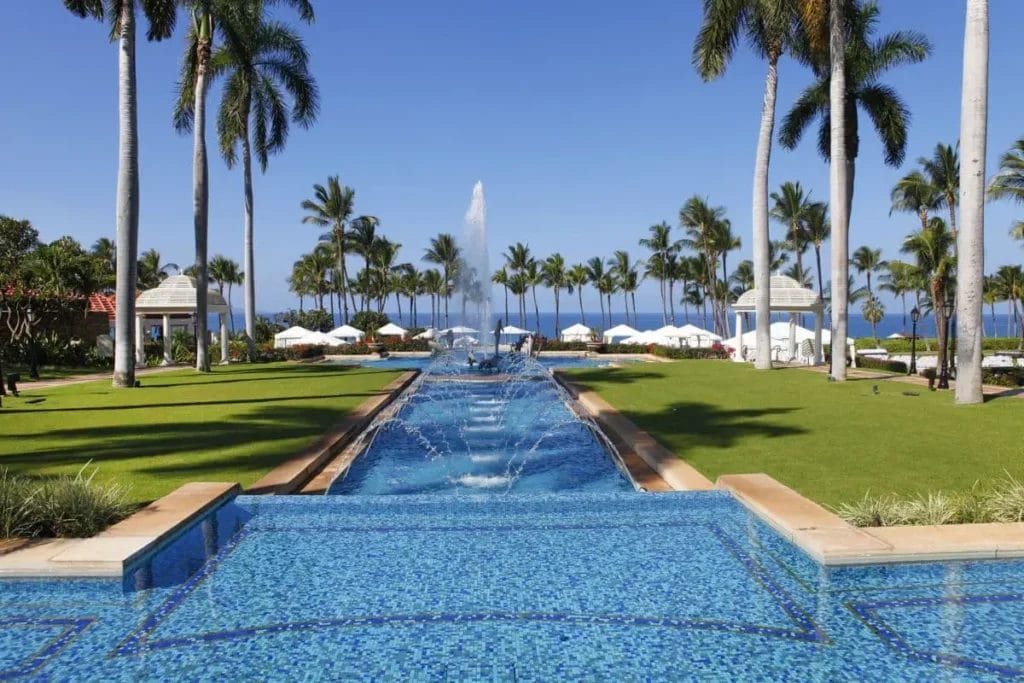 Let's take a quick look at some pros and cons of choosing this resort.
Pros
The grounds are immaculately maintained.
Units are large and well decorated.
Great location.
Rooms are cleaned well.
Friendly staff.
Beautiful pools near the shared beach.
Gated resort.
On-site management.
Cons
Expensive.
The rooms are a little far from the beach.
2. Fairmont Kea Lani
Another great resort to check out is Fairmont Kea Lani. This resort offers stunning views of Haleakala (a volcano) or views of the beautiful pool. The rooms are known for being spacious and having private balconies for you to enjoy the sunset over the island.
Additionally, each room is stunningly decorated, and all balconies are fully furnished for meals or lounging in the tropical breeze. These spaces are designed with comfort and relaxation in mind. Plus you simply can't beat the view of Haleakala in the morning or during a tropical storm.
Amenities listed:
Mini fridge.
Microwave.
Kettle.
Keurig coffee maker.
Iron and ironing board.
In-room safe.
Private balcony.
Fairmont also offers rooms overlooking the city; though the view isn't as lovely, the rooms are still perfectly decorated and roomy. So if you're looking for a luxurious space with a great view of a volcano and the island's greenery, this resort is perfect.
Before booking, you should understand the pros and cons of this beautiful resort. Additionally, it's always best to know an establishment's drawbacks so you don't feel blindsided upon booking.
Pros
Grounds are well maintained.
Great breakfast buffet.
Beautiful views and architecture.
Plenty of fun activities like sunset yoga.
Spacious rooms.
Short walk to the pools and beach.
Cons
Expensive.
On-site, food is only okay.
Overpriced food.
3. Four Seasons Resort Maui at Wailea
Four Seasons Resort is a fantastic 5-star luxury experience. There are many excellent amenities, and the open-air floor plan allows you to feel one with nature as you wander the grounds. Additionally, the decor and architecture are high-end and aim to promote relaxation.
This resort has several room options ranging from presidential suites to small suite rooms, all of which were designed with comfort in mind. Some rooms have ocean views, while others overlook the beautiful resort.
Amenities listed:
Choice of downy or hypoallergenic pillows.
Deep soaking bathtub.
Private balcony.
High definition 4G tv.
24-hour in-room dining services.
Private bar.
Child care upon request.
Complementary cabanas.
Kids day camps.
Fitness center.
Canoe paddling program.
Transportation to any destination in Wailea.
6 free daily activities.
The amenities at this resort are rather extensive. Also, it's important to note that The Four Seasons is a great resort to bring the whole family. It's kid-friendly and provides childcare so parents can spend some alone time together.
Lastly, I want to review a few benefits and drawbacks of choosing this resort, as it's important to fully understand what each resort has to offer.
Pros
The staff is kind and friendly.
Beautiful landscaping.
Peaceful environment.
Kids activities and childcare.
Plenty of activities to fill your time.
Amazing pools.
Cons
High-priced food and extra services.
Some of the rooms' carpeting and decor are outdated.
Customer service is only okay.
4. Marriott Wailea Beach Resort
It's not truly a tropical vacation without a good beach view. Marriott Wailea Beach Resort does a great job of providing luxury condos with fantastic ocean views. The resort also offers rooms with views of the jungle greenery and some suites with ocean sundecks.
The oceanfront rooms are so close to the beach that you will wake to the sound of the ocean lapping at the sandy beach. The resort's location is also fairly central to most Maui activities.
Amenities listed:
Mini fridge.
In-room safe.
Iron and ironing board.
Netflix.
Adult-only infinity pool.
Oceanfront pools and spa.
Adventure pool.
Luau.
Private candle-lit dinners.
Spa.
Kids club.
Moviehouse.
Game space.
Hawaiian cultural activities.
Fitness center.
Additionally, you can visit the nearby shops or book a fun excursion on the island like The Road To Hana.
This resort is a luxurious experience and is perfect for those guests who simply can't get enough of the water; however, before you book one of these condos, it's essential to know the pros and cons of staying here.
Pros
It's a close walk to the beach.
Ocean view rooms.
Clean rooms.
Spacious grounds.
Plenty of on-site activities for everyone.
Beautifully decorated.
Live music experiences.
Fantastic location.
Great service.
Good food.
Awesome room service.
Cons
Expensive.
Some areas of the resort appear outdated or in need of a touch-up.
5. Hyatt Regency Maui Resort and Spa
The Hyatt Regency Resort and Spa is massage as it sits on over 40 acres on Ka'anapali Beach. This resort has luxurious activities like oceanfront golfing and a beachfront spa.
The resort has everything you want on-site, from classy dining to beautiful pools. In addition, they are a pet-friendly resort so that you can bring your furry little friend with you on vacation.
Amenities listed:
Electric vehicle charging stations.
On-site dining.
Room service.
Fitness center.
Pool.
Golf.
Spa.
Business services.
Beach front access.
Luau.
Oceanfront cabanas.
Hyatt Regency is an excellent resort for the whole family. There are many fun things to do, and the resort is central to most island activities. Additionally, you can book some outside expressions through the hotel directly.
Before booking this resort, you should know a few pros and cons.
Pros
Has a kids pool.
Beautiful views.
Friendly staff.
Stunning and spacious resort.
The beach is roomy.
Many rooms have ocean views.
Kid-friendly resort.
Cons
On-site food is just decent.
Parking is difficult.
The spa staff isn't the friendliest.
6. Ka'anapali Beach Hotel
Another excellent place to stay when on the island of Maui is the Ka'anapali Beach Hotel. This hotel is fantastic because it offers ocean view condos that have recently been renovated. Additionally, the hotel prides itself on offering a peaceful environment ideal for relaxation.
Ka'anapali also has a beachfront restaurant called Huihui, where you can experience traditional Hawaiian cuisine made from local produce. A stunning breakfast buffet is also available Thursday-Monday, and a small coffee shop is on the premises.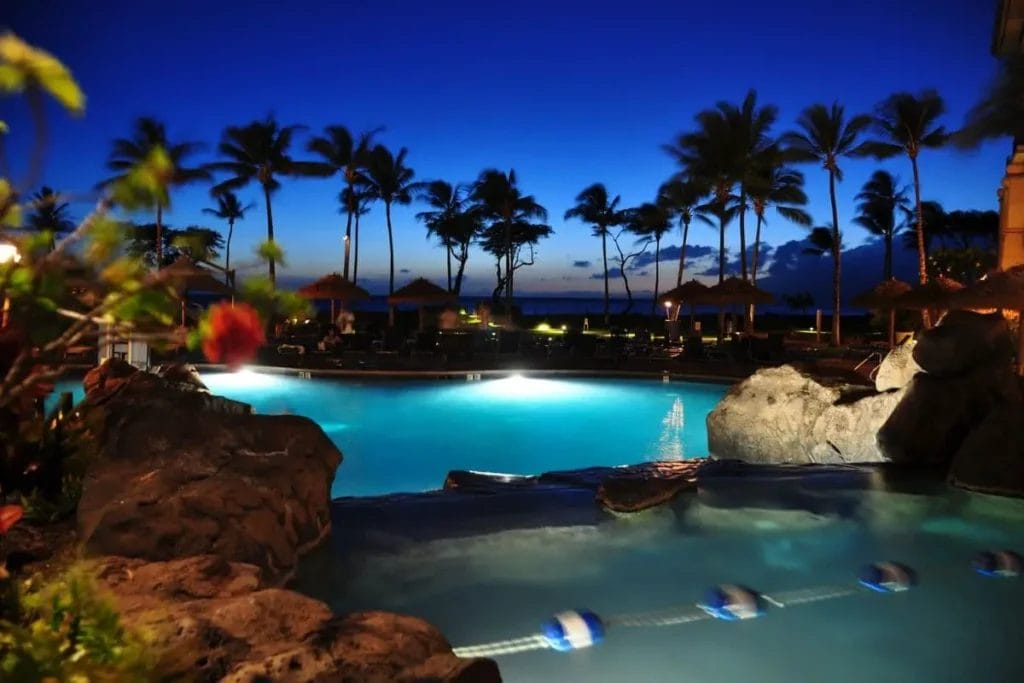 Amenities listed:
Private balcony.
Hawaiian-themed furniture and artwork.
Mini fridge.
In-room safe.
Iron and ironing board.
Dining.
Ocean tours.
kukui nut lei making classes.
Hula classes.
Hawaiian language history classes.
Ukulele lessons.
Lei making classes.
There are many different class types to choose from, and the resort constantly adds to its activities list. So if you're looking for a great resort with plenty of entertainment, Ka'anapali is an excellent option.
Before booking this resort, you should know a few pros and cons.
Pros
Fantastic service.
Great location.
Live music regularly.
Awesome beach views.
Family-friendly hotel.
Great food is available.
Cons
The resort is older, and some rooms are still outdated.
Some spaces appear dirty.
7. Aston Kaanapali Shores
Aston Kaanapali Shores probably has one of the most incredible pools on Maui. The pool features fun water streams that jet into the pool from arrangements of lava rocks. The resort also sits on 10 acres of white sand beach. The resort prides itself on its stunning tropical gardens and waterfalls.
The Shores resort also offers on-site dining and plenty of cultural experiences for tourists visiting Maui for the first time. Plus there are plenty of shops for those who enjoy shopping. Also, each condo comes fully equipped with a kitchen setup.
Amenities listed:
5 miles from the town of Lahaina.
Traditional Luau.
Private balcony.
Washer and dryer units.
Fully equipped kitchen.
Pool.
Ocean pool bar.
LED night pool lighting.
In-room safe.
Iron and ironing board.
Cribs are available upon request.
Hot tub.
Fitness center.
Day spa.
Free scuba lesson.
Free ukulele lesson.
Pickleball court.
As you can see, there is plenty to do at the Aston, and you won't find yourself bored during your stay. Additionally, the rooms are pretty nice, and the view from your balcony is beautiful.
Pros
Has plenty of on-site and offsite activities to choose from.
Located on the beach.
Offers free introductory scuba diving classes.
Has on-site shops.
Has a beach club/bar.
It's family-friendly.
Has a nice newly remodeled pool.
Great location.
Cons
Some of the room's decor appears to be outdated.
Since these are condos, each one has different owners.
An occasional problem with cleaning.
The beach is rocky.
8. Polo Beach Club
Polo Beach Club is another fantastic option if you're searching for beachfront condos. These vacation rentals are tucked against the beautiful Polo Beach. Additionally, the club is small and only has a few condo units so that you won't feel overcrowded.
There are many beautifully decorated rooms to choose from. Many of these condos face the ocean and have recently been renovated. Plus, most units have a full kitchen and balcony to enjoy during your Maui trip. Each condo can sleep between 4-6 people.
Amenities listed:
Beach front property.
Balcony.
Fully functional kitchen.
Ocean front pool.
Hot tub.
Self-parking.
BBQ courtyard.
Herb garden.
24-hour manager on duty.
Island host to help plan activities.
One thing to note is that a different person or company owns each condo. So the interiors and amenities can vary slightly from unit to unit. However, these adorable condos are in a fantastic location, and most guests enjoy their stay. Plus, they are large enough to be family-friendly.
Before booking one of these cute condos, let's discuss the pros and cons of staying at the Polo Beach Club.
Pros
Most units are beautifully decorated.
They offer great views.
You can see pictures of the condo before you rent it.
A beautiful beach is steps away from your room.
The grounds are immaculately kept.
Friendly staff.
Colorful animals like geckos and birds outside.
Is located on the best side of the island.
An on-site staff member can help you with your exploration plans during your stay.
The stunning public beach is less crowded.
Cons
Expensive.
Each condo has a different owner, so rules and amenities vary.
Watch out for jellyfish in the water.