8 Best Honolulu Massage & Day Spas
When visiting the wonderful city of Honolulu, a spa day is a great way to spend your time. The city has plenty of day spas offering excellent massages, and some offer better services than others. So what are the best massage and day spas in the city?
The best Honolulu massage and day spas are Honolulu Spa and Wellness, Heaven On Earth, and Moana Lani. Each of these spas offers an extensive list of services and has a relaxing environment. Additionally, the staff is friendly, and you won't be disappointed by your visit.
In the rest of this article, I will discuss the top 8 day-spas you should consider visiting during your time in Honolulu. So if you want to learn more about what these spas offer and which ones are the best, read on. 
1. Honolulu Spa and Wellness
If you need a spa day in the beautiful city of Honolulu, one of the best places to stop is Honolulu Spa and Wellness. This high-end spa is located in the city near the beach.
The spa offers various treatments focusing on mental and physical health. Also, the staff is known to be very friendly.
Honolulu Spa offers services like:
Hydrafacials
Facials
Sculptural Face Lifts
LED Blue/Red/Infrared Light Facials
Diamond Tip Microdermabrasions
Peels
Back Facials
Facial Cupping.
Waxing
Reiki
Hot Stone Massage
Deep Tissue Massage
Dry Brushing
These are just a few of the excellent services they provide. As you can see, they offer various procedures and services. So whether you're looking for a nice massage to help you unwind or want a way to revitalize your skin, Honolulu Spa is a great option. Appointments can easily be booked online or by calling.
2. Paradise Massages Waikiki & Spa
Paradise Massages Waikiki and Spa are known for their exceptional service. The spa does its best to ensure your experience is one of complete relaxation and revitalization. This spa offers a variety of massages and skin treatments.
This fantastic spa primarily focuses on massages and offers several types tailored to specific muscular needs. For example, aromatherapy massages aid in relaxation, and hot rock massages are excellent for sore muscles.
Paradise Massage offers services like:
Lomi-Lomi massages
Shiatsu massages
Reflexology massages
Hot lava rock massages
Aromatherapy massages
Facials
Microdermabrasions
Scalp treatments
Dry brushing
Seaweed body wraps
The spa also offers a few other services, and the massages can be tailored for your specific needs. Just be sure to book your time slot so they can get you in before you leave the island.
3. Malie Massage & Day Spa
Another fantastic option is Malie Massage and Day Spa. This facility specializes in foot and body massages, which can be highly beneficial if you have been hiking around Oahu or exploring the city.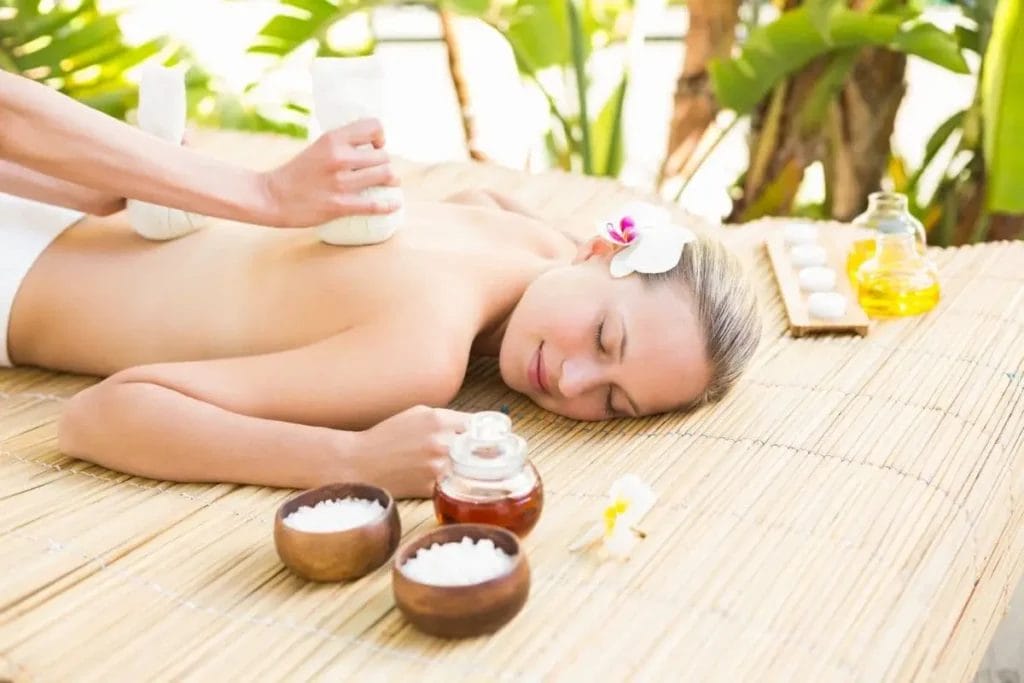 Malie Massage offers services like:
Deep tissue massages
Shiatsu massages
Swedish massages
Lomi-Lomi massages
Pregnancy massages
Couples massages
Combination massages
Cupping
Foot reflexology
So if you're looking for a spa specializing primarily in massage, Malie is perfect. They pride themselves on quality work and friendly service. Reservations are required to get a massage.
4. Heaven on Earth Salon & Day Spa
There are many spas located in the city of Honolulu. However, Heaven on Earth Salon and Day Spa is worth the visit. This spa specializes in skin treatments and massages, but they also offer services like hair and nails.
This spa has been a well-kept secret by the Hawaiin locals since its opening in 1998. Heaven on Earth was voted the best spa in Honolulu from 2009-2019 and continues to offer exceptional service.
Heaven on Earth offers services like:
Deep tissue massages
Lomi-Lomi massages
Hot stone massages
Hydrafacials
Peels
Microdermabrasions
Waxing
Threading
Manicures/nails
Pedicures
Hair cuts
Hair extensions
Hair styling
Hair coloring
Body wraps
Makeup application
Brow tints
Lash extensions
As you can see, this spa offers an extensive list of services. The spa also has makeup application classes you can book to learn how to apply your makeup from a professional. Additionally, many opt to visit Heaven on Earth to help them get ready for special events like a wedding.
5. Lava Massage & Day Spa
Another excellent option is Lava Massage and Day Spa. For many, visiting a spa on vacation is a must. After all, many tourist-heavy cities have some of the best establishments to receive a relaxing massage. Lava Massage is one of those places you must visit if you get the chance.
Additionally, the space is adorably decorated and modern. The color scheme is beautiful and relaxing, only adding to your spa experience. You also have a fantastic city view from most of the massage rooms.
Lava Massage offers services like:
Couples massages
Lomi-Lomi massages
Swedish massages
Prenatal massages
Deep tissue massages
Foot reflexology
Facials
Lash extensions
Lash lift and tinting
Brow lamination
Whether you're looking for a relaxing massage or having some beauty work done, Lava has you covered.
6. Moana Lani Spa
When visiting Honolulu, you shouldn't miss out on visiting Moana Lani Spa. This spa offers fantastic services plus a sea view. The spa is located on the beautiful Waikiki beach. The spa requires a reservation and that patrons be at least 18 years of age.
Moana Lani also asks that you arrive at least 30 minutes early to your appointment to allow time for paperwork, showering, and other necessary preparations. The spa does its best to offer you a high-end experience.
Moana Lani offers services like:
Lomi Ho'okipa massages
Pohaku Ola massages (warm stone massage)
Deep tissue massages
Mommy to be massages
Body scrubs
Facials
Hydrafacials
Dermaflash
Peels
Foreo eye massages
Manicures
Pedicures
Fake nails
The spa offers all of these services along with others. So if you want to look and feel your best, scheduling an appointment at Moana Lani Spa could be a good option for some well-rounded treatment.
7. Abhasa Spa and Salon
Another fantastic spa is Abhasa spa. This spa offers several premium services and was voted the best resort spa in Hawaii in 2018. One thing that sets Abhasa apart is the lush garden in which the spa operates. The massage tents are outdoors so you can relax in the tropical garden and enjoy all the beautiful sounds of nature.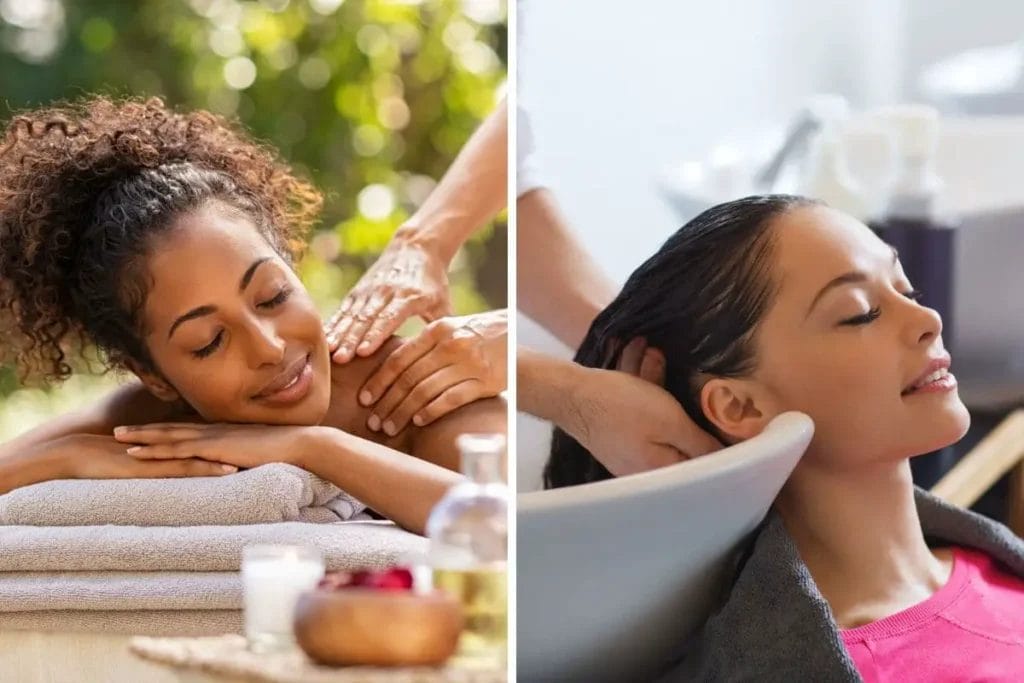 This spa is located within the Royal Hawaiian resort or the "The Pink Palace of the Pacific." Additionally, the name Abhasa directly translates to Illusion" in Sanskrit. The ambiance of this establishment is hard to beat.
Abhasa Spa offers services like:
Lomi-Lomi massages
Swedish massages
Shiatsu massages
Deep tissue massages
Oil massages
Hot stone massages
Facials
Peels
Scalp massages
Foot massages
Body polishing
Salon treatments
So once you have finished your relaxing massage, you can pop over to the salon portion of the spa to have your hair colored, washed, and styled for the ultimate pampering experience.
8. Ho'ala Salon and Spa
Ho'ala Salon and Spa is another fantastic establishment that promotes relaxation and wellness. The spa utilizes Aveda products and was voted the best hair salon in Honolulu in 2011. Additionally, they offer an extensive list of beauty care services and body treatments.
This spa employs a large team heavily skilled in their trade. There is a service for everyone at this salon and spa.
Ho'ala Spa offers services like:
Haircuts and treatments
Waxing
Manicures
Pedicures
Nails
Facials
Lomi-Lomi massages
Chakra balancing massages
Reflexology
Body wraps
It's essential to set up an appointment to ensure the spa has time to squeeze you into their busy schedule. You can easily book with Ho'ala online or by calling the salon itself.