6 Best Sushi Restaurants in Honolulu
According to Apartment Guide, Honolulu is one of the best places to get sushi in the USA, and it's clear why. Hawaii is the midpoint between the USA and Japan, and they have copious amounts of fresh-caught fish for sushi like you've never had before.
So, if you want to take advantage of Honolulu's thriving sushi scene, you'll want to know all the best restaurants that locals and tourists flock to. 
Here are the 6 best sushi restaurants in Honolulu:
Ginza Onodera Honolulu
Morio's Sushi Bistro
Sushi Sasabune
Yanagi Sushi
Yohei Sushi
Izakaya Torae Torae
If you are on the prowl for some good sushi, I've got you covered. I've rounded up all of the best sushi spots in Honolulu based on the consensus of locals and tourists alike to help you separate the proverbial oysters from pearls. So, let's take a look at what makes each sushi spot unique and worth a visit!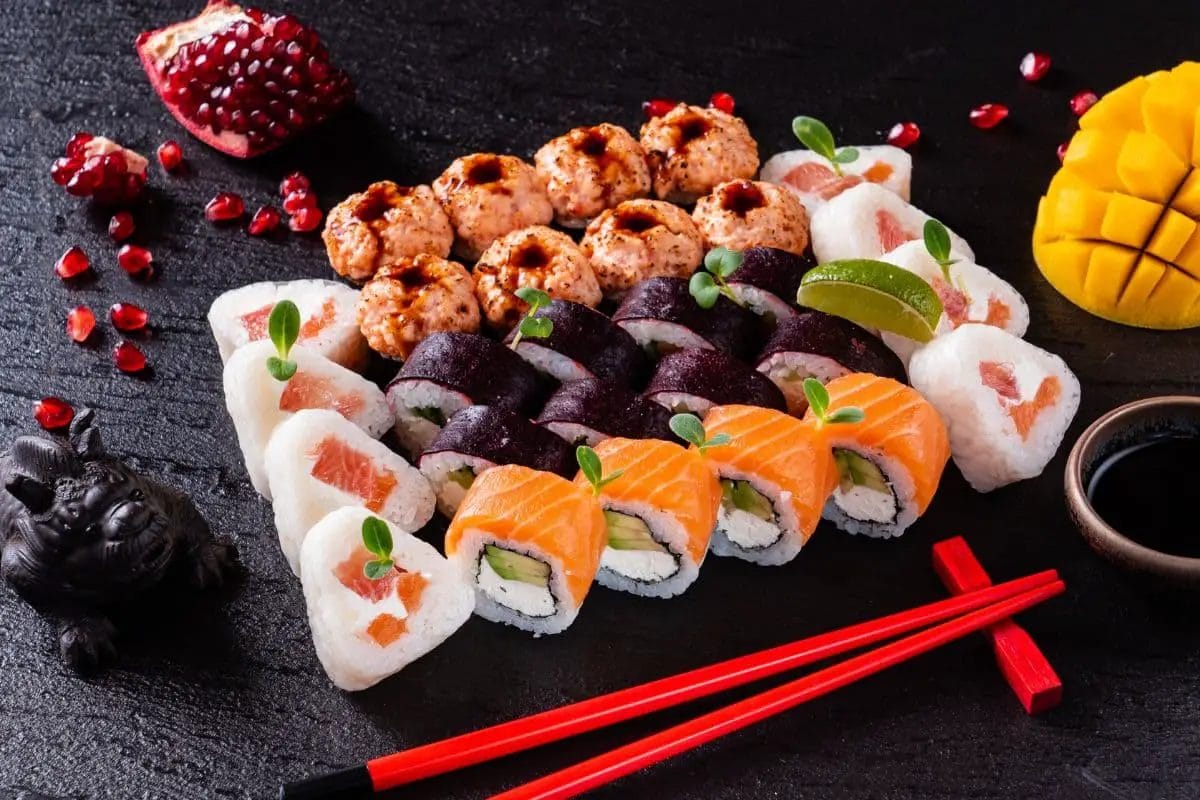 1. Ginza Onodera Honolulu
On the Map: https://www.google.com/maps/place/Sushi+Ginza+Onodera/@21.2823345,-157.8142337,15z/data=!4m2!3m1!1s0x0:0x265c4cd17a2b8e83?sa=X&ved=2ahUKEwiauJW83or5AhUij2oFHbzxDm0Q_BJ6BAhaEAU.
Are you looking for a honeymoon treat, a memorable dining experience, or a way to celebrate? If so, this classy, elegant sushi spot is likely what you have been searching for.
Michelin-star affiliated Sushi Ginza Onodera, not to be confused with Ginza Sushi, is hands-down the best sushi spot in Honolulu. It's just a 10-minute drive from Waikiki Beach and within walking distance of Honolulu Zoo. However, no matter where you're coming from, walking into this small, elegant sushi restaurant feels like stepping straight into Japan.
They only serve sushi omakase–or straight at the bar–with limited seating on their traditional and stunning wooden countertop. In addition, the menu can change from night to night since they only serve fresh, seasonal ingredients bought on the same day as your meal.
However, one of the chef's specialties, abalone fresh from Kona served atop a rice ball in butter sauce, is absolutely to die for and has all kinds of critics raving for more.
During your meal, you will watch and interact with the chef as he makes your food, giving you a hands-on approach to fine dining.
Although the chef will curate your menu for you on the same night you dine there, you can also tell the staff if you have any allergies, and they will be happy to make changes to the courses for the day. Be sure to tell them ahead of time since they purchase specific ingredients for your meal.
Their prices are pretty high, but their menu system differs from most restaurants. At this place, you pay a flat rate per person, which comes with a certain amount of dishes.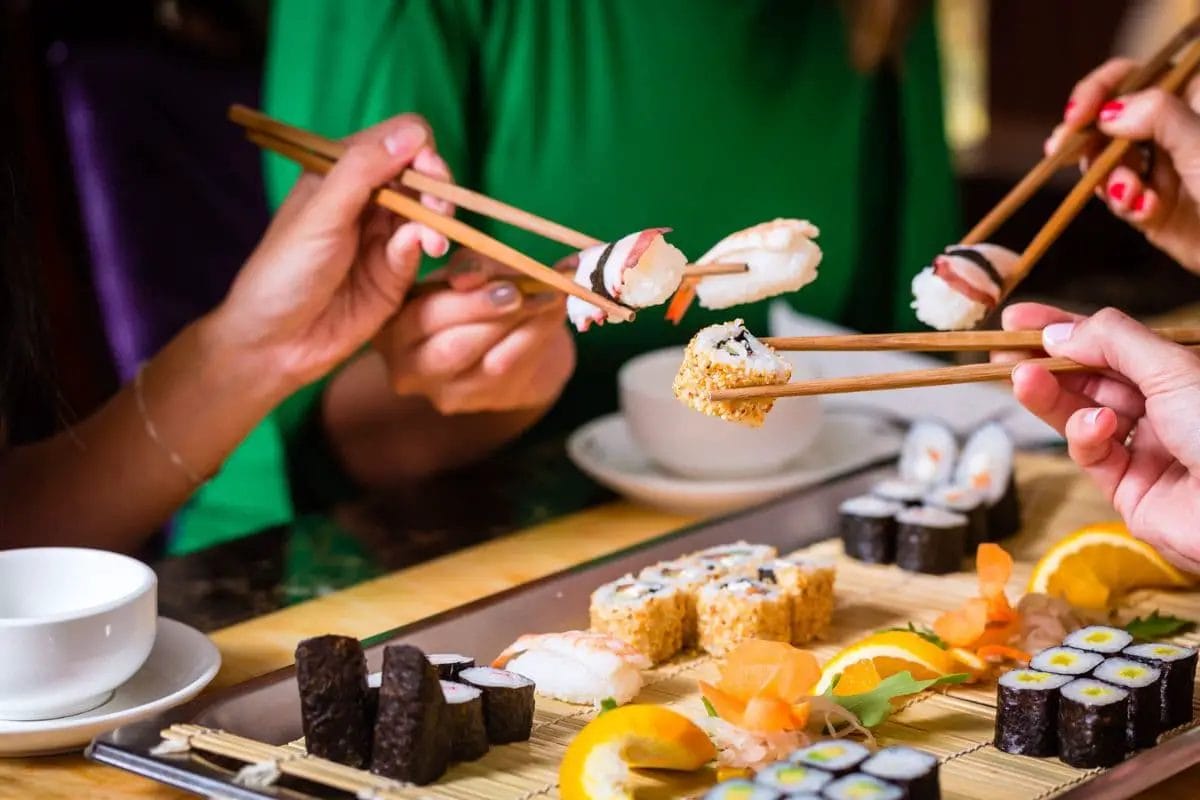 Dinners usually cost around $250 to $300 per person, but despite these prices, this sushi place stays booked, and the reviews are consistently 5-star. It's the perfect place to celebrate in Hawaii and is well worth budgeting for.
2. Morio's Sushi Bistro
Morio's is a casual, comfortable place to get some top-tier sushi.
This spot is a favorite among locals, and you can expect hand-drawn menus, a small dining area, and a friendly chef. However, don't let appearances fool you–Morio's is one of the hottest, best-rated restaurants on the island. People even come from the mainland to get some sushi here!
There are both bar seats and tables here, but I highly recommend sitting at the bar if you can. The chef is incredibly engaging, friendly, and a bit of an entertainer, so he makes excellent company during your meal.
The chef offers omakase courses starting at $70 per person, but you can also get many well-priced a la carte nigiri, sashimi, temaki, uramaki, and more. They also offer sake, and you can bring your own drinks if you wish.
If you choose to eat a la carte, I recommend getting their famous lobster sashimi. You won't find a dish like this anywhere else, and it's unforgettably good.
Making reservations is critical when you plan to go to Morio's, as the place is always packed. The wait time for a reservation can often extend to two months in advance, so be sure to book your spot very early if you plan to eat here.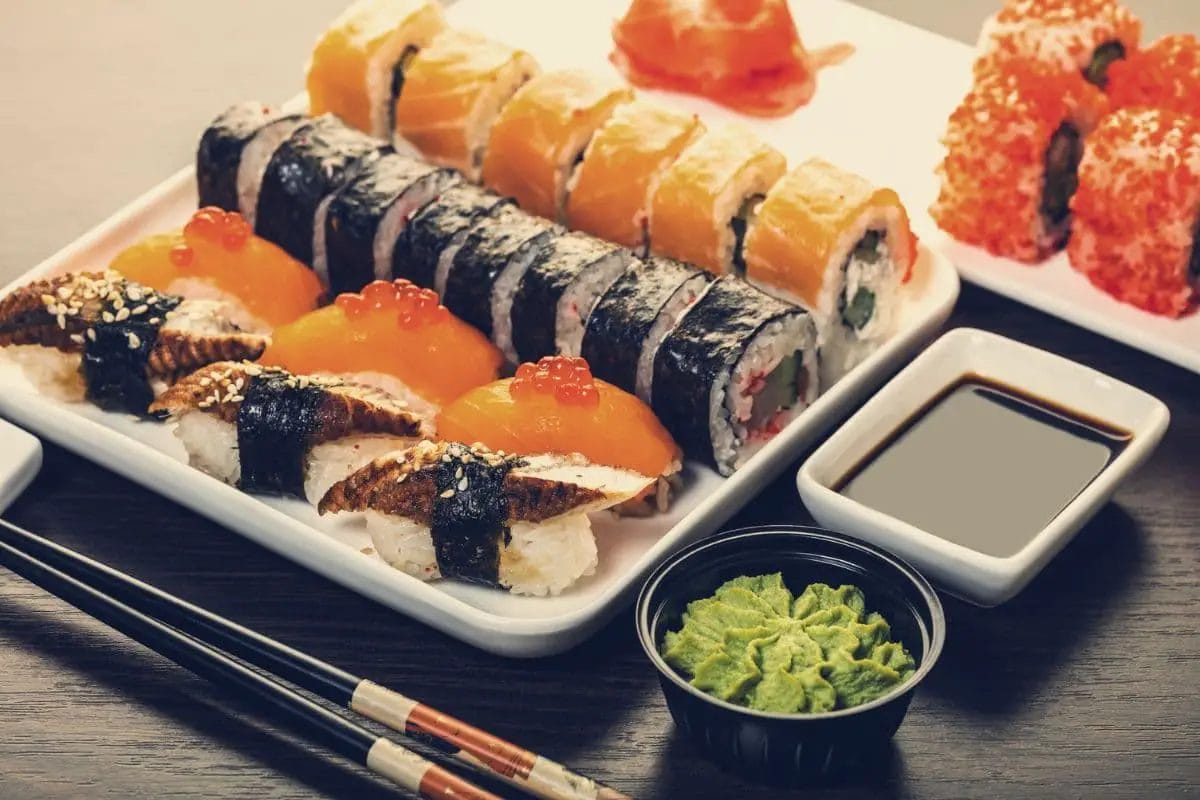 You also need to let the chef know if you plan to eat the omakase course so he can get the right ingredients beforehand.
3. Sushi Sasabune Honolulu
Sushi Sasabune is an upper-scale sushi spot five minutes from Magic Island, Ala Moana Beach, and the Honolulu Museum of Art. It's also just a 15-minute drive from Puu Ualakaa State Park, making it the ideal place to fill up after a long day of hiking.
The atmosphere is very typical of a traditional Japanese restaurant with dark accents, Japanese plants, and the perfect mood lighting. You don't necessarily have to sit at the counter here, but I recommend trying to get a spot at the bar since the chef is part of this restaurant's charm.
Sushi Sasabune's chef, Seiji Kumagawa, has gained some fame since introducing omakase dining to Hawaii. Following the traditional omakase style and his training in Japan, he will choose all the day's courses for you.
Notably, this restaurant has no menu, and you should expect to try new things and be surprised here. If you aren't prepared to just let go and have Kumagawa curate your meal, you should probably keep reading.
Kumagawa only uses the freshest ingredients, and almost all of his fish is local and caught the day before he serves it. He takes great care in his creations and is always searching for new ways to incorporate traditionally Hawaiian ingredients into his Japanese recipes.
Sasabune's omakase course consists of at least 13 small dishes, but you can stop and pay for your sushi a la carte if you get full before you reach the end. However, if you finish the courses, you can expect to pay about $140 to $160 per person.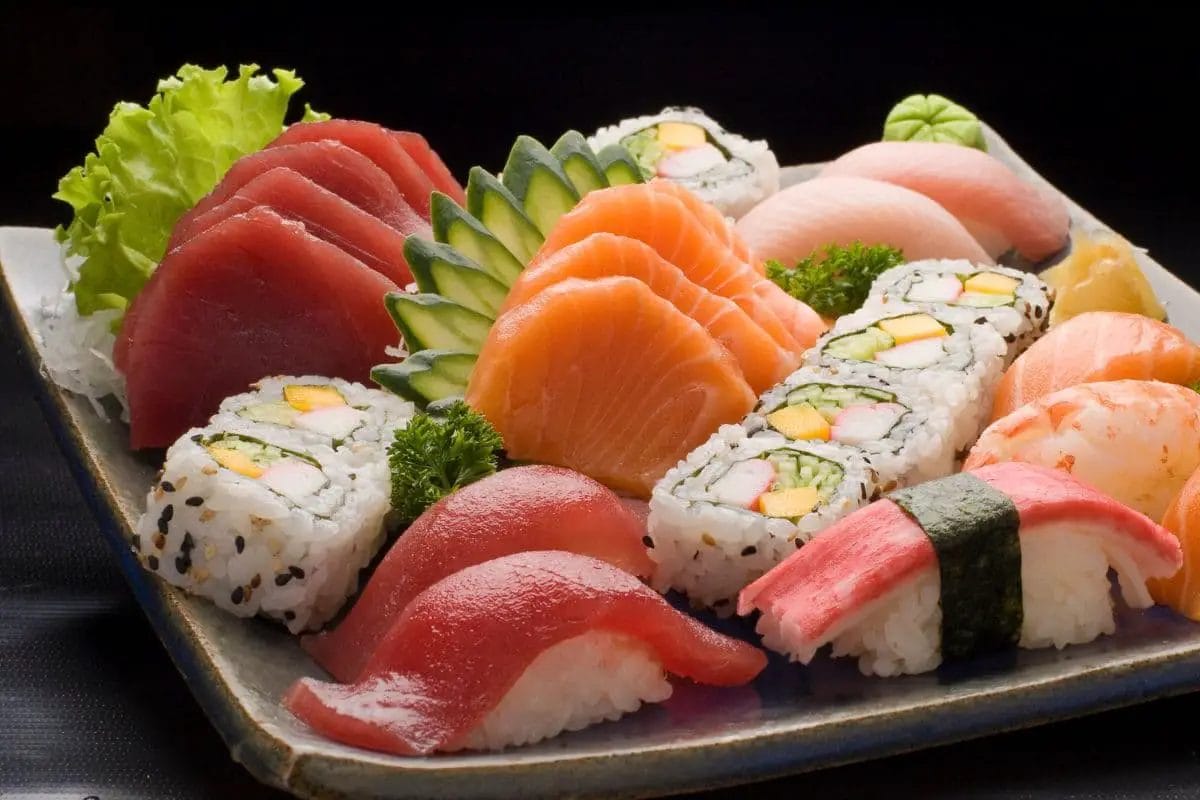 To learn more about this restaurant and learn about the amount of care and preparation that goes into omakase sushi, check out this interview with chef Kumagawa, who will walk you through how he prepares some of his most well-known dishes:
4. Yanagi Sushi
Yanagi Sushi has a stunning atmosphere, from the ambiance provided by its paper lantern lights to its glistening wooden countertop that makes customers feel like they are in Tokyo. It's a casual place with a bar-like vibe, making it perfect for a date night, nice dinner, or even a late-night snack after a long night on the town.
It's a 5-minute walk away from the Honolulu Museum of Art and, like all the other restaurants on this list, only a short drive from Waikiki.
Yanagi is usually pretty busy, as it's a favorite among locals, so while reservations aren't required, I recommend making one to ensure you don't have to wait. However, this is the place to go if you're in a pinch and didn't make any reservations. Wait times are usually under 20 minutes.
Their fish always tastes incredibly fresh, and I can't even begin to recommend just one thing off their menu. For that reason, I'd go with one of their combination platters–why not have it all?
Yanagi is also unique because it is open late every night except Sunday. So, party on and grab some sushi whenever you get hungry.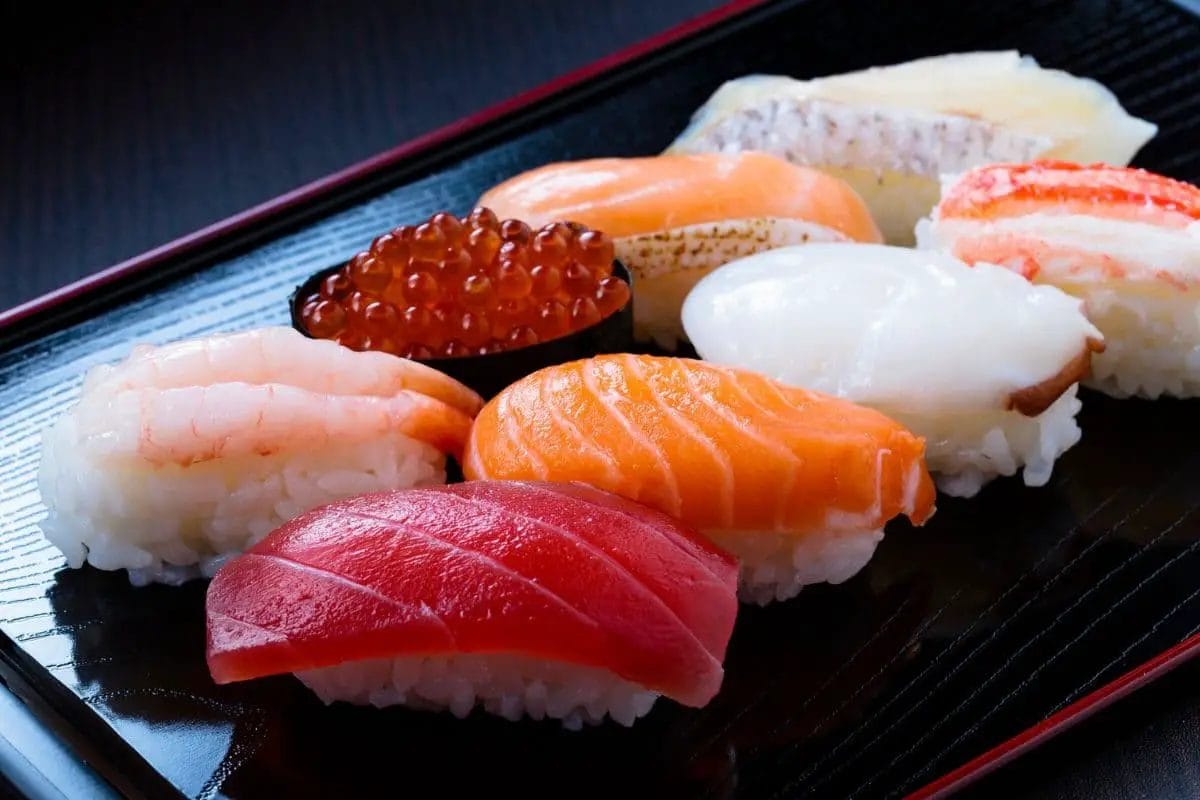 Yanagi also has some of the best reviews in town, so it's not just me who's raving about it. I recommend it to anyone who wants a nice, pleasant, relaxed sushi meal without breaking their budget.
5. Yohei Sushi
Yohei Sushi, located right beside the Kapalama Canal just north of the Foster Botanical Garden, is a small, casual sushi restaurant with well-priced, authentic Japanese food and excellent service.
It's also only a 5-minute drive from the Bishop Museum and a great place to stop by on your way back to the Waikiki area after seeing more of Honolulu.
Yohei is tucked away in a strip mall, but it is a hidden gem well worth looking for. It's a favorite among Japanese locals and tourists in Hawaii because the menu has several Japanese dishes that remind them of home.
The atmosphere is very relaxed, so you can wear whatever you have on for the day while you dine.
The restaurant is also relatively small, so making a reservation is best unless you want to wait.
Yohei's menu includes more than sushi, including udon, hot boxes with rice, and grilled fish. However, their sushi options are their best-sellers, especially their Sushi Zen combination plate. They also offer tons of different sushi combination "sets," and it's hard to go wrong with any of them.
So, look no further if you're looking for a mid-priced sushi restaurant with a comfortable, homey vibe. Yohei Sushi will offer you fantastic food without too many extra frills.
6. Izakaya Torae Torae
I couldn't write up a list of the best places to get sushi in Honolulu without mentioning this hidden gem. While they're not on the radar of most tourists since they don't have a website or social media, if you're not looking to splurge too much or want a casual bite on the go, this is the restaurant to visit.
Izakaya Torae Torae is what most people call "a hole-in-the-wall" restaurant, and you shouldn't expect an elegant atmosphere here. However, what they lack in ambiance, they make up for in quality and taste.
Izakaya Torae Torae is always packed. It's a favorite among locals since the food is so inexpensive, the service is excellent, and everything tastes fresh and fantastic. So, call ahead for a reservation if you plan to eat here.
The prices at Torae Torae are perfect for a casual meal, and everything I've tried on their menu is incredibly delicious. However, the best by far is the hamachi carpaccio. It's everyone's favorite dish at this joint, and I'm sure you will agree.
They also offer "happy hour" pricing after 10 p.m. and discount everything on the menu, so if you are looking for a deal on some sushi, I recommend making a late-night stop.
Izakaya Torae Torae is very close to the University of Hawaii, and it's just a short drive from Puu Ualakaa State park. It's also in the town's heart, so plenty of shops and other attractions are nearby.