5 Best Seafood Restaurants in Waikiki
Hawaii, with its scenic beaches and seafaring culture, is one of the best places in the USA to get seafood. From ahi tuna to salmon to fresh Dungeness crab, Waikiki is swimming with opportunities to have the best fresh-caught seafood you'll ever have.
The Best seafood restaurants in Waikiki are Paia Fish Market, Maguro Spot, Azure, Roy's, and Ono. Paia is a casual, top-rated restaurant, while Maguro Spot and Ono are both small poke shops. Azure offers fine dining on the beach, and Roy's is an upper-class Japanese-Hawaiian fusion spot.
In this article, I'll tell you more about the seafood restaurants in Waikiki that everyone loves, letting you know what makes each one special. These restaurants all have remarkably high reviews, are near the main attractions and hotels in Waikiki, offer local fresh-caught fish, and have stellar customer service.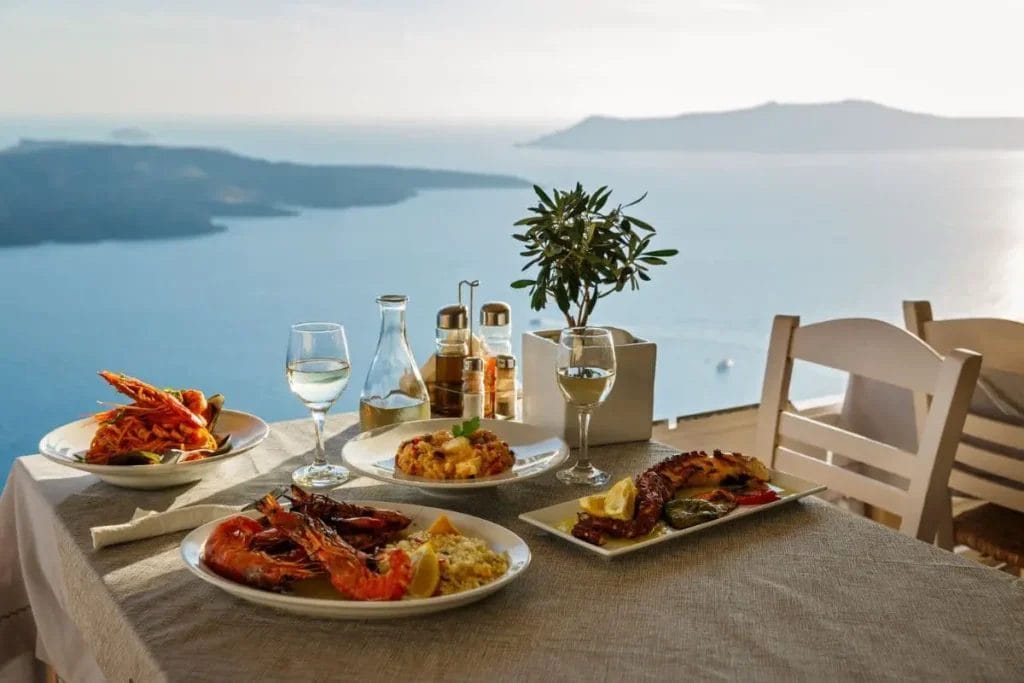 1. Paia Fish Market
On the Map: Paia Fish Market Waikiki
Paia Fish Market is a Waikiki classic, located right next to the International Marketplace, where you can find all of the finest shopping on Oahu and catch a free live luau or musical performance.
Paia has a casual but clean, casual, and minimalistic vibe with long wooden tables inside and an outdoor patio. Paia Fish Market is Honolulu's hottest seafood spot despite the causal atmosphere. It has received stellar reviews from news sources and national magazines such as National Geographic, Vogue, Thrillist, and the Travel Channel.
The line is always pretty long at the counter, but service moves pretty quickly. Still, if you show up at dinnertime on the weekend, you might notice that the line can get long enough to wrap around the block, so I recommend dining here for lunch or an early dinner.
Paia has an extensive menu with quite a few items worthy of recommendation. However, everyone raves about Paia's fish tacos, which are incredibly well-seasoned. They also come with two sides, and the portions are pretty large, so plan for some leftovers!
Paia also has a happy hour from 2 PM to 5 PM every day, where they offer discounted drinks from their cocktail, beer, and wine menu. If you don't know what to get, I recommend the lilikoi margarita, which is a margarita made with passion fruit juice for a tropical twist.
2. Maguro Spot
On the Map: Maguro Spot
Maguro Spot is a terrific small poke restaurant located just a short walk away from most of the hotels in Waikiki, making it the ideal place to grab a quick and delicious meal without having to drive. It's also less than 0.2 miles (0.3 km) from Kuhio Beach.
Maguro spot is a family-owned business, and it is very casual, with little indoor seating and an order-at-the-counter system. Because of how small it is, it's the best place to get poke when you're on the go, and it's the perfect meal to take to the beach with you. 
This mom-and-pop shop is a favorite poke place among locals, and it's in an excellent location for tourists staying in Waikiki. The line always stretches out the door during mealtimes, although the turnaround time is speedy.
Despite how fresh and delicious their poke is, Maguro Spot's prices are on par with a fast food joint, and you won't find a better deal on the island.
I highly recommend the rainbow bowl while you're here, which includes a little bit of everything on the menu, especially their signature sauces and delicious fresh tuna.
Grab an ice cream or drink from their coolers to go and sit at their outdoor table, or head to Kuhio beach for a budget-friendly Hawaiian meal that tastes high-class.
3. Azure
On the Map: Azure
Azure is a high-scale restaurant with an elegant and romantic atmosphere located right on the shorefront of Waikiki beach. Azure is inside the Royal Hawaiian Resort, and It's the place to go for a special dinner like an anniversary, birthday, honeymoon, or even just a luxurious night out.
Azure serves prix fixe four-course meals with wine pairings for a fully-curated dining experience. Their unique and memorable dishes come with exquisite presentation, incredible service, and an ambiance that will make you feel like royalty.
You can choose to dine in their dimly lit, beautiful dining room or reserve a table or cabana on the beach and enjoy the sunset while you eat. The view from Azure's outdoor tables is spectacular, and you can see Diamond Head, the ocean, and the city from there.
Although the menu changes since Azure only features seasonal, local foods, their most popular dish is their poached scallops with lemon confit and coconut milk vinaigrette. They are so delicate, soft, and buttery that you don't even need to chew them — they melt in your mouth!
This restaurant is rather pricey, with each four-course meal going for a flat rate of $130 per person, but this is fine dining, and the food and memories are well worth the cost if you are looking for a special meal.
4. Roy's Waikiki Beach
On the Map: Roy's Waikiki
Roy's is an upper-class Japanese-Hawaiian fusion restaurant with thousands of five-star reviews from locals and tourists alike, and it's one of the best spots for some unique and memorable seafood on Oahu.
It's located right beside the Imperial Hawaii Resort, just 0.2 miles (0.3 km) from the Fort DeRussy Boardwalk, which is an excellent place for an evening stroll along the beach after dinner.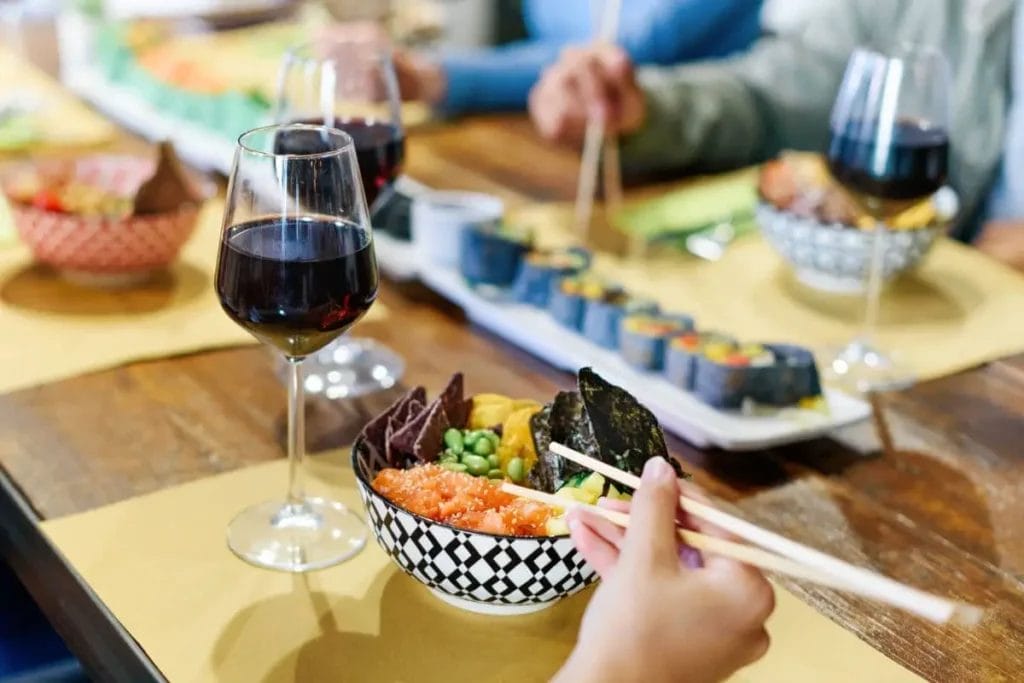 Roy's offers a prix fixe and dinner menu with tons of options. However, the most popular and remarkable dish is their Misoyaki Butterfish, marinated in sweet ginger wasabi butter. I've never tasted anything like it, and it's the perfect blend of Hawaiian flavor with Japanese-inspired spice.
This fine restaurant also offers cocktails, including some delicious signatures such as Roy's Hawaiian Martini, which features coconut rum and vanilla vodka infused with fresh pineapple for a sweet and slightly sour taste.
There's also an open-air outdoor bar here, and it's an excellent place to enjoy some cocktails at night while listening to the beach and birds at sunset.
Roy's is a fine dining establishment, so expect the prices to be relatively high. However, the cost is reasonable for the quality and quantity of food you get, as they only serve line-caught fish and purchase meat from farmers who sustainably raise their fish and livestock.
Speaking of Japanese food and fresh-caught fish, if you are looking for another fantastic restaurant in the area or if sushi sounds like it would hit the spot, you should read my article on the best sushi restaurants in Honolulu. You might be surprised by how many incredible sushi spots are in the neighborhood!
5. Ono Seafood
On the Map: Ono Seafood
Although Ono Seafood is just barely outside of Waikiki in Diamond Head, it's well worth a little jaunt to visit this place.
Ono Seafood is a casual and quick place for poke and sashimi. This small, local-owned restaurant only offers outdoor seating and takeout, but it's a favorite among locals due to its incredible food.
Ono stands out, with its bright red storefront adding a pop of color to the run-down parking lot and buildings surrounding it. It's within walking distance of the Ala Wai Golf Course, and if you want some refreshing dessert after your poke, walk up Kapahulu avenue to the famed Waiola Shave Ice for ice cream and shaved ice.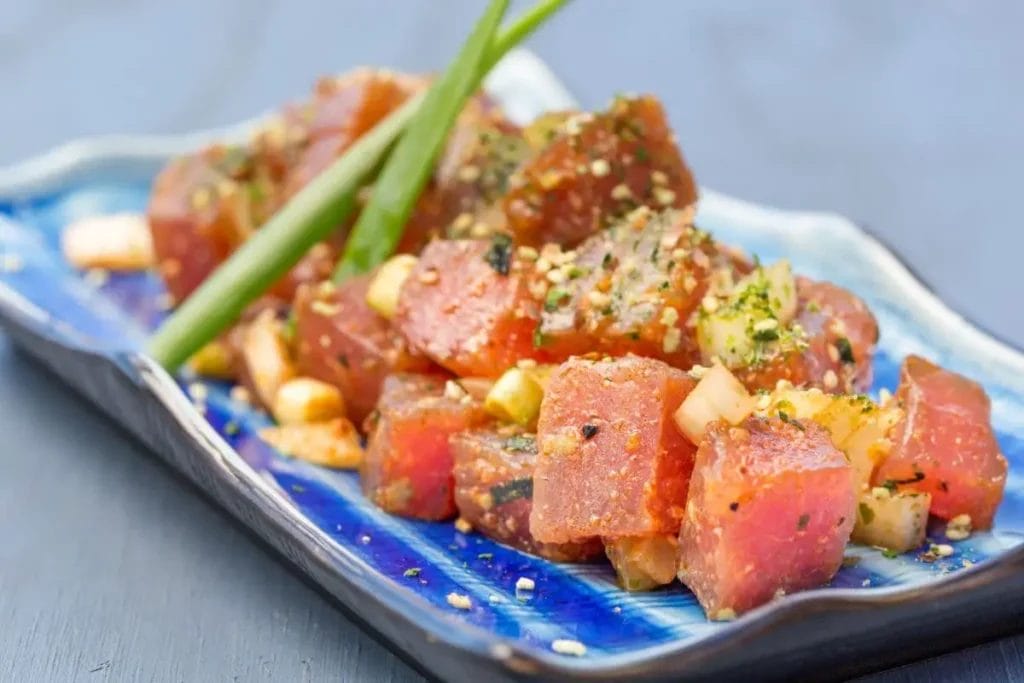 Ono has won several awards, such as Best Poke from Honolulu Magazine and Trip Advisor's Certificate of Excellence. However, most impressive is Ono's ranking as the 5th best seafood restaurant in all of the United States, an award granted in 2016.
Ono's poke is out of this world, and they only use local, fresh-caught fish. The chefs at Ono go shopping for new fish every day, and they guarantee that all the seafood they use is caught on the same day they serve it to you.
Everything is and tastes so fresh, whether you get their tuna, salmon, or octopus poke bowl. Ono also offers poke by the pound and sashimi without rice, so if you want to stock up on some scrumptious seafood, they have options. They also have other items in their fridges, such as Hawaiian boiled peanuts, Lomi salmon, raw crab, and seaweed salad.
While you're here, I recommend their spicy ahi poke bowl, their best seller.