Tattoos are an indelible part of Hawaiian culture, as the process of receiving tatau in Hawaiian culture was once a right of passage, with designs marking a person's ancestors, status, and character. Although the art of tattooing has become modern over the centuries, tattoos are still a part of Hawaii's traditions, and getting one while you're on Maui is a must if you are a tattoo enthusiast.
The best Maui tattoo shops are Pacific Rootz, Soular, Mid-Pacific, and Vagabond. Pacific Rootz offers the best Polynesian tattoos, while Soular excels at realism and Japanese style. Go to Mid-Pacific if you don't know what you want, and visit Vagabond for incredibly fine lines and colorwork.
Let's take a peek at all the best tattoo shops and parlors in Maui and discuss what makes each unique. All of these tattoo shops have at least 4.5-star ratings on sites like Yelp and Tripadvisor, have impressive artists with large portfolios, a clean and pleasant environment, and are favorites among locals and tourists alike.
1. Pacific Rootz Tattoo
Best for: Traditional kakau and hand poked tattoos, traditional Polynesian style, freehand tattoos, blackwork
Pacific Rootz Tattoo at 1847 S Kihei Rd in Kihei, HI, is a Hawaiian-owned and operated tattoo shop with several specialists in traditional Polynesian tattooing. This tattoo parlor is the best place to go if you want an authentic Polynesian tribal tattoo from a traditional Hawaiian artist.
Samson Harp, the lead tattooist and owner at Pacific Rootz, is the artist to go to if you want a tribal tattoo. Samson, a native Hawaiian, is one of the only tattoo artists on Maui who knows how to use traditional kakau tap-tattoo tools to create authentic Polynesian tattoos.
Still, he is skilled with tattoo guns and creates intricate geometric patterns in blackwork and colorwork.
Samson rarely takes on apprentices and only accepts native Hawaiian artists. His students and fellow artists, Kai, Francine, and Nick, have produced some exceptional work as well, with many positive reviews and impressive portfolios of Polynesian tattoos.
At Pacific Rootz, I recommend coming with an open mind since the artists' freehanded tattoos are their most impressive. Even when they freehand tattoos, they put your personality into it, using traditional Hawaiian symbols and geometries to represent the story you want to tell with your body art.
However, they will also accept drawings and offer work from their portfolio if you're not ready to take the risk of getting a freehand tattoo.
This tattoo parlor is unique, thanks to its authentic Polynesian flair and native tattooists. If you're on the island to get a real taste of Hawaiian culture, you might want to read my other article on Maui's best authentic Hawaiian food.
2. Soular Tattoo
Best for: Japanese, ornamental gray and blackwork, tribal, realism, florals, American traditional, cover-ups, piercings
Soular Tattoo parlor in Lahaina is an experience, and it's my favorite tattoo shop in all of Hawaii for its world-class artwork, stellar customer service, cleanliness, and environment.
I'm never too picky about the aesthetics of a tattoo parlor as long as it is clean and pleasant. However, Soular's eye for style is next-level, with a gorgeous and comfortable environment that elevates the memory of getting a tattoo here.
Like their decor, the tattoos here are top-notch, and I even know people who fly to Maui just to get tattoos from Soular's artists. Chuck, Justin, Bryan, and Matt are very versatile, but they each have their own specialty in which they are complete masters.
Chuck is an excellent Japanese tattooist, and he has an eye for naturalistic dynamics that is unparalleled. He's the best Japanese-style tattoo artist in Hawaii, bar none, and he's gained quite a reputation for his clean, fluid lines and incredible ability to incorporate elements into one cohesive piece of work.
However, my favorite artist at Soular is Bryan, who specializes in realistic portraits, flowers, and black and gray work. I have had difficulty finding an artist that can tattoo with the same level of realism as him, and I cannot recommend him highly enough.
The staff and artists here are interesting people and make excellent conversation. You can expect high-class customer service here, as well.
Soular also offers piercings and henna tattoos, so if you aren't ready to make a permanent commitment to the fantastic artwork from the tattooists at Soular, you can still bring home a stunning reminder of your time in Maui.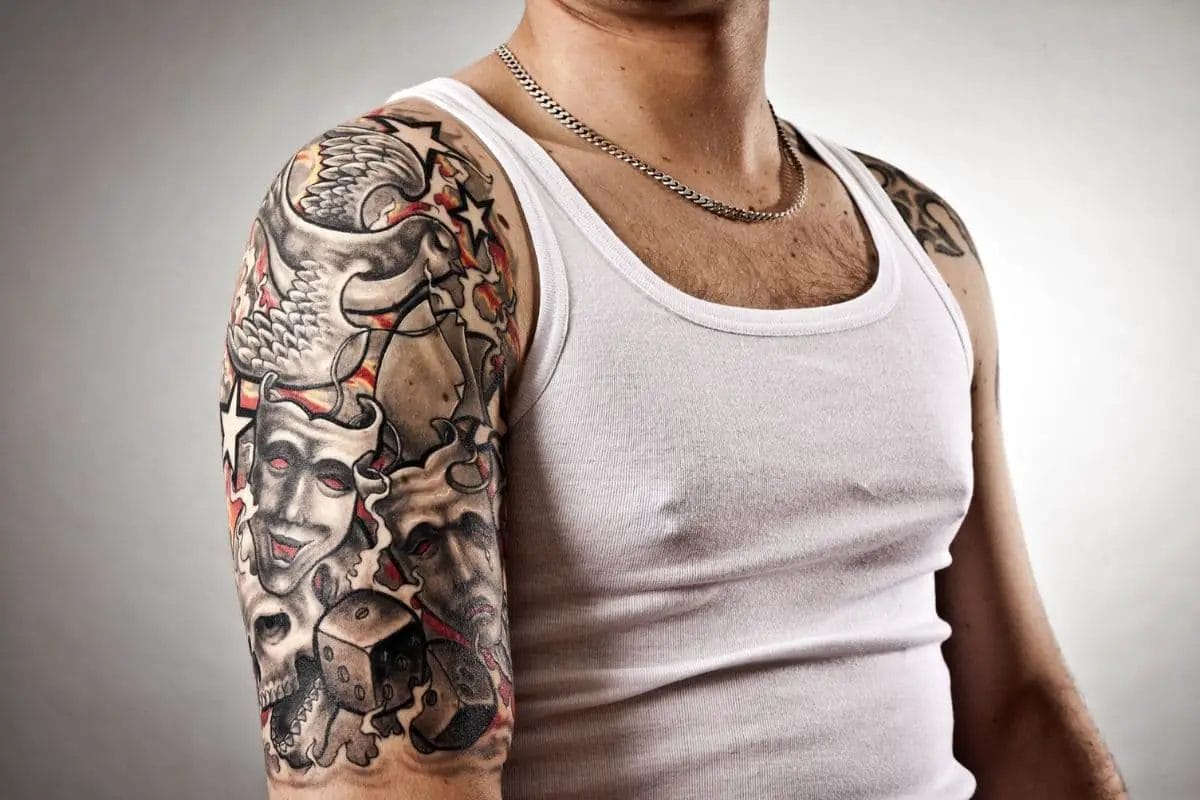 3. Mid-Pacific Tattoo
Best for: traditional American style, colorwork, Hawaiian motifs, floral colorwork, Polynesian geometric style, black and gray work
Mid-Pacific Tattoo has two locations in Lahaina and one on the south side in Kihei.
Along with their multiple locations, they have ten artists, each of which has a unique profile that adds a new style to Mid-Pacific's repertoire. Mid-Pacific does it all – from cartoonish new school artwork to traditional Polynesian blackwork to vivid realism.
Thus, if you aren't quite sure what you want, Mid-Pacific is the place to browse portfolios and find the ideal artist.
Mid-Pacific is also open to walk-ins, and there's always an artist on the floor ready to take requests. They also offer plenty of flash tattoos from their various artists, so it's easy to find what you are looking for here, even without booking a consultation.
Although everyone has a unique style at Mid-Pacific Tattoo, my favorite artists here are Max and Buge.
Max specializes in freehand tribal designs, so go to him if you want an authentic Hawaiian tattoo. Buge is known for his elaborate tribal designs as well. Still, he likes to add a pop of color to historic Polynesian designs for a unique piece of work.
However, you really cannot go wrong with any of the artists here. They are all top-tier and have unique styles that are sure to fit your artistic vision and taste.
4. Zen Tattoo Maui
Best for: tribal Polynesian blackwork, watercolor, black and gray realism, American traditional, new school
Zen Tattoo in Kihei is the perfect parlor for you if you want something with a traditional design and a modern twist. While the artists at Zen are all very experienced with Polynesian tribal designs, they are also quite excellent at different varieties of colorwork.
Melissa is an extraordinary watercolor tattoo artist, and she does fantastic work with fine lines and simple designs to help her colors pop.
Jonathan also stands out for his versatility. He does incredible grayscale portraits and equally impressive new school pop art tattooing. He's a fantastic artist if you have a drawing that you want to be tattooed or if you aren't sure exactly what you want since he can do it all — and he can do it all well!
Still, if black tribal tattoos are more your style, ask for Masao. He creates incredible Polynesian tattoos that fit nicely against your body's curves.
5. Vagabond Tattoo Co
Best for: fine line, blackwork, colorwork, American traditional, new school, piercings
Vagabond Tattoo Co in Kihei is a favorite among people who want a walk-in tattoo shop since it has a welcoming, classic tattoo parlor vibe. They have three resident artists and more guest artists with a wide variety of specialties.
However, the artists at Vagabond are all exceptionally talented in colorwork and fine lines.
Their color tattoos truly pop, embracing the traditional American style's simplicity and bright color scheme while offering something modern and unique in the outlines. One of their tattooists, Bryan, also does amazing watercolor and black and gray tattoos that look incredibly realistic.
They are excellent at preserving detail in tattoos, and they can achieve unbelievably fine lines for intricate florals, abstract designs, and fluid dynamics that are hard to find elsewhere.
Another stand-out feature of this shop is its customer service. They bend over backward to ensure that you are happy, staying late, moving appointments, and being flexible with you. For that reason, this is one of the best choices for people on vacation in Maui.
Vagabond also offers piercings if you want to get one while you're here!