4 Best Water Shoes for Hawaii
Hawaii is known for its stunning nature views, fantastic hikes, and water adventures. When preparing for a trip to the islands, it's best to bring suitable water footwear to make the most of the aquatic experiences Hawaii has to offer. However, which water shoes are the BEST to pack for Hawaii?
The best water shoes for Hawaii are Keen Closed Toe Sport Sandals. These sandals provide excellent protection from sharp items hidden beneath sand or water during your adventures. Additionally, Keens are durable and will last you far more than a trip to Hawaii if you take good care of them.
The only instance in which I wouldn't recommend Keens Sport Sandals is if:
In the rest of this article, I will discuss the top 4 water shoes you should consider for your Hawaiian vacation. So, if you want to learn more about the different types of aqua shoes and what activities they're best for, read on.
Keens have long been a brand known for their excellent sports shoes and sandals. Avid hikers and adventurers swear by these shoes and will tell you the shoes are worth every penny. Additionally, Keens sandals last a long time due to the quality materials used in their construction.
These sandals come in several sizes and colors to fit each individual's personal needs. The sandals also have a rubber sole, making it more difficult for sharp objects to penetrate your shoes while hiking. Additionally, these shoes have a brilliant design that is excellent for both water and land activities.
Another awesome thing about these sandals is that the rubber shoe bottoms provide added grip, preventing you from slipping on slick surfaces. Additionally, each shoe is created with the male or female foot structure in mind.
Bottom line: I highly recommend Keen Whisper Closed Toe Sport Sandals if you're looking for a quality shoe that will protect your feet during your visit to Hawaii. Addinbally, these shoes are practical for hiking/water activities and are built to last.
Pros
Has a rubber sole. Rubber soles are more durable and provide added protection. Additionally, the rubber can provide better traction on the ground and slick surfaces.
Utilizes multi-directional lugs to give the best grip on slippery terrain. Specialized patterns have been scored into the rubber soles of the shoes to give better traction. These lugs allow your shoes to grip onto slick surfaces and limit how often you fall.
Provides adequate support for your feet. Due to the crisscrossing fabric design the sandals have, they provide excellent support for your arches and feet.
The shoes are incredibly comfortable. Keens sandals were designed with comfort in mind. Therefore, they are the perfect blend of functionality and comfort.
The sandals are great for dry land and water hiking or adventures. Because of Keen's sandals' diversity, you can wear them daily for hikes or swimming. The possibilities are endless.
The material is quick drying. If you use your Keen sandals for swimming, they are designed to dry quickly. So you needn't worry about sloshing your way back to the car.
The shoes are easily washed in a washing machine. If your Keens happen to get dirty on your Hawaiian adventure, you can throw them in the wash. However, they shouldn't be placed in the dryer; air drying is preferable.
Cons
The shoes are expensive. Keens are a little pricey compared to other water shoe brands. However, Keens are also more versatile regarding where you can wear the shoes. They are the ultimate adventure shoe.
They don't provide excellent ankle support. This shoe's ankle support is weak if you plan a slippery water hike in Hawaii.
Sizing can be tricky. The sizing of Keens might not be the size you're used to ordering. So you will need to re-measure your feet and check their size chart before ordering.
Product Specifications
| | |
| --- | --- |
| Material | Polyester |
| Toe Type | Bump toe |
| Outsole | Multi directional lug pattern |
| Traction Rating | 4.6/5 |
| Overall Water Shoe Rating | 4.8/5 |
If you want a good water shoe for your trip to Hawaii but need to stick to a tight budget, then VIFUUR Barefoot Aqua shoes are a great option. These water shoes take a more straightforward design approach yet keep your feet safe while swimming or enjoying water-based activities.
These shoes are especially great if you dislike wearing shoes due to their lightweight designs. Because of the design, the shoes are also referred to as water socks. They are great for activities like swimming, snorkeling, and surfing.
Due to VIFUURs lightweight water shoe design, the shoes are more portable and easy to pack. The water shoes are primarily made of fabric with a rubber sole to protect your feet from sharp objects.
Bottom line: These shoes are practical and very affordable. Addinbally, they aren't as heavy as most water shoes, so you won't feel as weighed down when swimming. This shoe design is more in line with traditional water shoes and will do a great job during your Hawaiin adventures.
Pros
Has a rubber sole. Rubber soles are great for water shoes since you often can't see what you're stepping on in the water. The soles protect you from impaling your feet on sharp objects.
Comes in several colors and designs. There are so many colors and patterns to choose from. The colorations range from plain to vibrant floral colors. There is a color and pattern for everyone.
Chafe proof. The tight fit of the water shoe is designed to cling tightly to your foot without much movement. Tight-fitting shoes mean that you are less likely to develop blisters from chafing.
Comes in a vast range of sizes. These water shoes are designed for both men and women. Additionally, they also have children's sizes. So, purchasing matching water shoes for the entire family is undoubtedly an option.
Great for multiple occasions. These shoes are best used for water activities. However, due to their tight barefoot-like design, they are also great for things like yoga.
Cost-effective. These shoes are relatively cheap but will still fulfill the basic requirements of water shoes.
Cons
Sole inserts aren't great. The little foam inserts in the shoes are easily damaged and move around. Luckily they can easily be removed if needed.
The fabric isn't high quality. Over time the shoes will break down, acquire holes or damage, and need replacing.
Another fantastic option if you mostly have water activities planned during your time in Hawaii is Racqua's Barefoot Aqua Swim Shoes. These shoes have a unique design since they mostly resemble tennis shoes. However, upon turning them over, you can see each toe space clearly on the rubber sole.
This odd design works to provide extra grip as you explore the ocean, rivers, or waterfalls of Hawaii. These water shoes do a great job of protecting your feet in and out of water. The specially designed anti-slip soles are great for hiking over slippery surfaces and provide excellent traction.
Additionally, the shoes are stylish enough to wear throughout your vacation and still be ready for water activities at any moment.
Bottom line: These shoes are perfect if you need a shoe that will do great underwater. Snorkeling or swimming without shoes in Hawaii can lead to injuries which is why a good swim shoe is ideal. Also, these shoes have great soles for both on and off-land activities.
Pros
Has a rubber anti-slip sole. The shoe's sole is designed to help you keep your balance in the most slippery situations. The soles work well underwater and on land.
The shoe is designed to be flexible. A flexible shoe can be essential when needing to push off a surface underwater. The flexibility of this water shoe sole allows you to move as you would normally.
The fit is comfortable. As far as water shoes go, this design is relatively comfortable and fits well. Additionally, they are able to be tightened, so they don't fall off when you're swimming.
Has drainage holes. The drainage holes allow for water to expel easily from the shoe so the fabric can begin to dry more quickly.
Designed for water and land activities. Again, these shoes work well for underwater fun and hikes.
Has a money-back guarantee. Returns are accepted and easily facilitated if you aren't satisfied with the shoes.
Cons
The shoes run a little big. Most people reported needing to size down a bit when purchasing this shoe. However, measuring your feet and comparing the measurements with the size chart can help prevent this issue.
The shoes aren't very durable. Over time, the fabric will pick up some wear and tear, eventually needing replacement.
It's essential to pack versatile shoes for your trip to Hawaii, especially if you're planning a more active trip. The islands of Hawaii offer several stunning hikes better accomplished by advanced hikers. Additionally, many of those hikes feature water attractions, making sporty water shoes ideal. [Which Hawaiian Island Has the Best Hiking?]
Luckily, UBFEN Sports Swim Shoes are perfect for more active vacationers. The shoe's overall design resembles a tennis shoe, protecting your toes and feet on difficult trails.
Also, the design makes these shoes more versatile since they are easily used for long hikes and water adventures. Plus, they easily resemble tennis shoes and can be worn in place of one without looking out of place.
Bottom line: These sports shoes are perfect if you're a more active explorer and need a shoe you can be hard on. They come in several colors and look similar to tennis shoes. The sporty water shoe will do great for long hikes ending in water activities.
Pros
Has thick rubber wear-resistant soles. The soles on these shoes are meant to be durable and protect your feet from harm. Additionally, the design is meant to wear out quickly.
The fabric used is stretchy. The fabric portion of the shoe is stretchy, meaning your feet will be more comfortable even if they start swelling from hiking.
Has holes along the bottom to let water out. The holes are designed so that nothing can get in through the holes, but water is released. This water release function allows for the shoes to dry more quickly.
Bendable soles. The soles move with the shape of your foot, making it easier to run and jump even when in water.
Ideal for sports use. These shoes are great for complex or labor-intensive Hawaiian island adventures. Because of the slick design and the ability to be used for water and land activities, they are fantastic shoes.
Cons
Not a lot of ankle support. The sports swim shoes' primary focus is comfort and safety. However, there isn't a lot of ankle support if you have weak ankles.
The sizing is for narrower feet. If you have wide feet, you will need to size up for them to fit correctly. You can quickly return the shoes if there is a sizing issue and exchange them for the correct ones.
Factors To Consider
Hawaii is a stunning place, but it's essential to always practice safety on the islands. This is the amin reason why water shoes are so important. There are all sorts of water creatures, glass, sharp sea shells, and other objects and animcals in the ocean that could hurt your feet. So, wearing water shoes can be the difference between enjoying your vacation and needing stitches.
When purchasing a water shoe, there are a few factors you should consider:
The purpose the shoes are for.
How long you will need to wear them on your trip.
How easily they can be packed in your bag.
How quickly they dry.
How active you plan on being.
There are many types of water shoes, so it's essential to find one that best fits your trip needs. Also, it's important to note that some shoes are more multi-use than others and can be worn for many different activities.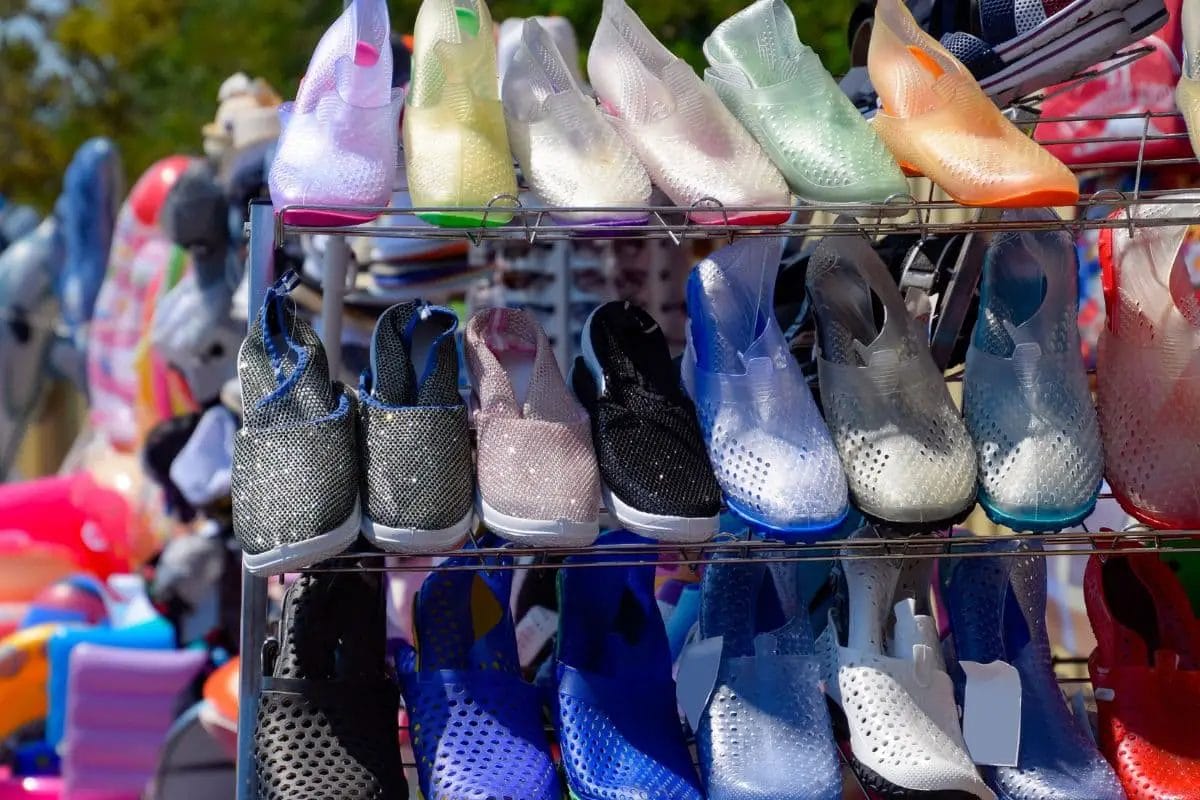 Key Takeaways: Best Water Shoes for Hawaii
After much research, it's apparent that Keens Closed Toe Sport Sandals are by far the best water shoes for Hawaii. The overall price, design, and durability are tough to match. Additionally, they are functional for everyday wear and outdoor adventures during your time in Hawaii.
Check out Keen Closed Toe Sport Sandals on Amazon now to make the most out of your Hawaiian vacations.